Best Vocational Courses in India: Vocational courses are the kind of education where the students are given hands-on experience on a particular trade, occupation, or vocation. Here, the students are taught the practical skills more than theoretical knowledge. It is more like an internship where interns are given practical training. Students, after completing class 10, can choose from various short-term and long-term vocational courses. This course is offered by multiple government and private institutions in India.
Vocational courses online provide specialized learning which ensures a higher chance of employability of the students. A few years back, students were not interested in taking these courses. But with the rising demand for skilled workers, these courses have gained popularity nowadays. Here, you will find the details of the top seven vocational courses in India. You will get full information on what the course is about, prerequisite, eligibility criteria, duration of the course, career opportunities, and salary structure.
Types of Vocational Courses in India
There are various kinds of vocational courses in India. Some of the popular vocational courses list after 12th that have good career prospect are listed below :
Animation Course
Electrician Course
Banking and Financial Course
Disasters Management Course
Advertising Management and Public Relation
Foreign Language Course
Hospitality Course
Animation Course
You might have seen movies like Narnia, Ice Age, Monster Vs Aliens, etc. These movies have a similarity that is animation. The animation is the process of drawing, designing, and preparing moving images with the help of a computer. An animator makes moving images from the still images through his/her expertise. This course is perfect for creative people who want to turn their imagination into reality.
Animation Course started in India lately, but it is growing. A considerable number of people are doing an animation course in India and getting placed in the areas of 2D and 3D animation. It has proper scope because companies like Disney are outsourcing their animation work.
Prerequisite
One should have a creative mind and imagination power.
To enter the field of animation, one must have excellent drawing and sketching skills.
An animator should have a good understanding of the expressions of every creature.
They should also possess an excellent sense of using colors.
Apart from these, if you also have patience, team spirit, and excellent communication skills, animation can be the best career option for you.
Eligibility Criteria
Bachelor's degree: One must have a minimum qualification of 10+2. Some institutes also have the requirement of 50% marks in class 12.
Diploma or Certification Course: There are no such educational criteria. One must have the zeal for this field. However, few institutions have the requirement of passing at least class 10 before starting this course.
Job Opportunities
The animation industry in India is growing. It is because animation is required not only in the cartoons but also in various sectors of the entertainment industry. The gaming industry is also focussing on animations. Nowadays, a full movie is getting made on animation. So, it is creating a massive demand for skilled animators. Some of the job profiles you may opt for after completing this Vocational courses in India are listed below :
3D Animator
Rigging Artist
Texture Artist
2D Animator
Rendering Artist
Image Editor
Lighting Artist
Key Frame Animator
Digital Ink and Paint Artist
Special Effect Artist
Character Animator
Compositor
Salary Offered to Animators
A fresher on this field may earn 10000 to 15000 rupees per month during the internship. But an experienced animator earns up to 60000 rupees per month.
Get to Know More about other types of Course Details in Streamwise, and Category wise
Electrician Course
This is another popular vocational course that you may opt for after completing class 10. This course focused on various electrical phrases such as wiring, home devices, electrical fittings and tools, lighting, etc. This course aims to create skilled electricians to create a balance with the massive demand for skilled electricians in India.
Students here are taught about wiring, power generation and distribution, insulators, earthing, batteries, transformers, repairing of electronic devices, AC/DC systems, etc. Vocational institutions give admission on electrician course depending on their result of the last exam or personal interview. Some of the institutions also take direct admission.
Prerequisite
One must have the physical fitness to apply for this. It is because they need to climb, lift, and crouch while doing different activities in work such as wiring, repairing, etc.
It is a risky and challenging job. This job also involves stress and more extended work timings. So one must have patience and presence of mind to complete the work correctly.
Eligibility Criteria
A minimum of class 10 pass qualification is required to start this Vocational Courses in India. As it is a technical course, students from science background have an added advantage.
Job Opportunities
Students, after completing this course, can have a wide range of job opportunities. They can work in the private sector and the government sector. They can also start their firm. Some of the job profiles are given here :
Electrician
Wireman
Lineman
Supervisor
Technician
Repair Expert
Salary Offered to Electricians
The average salary of electricians in India is within two lacs to 4 lacs per annum. Though it may increase with the experience. However, one can earn as much as they want by being self-employed.
Banking and Financial Course
Many institutions offer a one-year diploma course in banking and finance. One can study this course after completing the minimum class 12. The course provides essential knowledge of banking, finance, investment, risk management, insurance, computer application, etc. Many institutions have a tie-up with reputed banks and financial organizations, which makes it easy for the students to get placed just after completing the Vocational course.
The average fee structure of this course is from 15000 to 50000 rupees. Some of the institutions offer a 6 or 8 months course on banking and finance as well. This course also gives knowledge of the current changes in the financial market and how to deal with the financial crisis. The case studies help them gain interpersonal skills which are mandatory in the banking and financial sector.
Prerequisite
Good knowledge of current financial problems and changes is an added advantage.
One must have good logical and communication skills to excel in this course.
Students from commerce background are best suitable for this course as they've already studied accounting and business studies.
Eligibility Criteria
Candidates after completing class 12 can join this course. However, some institutions have the criteria of having a bachelor's degree. Some institutions take a vocational courses admission 2022 test before confirming the enrollment in the course. These entrance exams contain questions from General Knowledge, English, Logical Reasoning, and General Banking.
Job Opportunities
After completing this course, students can join private or government banking and financial sectors in entry-level positions. They become an excellent resource for stock markets and financial firms. They may work in corporate banking, credit administration, and auditing department.
Loan Officer
Securities Analyst
Investment Banker
Administrative Officer
Internal Auditor
Recovery Agent
Market Analyst
Financial Analyst
Money Manager
Credit & Risk Manager
Salary Offered to Banking and Financial Professionals
Banking and finance is a growing sector in India. So, attractive salary packages are provided to these professionals. The average salary range varies from 2.5 to 20 lacs per annum. However, it depends on the position, experience, and reputation of the organization.
Disaster Management Course
Disaster management means the management of incidents and accidents caused by human activities or natural calamities. This course is offered in different forms like a diploma, degree, and certification courses. Many reputed universities also offer research options for disaster management. The disaster management course includes strategizing, planning, and implementing plans to control the impacts of disasters.
Disaster management helps in preventing or minimalizing losses from a disaster. Here, students are trained to handle any incident or accident with practical organizational skills. Students are taught safety measures to protect themselves as well as the people in danger. India faces a lot of disasters every year, which needs a robust disaster management team to do proper planning and implementation.
Prerequisite
One must be physically fit to avail this course. It is because the jobs in this field are risky and involve different kinds of physical activities.
A sound analytical mind is an added advantage because this profession requires immediate management skills.
Eligibility Criteria
Candidates after completing class 12 or bachelor's degree can join this course. However, one can take admission while studying in the last year of college. Some institutions take an entrance examination before confirming the enrollment in the course. You should apply through their official website.
Job Opportunities
India is facing multiple numbers of natural disasters nowadays. If these disasters are not controlled properly, it will cost both lives as well as damage the property. Every country needs to have an efficient disaster management sector to prevent or minimize the impacts of natural calamities. Because of this person, there is a huge demand for skilled workforce in this industry. These people work in the education sector, the fire department, chemical companies, mining sector, etc. Most of the disaster management professionals work in the government sector. Some of the job openings are :
Database Analyst
Security Administrator
Operations Analyst
Disaster Management Personnel
Security Manager
Teacher/ Lecturer
Social Workers
Network Administrator
Salary Offered to Disaster Management Professionals
An average salary for disaster management professionals is between 2.5 to 6 lacs per annum. However, it increases along with the experience. Students can opt for higher studies in this field as well. Higher studies on disaster management will help them to get a better position and salary.
Advertising Management and Public Relations
Marketing is one of the main aspects of a company's success. Nowadays, consumers have a lot of choices to choose from. It is the marketing strategy that creates the difference. So, advertising and public relation are the tools to grab the attention of busy customers. In this course, students learn different advertising strategies and public relations techniques which help them land a job in the same field. Every company needs an expert to plan their marketing strategies and execute those adequately.
From startups to big industries, every company is ready to invest money in advertisement and public relations. It is because these two things will help them get known to the people as well as earn them profit. Without marketing and public relation, it is impossible to create a brand and maintain its popularity. India has a massive demand for skilled advertising and public relations professionals in different sectors.
Prerequisite
One must have excellent communication skills, along with a creative mind and a positive attitude.
One should have a basic knowledge of computers. It is because nowadays most of the advertisements are digital. So, one must be fluent in using a computer.
A pleasing personality and team spirit are a must for this profession.
Eligibility Criteria
After completing class 12 with a minimum of 45% marks, one can opt for this course. However, some institutions require a minimum bachelor's degree. Some institutions take admission based on previous educational performance while others have their entrance exam and personal interview.
Job Opportunities Under Vocational Courses in India
In this course, the students learn to do press meets, press release, advertise a product or service, maintain the brand's reputation and popularity, and run marketing campaigns. They become the resources whom the organizations want to ensure their organization's long-term success. Advertising and Public Relation professionals can get a job in both the private and government sector. Job opportunities are given below.
Advertising Media Planner
PR Executive
Copy Writer
Content Developer
Business Development Executive
Marketing and Advertising Communication Specialist
Public Relation Specialist
Media Relation Officer
Salary Offered to Advertising Management and Public Relation Professionals
Freshers in this field earn between 2 lacs to 6 lacs per annum. Though the salary increases depending on the experience of the person. The salary range differs from company to company.
Also, Check:
Foreign Language Course
Learning a new language is always an attractive interest. This interest can let you earn money as well. Though one can start this course at any point in time, it is best to start the course after class 12 or college. Learning a new language demands focus, passion, and a sporty attitude. So, the more one learns about the particular language, the more benefits s/he gets from it.
The institutes offer a particular curriculum for a foreign language course. But it needs excellent practice to excel in it. Study at home and group study help a lot in this course. It gives you a lot of career opportunities if you know one foreign language besides English. As many foreign firms are establishing their business in India, there is proper scope for the students of the foreign language course.
Prerequisite
One must possess a good understanding of the English language. As it is the most used international language, it will help in communication with foreign language instructors. One should have a sporty attitude.
Eligibility Criteria
Though one can start this course at any point in time. Some institutes require 10+2 qualification. You need to apply from the institution's official website. After a successful application, you will be contacted by the institution.
Job Opportunities
Once it was a hobby course. But now it has become a demanding professional course which offers a wide range of job opportunities. The academic sector, MNCs, tourism sector, hospitality sector, etc. require foreign language experts. Many foreign firms hire online content writers. Many government sectors require foreign language experts. Foreign Language Experts help in smoother communication between different countries.
Diplomatic Service Professional
Translator for MNCs and Government Organisations
Foreign Language Trainer
Research Associate
Tourist Guide
Interpreter
Flight Steward
Freelance Writer
Translator
Interpreter
Attendant at hotels
Public Relation Officer
Foreign Language Analyst
Language Instructional Developer
Language Teachers
Textbook Author and Editors
Research Librarians
A representative of Foreign Companies
Foreign Travel Adviser
Salary Offered to Foreign Language Experts
They are earning handsome salary packages in India. However, it depends on the position and experience. For example, those in the marketing and public relation profession earn 30000 to 50000 rupees per month. Instructors earn 15000 to 25000 rupees per month. Interpreters charge an hourly basis.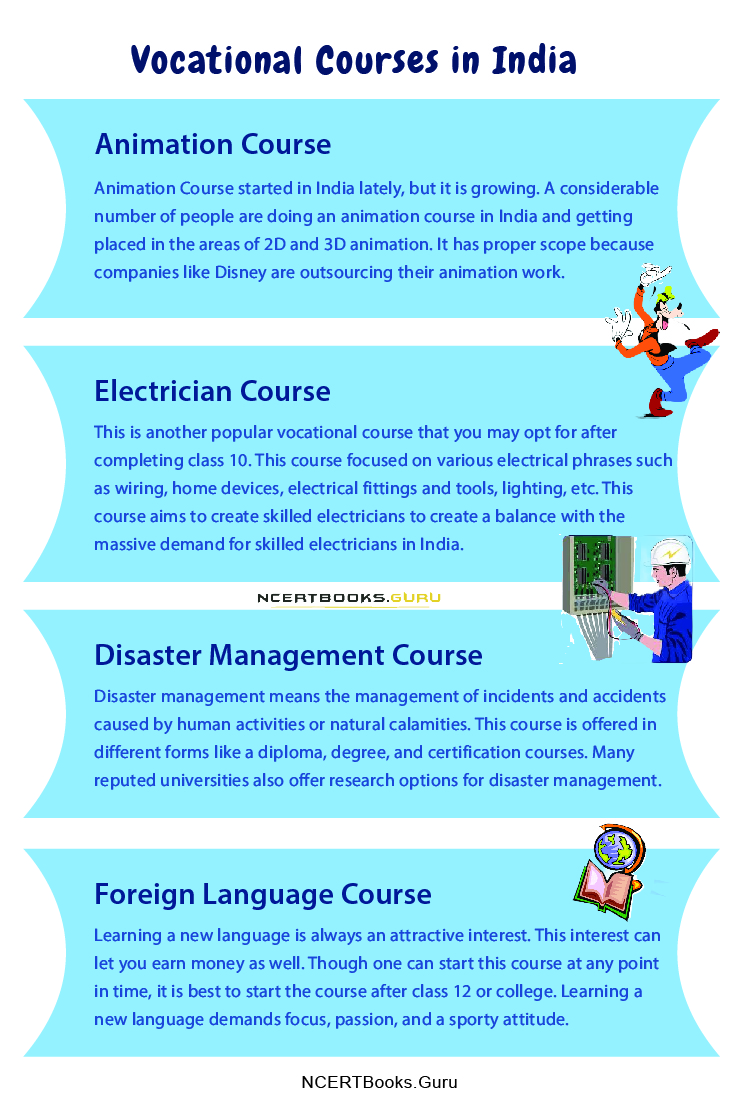 Hospitality Course
The hospitality sector is an essential part of a country's infrastructure. This sector is also related to the tourism industry. Because of globalization, companies are indulging in international business activity. So the number of business trips is increasing, which is a good sign for the hospitality industry. Also, people are now enjoying more leisure trips than before. It may be because of the increasing stress in the work environment.
Here, the students get hands-on experience in different works of the hospitality sector. The hospitality sector includes a lot of industries like hotels, bars, travel, entertainment industry, etc. The common thing among all of them is that they provide hospitality. There is also an option to specialize in a particular area of expertise. This program also gives business skills which may help in self-employment as well.
Prerequisite
One must have excellent communication skills. As one need to converse to provide service.
A pleasing personality, good hygiene, and physical fitness are added advantages to pursue this course.
Eligibility Criteria
Minimum 10+2 qualification is required to get admission in this course. Many institutions take an entrance exam to give admission to this course. However, some institutions offer admission based on group discussion and personal interview.
Job Opportunities
After finishing this course, the students get a lot of job opportunities because it is a vast field connecting various industries as well as it has a global market. Students can get placed in hotels, airlines, travel industry, entertainment industry, etc.
Hotel Management Trainee
Air Hostess
Public Relation Officer
Sales Manager
Salary Offered to Hospitality Professionals
It depends on their position, industry, skills, and experience. However, they earn between 2.5 lacs to 12 lacs per annum. There is a massive demand for hospitality professionals in developed countries. So one can opt for working in a foreign country.
FAQ's on Vocational Courses in India
Question 1.
What does a vocational course mean?
Answer:
Vocational courses are the kind of educational programs that focuses on practical experience rather than theoretical knowledge. These courses are specially designed for making the students ready for the job market.
Question 2.
What is the duration of the vocational course?
Answer:
Vocational courses are shorter in duration rather than degree courses. The duration of vocational courses is between 6 months to 2 years.
Question 3.
What is the advantage of a vocational course?
Answer:
This course provides both theoretical knowledge as well as practice experience. So, it makes the students entirely ready for a particular field.
Question 4.
Who can do vocational courses?
Answer:
Anyone, after completing class 10 from any recognized board, can opt for vocational courses. However, some courses have the requirement of class 12 or bachelor's degree pass.
Summary
Vocational courses are now an integral part of the Indian education system. So, there is a massive demand for courses. The top seven popular vocational courses are discussed here. However, there are many vocational courses in India. Please drop your queries in the comments area. We will try our best to help you out with the exact information.