TTC Course: If you want to pursue your career as a teacher, you already know that it requires lots of dedication, hard work, and skills. But a professional degree is highly mandatory for procuring government jobs. However, sometimes we cannot afford higher degree programs like B.Ed and M.Ed. This is why the TTC course came into existence for candidates who wanted to achieve their goals as a teacher. TTC course stated as Teacher Traning certificate. It is an undergraduate program with two years of duration.
In this post, we will learn more about TTC, it's eligibility criteria, job opportunities, scope, etc.
Get to Know More about other types of Course Details in Stream wise, and Category wise.
TTC Course Overview
TTC is a teacher training certificate course designed for interested candidates who would like to pursue their career in the teaching field. Nowadays, teachers are high in demand for both Government and the private sector. If you are thinking to achieve success in your life as a teacher, choose TTC. TTC course is a worldwide recognized course that provides complete knowledge and skills required to become a teacher.
It is a model designed by the Government for the students who cannot participate in the bachelor of education degree. In simple words, you can say that if you are not getting a teaching job just because of not having a degree such as B.Ed, then you can consider the Trained teacher certificate course. Through the TTC course, the candidate can learn about the modern teaching methods, various guidance, and teaching techniques, handling children, and many more. Moreover, this course also provides a unique idea for creating a new model and unique approach to make your students involved in the study.
TTC Course Eligibility Criteria
A candidate must have completed their 10 + 2 from the recognized board/ university/ college to be involved in this certificate course. A candidate who has secured a minimum of a percentage of 45% or above is considered eligible. If the candidate belongs to the scheduled caste or scheduled tribe caste or physically disabled, they must have a secure minimum of 40%. Well, the minimum eligibility scores may vary from the college or university has chosen. Thus, it is essential to check every College detail before applying to that college/university.
If we consider the age limit for the course, then a candidate must above 17 years of age.
TTC Course Duration
The students need to complete this course within a time span of two years with expected marks.
TTC Course Admission Process
The admission process for the TTC course is lenient. It includes only a form of submission before the due date. The candidates are requested to read all the terms and eligibility criteria before filling out the application. Must include all the documents with the form; otherwise, the application may get ignored.
The required documents are:
A mark sheet of your previous class
Passport size photograph
ID proof
TTC Course Scope & Career Opportunities
With the teacher training certificate course, a candidate has an excellent scope of higher education, including a diploma or post-graduation diploma after completing this course. The candidate can also be considered for options like a teacher, tutor, etc. The course is dedicated to the qualifying degree that will help gain better job opportunities in the career.
More Similar Posts
TTC Course Fee Structure
The fee structure of the TTC course may vary as per the colleges and universities.
Registration Fee: INR 1000
Monthly Charges: INR 600
Last Examination Fee: INR 1050
TTC Course Subjects
Educational psychology
Teacher in emerging India
Curriculum & evaluation teacher functions
Special Programs are offered in

Primary education
Multi-grade teaching
Non-formal education
Girls' education
Mass media and distance education
Education for backward classes
Value education among others.
Educational Psychology
Principles of Education and School Organization
Methods of Teaching Subjects at the Primary Level such as Value Education

Professional Subjects

English
Mathematics
History
Geography and
General Science
List of Programs Offered in TTC Course
Primary education
Mass media and distance education
Girls education
Educational psychology
Principles of education school and organization
Method of teaching subjects for primary level.
Non-formal education.
The other professional courses are also prepared for teachers such as English Mathematics, History, General Science, etc. Other practical subjects offered are physical education, speech training, preparation of teaching aids, and art and craft.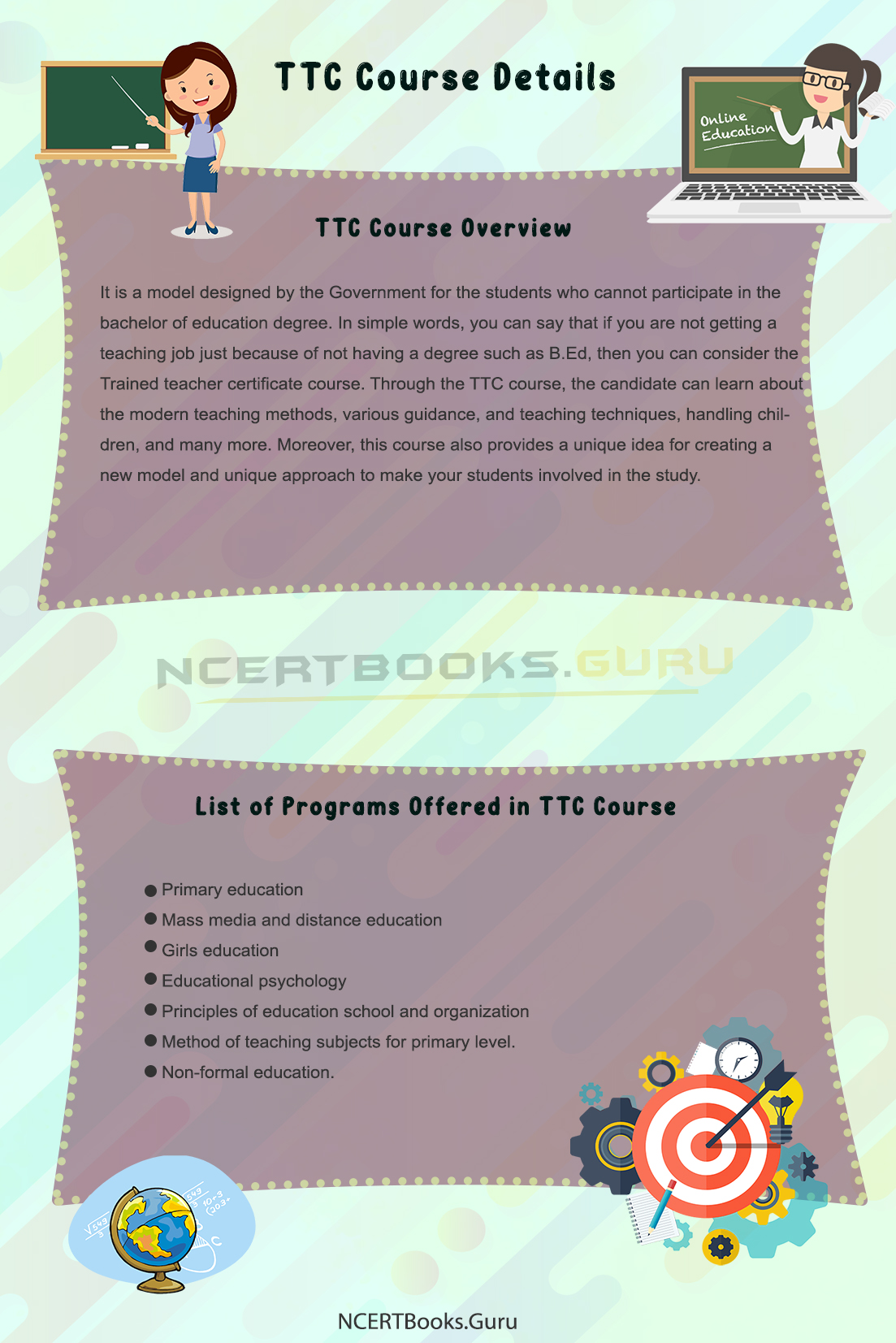 TTC Course Salary & Job Opportunities
After completing the course, you can apply as a teacher for the Government schools by clearing the entrance exam. Also, you can go to a private teaching job. The average salary offered to certified teacher Rs.15,000 and above. Moreover, depends on the subject you will be teaching.
Interested aspirants can pursue an Art Teacher Diploma Course after 12th class to become an art teacher in primary school.
FAQ's on TTC Course Details
Question 1.
How can I Apply for the TTC course?
Answer:
For applying for the TTC course, the state government releases online applications for desired candidates every year, which needs to be filled before the deadline. Once the application is approved, the candidate is allocated with the entrance exam details.
Question 2.
What is the method of education under the TTC Course?
Answer:
A candidate can pursue this course as a regular, distance education, correspondence, and online teacher training course.
Question 3.
How do I become a teacher?
Answer:
To become a teacher, you must follow the below procedure:
Enroll in teacher training programs.
Participate in student teaching exams.
Do research for various colleges that offered education-related programs.