Are you searching for the answer to the question asked here, What are the States and Capitals of India? If yes, this article is for you. Mostly, people fall into a dilemma when anyone asks the question how many states and union territories are there in India? So, to answer such kind of questions in a detailed way we are presenting this article. The common answer to all your queries is a total of 28 states and 8 union territories are there in India as of 2020. Each and every state & UT has a capital of its own. Every state is ruled by a Chief Minister. Rest of the details about the states and capitals of India prevailing in the below modules.
This Article Contains:
States and Union Territories with their Capitals of India | Download India Map
'The Indian States and Union Territories with their Capital' topic comes under GK General Knowledge Topics asked in any govt or bank or various competitive exams. So, students who are preparing for different objective exams should aware of the states and capitals of India thoroughly. The total number of states in the country will now be is 28 and the union territories of India is 8, with effect from 26th January 2020. Each Indian state has an administrative, legislative, and judicial capital whereas in some states all three functions are handled in one capital. Below, we have included the list of the Indian States, Union Territories, and their capitals with the founded year.
Also Check: Largest and Smallest States of India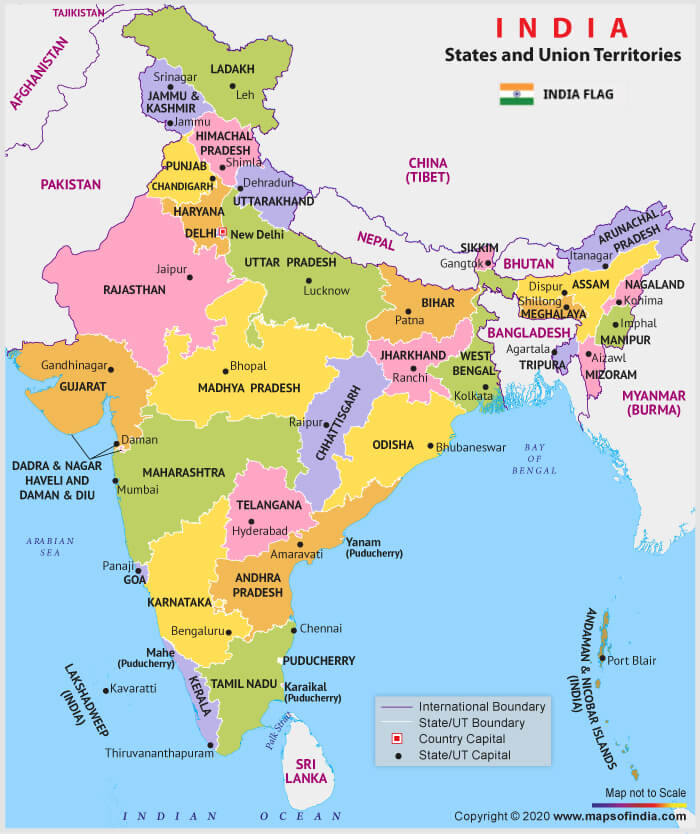 Image Source: https://www.mapsofindia.com/
List of States and Capitals of India
Every Indian citizen should aware of the states and their capitals of India by feeling it as one responsibility. Usually, everyone faces that one situation where the names of Indian states and capitals are asked by anyone in any exams or real-life scenarios. For students, it is very important to know the states and capitals of India to answer commonly asked General Awareness Questions in various competitive exams held across the country. The list of 28 Indian states and their capitals are tabulated below:
S.No
States Name
Capital
Founded on
1
Andhra Pradesh
Hyderabad (Proposed Capital Amaravati)
1 Nov. 1956
2
Arunachal Pradesh
Itanagar
20 Feb. 1987
3
Assam
Dispur
26 Jan. 1950
4
Bihar
Patna
26 Jan. 1950
5
Chhattisgarh
Raipur
1 Nov. 2000
6
Goa
Panaji
30 May. 1987
7
Gujarat
Gandhinagar
1 May. 1960
8
Haryana
Chandigarh
1 Nov. 1966
9
Himachal Pradesh
Shimla
25 Jan. 1971
10
Jharkhand
Ranchi
15 Nov. 2000
11
Karnataka
Bengaluru (formerly Bangalore)
1 Nov. 1956
12
Kerala
Thiruvananthapuram
1 Nov. 1956
13
Madhya Pradesh
Bhopal
1 Nov. 1956
14
Maharashtra
Mumbai
1 May. 1960
15
Manipur
Imphal
21 Jan. 1972
16
Meghalaya
Shillong
21 Jan. 1972
17
Mizoram
Aizawl
20 Feb. 1987
18
Nagaland
Kohima
1 Dec. 1963
19
Odisha
Bhubaneswar
26 Jan. 1950
20
Punjab
Chandigarh
1 Nov. 1956
21
Rajasthan
Jaipur
1 Nov. 1956
22
Sikkim
Gangtok
16 May. 1975
23
Tamil Nadu
Chennai
26 Jan. 1950
24
Telangana
Hyderabad
2 Jun. 2014
25
Tripura
Agartala
21 Jan. 1972
26
Uttar Pradesh
Lucknow
26 Jan. 1950
27
Uttarakhand
Dehradun (Winter)
Gairsain (Summer)
9 Nov. 2000
28
West Bengal
Kolkata
1 Nov. 1956
29
Jammu and Kashmir
Srinagar/Jammu
1957 to 2019
Updates about UT and Capitals of India
Having knowledge about the Indian Union Territories & Capitals is very important for competitive exam appearing candidates. So, we have curated the latest updates about UT's of India as of November 2020 below. Take a look before getting into the Union Territories and their Capitals list of India.
Since January 26th, 2020, India has 8 union territories. The U.T Daman and Diu, Dadra, and Nagar Haveli have become a single union territory.
Also, the central government had declared the abrogation of the special status given to Jammu and Kashmir under Article 370 and its division into two Union Territories i.e. UTs of Jammu and Kashmir, and Ladakh on August 5.
By the incorporation of Daman and Diu, and Dadra and Nagar Haveli, the number of UT's have come down to eight.
Must See: Name the 7 union territories of India
List of Indian Union Territories and Capitals
As of 2020, India has 28 States and 8 Union Territories. The past state of Jammu and Kashmir has been branched into two UT's ie., Jammu & Kashmir and Ladakh. On August 5-6, Parliament passed that the newly formed Union territories come under a reorganization act. Currently, India has eight Union Territories and the list of its capitals is given below:
Union Territories Names
Capital
Founded on
Andaman and Nicobar Islands
Port Blair
1 Nov. 1956
Chandigarh
Chandigarh
1 Nov. 1966
Dadra & Nagar Haveli and Daman & Diu
Daman
26 Jan. 2020
Delhi
New Delhi
9 May. 1905
Jammu and Kashmir
Srinagar (Summer)
Jammu (Winter)
31 Oct 2019
Lakshadweep
Kavaratti
1 Nov. 1956
Puducherry
Pondicherry
1 Nov. 1954
Ladakh
Leh
31 Oct 2019
Major Points of States & Union Territories
Once you take a look at the list of states & UT's of India with Capitals, start memorizing them daily for good scores in the exams. Also, it is very important to grasp the info on how to segregate a state from a Union Territory. From the 8 Indian union territories, three UT's have their own legislative assembly, they are Delhi, Puducherry (formerly Pondicherry), and Jammu and Kashmir. Also, each state and union territory has its own capital. For more information & key points of states and UT's check out the below table:
| | |
| --- | --- |
| State | Union Territories |
| The state has its own administrative units with its own elected government. | Union Territories are constituent units that are controlled and administered by the Central Government. |
| Executive Head is the Governor | Executive Head is the President |
| The relationship with the Centre is Federal. | Unitary with the Centre. i.e. all the powers rest in the hands of the Union. |
| Administered by the Chief Minister and elected by the people. | Administered by the Administrator which is appointed by the President. ( except Delhi, Puducherry, and Jammu & Kashmir) |
| Chief Minister is the real head. | Lieutenant is the real head. |
Important Facts
Duncan pass is between South Andaman and Little Andaman.
Narcondam Island is a volcanic island which is situated in the northern-eastern part of North Andaman.
Puducherry (Pondicherry) is the only Union Territory that spread in three states such as Puducherry (Main) – Located in Tamil Nadu; Karaikal- Located in Tamil Nadu; Yanam- Located in Andhra Pradesh; Mahe- Located in Kerala.
The Adam's Bridge is located between Tamil Nadu (India) and Sri Lanka. Pamban Island is a part of the Adam's Bridge. Rameshwaram is situated on this Island.
The Andaman & Nicobar Islands are also called Emerald Islands.
100 Channel (100 N Latitude) divides Andaman from Nicobar.
The Barren Island is only India's active volcano located in the east of Middle Andaman.
The Grand Channel is between Great Nicobar and Sumatra (Indonesia).
90 Channel (90 N Latitude) separates Minicoy from the main archipelago of Lakshadweep.
The Indira Point, the southern point of India is located in the southern tip of Great Nicobar Island.
The Palk Bay is to the north and the Gulf of Mannar is to the south of the Adam's Bridge.
80 Channel (80 N Latitude) is between Minicoy and Maldives.
The Palk Strait is located between Tamil Nadu (India) and Sri Lanka.
FAQs on Indian UT's, States, and It's Capitals
1. How many states and union territories are there in India present?
At present, there are 28 states and 8 union territories in India.
2. What are 28 Indian States and Capitals?
1. Andhra Pradesh: Amaravati
2. Arunachal Pradesh: Itanagar
3. Assam: Dispur
4. Bihar: Patna
5. Chhattisgarh: Raipur
6. Goa: Panaji
7. Gujarat: Gandhinagar
8. Haryana: Chandigarh
9. Himachal Pradesh: Shimla
10. Jharkhand: Ranchi
11. Karnataka: Bengaluru
12. Kerala: Thiruvananthapuram
13. Madhya Pradesh: Bhopal
14. Maharashtra: Mumbai
15. Manipur: Imphal
16. Meghalaya: Shillong
17. Mizoram: Aizawl
18. Nagaland: Kohima
19. Odisha: Bhubaneswar
20. Punjab: Chandigarh
21. Rajasthan: Jaipur
22. Sikkim: Gangtok
23. Tamil Nadu: Chennai
24. Telangana: Hyderabad
25. Tripura: Agartala
26. Uttar Pradesh: Lucknow
27. Uttarakhand: Dehradun
28. West Bengal: Kolkata
3. What are the 8 Union Territories of India with capitals?
1. Andaman and Nicobar Island: Port Blair
2. Chandigarh: Chandigarh
3. Dadra and Nagar Haveli and Daman and Diu: Daman
4. Delhi: Delhi
5. Ladakh: Leh
6. Lakshadweep: Kavaratti
7. Jammu and Kashmir: Srinagar (Summer) & Jammu (Winter)
8. Puducherry: Pondicherry