Speech on Mahatma Gandhi Jayanti: Mahatma Gandhi Jayanti is celebrated on 2 October. A great leader, Mahatma Gandhi, who is also known as the father of the nation, was born on 2 October 1869 at a small city Porbandar in Gujarat. He is always remembered because of his unforgettable struggle and contribution to our freedom. He always believes in nonviolence; that's why his main aim was to create and build a new society that practices honest behavior and nonviolent. He did so many moments for freedom with other patriots and always treated people equally. Today, Mahatma Gandhi Jayanti celebrates in all over India like in school, in any government organization, and the common man also celebrates it.
Currently, how we live with freedom of study, speech, and anything because of many patriots, so we should not forget them. We should always remember them and value them because they died for the country for us. We should always remember his rules like ahimsa parmo dharma.
Long and Short Speeches on Mahatma Gandhi Jayanti for Students and Kids in English
We provide here one example of a long Speech and one example of a short Speech, both of them on the topic of Mahatma Gandhi Jayanti Speech. The long Speech related to this particular topic consists of around 450-500 words, while the short Speech consists of 100-150 words. This speech is used by everyone so that a proper way of thank you can be said through words towards the person whom we finally bid goodbye.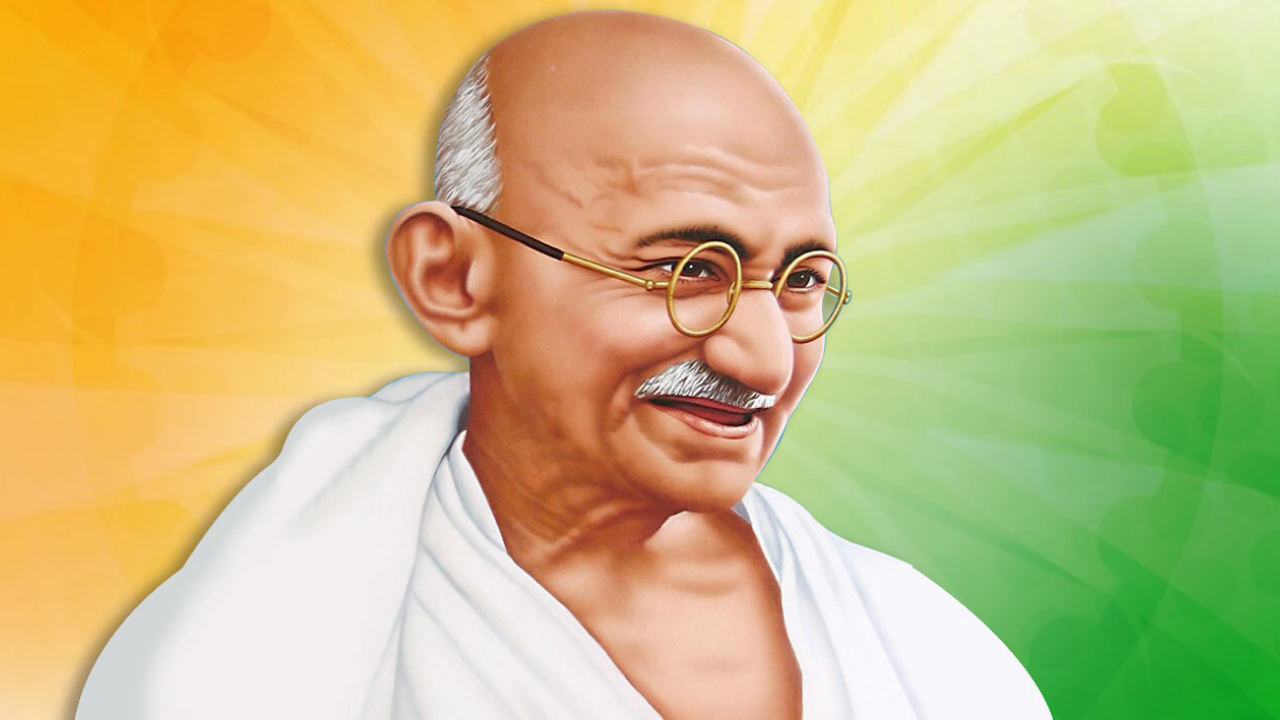 Long speech on Mahatma Gandhi Jayanti 500 words in English
Welcome to one and all present here, today I am here to present a speech on Mahatma Gandhi Jayanti. We are all present here to celebrate Bapu's birthday, and on this occasion, I am going to tell you some part of his life.
Mahatma Gandhi was the biggest and great patriotic in India. He was a man who is had a great personality, and I am sure he certainly doesn't need anyone like me appreciating and praising him. Apart from this, his efforts and struggle for Indian freedom are unparalleled, and we can say without him, we may not get independence. He inspired many people with freedom movements and civil rights all over the world.
Early life: 
Mahatma Gandhi opened his eyes to this beautiful world on 2 October 1869. He was born in the Indian Gujarati family, and his father's name was Karamchand Gandhi. However, the real name of Gandhi Ji was Mohandas Karamchand Gandhi, who has added the name mahatma due to their work. He completed his law training at the inner temple in London and went to South Africa. He spent some part of his life here.
Life-changing events: 
When Mahatma Gandhi returned to South Africa again, he had to face with racial discrimination because of his skin color. Once during travel on a stagecoach with the Europeans, he was asked to sit on the floor near the driver due to black skin. Mahatma Gandhi refused it and came forward, and because of his refusal, he had to suffer and face a beating.
Other incidents also have at Pietermaritzburg in South Africa. At this time, Gandhi was made to quit train forcefully, and this incident occurs because he refuses to quit and leave the first class. As a result, he spent the whole night in the railway station and shivering the entire night. If we talk about the incident, then he faced so many events like equal rights and many other events. After these events, Mahatma Gandhi started to question and fight against the British Empire with some Indians.
Struggle for independence: 
From South Africa, Mahatma Gandhi returned to India in 1915. At this time, he was very popular, and his reputation increases so much. Therefore he was known and popular as a leading Indian nationalist. After the back to India, Gandhi became a member of the Indian national congress. In 1920, he became the leader of the Indian congress organization. As a part of the independence struggle, Gandhi launched many important movements such as kheda satyagraha, Champaran Satyagraha, non-co-operation, khilafat, civil disobedience, salt satyagraha, and quit India movement. This event was a step towards Indian freedom.
Legacy of Mahatma Gandhi: 
As you read, Mahatma Gandhi was a great leader, so that he has influenced several international leaders across the globe. Many leaders got so much inspiration from the struggle of Mahatma Gandhi. Some leaders are martin Luther king jr, James Lawson, and James beve. The Nelson Mandela also influenced from the freedom struggle of Gandhi Ji. Along with Lanza Del Vasto especially came to India to spend some time and live with Mahatma Gandhi. The UN has greatly honored Gandhi Ji; that's why they announced that they celebrate 2 October as an international day of nonviolence. Mahatma Gandhi received so many awards as the greatest political icon, father of the nation, and many more.
These speeches will be useful for students, teachers, and followers of Gandhiji addressing people on Gandhi Jayanti, or for people promoting ideas of Ghandhiji and non-violence, or by the government or NGOs working on Ghandhiji's ideology promotion.
Thank you for listening to me so patiently; you are a great audience.
Short Speech on Mahatma Gandhi Jayanti 150 words in English
Welcome to everyone present here, today I am here to present a speech on Mahatma Gandhi Jayanti.
Mohandas Karamchand Gandhi was the full name of Mahatma Gandhi. He was come into this world on 2 October 1869 in Gujarat's small city Porbandar. After completing the matrix, he went to London for further studies. Mahatma Gandhi has done his law in England and returned to India in 1893. After his degree, he started his career as a lawyer. The social life of Mahatma Gandhi began in South Africa, and he faced many problems here.
He fights against that the white men were treating bad of a black man means Indian. Many times he was insulted and tortured by white men. He went back to India, did so many movements, and became very popular as a father of the nation. The lifestyle of Gandhi Ji was very simple, and he believed in simple living and high thinking. He taught lessons of ahimsa to many people. He fights for the caste barrier, and he was dead on 30 January 1948. People remembered him because of his biggest virtues.
10 Lines on Mahatma Gandhi Jayanti Speech in English
Mahatma Gandhi was born on 2 October 1869 in a Hindu family. And His father's name is Karamchand Gandhi, and he was a Porbandar's diwan.
He was the leader of Indian freedom events against the British Empire.
He was the biggest freedom fighter and He was the follower of nonviolence and truth and supported it entirely his life.
Kasturba was 1-year-old compare to Gandhi Ji. And he had 4 sons harilal, Devdas, manilal, and Ramdas. Gandhi Ji married Kasturba makhanji in 1883.
Before going to South Africa, Mahatma Gandhi gave promise to his mother that he would not take liquor and far away from the women.
Gandhi died on 30 January 1948, and the Indian government announced this day as a martyr day.
Gandhi Ji joined Indian congress organization in 1920. And the main movement started by Gandhi Ji, while freedom struggle is kheda satyagraha, salt satyagraha, Champaran Satyagraha, and many more.
Nathuram Godse was murdered Gandhi Ji on 30 January 1930.
Gandhi Ji began the first event in 1917 against British rule.
Gandhi Ji fights to civil rights in SA from 1893 to 1914 against color discrimination.
FAQ's on Mahatma Gandhi Jayanti Speech
Question 1.
When did Mahatma Gandhi go to Kerala for the first time?
Answer:
In 1920, Mahatma Gandhi Ji first time visited Kerala.
Question 2.
When did Bapu experience first satyagraha?
Answer:
In September 1906, Gandhi Ji was fought and protest against the Asiatic ordinance in South Africa.
Question 3.
Where Gandhi Ji started the phoenix settlement?
Answer:
Mahatma Gandhi Ji started the phoenix settlement, Durban, in South Africa.
Question 4.
When did Mahatma Gandhi Ji back to India from the SA?
Answer:
Gandhi Ji back to India on 9 January 1915, and this day is known as Pravasi Bharatiya divas.