Short Term Courses That Can Help You Earn Rs 40000 Per Month Online: In Today's world, we cannot perceive our life without the Internet. Several opportunities are accessible through the Internet. It is a sign of great innovation and creativity. The Internet allows people to develop the quality of their life. It is not only a form of relaxation, but also helps to receive various information like to access difficult things, or short term jobs or courses, etc.
While the job sector in India is encountering a severe slowdown, India's digital economy is expanding at a breakneck pace providing growth to lakh's of high paying jobs that young professionals and students can join to earn a high salary. These new-age careers are skill-based, and therefore, one needs to pursue short-term programs that can help to develop the necessary skills. Here we have discussed some short courses that can help you improve the required skills to get a decent job in India's digital economy that also gives you a high salary of over Rs 40000 per month.
Get to Know More about other types of Course Details in Stream wise, and Category wise
Beneficial of Short Term Online Courses That Can Help You Earn Rs 40000 Per Month
Traveling for work is forbidden in the Internet world. One can earn millions of rupees sitting at the house. One only needs the effort that can help to relish a great life. It is not only for a limited time phase, but can also see your future in it. Today's time is digital. And in the following time, it will seize the whole world. Short term online courses can get you a job in limited time, and you can see more growth in your skills from online training courses.
In this blog, we will discuss Online Short Term Courses that can help you earn a high salary:
Content Writing Courses
PPC (Pay Per Click) Course
Search Engine Optimization (SEO) Course
Voice Modulation Course
Content Writing Courses
Content means particular information about a single topic. Content Writing is "writing with a purpose." We write content to inform, express, inspire, or influence readers. In professional content writing, we can write different types of content for clients, give them information about topics like Technology, Fashion, Health, Current Affairs, Stock Market, etc.
In Today's world, there is a vast requirement for professional content writers who specializes in different genres of writing. So, one would find jobs that target the marketing content, Viral Content, Video Script Writing, SEO content, and many more.
Eligibility: Graduates/Undergraduates
Skills Required: Basic English language knowledge, Creativity
Salary Expected : Rs 20,000 to Rs 40,000
Skills 
This course will help you learn the main tactics content marketers use to obtain and maintain customers. Indistinct, you will learn how to develop, organize, and execute a content marketing strategy. In this short term online training course, one can learn Content Marketing, Copy-writing, Writing, Copy editing. Etc.
Graphic Designing Course
Graphic designing is the Art of performing visual contents to communicate messages. It is a short term online course to get a job. Using page layout techniques and visual hierarchy graphic designers use typography and images to match users' unique needs and focus on the logic of illustrating elements in interactive designs to optimize the user's experience.
Graphic designing courses are available in various design industries, such as fashion design, multimedia, industrial design, interior design, visual, and sound. As concern to the career opportunities, one can be hired as a Freelance Logo Designer, Creative Director, Visual Image Developer, Interface Designer, Art Production Manager. etc
Eligibility: Graduation in any stream
Skills Required:  Basic Computer Skills, Creativity,
Expected Salary: Rs 10,000 to Rs 40,000
Skills
Understand the knowledge of layout design.
Design concepts such as typography, color theory, image selection, and layout best practices.
Designing artistic projects, including business card, logo for brands, ads, manuals websites and brochures
Discover methods for interacting with graphic designers and other creative experts.
Animation Courses
The animation is a process in which characters appear as moving images. It is the use of technology and Art which brings images to life by executing design and computer software. Some of the Amination Programs involve Art directing, graphic design, video game design, 3D modeling, film, and video editing, and stop motion animation. A program in animation may include many styles of animation.
Eligibility: Graduates
Skills Required:  Story Boarding, Creativity
Expected Salary: Rs 25,000 – Rs40,000
Skills
Animation includes a graphical user interface, a 3D animation, and interactive computer-aided design systems. One can also learn skills like 3d computer, graphics, Algorithms, Robotics, Computer Graphics (CG).
Programming Language Courses
A programming language is a formal language, including a collection of instructions that produce different sets of output. This course is an intro to the fundamentals of programming languages. It includes Theories of how to specify and prepare valid strings, character, float, and functions, etc. s we know that a software application plays a huge part in our everyday world be it at the office or anywhere else. So there's a high demand that rises in the world of software engineering, and to become a software engineer one needs to Programming Language courses.
Eligibility: Graduation in Computer Science/Information Technology
Skills Required: Coding(C, C++, HTML)
Expected Salary: Rs 40,000 onwards
Skills
Recursion Higher-Order, Functional Programming, Function Pattern Matching
Programming Languages 
Java Script
Python
Java
C++
PHP
SQL
PPC (Pay Per Click) Course
PPC stands for pay-per-click, which is a kind of internet marketing in which sponsors pay an amount whenever one of their ads is clicked. In pay-per-click businesses running ads charges only when a user clicks on their ads, therefore its name is "pay-per-click."
PPC is an online advertising market through which all the big brands like Amazon, Myntra, Flipkart, Swiggy, Zomato gives their ads through Bing, Facebook, Google, or Instagram. PPC is undoubtedly are for students as a job-oriented short-term course that can accommodate immediate results and attractive salary packages.
Eligibility: Graduate
Skills Required: Basic computer skills
Salary: Rs 40,000 onwards
Skills
Understanding the main advertising stages, including display, sponsored, video, audio, native, social media, search, and programmatic.
Perform simple digital advertising campaigns on Google Ads (Search), Facebook, Instagram, Twitter etc
Earn the Google Ads Search Certification.
Ethical Hacking Course
Ethical Hacking is an authorized method of bypassing system security to recognize potential data transgressions and threats in a network. Ethical hackers are an army of keyword warriors who keep the Internet safe and protect the confidential information of companies, people, and even government.
There are many IT Institutes that offer the best short-term courses in Ethical Hacking, including Certified Forensic Investigator, Certified Security Analyst, Diploma in IT Security & Hacking. Even IITs have recognized the potential of Ethical Hacking as an outstanding professional career choice.
Eligibility: Computer Science or Bachelor's in IT
Skills Required: Excellent Code Cracking Skills
Salary Expected: Rs 40,000 to Rs 60,000
Skills
This course is intended for computer programmers,  IT professionals, IT security experts who are seeking to develop network system security skills—Cyber Security Engineer, Cyber Security Analyst, and IT Security Analyst.
Search Engine Optimization (SEO) Course
SEO is the most reliable online training courses in the IT industry. SEO is for social media managers, executives, and entry-level employees. The capability to manage Google SEO programs is an essential skill in Today's job market. In Today's world, being an SEO is that one can choose to either work as a part of an established business or also choose projects directly from clients as freelance work.
Eligibility: Bachelor's Degree
Skills Required: Basic Computer Knowledge
Salary Expected: Rs 15,000 to Rs 40,000
Skills
Create influencer relationships and collaborations and analyze data to see which content gets the most shares.
Voice Modulation Course
Modulation is when you lower your voice to a loud whisper to perform what you're saying to more dramatic or exciting.
Voice Modulation Courses can help to turn into a singer, theatre artist, or voice-over-artist. Lack of knowledge about this job in the market means very little competition.
Eligibility: Graduate in Mass Communication / Class 12
Skills Required: Creativity, Excellent Voice
Salary Expected: Rs 25,000 to Rs 40,000
Skills you will gain:
Applying Communication techniques for in-person and virtual teams
Run more effective and impactful meetings
Summary of Short Term Courses
There are a lot of high paying jobs that are available in the job market for candidates who have the right amount of skills. Rather than trying to achieve a job based on a degree from college, One can consider joining any of the short-term online courses mentioned above that can help to get a job paying over Rs 25000 to Rs 40000 per month.
The salary mentioned above is suggestive, and the actual payment of a freelancer would depend upon their clients, skills, and the quality of the work they take up.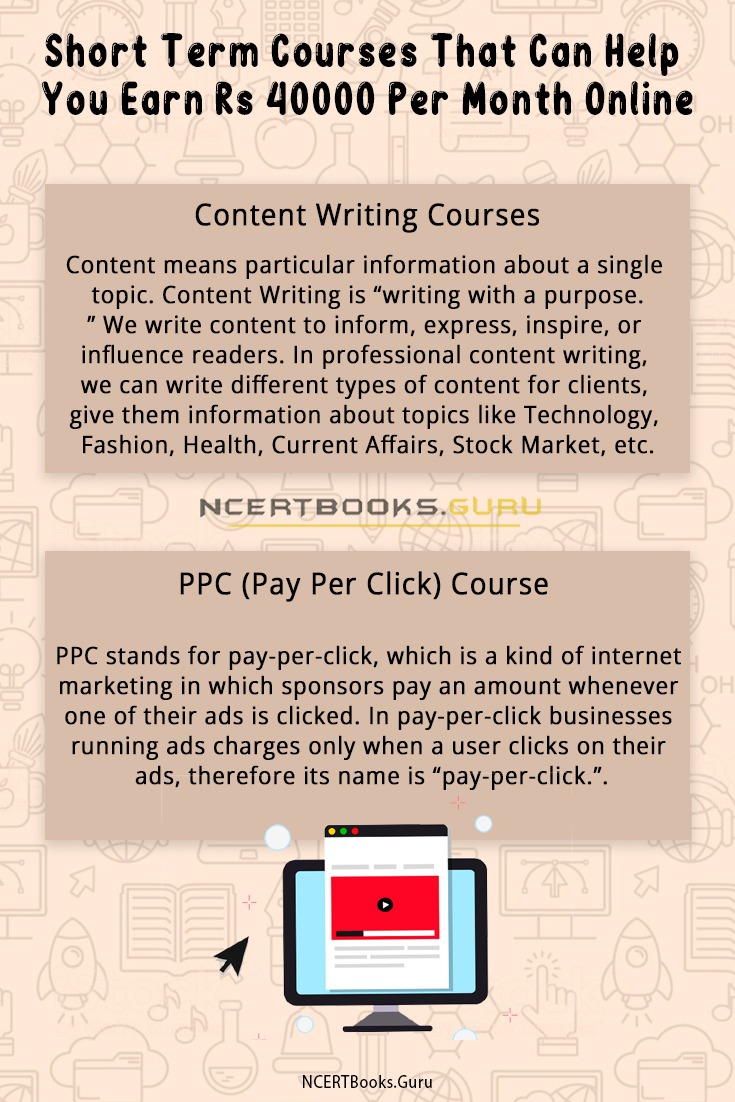 FAQ's on Short Term Courses That Can Help You Earn Rs 40000 Per Month Online
Question 1.
Why are short term courses necessary?
Answer:
India's digital economy is expanding at a breakneck pace providing growth to lakh's of high paying jobs that young students and experts can join to earn a high salary. Therefore, one needs to pursue short-term programs that can help to develop the necessary skills.
Question 2.
Name some of the Online Short term Questions?
Answer:
Some of the online courses are Graphic Designing Courses, Web designing Courses, Voice Modulation Course, etc.
Question 3.
What Is the Eligibility for Online Short term courses?
Answer:
In most of the Short term online courses, the eligibility criteria are Graduate or 10+2.