CBSE NCERT EXEMPLAR BOOK CLASS 10 Maths
NCERT Exemplar Book Class 10 Maths will make the students strong with the fundamentals. In fact, the books will help them to solve the questions in many other ways. The book serves as a self-assessment for students. In fact, students can solve the questions and rectify their mistakes easily. The chapters are explained in a proper manner, with equations and formulae wherever required. They are a very good resource for preparing the students to face critical questions.
NCERT Exemplar Book Class 10 Maths is important for students of class 10. Firstly, it has various types of questions, depending on difficulty levels. Secondly, the conceptual sums will increase the logical and analytical power of the students. The student is bound to excel if he/she spends enough time solving NCERT Exemplar Book Class 9 Mathematics. Students will know various theories and formulae.
Not only that, but questions from NCERT Exemplar Book Class 10 Maths are also asked in Board exams. NCERT Exemplar Books are helpful for competitive examinations, such as the National Talent Search Examination (NTSE), National Interactive Maths Olympiad (NIMO), etc.
Students will also get to know the shortcuts and tips when it comes to solving twisted problems. In conclusion, the Exemplar Books will make everyone fall in love with mathematics. The practice books will help the students progress in the mathematics subject.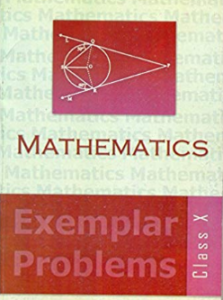 Download NCERT Exemplar Book Class 10 Maths PDF
Below, we have provided links for NCERT Exemplar Book Class 10 Maths. Click on the link to download the NCERT Exemplar Book Class 10 Maths PDF files for free.