CBSE NCERT EXEMPLAR BOOK CLASS 12 Biology
NCERT Exemplar Book Class 12 Biology provides in-depth solutions. This book contains advanced concepts, in comparison to the introductory concepts that were present in NCERT Exemplar Class 11 Biology Book. Therefore, students will have a strong foundation and be confident to face the upcoming entrance examinations, like NEET, AIIMS, JEE Main, JEE Advanced, WBJEE, etc. Entrance exams aspirants are suggested to solve NCERT Exemplar Books as it acts as a self-Assessment book, thereby, helping students to know their weak points and work on it.
NCERT Exemplar Book Class 12 Biology have varied types of questions, be it Multiple Choice Questions or Long answer Questions. This book is specifically helpful for students who are preparing for Medical Entrance Examinations. The solutions given for each question are to the point and cover the main concepts asked in the question, with proper diagrams, if applicable.
There are 16 chapters and 2 model question papers in NCERT Exemplar Book Class 12 Biology. Each chapter contains questions in various formats. In addition, diagrams are provided with proper illustrations, thus, explaining about human, animal and plant anatomy in a more detailed manner. Therefore, making students more aware of the type of questions that are asked in examinations.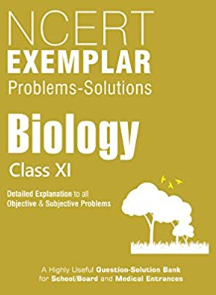 Download NCERT Exemplar Book Class 12 Biology PDF
Therefore, we have provided the solutions for NCERT Exemplar Book Class 12 Biology in PDF format as mentioned below. Click on the respective links to download the solutions for NCERT Exemplar Book Class 12 Biology: