MIT Open Course Details: MIT (Massachusetts Institute of Technology) is a renowned global institute with the University of Cambridge, United States of America. It ranks top all over the world. MIT is dedicated to making the world a better place to live in by inspiring minds. It is performing it by providing better education, research, and innovation. This Institue welcomes students (desiring to learn) from all over the world, regardless of where they come from. It was founded to give acceleration to the Industrial revolution and evolving technology.
About MIT Open Course Details
MIT deals in various courses that provide students with an education that has a combination of both rigorous academic study and excitement of new discoveries all over the world. The institution is committed to developing in each member of the MIT Community the ability and passion for working wisely, creatively, and in an effective manner for the welfare of mankind.
MIT Open Course embodies a free digital collection of high-quality teaching and learning materials, presented in the public domain in an easily accessible format. There are more than 2000 course materials available on this MIT OpenCourseWare Platform. From this, one can gain knowledge about any courses topic-wise, in a sequential format anytime and anywhere. MIT Open Courses covers different topics which are described below in detail.
Topics of MIT Open Courses
Business: Anyone dreaming of establishing a good profitable business could go through its courses which covers various sub-topics like Accounting, Business Ethics, Entrepreneurship, Finance, Globalization, Health Care Management, Industrial Relation, and Human Resource Management, Information, Innovation, Leadership, Management, Marketing, Operations Management, Organizational Behavior, Real Estate, and Supply Chain Management. After acquiring knowledge on the topics mentioned above, no one could stop one from being a business tycoon.
Energy: MIT Courses embodies in itself different sub-topics like Buildings, Climate, Combustion, Electricity, Fossil Fuels, Fuel Cells, Hydrogen and Alternatives, Nuclear, Renewables, Technology and Transportation under this section. These all are an inevitable part of our lives. A detailed study would let us know the better utilization and management of these energy resources.
Engineering: Nowadays, Engineering has been evolved as one of the most favorite profession among students. There is a race of learning and evolving new technologies. The Open Courses provided here would definitely lift you to the top among them. The sub-topics covered under this section are Aerospace Engineering, Biological Engineering, Chemical Engineering, Civil Engineering, Computer Science, Electrical Engineering, Environmental Engineering, Materials Science and Engineering, Mechanical Engineering, Nanotechnology, Nuclear Engineering, Ocean Engineering, Systems Engineering. These courses are framed innovatively to enhance knowledge and pragmatic use.
Fine Arts: Arts is recognized as the mirror of the culture and civilization of any particular region. One who has a creative mindset, to depict the forms of life, society, and environment in an innovative style could join this MIT Open Course Platform to brush up their arts and skills. This section includes various sub-topics like Architecture, Art History, Game Design, Media Studies, Music, Performance Arts, and Visual Arts. Anyone willing to do any course can join and build a good career.
Health and Medicine: Nowadays, people are getting affected by different diseases, as their daily routine and lifestyle have changed. In any country, people are human resources, whose well being is required for the development of other resources. Anyone pursuing the profession of a Doctor could acquire a meticulous understanding of different fields of health and medicine through this course.
It includes Biomedical Enterprise, Biomedical Instrumentation, Biomedical Signal, and Image Processing, Biomedicine, Cancer, Cellular and Molecular Medicine, Epidemiology, Functional Genomics, Health and Exercise, Science, Immunology, Medical Imaging, Mental Health, Pathology and Pathophysiology, Pharmacology and Toxicology, Physical Education and Recreation, Public Health, Sensory-Neural Systems, Social Medicine, Spectroscopy and Speech Pathology.
Humanities: This Course Structure in MIT Courses helps create an understanding of the evolving lifestyles, learning, and knowledge of humans on this earth. How did they develop any settlement, community, languages, caste, creed, and religion in their life? All answers are included in the sub-topics under this section, like History, Language, Linguistics, Literature, Philosophy, and Religion.
Mathematics: Mathematics is the study of number, quantity, shapes, and structures, etc. It doesn't have any clear definition, but it defines and solves various questions and problems of other subjects like physics and chemistry. It is applicable in all parts of life to space science. MIT deals with several topics like Algebra and Number Theory, Applied Mathematics, Calculus, Computation, Differential Equations, Discrete Mathematics, Linear Algebra, Mathematical Analysis, Mathematical Logic, Probability, and Statistics, Topology, and Geometry.
Science: Science is the systematic learning about the nature and behavior of the natural and physical world enveloping us through intellectual and experimental activity. Students are having the desire to know and discover solutions for everything happening before we could opt for MIT Open Course as it has a good collection of scientific study materials covering sub-topics, which are Biology, Chemistry, Cognitive Science, Earth Science, and Physics.
Social Science: This section provides a deep understanding of society and social changes directly or indirectly affecting people's thoughts and lifestyles. In this section, we will acquire knowledge about different topics like Anthropology, Archaeology, Communication, Economics, Game Theory, Geography, Legal Studies, Political Science, Psychology, Public Administration, Sociology, and Urban Studies.
Society: Society plays a vital role in the development of knowledge and thoughts of any person. A detailed course structure on different topics like African American Studies, Asian Studies, European and Russian Studies, Gender Studies, Global Poverty, Indigenous Studies, Latin and Caribbean Studies, Middle Eastern Studies, The Developing World, and Women's Studies.
Teaching and Education: Teaching is considered the noblest and respected profession in the world. It is the creator of all other professionals, we see today. Education is a must-needed criterion for the development of any country; every country invests the right amount in the teaching and education of the people. By doing this course from MIT Open Course, one could better career options in teaching. The Courses compiled here are Curriculum and Teaching, Education Policy, Educational Technology, and Higher Education.
MIT Open Course Eligibility Criteria
There are no eligibility criteria for this course, i.e., no linguistic restrictions, No IELTS/TOEFL required, no previous degree required, no nationality restrictions, and no fee for entry is required. Open MIT Courses provide basically free online education of undergraduate and graduate levels. One can register oneself for the course, will surely get the opportunity to avail the Knowledge of Ocean as there is no rejection procedure.
Get to Know More about other types of Course Details in Streamwise, and Category wise
MIT Open Course Admission Procedure and Course Duration
This is an online certificate course. So, you can opt for this course from anywhere and any time as you wish. Some benefits of MIT Open Courses are stated below:
It is freely available with no hidden charges.
A gateway to World Class Library having diverse courses with free online books.
A study from anywhere program.
No time restrictions and deadlines.
No qualifications and entry requirements.
Free Enrollment round the year without any hindrance.
Points to be noted
No certificates are provided on completion of any course done from here because it is opened and made available to the whole world to enhance their knowledge and develop a better understanding of any subject or field.
Also, Read:
MIT Open Courses Job Description
As we can see that MIT Course consists of diverse courses in various streams, so the job field open for the aspirants are also diversified. With Engineering Courses, one can get a job of well-paid Engineer, Health and Medicine would open the job opportunities in research and practitioners. Fine Arts courses provided above can offer a job of the designer, artists and many more. The Science and Social Science Program offers various jobs in research and discoveries for the welfare of society.
Business Courses are designed in a way to help a person to establish one's own business. Being an entrepreneur, one can create many jobs and enhance the rate of employment. A wonderful course of Teaching and Education is also knotted with this platform to choose teaching as a career to serve humanity. Good Knowledge and Learning earn not only a handsome salary but also respect in society.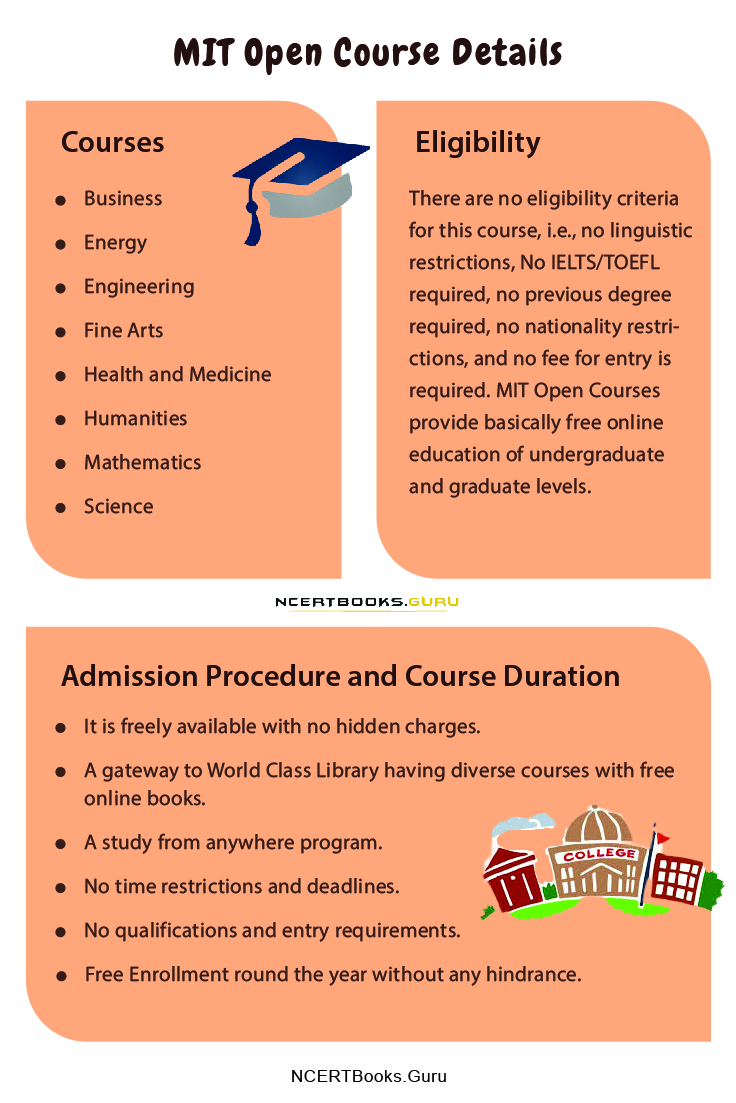 FAQ's on MIT Open Course Details
Question 1.
What is the full form of MIT?
Answer:
The full form of MIT is the Massachusetts Institute of Technology.
Question 2.
From where is MIT recognized?
Answer:
MIT is recognized as the University of Cambridge, United States of America.
Question 3.
What does MIT Open Course embody?
Answer:
MIT Open Course embodies a free digital collection of high-quality teaching and learning materials, presented in the public domain in an easily accessible format.
Question 4.
How many courses are there in the MIT Open Course?
Answer:
There are more than 2000 courses in MIT Open Course.
Question 5.
What are the eligibility criteria for doing any course from MIT Open Course?
Answer:
There is no previous degree or qualification is required as eligibility criteria for doing any course from MIT Open Course, as this course is meant to enhance knowledge and understanding in any subject or field.
Summary
MIT Open Course is an Ocean of Knowledge. If you have a temperament of learning and acquiring knowledge in different streams, to develop innovative ideas subsequently, then this online free course is definitely for you. Learning and developing knowledge in any above-mentioned field could lift you up the stairs of success and open the doors of better career opportunities. All you need is to learn cordially and patiently.