Medical Courses After B Sc Chemistry: Chemistry is one of the most interesting fields of science that is interlinked with our days in some or the other way. The food we eat, the air we breathe, and the water which is essential all are interlinked with chemistry.
So, are you looking for options like BSc medical courses and medical course options after BSc Chemistry? Read this below article to know the professional courses, medical diploma courses, paramedical courses, government jobs, high salary jobs, and a lot more for BSc chemistry completed aspirants.
About Medical Courses After B Sc Chemistry
There are a lot more options available after the B.Sc Chemistry for the students. The courses will teach you about acid-base titrations, kinetics, equilibrium reactions, electrochemical reactions, and a lot more. You can easily build your career in both government and private sectors in the science field after B.Sc in Chemistry.
While studying Chemistry students can get the opportunity to get involved in research work, academia, and a lot more. With the help of these fields, you can work on a part-time basis to earn some extra money. The duration of these diplomas, certificates, and professional MSc courses varies from 6 months to 3 years.
List of Medical Courses After BSc Chemistry: Overview
With the help of this table, you will get to have an overview of the Medical Courses After B Sc Chemistry.
Courses Offered

Diploma
Certificate
Masters in Science

Career Scope
Production Chemist, Water Quality Chemist, Food and Flavor Chemist, Agricultural Chemist, Pharma Assistant, Material Science, Cytologist, and more
Salary Offered
Rs 6 Lakhs to Rs 11 Lakhs per annum
Duration of Courses
6 months to 2 years
Paramedical Courses after B.Sc Chemistry
After the completion of a B.Sc in Chemistry, you can choose various options to pursue in paramedical courses. You can opt for the career options such as Physiotherapy, Nursing, and more. You can choose your career options in the defined field. The master's courses can be completed in just 2 years. So take a look at the list of courses.
Masters of Hospital Administration
MSc in Nursing
Post-graduate diploma in geriatric medicine
Postgraduate diploma in medical radiodiagnosis
Masters of Physiotherapy
Masters in Radiation Technology
Masters in Optometry and Ophthalmic Technology
Master in Occupational therapy
Professional Courses After B.Sc Chemistry
When students have completed their bachelor's degree they wanted to build their career in the master's field. Here is when the need for an M.Sc degree arises. You can choose the career options in Medical Technology and BSc Laboratory technology as the professional courses. There are several career options available in the field of M.Sc medical which you can pursue after B Sc chemistry.
M.Sc Pharmaceutical Chemistry
M.Sc Theoretical Chemistry
M.Sc Organic Pharmaceutical Chemistry
Master's in Computational Chemistry
M.Sc Inorganic Chemistry
M.Sc Physical & Materials Chemistry
M.Sc Chemistry
M.Sc Bio-Chemistry
M.Sc Environment & Green Chemistry
M.Sc General Chemistry
M.Sc Applied Chemistry
M.Sc Analytical Chemistry
M.Sc Molecular Chemistry
M.Sc Organic Chemistry
M.Sc Drug Chemistry
M.Sc Instrumental Analysis
M.Sc Medicinal Chemistry
M.Sc Physical Chemistry
M.Sc Oil & Gas Chemistry
M.Sc in Zoology
M.Sc Forensic Science
M.Sc in Chemistry
M.Sc Microbiology
M.Sc in Botany
B.Ed in Chemistry and other related subjects
1-year Diploma Courses after B.Sc Chemistry
You can pursue diploma courses also at the master's level after the completion of a bachelor's degree in Chemistry. These courses offer admission through the entrance exams or on a merit-based. But the eligibility is that you must have secured a bachelor's degree. However, you can have a look at these few defined 1-year diploma courses.
Postgraduate Diploma in Analytical Chemistry
Postgraduate Diploma in Biotechnology
Postgraduate Diploma in Nanobiotechnology
If you want to build your career in the medical field then you can pursue a career in the pharmaceutical and medical sector. Some of these top-rated courses are
MSc Biochemistry
MSc Bioorganic chemistry
MSc Biotechnology
MSc Medical Physiology
MSc Medical Biotechnology
MSc Health care sciences
MSc Molecular biology
MSc Biomedical technology
MSc Biomedical Engineering
Government Jobs After B.Sc Chemistry for Medical Students
These days students wanted to explore their careers more in the government sector. But due to the increased demand, the completion has been increased. If you are not aware of the jobs available in the government sector after the bachelor's degree in chemistry then you can have a read over these opportunities which you can pursue.
Lab Technician – Govt-funded academic institutions
Medical Assistant/Data Entry Operator- Hospitals
Professor – Universities & Colleges
Demonstrator – Medical Schools and Universities
Junior Research Fellow – CSIR NET, Research institutes in India and more
High Salary Jobs After B.Sc Chemistry in Medical Field
You can find the salary structure according to the jobs offered to the students. Various amazon job profiles are waiting for the chemistry graduates. On average, after the completion of your graduation, you can easily earn Rs 6 Lakhs to Rs 11 Lakhs per annum. Look here for the job profile-wise salary.
| | |
| --- | --- |
| Job Profile  | Salary in Rs  |
| Analytical Chemist | 3.5 to 4.6 LPA |
| Chemist | 6 to 7 LPA |
| Junior Research Associate | 4.5 to 5 LPA |
| Lab Assistant | 2.5  LPA |
| Pharmaceutical Sales Executive | 3 to 4 LPA |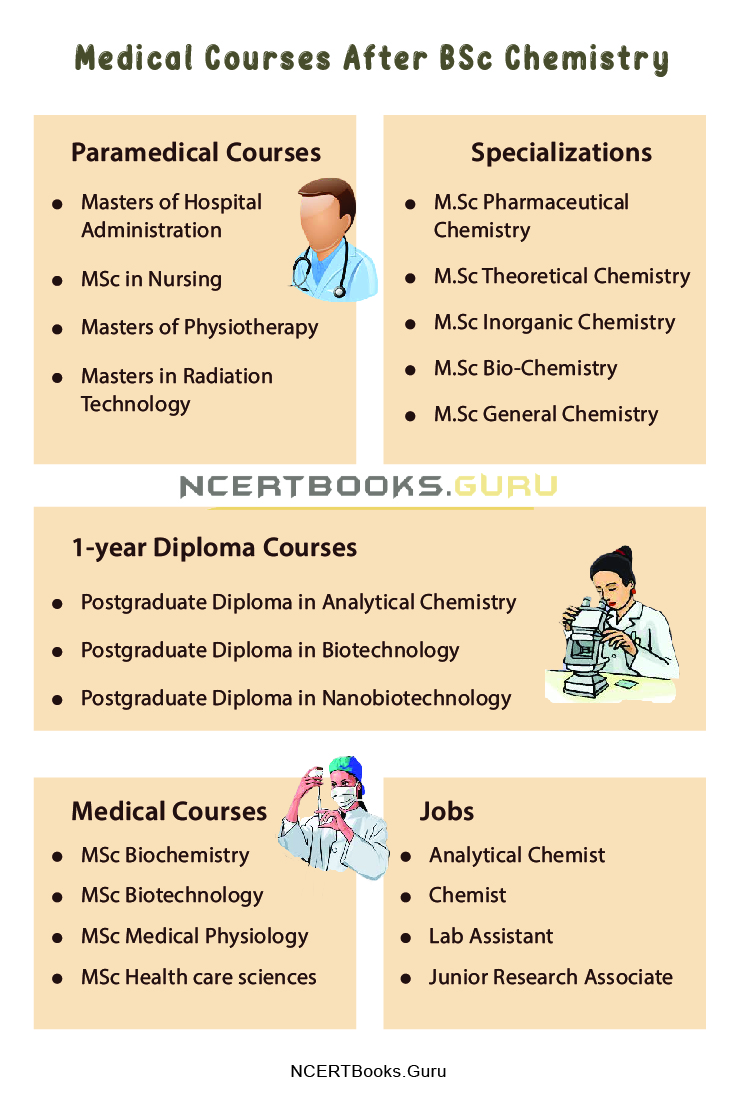 Do Check:
FAQs on Medical Diploma Courses After B Sc Chemistry
1. Who are the top recruiters that offer amazing medical jobs after the B.Sc Chemistry? 
The top recruiters who offer high-salary jobs in medical after BSc chemistry are listed below but they need to be eligible to appear for an interview. Some of these top companies are
Capgemini
Reliance Industries Limited.
Tata Consultancy Services (TCS)
Amazon
Yahoo
International Business Machine (IBM)
Wipro
Larsen & Toubro Infotech
HCL Technologies
2. How to become a doctor after BSc chemistry? 
To become a doctor you need to pursue a degree in MBBS. But you can also be called a doctor if you complete a Ph.D. in chemistry or any other related field. For this, after the completion of B.Sc chemistry, you need to pursue a master's degree in the related domains.
3. Can I do MLT after BSc chemistry? 
MLT means Medical lab technology. Thus if you want to pursue a master's degree in MLT then yes, you can do this. Throughout the course, the students will get to know more about the diagnosis, prevention of various diseases, and a lot more.
4. What are the jobs available after B Sc Chemistry?
Pharma Assistant, Geneticist, Lab Assistant, Clinical Research Specialist, Radiologist, Researcher, Lecturer, Toxicologist, Biochemist,  Pharmaceutical Sales Executive, Cytologist, Technical Writer, etc are the few career options that you can pursue after B.Sc Chemistry.
5. What is the career scope in the medical sector after B.Sc Chemistry? 
If you are interested in building your career in the pharma field, then you can look for pharmaceutical industries, forensic science departments, chemical manufacturing, plastic companies, fertilizer producing companies, etc.
Wrapping Up
After reading the above article on medical courses after BSc chemistry, we believe that now you can easily build up your career in the medical field. You can pursue various career options in the pharma sector. Thus, it shows a fact that we have received immense growth in the chemistry sector which has created a lot of career opportunities in the domain.
Thus, candidates must grow their talent, values, goals, and other skills in the medical field after BSc chemistry with the help of the above-provided information. You can also ask your doubts in the comment section and also visit our site Ncertbooks.Guru to get more information on medical courses and other course details.