Format & Samples of Job Offer Letter: It is an official document where the company offer or sent to selected candidates for employment. One of the great ideas to clear all the details and conditions of a job for the employee and the employer is to have written confirmation of an offer. This Job Offer Letter can be made over the phone or email, probably it is most likely to be a formal letter that confirms employment information like a job description, salary, benefits, paid leave, and management structure.
In the mail or written job offer letter at the end, the hired candidates may find the declaration part where they should reply to the letter in acceptance or denying. If the candidates agree to the declaration mentioned in the offer letter, they need to sign it and submit it to the company.
Provided below are downloadable job offer formats and samples. Get them for free and make use of the given job offer letter template and examples as a reference and make one on your own. Also, our site is providing numerous Letter Writing Topics in both Formal and Informal types so you can get familiar with all the styles of letter writing in one place.
Job Offer Letter Format
A job offer letter is given to the selected candidates in an interview for a specific position in the company. Here, you will view the standard format of the job offer letter. Have a look at the letter and use it as a reference:
Employer Address
Contact Information
Hiring Manager Details
Job Title
Date of joining
Office timings
Salary package offered
Benefits and compensation
Company policies
Probation period
At-will status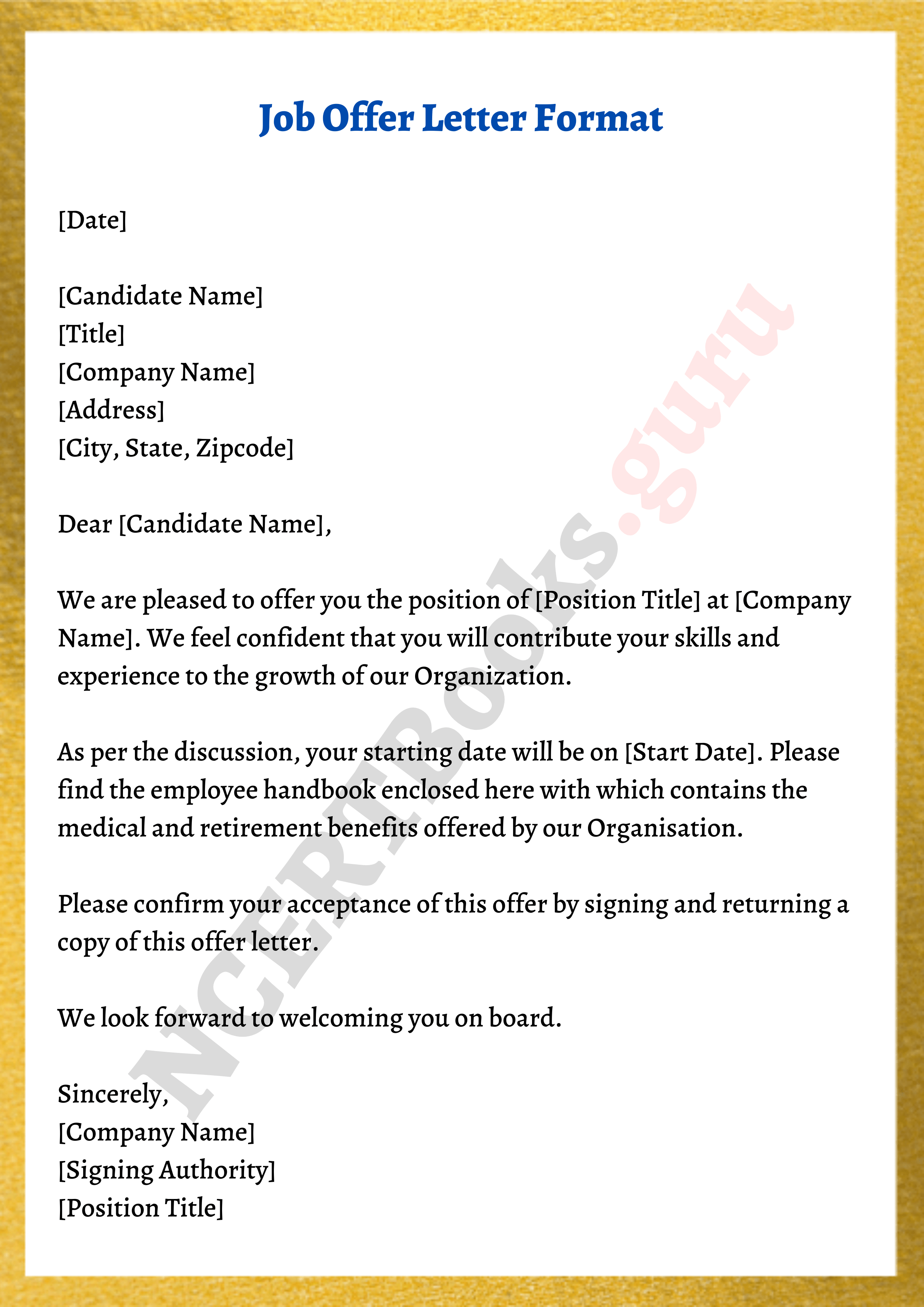 Also, Check more Offer Letter Formats by using this link and also add them under your reference articles.
Job Offer Letter Samples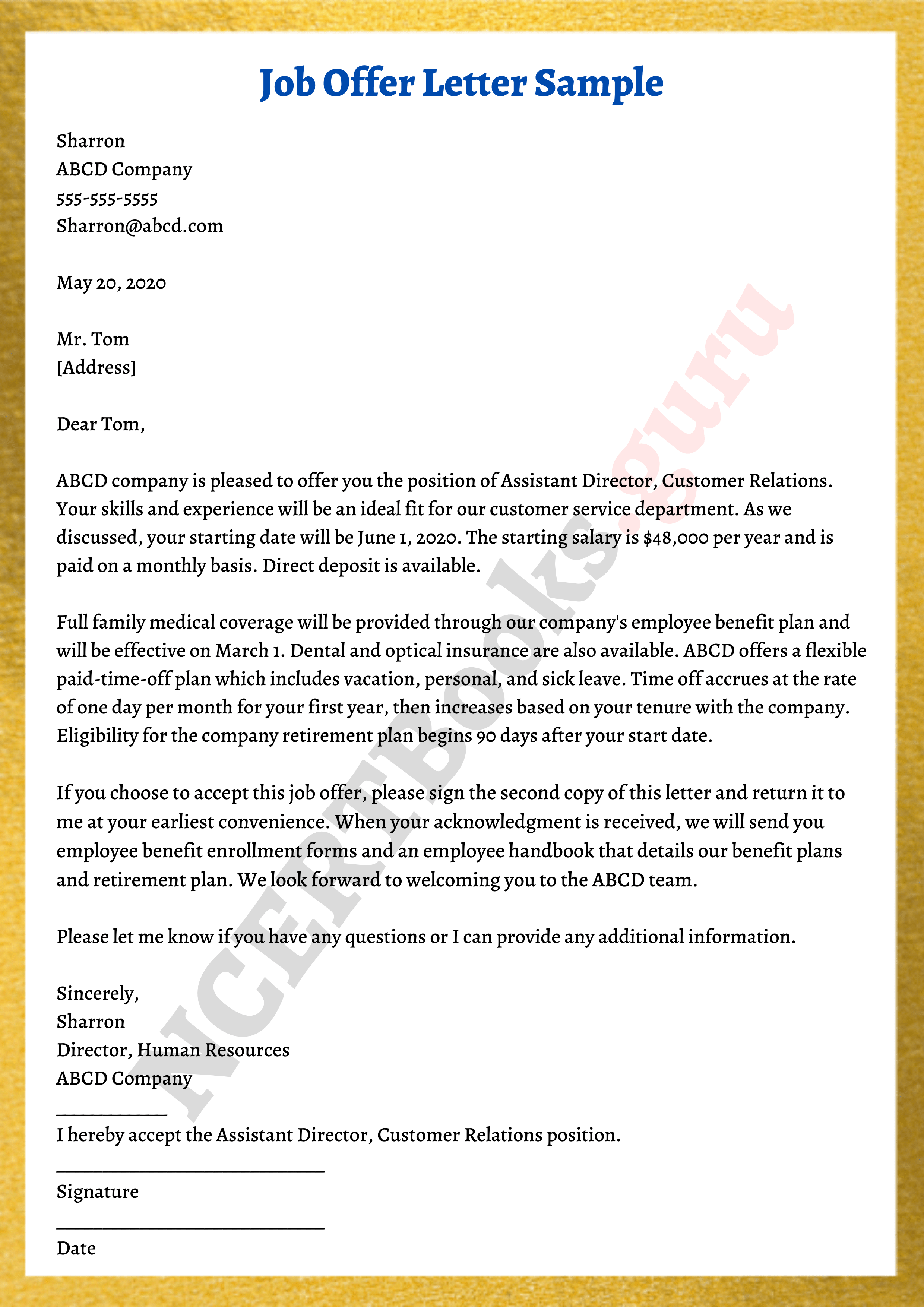 Email Format Sample for Job Offer Letter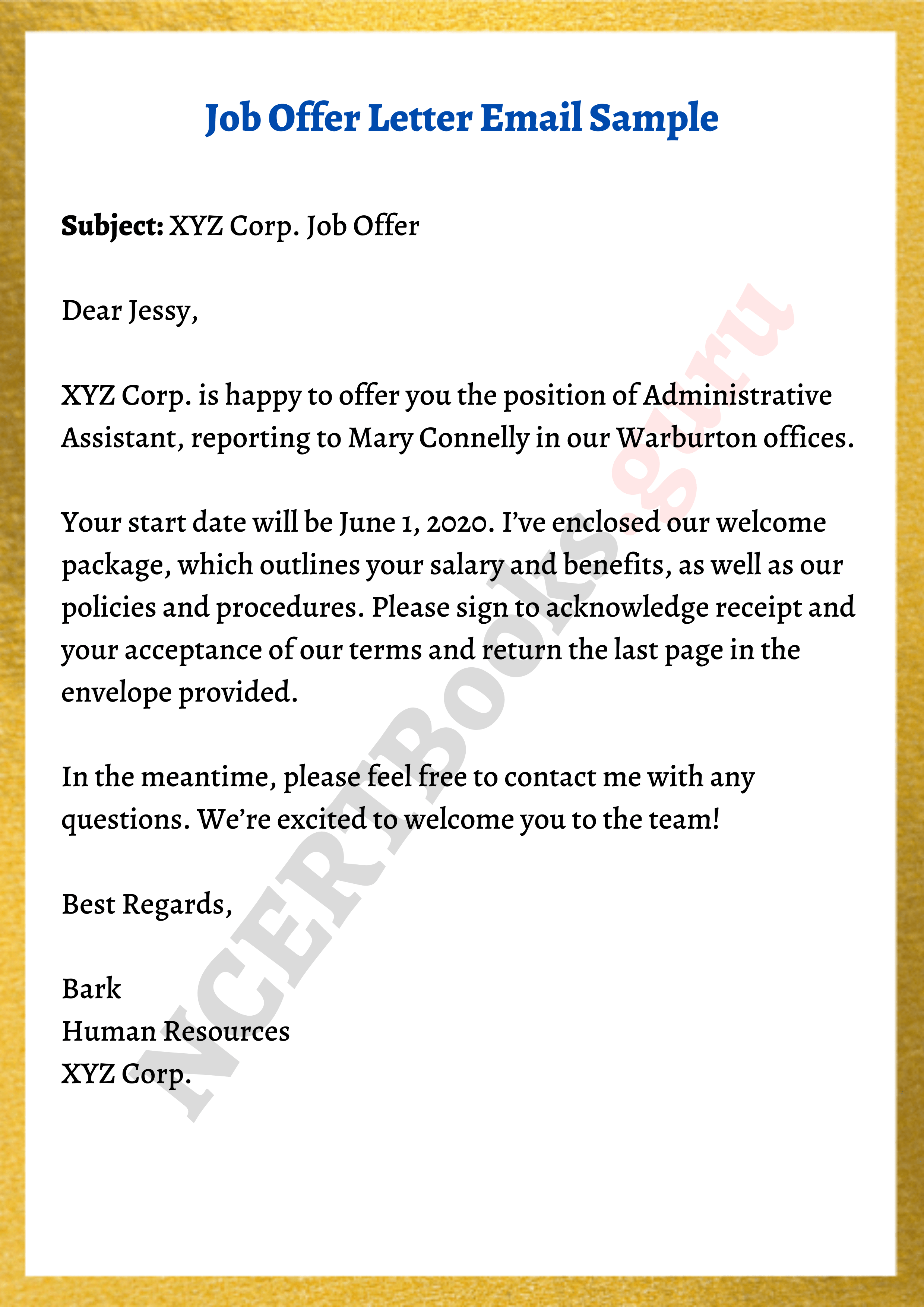 FAQs on Job Offer Letter Writing
1. How to write a Job Offer Letter?
Follow these three steps and learn how to write a job offer letter:
Mention the company name and job title at the top of the page.
After that, use the greeting with "Dear Applicant Name," and congratulate him/her.
Include the details about the offering job like the job title, start date, main duties, compensation, benefits, and who the person will be reporting to.
2. What is Included in a Job Offer Letter?
An offer letter confirms employment details such as:
Job description
Job title
Reporting structure
Starting date of employment
Salary
Benefits information and eligibility
Acknowledgment of offer and confirmation of acceptance
3. Is the job offer letter important?
Yes, job offer letters are very important & still required. As they are not legal documents, they can confirm a job offer, promote the new opportunity, and develop excitement about working for your company with the candidate.