India is the second-largest country in Asia and shares its boundaries with Countries like Burma, Bangladesh, China, Bhutan, Pakistan, and Nepal. It is a Republic made of 28 States and 8 Union Territories. An Outline Map of India will help identify the boundaries of states in the country. It can be a perfect guide for students of geography to know various states in the country.
This article will shed some light on how to integrate maps into your learning strategy and tackle questions related to Geography. UPSC will never ask questions directly and checks your ability to interconnect topics. Understand the Importance of Maps to Score better grades in your UPSC Civil Service Examination. Maps play a crucial role in UPSC Prelims, Mains Exam. One needs to know How many States are there and where they are located.
Download Printable India Outline Map
If you are one of those who are getting started with the India Map Outline Drawing then Blank Map Outline can be a great source in learning it. Blank Map of India can be useful to guide you in drawing the Whole India Map. Outline Maps of India are available in both offline and online versions. The offline version is a printable one that you can use during your Educational Purposes. Check out the accuracy of your Geographical Knowledge by practicing from the Printable Outline India Map.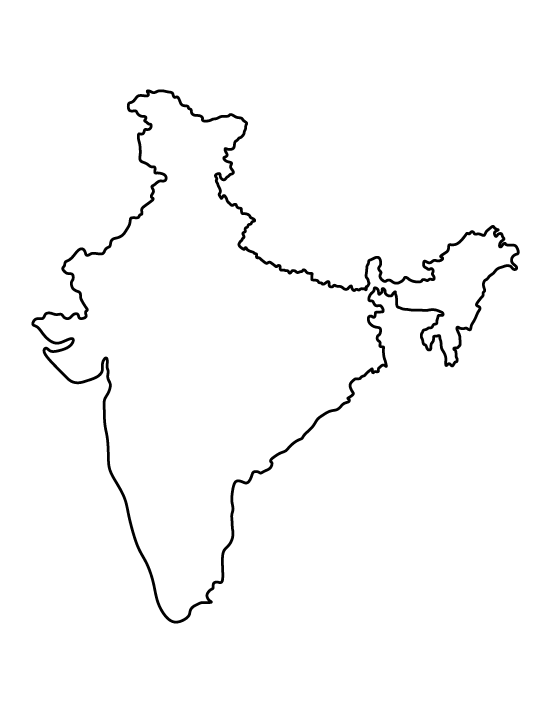 Do Read More Articles on
How to Study Maps for UPSC IAS?
Keep the below pointers in mind and complete one after the one. This, way you can get a grip on the India Map and its locations by which you can answer any difficult question asked in the UPSC Exam.
Neighbours: Firstly, learn about India's Neighbouring Countries. List out different states that share the boundaries of India's Neighboring Countries. Study thoroughly about oceanic regions and Islands, etc.
Lines: Get to know about Important Lattitude and Longitude Lines. Keep a note of states that passes through the Indian Standard Meridian.
States: You need to be in a position to draw the political map of India by hand. Be aware of the Important Cities of the country and point them on the Map. Identify the west/east/south/north extents of states and union territories. Make a note of new states carved out in the existing territory of India.
Rivers and Lakes: Find Origin, Sources, Tributaries, and Flow Routes of Rivers in India. Point out Lakes on Political Map and identify the states that share them.
Mountains/Glaciers: Note down the important peaks of mountains and draw mountain ranges on a political map. Study about different glaciers and various rivers originating from these glaciers. Learn a comparative approach to draw Western and Easter Ghats Mapping.
Natural Vegetation: Study about Great Diversity in Indian Natural Vegetation. Learn the Spacial Distribution of types of forests across India.
Wrapping Up
We believe the knowledge shared regarding the India Outline Map has shed some light on you. If you need any help do leave us your queries via the comment section so that we can revert back to you with possible help. Bookmark our site to know UPSC Exam Preparation related Stuff in no time.