Check out the details regarding IGNOU B.Ed Course 2022 – Exam Date, Syllabus and Fee. If you are searching for IGNOU distance BEd course details 2022, then you are at right place. Here we are providing detailed information about distance B.Ed programme in IGNOU. The Indira Gandhi National Open University offers admission to its distance learning Bachelor Degree of Education (B.Ed) in both January and July academic sessions. Indra Gandhi National Open University (IGNOU) offers it's 2 years B.Ed course under the School of Education.
B.Ed Degree from IGNOU Distance Education
The Bachelor of Education (B.Ed.) Programme of IGNOU aims at developing the understanding and competencies required by practising teachers for an effective teaching-learning process at the secondary stage. IGNOU offers this programme under distance learning mode. Now you can get details about IGNOU B.Ed admission procedure, eligibility criteria, fee structure, Exam date and B.Ed Subject list & syllabus details.
IGNOU announces Admission to Bachelor's Degree Programmes for the Academic commences soon.
About the Course
Indira Gandhi National Open University (IGNOU) offers 2 years IGNOU B.Ed Course as a distance mode under its School of Education (SOE). B. Ed. is an undergraduate academic course known as Bachelor of Education. Earlier it was known as Bachelor of Training (BT). It is a course offered for those who are interested in pursuing a career in teaching and related fields.
B.Ed. is the course offered for candidates who are interested in pursuing career in teaching. After completing B.Ed. you can become a Teacher.
B.Ed. Employment Areas
Schools
Coaching Centres
Education Consultancies
Education Department
Home & Private Tuitions
Publishing House
Research and Development Agencies
B.Ed. Course Job Types
Teacher
Principle
Syllabus Designer
Administrator
Assistant Dean
Content Writer
Counsellor
Education Researcher
Instructor
Librarian
Military Trainer
Advance Course in B.Ed.
IGNOU B.Ed Course Duration
For B.Ed Course which is offered by IGNOU, the minimum duration to complete is Two (2) years. However, the maximum period which is allowed by university to get a degree is Four (4) Years for Regular and Five years for Distance Education.
Minimum Duration: 2 Years
Maximum Duration: 5 Years
Minimum Age: No bar
Maximum Age: No bar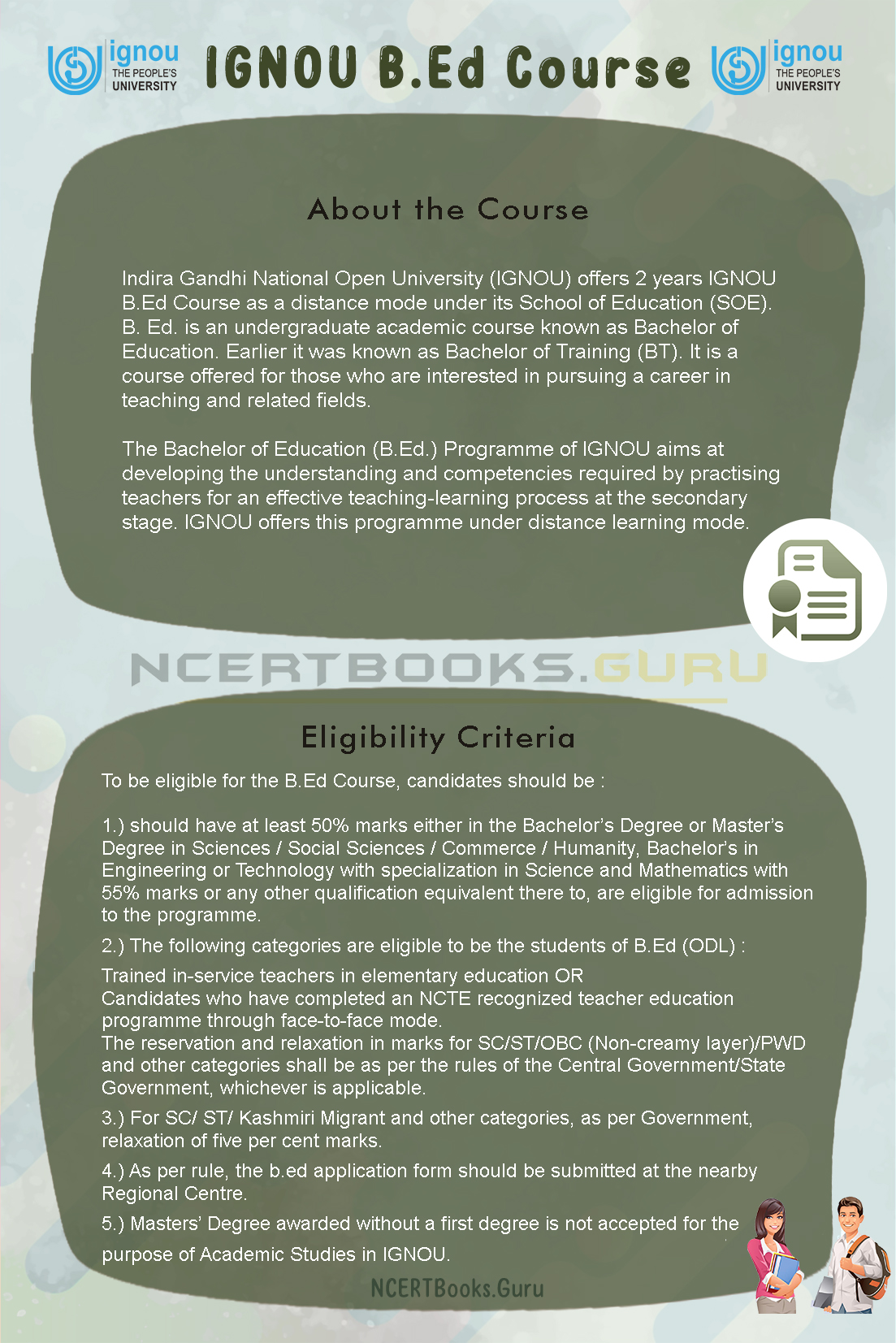 B.Ed Eligibility Criteria in IGNOU Open University
To be eligible for the B.Ed Course, candidates should be :
1.) should have at least 50% marks either in the Bachelor's Degree or Master's Degree in Sciences / Social Sciences / Commerce / Humanity, Bachelor's in Engineering or Technology with specialization in Science and Mathematics with 55% marks or any other qualification equivalent there to, are eligible for admission to the programme.
2.) The following categories are eligible to be the students of B.Ed (ODL) :
Trained in-service teachers in elementary education OR
Candidates who have completed an NCTE recognized teacher education programme through face-to-face mode.
The reservation and relaxation in marks for SC/ST/OBC (Non-creamy layer)/PWD and other categories shall be as per the rules of the Central Government/State Government, whichever is applicable.
3.) For SC/ ST/ Kashmiri Migrant and other categories, as per Government, relaxation of five per cent marks.
4.) As per rule, the b.ed application form should be submitted at the nearby Regional Centre.
5.) Masters' Degree awarded without a first degree is not accepted for the purpose of Academic Studies in IGNOU.
IGNOU B.Ed Admission Procedure 2022
IGNOU B.Ed Course: B. Ed admission is very easy and understandable. The B.Ed Admission shall be done on the basis of the score/grade which is obtained in the IGNOU B.Ed Entrance test at the basis of all over India. There is no age bar to take admission in bachelor of education. After the b.ed entrance result, the applicants need to submit the filled-in application form with an attested copy of documents that are specified in Entrance-cum-Admission Form. When applicants receive an offer letter for admission from the Regional Centre, then it is needed to submit original documents.
Fee Structure for B.Ed
As far as the B.Ed programme fee structure is a concern, a candidate has to pay Lump-sum Rs. 20,000/- for the entire programme in the first year and fee should be paid only through a Demand Draft (D.D) drawn in favour of IGNOU payable at the city where your Regional Centre is situated. For example IGNOU, Regional Centre, Agra 0123456.
Note: Please write your name and programme name in capital letters on the back of the (D.D) Demand Draft.
How to Apply For IGNOU B.Ed Entrance Test?
How to apply for IGNOU B.Ed Entrance Test? The candidates can download the IGNOU B.Ed Prospectus and application form from university official website i.e. www.ignou.ac.in. After filling up the application form, the candidates may send it along with entrance examination fee of Rs. 1000/- in the form of demand draft to the Regional Centre of the concerned city via Registered/Speed post. The Demand Draft has to be made in favour of IGNOU, payable at the city of the Regional Centre concerned.
IGNOU B.Ed Entrance Test
The candidates can check the date of IGNOU B.Ed entrance test on the latest advertisement published by the university on its official website. It is to be noted that merely appearing in the entrance test does not mean that the candidate is eligible for admission to B.Ed The admission will be purely on the basis of the rank obtained by candidates in the entrance exam and production of proof of their eligibility at the time of the last date of submission of application for admission to B.Ed discipline along with original certificates and programme fee.
The number of seats for this programme per PSC is limited to 50 only. The university reserves the right to conduct the examination at different centres/change the examination centre of the candidates without assigning any reason thereof.
IMPORTANT DATES:
IGNOU B.Ed Entrance Test Date 2022: Available Soon
Last Date of IGNOU B.Ed Application Form Submission: Available Soon
IGNOU B.ED Entrance Hall Ticket
The university sends the IGNOU B.Ed Entrance to admit card to the applicants at their communication address via post as well. In case, if any candidate does not receive his or her hall ticket by post, he or she can download it from the website at www.ignou.ac.in to appear in the entrance examination. The applicants will able to download the Hall ticket/ admit card from the university website ten days before the date of examination.
IGNOU B.Ed Entrance Result
As per the guidelines, the university declares the B.Ed Entrance Test result usually after one and a half month from the date of examination. So, it will be the case for this year also for declaration of result. The university may take less or more time for the result declaration. The candidates will be able to check their result on the university website whenever it will be declared.
IGNOU B.Ed Course & Syllabus
IGNOU B.Ed First Year Courses

Course Code
Course Name
Credits
ES-331
Curriculum and Instruction
4
ES-332
Psychology of Learning & Development
4
ES-333
Educational Evaluation
4
ES-334
Education and Society
4
ES-335
Teacher and School
4

IGNOU B.Ed Second Year Courses

Course Code
Course Name
Credits
ES-341
Teaching of Science
4
ES-342
Teaching of Mathematics
4
ES-343
The teaching of Social Studies
4
ES-344
Teaching of English
4
ES-345
Teaching of Hindi
4
ES-361
Educational Technology
4
ES-362
Computer in Education
4
ES-363
Guidance and Counselling
4
ES-364
Distance Education
4
BESE-065
HIV and AIDS Education
4
BESE-066
Adolescence and Family Education
4
ES-381
School-based Practicals
4
ES-382
Workshop-based Practicals
4
ES-383
Practice Teaching
8
ES-346
Teaching of Tamil
4
Total Credits
84
In Case of any query related to Bachelor of Education (B.Ed) programme, please contact the university at below mentioned contact details:
Address: Regional Director, Student Service Centre(SSC), IGNOU, Maidan Garhi, New Delhi -110068,
E-mail Id: [email protected]
Telephone: 011-29535714
See More:
FAQs on IGNOU B.Ed Course Details
1. Where do I find the entire IGNOU B.Ed Course Syllabus?
You can find the entire IGNOU B.Ed Course Syllabus on our page.
2. What is the Admission process to get into IGNOU B.Ed?
Admission Process to get into IGNOU B.Ed is through merit basis and depends on the score in the IGNOU B.Ed Entrance Test.
3. What is the Eligibility Criteria for IGNOU B.Ed?
You can check out the detailed IGNOU B.Ed Eligibility Criteria by referring to the above article.
Summary
Now you got the IGNOU B.Ed Course Details 2022. We have furnished you with the course details about Bachelor of Education in IGNOU, admission procedure, how to apply, B.Ed entrance exam, eligibility, duration, fee details, Syllabus in this article.