How To Become SDO Sub Divisional Officer In India?: In India, a sub-divisional officer is a high official with the job of developing his area, maintaining order in the neighbourhood, and supervising the works of various departments in the area. Many students dream of joining the civil service and getting this job is a dream that many achieve.
Every Indian state is divided into districts and then into blocks, where each district is divided into urban and rural areas. This district will also include many blocks, so SDO works at the divisional level. As well as the Department of Irrigation, SDO officers are posted to the Electricity Board, the Police Department, etc.
Refer to Course Details to know more about related courses and find details like Admission Process, Eligibility Criteria, etc.
Students who wish to be SDOs in India must undergo a physical and psychological preparation process. Although there are a limited number of vacancies, considering the number of applicants, the numbers are overwhelming. It would be an amazing opportunity for everyone. There are a lot of benefits to becoming an SDO.
The main reasons to become SDO Sub Divisional officer are the excellent reputation, the benefits, and the excellent salary packages from the government. The selection process must be rigorous and include several tests, given that it is a job of responsibility.
Who is a Sub Divisional Officer (SDO)?
SDOs are the heads of sub-divisions within specific government departments of a district. SDOs are responsible for managing all the work of their departments in different blocks under their jurisdiction. An SDO's job is also to resolve as quickly as possible any problems coming into his work area. The responsibilities of SDOs are to ensure development, order and law enforcement, and a safe environment for residents.
Eligibility to Become Sub Divisional Officer
SDO (Sub Divisional Officer) applicants must meet the following eligibility requirements. They include:
Qualification
The applicant must hold a bachelor's degree from an accredited university in the relevant field. As an example, An electrical bachelor's degree from the electrical stream is essential if candidates wish to be assigned to the electricity board department. Masters degree holders can also become SDOs.
Age Requirements
SDOs must be minimum of 21 years of age or older. Aspirants in some categories receive cast relaxation benefits, so there may be a maximum age limit for SDOs. The maximum age limits for certain categories are as follows:
General Category: 30 years old
OBC Category: 33 years old
SC/ST Category: 35 years old
Nationality
Candidates who wish to become SDOs (Sub Divisional Officers) must be citizens of India. It is even less likely for Indians who are now living in India to utilize this opportunity.
Refer Similar:
Salary of SDO Officers
Sub Divisional Officers (SDOs) are paid according to various factors such as their job description, performance, and experience. SDO salaries also vary by state. Freshers get an average of Rs. 25,000 to Rs. 30,000 a month i.e. Rs. 3,00,000 to Rs. 3,60,000 a year after deducting all allowances. The average salary is however between Rs,650,000 and Rs. 660,000 per year.
PSC Examination
For the recruitment of SDOs in India, the state PSC exam is conducted. The state PSC test is held in almost every state. It is also the responsibility of PSC to conduct and select candidates. Exams are conducted annually. In order to become a Sub Divisional Officer, applicants must apply for and pass the state PSC exam.
Public Service Commissions, also known as PSCs, are state government-run bodies responsible for conducting on-the-job hiring examinations for various state government departments. Almost every state in India follows the same pattern for the PSC exam. State-level PSC exams are among the toughest in India. Every state in India conducts the PSC exam in three phases. There are three phases:
Preliminary Exam
Mains Exam
Interview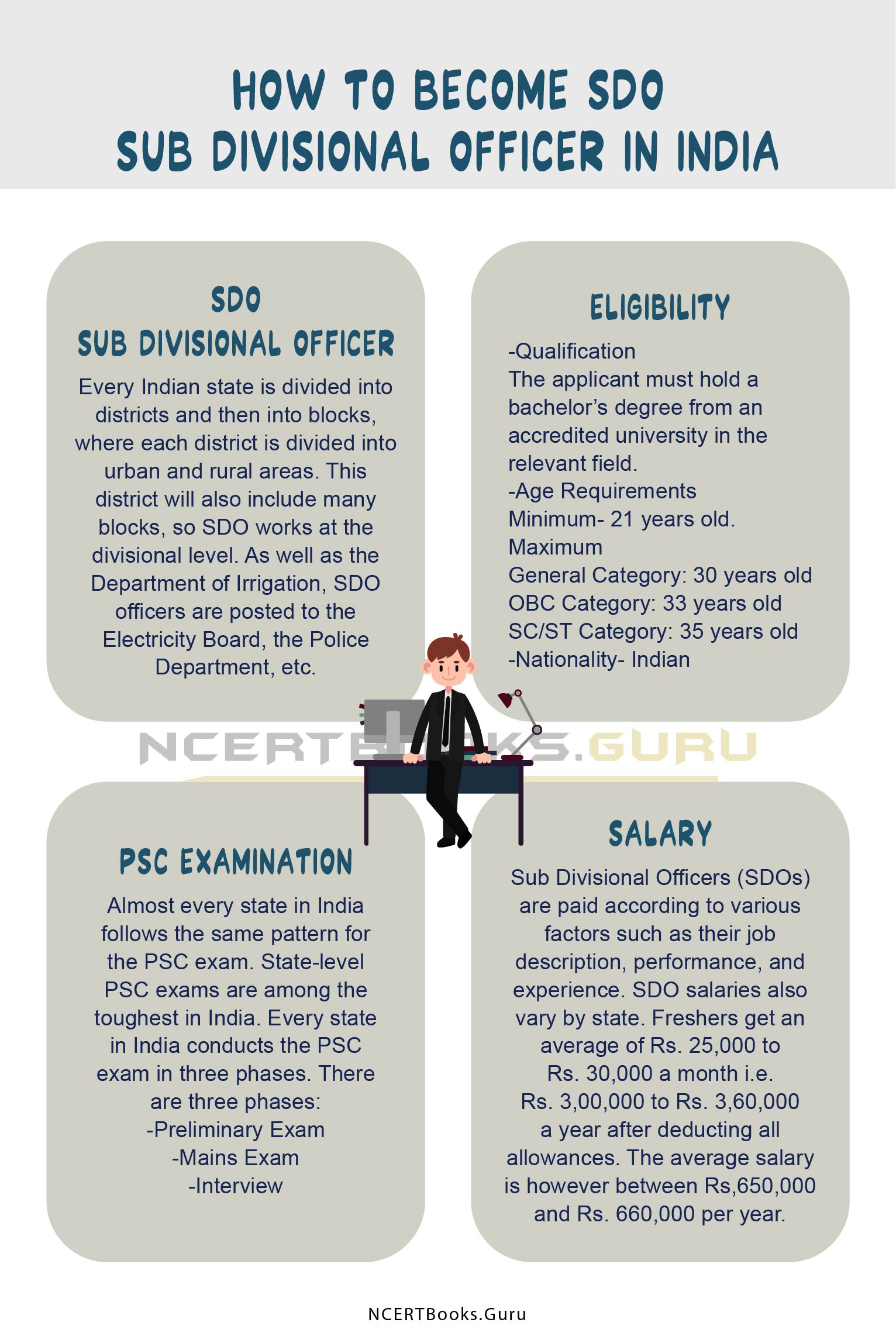 Conclusion on How To Become SDO Sub Divisional Officer In India?
All of the exams must be passed and you must pass each one to advance to the next round. All rounds have an individual scoring system. Coaching institutes are available across the country for candidates to prepare for the exam or you can purchase books in the market. Become a student development officer by staying motivated and never letting the students around you discourage you. It can be hard to remain motivated and passionate all of the time, so staying disciplined and studying a lot will work well.