How To Become A BDO Block Development Officer In India?: Before we proceed to learn about how to become a BDO officer, let's first understand who a BDO is. BDOs are responsible for the development of blocks in the district in which they are located. Typically, a BDO Officer is in charge of the various blocks in the department. It is their responsibility to plan them or to oversee them. They have full authority over each block.
Buildings are permitted in a particular block by BDO officials, and the work is completed after BDO approval. They attempt to meet the needs of the public. Public Welfare is the responsibility of a BDO agent, who strives for the betterment of society. This is a highly reputed position in the State and also District.
Refer to Course Details to know more about related courses and find details like Admission Process, Eligibility Criteria, etc.
Eligibility Criteria for a BDO Block Development Officer in India
Here are some details about the eligibility criteria for the post of Block Development Officer. In order to apply for this post, you must meet these requirements.
As a first step, you should make sure that your 12th standard was completed through an accredited school or institute. The 12th standard can be completed in any of the four streams – Arts, Commerce, Humanities, and Science.
A graduation degree from a recognized university or college in India is required or an equivalent qualification. Graduation degrees may be earned in any field. Any undergrad degree will be accepted for your application as a Block Development Officer, including B.Tech, B.A., B.Com, BBA, B.Sc, B.E., B.C.A., or any other undergrad degree.
The minimum age requirement for applying for the position of BDO is 21 years old. For general categories, the maximum age limit is 32, and for specific categories, there are relaxations.
Role and Responsibilities of a BDO
In order to handle a block, a BDO has many responsibilities. All must be accomplished in a detailed and safe manner without hindrance or limitations.
In order to validate the program presented by the government, they need to check or cross-check it.
BDO officers play an important role in the growth and development of each block.
On behalf of the Panchayat, he or she is responsible for the approval of all letters, documents, and contracts.
The BDO is responsible for drawing funds from the Panchayat Samiti fund
The officer reviews accounts and cross-verifies the financial position against taxes or loan payments made to Panchayat Samiti
Besides supervising another employee at the Panchayat Samiti, he/she serves as the manager
BDO presents the Panchayat Samiti with the annual Budget
All frauds, robberies, thefts, and other issues must be reported to the Panchayat by this person.
Do Check:
Entrance Examination for a BDO Block Development Officer in India
State Public Service Commission examinations are administered by the State government. Applicants to the Indian State Government must complete the PSC examination before they are hired, transferred, or disciplinary action is taken against them. This enables them to enter coveted jobs in state government.
Examining patterns of UPSC and Public Service Commission are similar in many ways. According to the state in which they are held, every Public Service Commission has a dedicated website, syllabus, and exam pattern. Exams are conducted in 3 stages according to the State Public Service Commission.
Salaries of BDO's
Block Development Officers are responsible for managing blocks' rural development areas and are in charge of organizing block employees' salaries and taxation matters. Each BDO block has a different salary. We offer a basic pay scale from Rs. 9,300/- to Rs. 34,800/- along with some additional benefits & allowances. As one ages, the monthly salary increases gradually.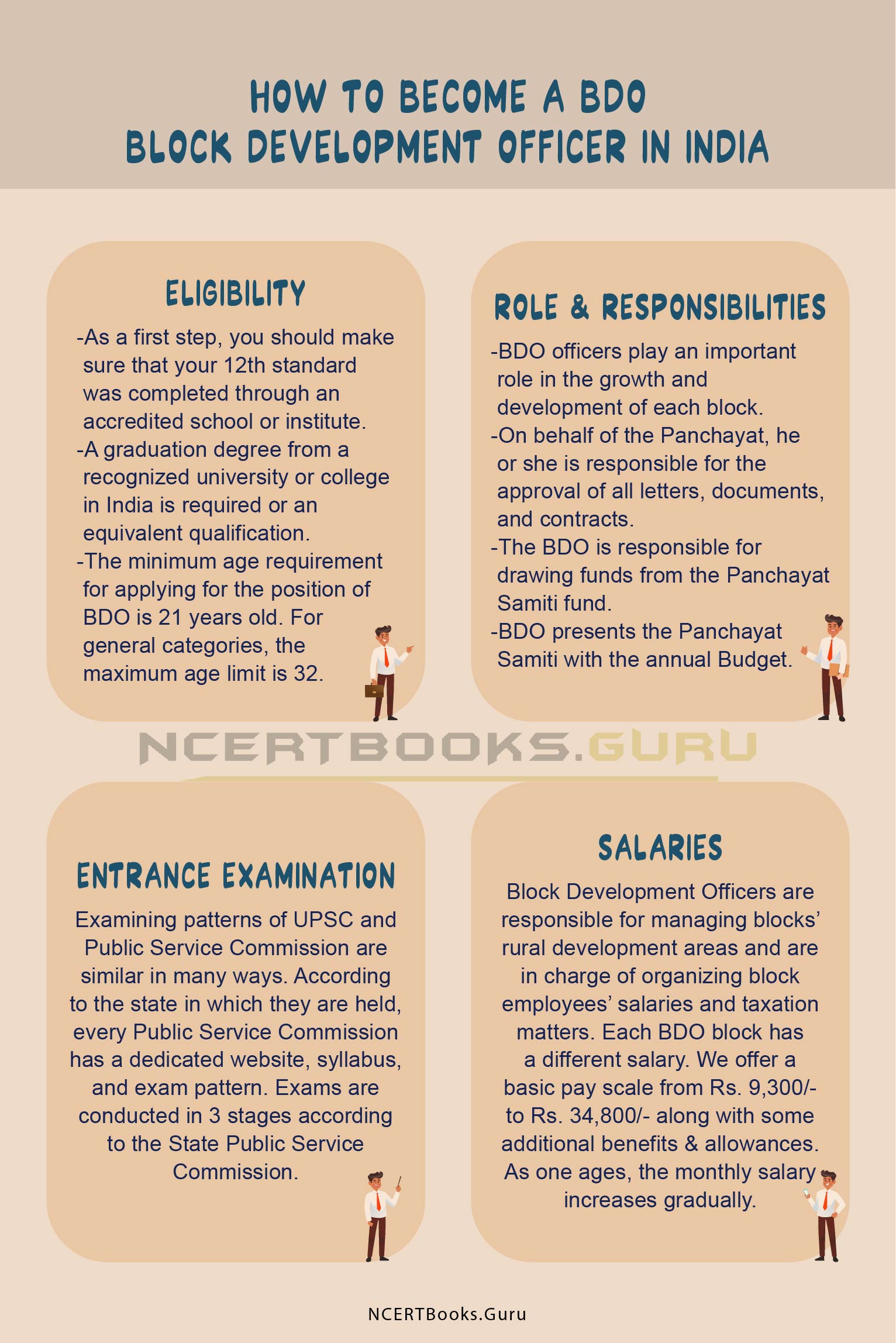 FAQ's on How to Become a BDO Block Development officer in India?
Question 1.
What is the exam pattern to become a BDO?
Answer:
A BDO exam is divided into three stages, which are the preliminary exam, main exam, and interview. To be eligible for final selection, candidates must pass all stages.
Question 2.
What is the syllabus of the BDO examination?
Answer:
The syllabus of the BDO examination includes:
General knowledge
Current affairs
Mathematics
English
Qualitative aptitude
Reasoning ability.
Question 3.
Is a master's degree required to become BDO?
Answer:
It is optional to obtain a Master's degree at an institute or university in India that offers a government-approved program.
Conclusion
One must work exceptionally hard and devote oneself to be appointed as a Block Development Officer (BDO). The State Public service commission's examination, although the qualifications and educational requirements are basic, is extremely difficult.