How to become an Event Manager in India: The event management industry has a positive future. In addition to organizing Meetings, Conferences, and Trade Shows, the event industry also gets involved in advertising and branding for clients. It is one of the most thoughtful advertising and marketing ways and unleashes one's creativity at a high level, thereby offering an enormous scope.
Refer to Course Details to know more about related courses and find details like Admission Process, Eligibility Criteria, etc.
What is Event Management?
We have observed events, and most of us have participated in events as well, but few of us have managed events. Events managers are there in events to do more than observe the event. They are appointed to minimize the risk and maximize the enjoyment for the event audience while ensuring a smooth running of the events. The event manager is supported by a team that grows enormously as the event comes near.
The event managers work alongside the contractors and liaise with the government agencies while organizing the event. In the present day, there are plenty of companies organizing and hosting events regularly. The events range from small private events to large-scale international events. Realizing the potential of this industry, a lot of young people are entering into event management. The most profitable aspect in event management is the need for creativity, where one makes an earning.
Courses Available for Event Manager
Event management can be pursued after studying any set of subjects in the 12th grade. Students can pursue their certificate, diploma, degree according to their career interests. Some of the courses available for event management are,
Event Management Certificate Courses
Certificate III in Events
Certificate in Events Management
Online Certificate in Meeting & Event Management
Certificate in Applied Tourism & Event Management
Course in Sport Event Management Online
International Certificate in Online Communication Events
International Certificate Online Organizing Techniques and Practical Guide to Events
Diploma Courses
Diploma in Event Management
Diploma in Event Management and PR
Undergraduate Courses
BBA Event Management
Bachelor of Journalism and Mass Communication
Postgraduate Courses
PGP in Event Management and Public Relations
Post Graduate Diploma in Event Management
PGDM (Event Management)
PG Diploma in Media Marketing and Event Management
MA (Master of Arts) PR and Event Management
Masters in Event Management
MBA Event Management
Event Management Eligibility Criteria
Event management is taught across various levels from certifications to diplomas and degrees and has different eligibility criteria. Let us take a look at the different eligibility criteria for enrolling in event management courses.
Certificate Courses in Event Management: For certificate courses, students should have a minimum of 45%-50% marks in their class 12th board exams.
Diploma Courses in Event Management: For pursuing postgraduate diploma courses in event management, students need to complete their under-graduation with a minimum of 50% aggregate marks or equivalent CGPA from a recognized university.
Undergraduate Courses in Event Management: Admissions to undergraduate courses in event management are based either on merit or entrance examinations. Students are required to qualify for their class 12th board examinations from a recognized board with a minimum of 50% aggregate marks or equivalent CGPA score.
Post Graduate Courses in Event Management: Students willing to pursue a Postgraduate degree in event management should score a minimum of 60% aggregate marks or equivalent CGPA in their graduation. Based on the colleges they apply to, they have to give the entrance exams. Students need to qualify for an MBA in event management for MAT (Management Aptitude Test) and CAT (Common Admission Test) examinations.
See More:
Prominent Colleges for Studying Event Management in India
Amity Institute of Event Management, New Delhi, (Delhi)
Institute of Tourism & Future Management Trends (ITFT), Chandigarh
The International Center for Event Marketing & Management (ICEM) New Delhi, (Delhi)
Event Management Development Institute, Mumbai
I.E.S. Management College, Mumbai
International Institute of Event Management, Mumbai
National Institute of Event Management, Mumbai
Bharati Vidyapeeth University, Pune
National Academy of Event Management & Development – [NAEMD], Noida
PES University, Bangalore
Annamalai University, Bangalore
Major Subjects Taught in Event Management Program
The major subjects taught in the Event Management programs are
Event Management Planning
Event Hospitality Process
Event Resource Management
Law & Permissions
Business Communication
Public Relations
Organizational Behavior
Soft Skills for Business
Skill Set Required for Becoming an Event Manager
Analytical/Critical thinking and problem solving: Event managers should have Analytical thinking, critical thinking, and problem-solving abilities, which are a must in this field. They should be able to understand and acknowledge the problem presented to them. They should recognize that it has to be solved and always think about how the situation can be avoided in the future.
Good negotiation skills: Event managers should have good negotiation skills, which makes them smart in events.
Planning, coordination, and organization: the ability to effectively organize and coordinate themselves at an informational, organizational, and personal level.
Client/Customer service orientation: An event manager should be client and customer-service-oriented, which means that the manager should be focused on meeting the client's needs. They should know the clients' needs and put them at ease during interactions with them while building trust and respect with customers.
Ability to work under pressure and meet deadlines: Despite meticulous event planning and arrangements, a small error can cause a disruption in the entire schedule. During such times, an event manager should remain calm and perform their role while under pressure, and others are not affected adversely while meeting the deadlines.
Teamwork, facilitation, and co-operation: One of the essential things in event management is working as a team. The event manager must know how to lead a team and work with everyone while getting the job done. They should always be able to build efficient teams and facilitate their effectiveness.
Budgeting skills: Event managers need to work around the clients' budget; hence they need to possess good budgeting skills.
Good networking skills: Event managers need to have good networking skills like any business can be expanded only through contacts and by building up a network. The greater number of contacts they have, the more successful they will be. The contacts of event managers should not just be confined but should be at all levels of management, vendors, and customers by using their public relations skills.
Time Management: For events, time management is an essential skill that needs the care of. Since they are bound by time, they need to finish their projects or events. They should possess good time management skills.
Job Profile for an Event Manager
Event Coordinator: Event coordinators organize the event from the time of conception till the event is held. They meet clients and work out the details related to the event, scout, and location booking.
Event legal executive: The event legal executives are involved in the client representation and interaction and liaise by acting as legal representatives by attending the court proceedings and taking care of legal documentation for the client and company.
Public Relations Officer: Public relations officers deal with inquiries from the press public and other related organizations. They plan out public campaigns and strategies for the company.
Budgeting and finance executive: These executives design effective budget models for various departments in the company. They analyze all company financial information such as revenue, budget, cash management, and expenditures.
Senior Event Manager: They have multiple roles to take care of as they manage the workflow, logistical support, and timeliness in delivering the projects. They take care of all inquiries and event requests and assist in servicing portfolio accounts. They even conceptualize and prepare creative proposals according to the client's requirements.
Event Production Head: They ensure the smooth functioning of the company and the events. They estimate, negotiate and allocate budgets for events and oversee the entire event under their supervision.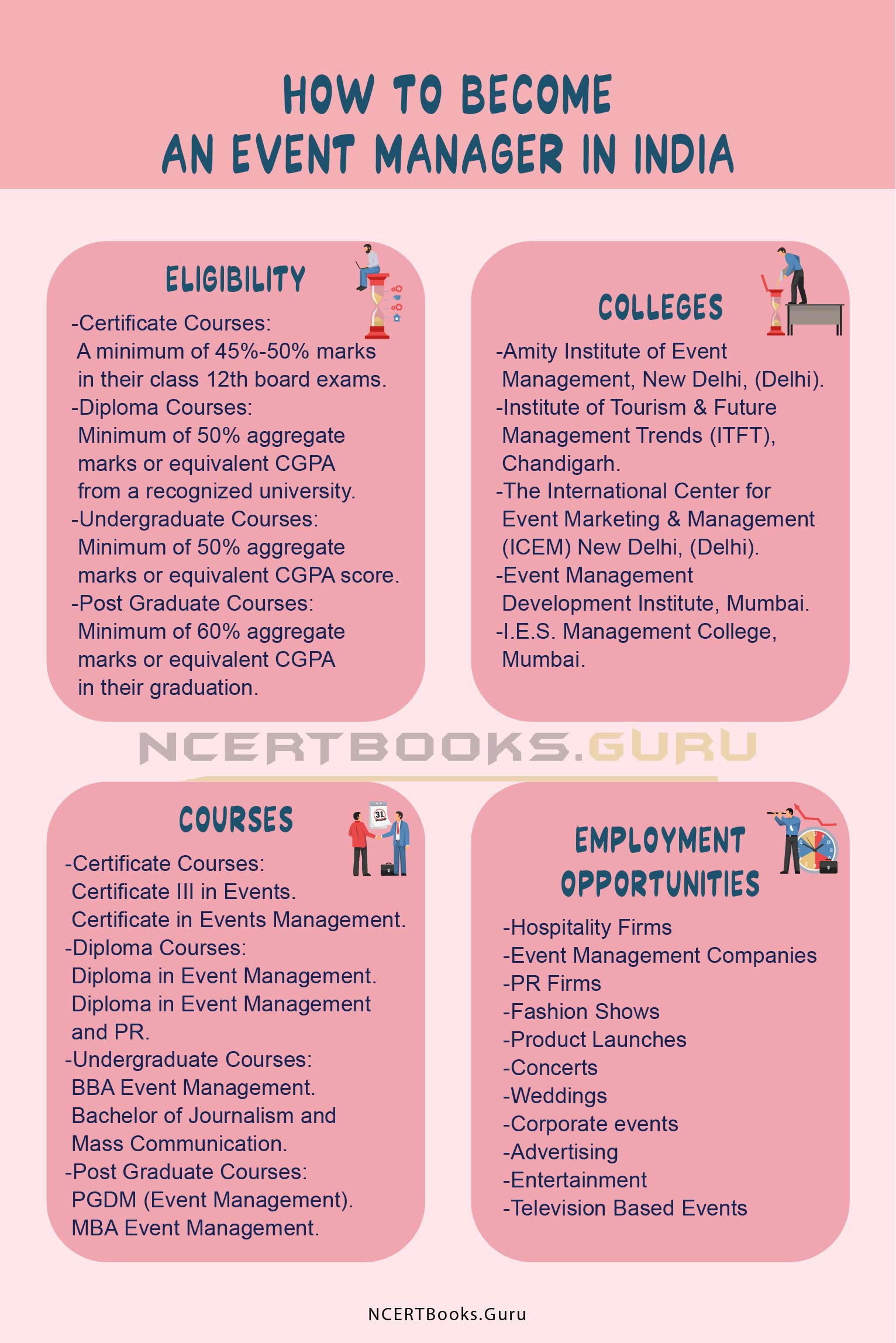 Employment Opportunities for Event Manager
Hospitality Firms
Event Management Companies
PR Firms
Fashion Shows
Product Launches
Concerts
Weddings
Corporate events
Advertising
Entertainment
Television Based Events
Salary Packages for Event Managers
The opportunities for event managers are high and attract the young crowd to choose it as a career option. New jobs are being created in the industry rapidly, with many firms opening up in this industry.
Event managers at a starting level have a salary of Rs 400000 – Rs 500000 per annum.
Managers in the mid-level have a salary of Rs 500000- Rs 1000000 per annum.
Managers in the senior level have a salary of Above 1000000 per annum.
Conclusion on How to Become an Electrical Engineer in India?
The event industry is growing fast, with the need for advertising and marketing required at all levels. This makes the role of event managers vital in all sectors ranging from public to private sectors. Event managers play an essential role in delivering the event successfully, for which they need the charisma and a highly creative thought process to deliver unique events to their clients. Event managers need good planning and organizational skills to make the events come true to reality.
The best way to get started in this field is to enter the industry as a trainee with a diploma or degree. In the trainee period, you will get good know-how on how events are organized and managed, allowing you to learn the basics of event management. Once you acquire the skills of coordinating and promoting events with a good understanding of various planning stages, event management becomes a promising and rewarding career.