How To Become An Animator In India: Animation is a very popular course these days because of the development of new technologies. Due to this sudden boom, you can also find an increase in the number of opportunities in the market.
You can now get into animation, VFX, visualization, advertising, entertainment, and so on after becoming an animator. Despite the recent economic crisis, the animation industry is among the few other industries that have thrived in these times.
Refer to Course Details to know more about related courses and find details like Admission Process, Eligibility Criteria, etc.
It is a vast field, and it is still growing. You can take part in 2D as well as 3D animation technologies. There is a major hike in demand for animators, due to which many big companies are outsourcing animators from all over the world.
What is Animation?
In layman's terms, the animation uses still images or drawings to show motion Or depict a scene. An animator uses these drawings and still images to give us a sense of motion and purpose. Commonly there are about 25-30 still images or frames stitched together per second. Stitching or combining these frames is the task of an animator.
Types of Animation Courses in India
To become an animator in India, you can choose any of the following courses in animation. You can learn animation from the following methods:-
Certification courses:- The certification courses are as follows:- Certificate in computer graphics, VFX, 2D animation, 3D animation, editing, post-production, mixing, and so on.
Diploma level courses:- Diploma courses are generally for shorter durations. These courses last for a year or six months. The most popular diploma courses in animation are- 2D animation, 3D animation, CG animation, film making, video editing, and post-production.
Bachelor's Degree:- The course of a bachelor's degree in animation is three years. The most popular bachelor's courses in animation are:- BA in Animation & Multimedia, B.Sc. in Animation & Multimedia, Bachelor of Visual Arts (Animation), Bachelor of Fine Arts in Animation, Graphics and Web Design, BA in Animation and CG Arts, BA in Animation and Graphic Design, BA in Digital Filmmaking and Animation, B.Sc. in Animation and VFX, B.Sc. in Animation and Gaming.
Master's Degree:- The duration of the course is two years. Some of these courses are- M.Sc. in Animation and Multimedia, M.Sc. Animation, M.A. Animation, and Multimedia, M.Sc. Animation and Design, M. Sc. in Graphics, Animation and Gaming, PG Diploma in 3D Animation and Visual Effects, M.Sc. in Animation and Game, M.Sc. in Animation and VFX, M.Sc. in Game Technology.
Eligibility Criteria for Animation Course
You need to have completed your secondary school education, your 10th, and 12th, from a recognized state board to get admission in an undergraduate course in animation.
Some colleges might also have the condition where you should have passed your class 12th exams with at least 50% marks. You can belong to any stream to become an animator in India that is, you can be from a science, commerce, or art background to be an animator.
There is also an additional option of going for special certification courses instead of doing graduation in animation.
Although these certification courses may not be as good as a graduation degree, they can be really helpful for attaining extra knowledge and insight.
Skill Set Required for An Animator In India
To become an animator in India, you must possess certain skills to achieve your goals and desires in animation. Some of these skills are mentioned briefly below.
Interest:- You should have a great interest in animation to be successful at it. Without the proper enthusiasm and interest, you will lose interest in animation.
Creativity:- creativity is an important aspect of animation. Most of the time, the animator is just given cues about the situation, and the animator has to animate the entire scene using their imagination. Animators with a creative mindset find it easier to adapt to the industry and deliver on the deadline timely.
Drawing:- To become an animator in India, you should also be good at drawing and sketching. Animators who are good at sketching and drawing can draw the scenes they have to animate manually and then start working on them. These people already have a decent idea about how to scale objects, proportion, a perspective of the viewer, and so on.
Attentive:- Good animators can capture the little details perfectly. Smaller details such as body movement, physics, and nature make an animated scene appear more realistic. Similarly, catching the expressions perfectly is also very important. If the animator interprets the wrong expression, that will result in changing the vibe and setting of the scene. Animators that can correctly catch the expressions of birds, animals, and other things have the edge over the other animators.
Presentation:- The way an animator portrays or depicts their animation to the audience also says a lot about their work and craft. You can judge the skills of an animator by the way they can capture expressions and convey emotions to the audience.
Use of Colors:- Animation is not just about the drawing or the scene. It is very much about the color as well. An animation without any color will not look as good as an animation with color. You cannot just any colors to your animation. The choice of color plays an important role as they add another extra layer of depth to your animation.
Dedication:- A top-notch animator must be hardworking and dedicated towards their craft. People that are dedicated to their work are among the most efficient workers. You can count on such workers to finish their work before the deadline efficiently.
Teamwork: Teamwork is among the most important aspects of any organization, especially in the animation industry. An animator cannot animate a scene on their own. They need to collaborate and work with other people to finish their projects. People that are good team players can achieve good results in the animation industry.
Communication:- Similarly to teamwork, proper communication is also an essential skill for an animator. You must be able to convey your thoughts and emotions to others. If you are not able to do so, your time might not be on the same page.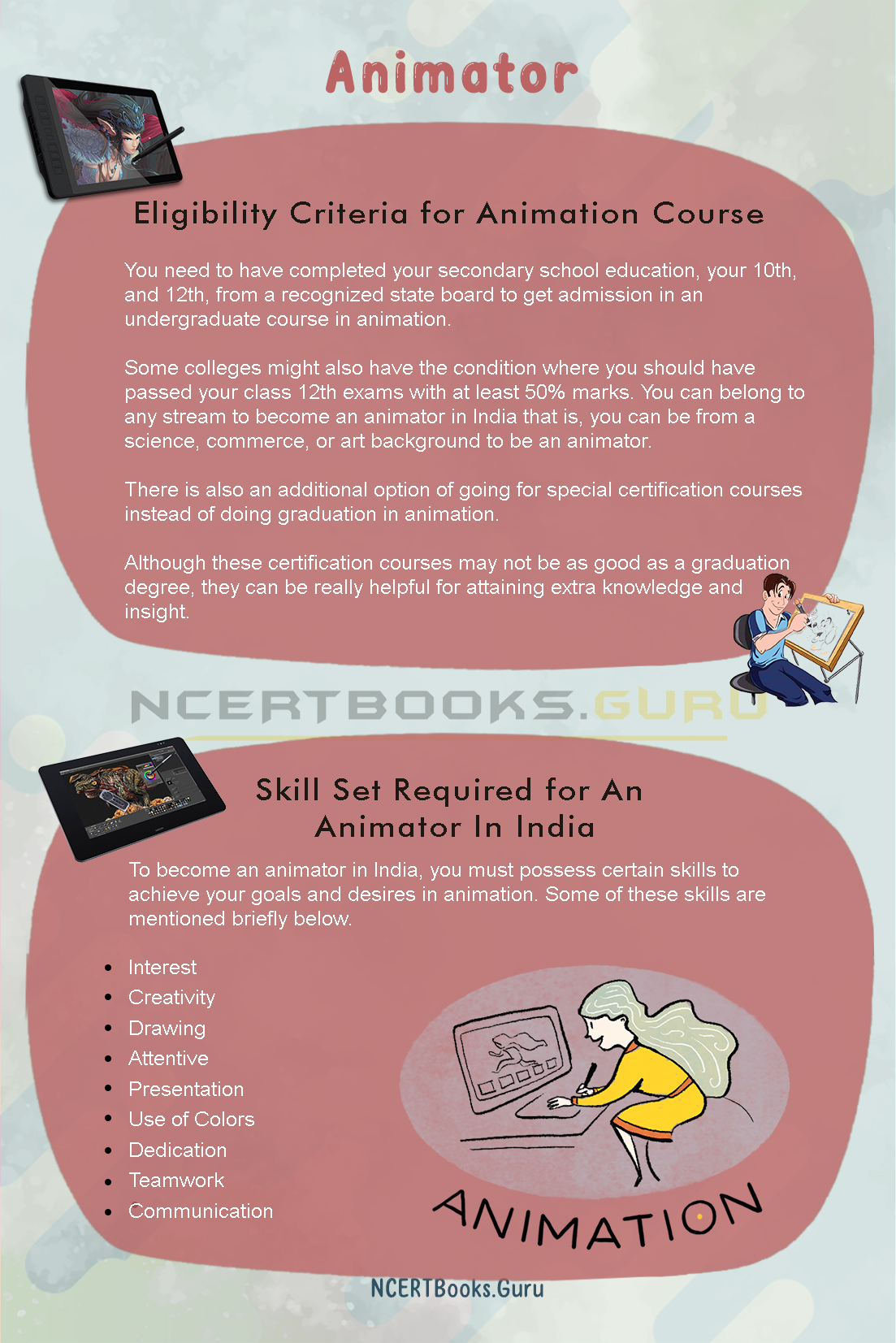 See More:
Types of Job Profiles You Can Take Up As An Animator
You must have at least a brief knowledge about the type of job profiles you can opt for after becoming an animator in India. Some of the top job profiles are mentioned below:-
Rigging artist
Animator
Rendering artist
2D/3D animator
Image editor
Lighting artist
Special effects artist
Character animation
Paint and digital ink artist
Keyframe artist
Compositor and so on
Some Popular Job Profiles
In this section, we will give you a brief idea about the work specifications of the most popular job profiles related to animation:-
2D animators:- These people are responsible for using innovative ideas and bringing them to life. A 2D animator animates the scene, background, characters, and transitions. You will find that 2D animations lack depth and only have height and width. In other words, you can also call 2D animations flat.
3D animators: 3D animations are the same as 2D animations, but the only difference is that these animations consist of depth, width, and height. You will find 3D animations in VFX, video games, television, and post-production. People find these images to be more realistic than 2D images.
Composite Artists:- The task or job of this animator is to provide the animations with the final touches. A composite artist is responsible for delivering the finished product, and these people have to work closely with special effects, lighting, and texture directors. Their main concern is to give the final product a consistent look.
Rendering artists:- Rendering artists are responsible for creating interactive models. These interactive models can be a live environment or even some special characters. The main concern of these animators is to make any environment as realistic as possible.
Character animator:- Once you have the environment and the model for your animation now you need to animate the character. Character animation involves animating the movements and gestures of the model you are going to use in your animation.
Salary Packages for an Animator
As a fresher, you can get about 12,000-15,000 rupees per month as you are very new in the industry, but as you gain experience and knowledge, you can easily start to earn more.
People with four or five years of experience can easily expect to get between 40,000-50,000 rupees per month.
Your annual salary package will also depend on where you have done your certification or degree from. Your college or institution will set an impression on the interviewer.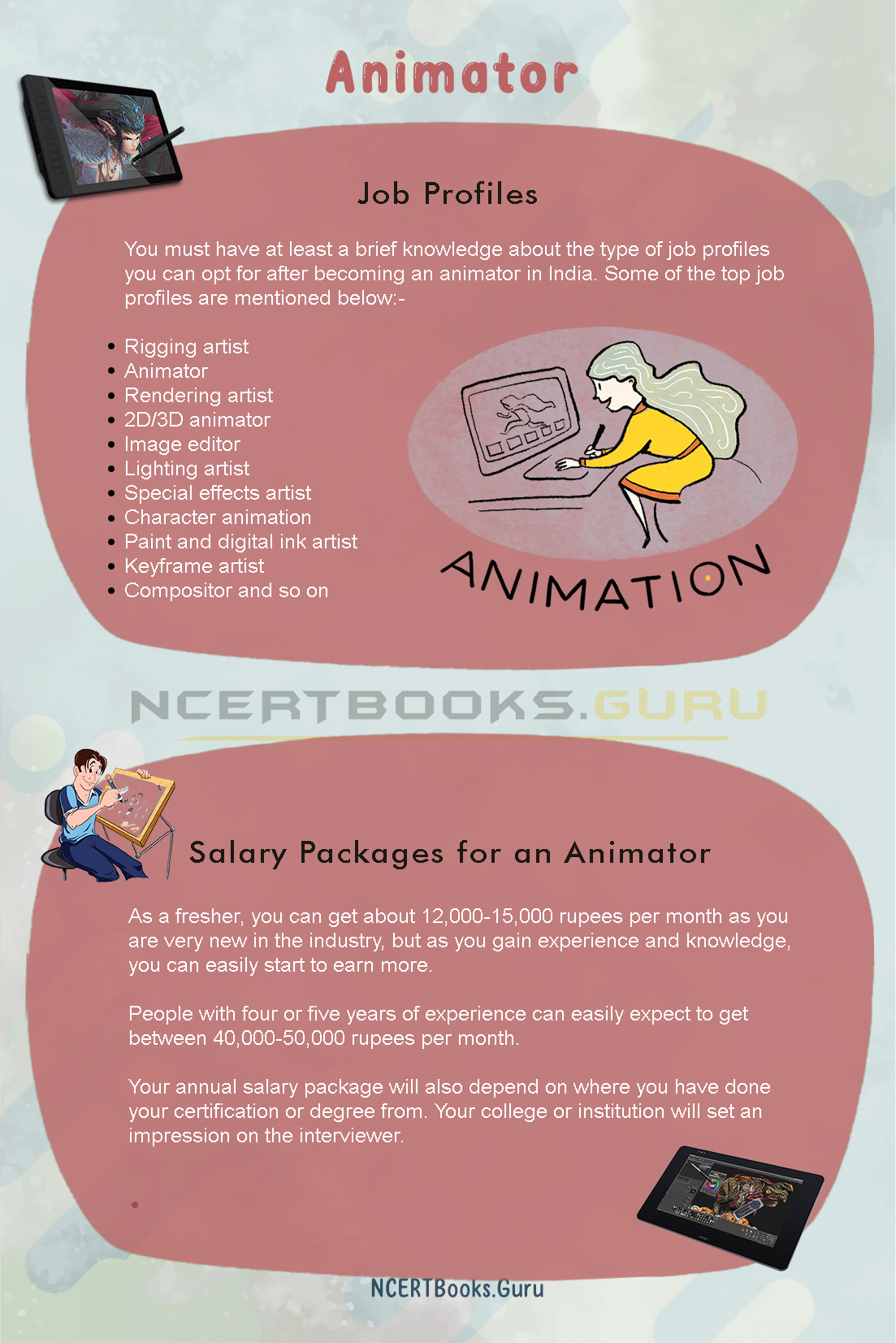 Conclusion
This article has vast information on how to become an animator in India. You will learn about the types of courses, their eligibility criteria, and plenty more while reading this article. The motive of this article is to provide all the necessary information in a single place without any hassle.