Nowadays, Yoga is becoming more and more popular in India. Due to the rising popularity of yoga, the demand for Certified Yoga instructors is also increasing. Yoga is an ancient Indian practice that has been embraced by people from all around the world today. In this article, we will discuss all the steps we need to become the best yoga Instructor in India.
What is Yoga?
Yoga is Originated 3000 years ago in northern India. The word 'Yoga' is derived from the Sanskrit root 'Yuj', meaning 'unite'.It is not just a great form of exercise but also a great practice to relax your mind and body. Yoga is usually called a "meditative movement" practice.
Yoga Training and Certification Courses
To start teaching yoga, you do not need to have a certification, but you may face issues while finding a job, or clients. Many Studios require at least a 200-hr RYT (Registered Yoga Teacher) certification. The RYT 200 is the foundational certification that is required to do other advanced certifications.
Yoga Teacher Eligibility | What Qualifications do you need to be a yoga teacher?
To become a Certified Yoga Teacher in India, You have to complete Graduation and Post Graduation in yoga. The education provided in these Professional courses helps you understand the basics of yoga.
Now, you might be worrying as "I am not a graduate in Yoga". Don't worry! If you are not a Graduate in yoga you can still be a certified Yoga Teacher by opting for Certification Courses in yoga. So that you can achieve your dream of becoming a Yoga Instructor in India. Yoga Teacher Training Courses help you understand the skills of becoming a Yoga Instructor.
Remember that Not only having knowledge of Yoga schools, good Yoga Practice, and Profound knowledge of Different asanas, You also need to know about the business side of Yoga. So, what I recommend is as if you are a Graduate or Post Graduate in yoga. Still, You go for Yoga Certification Courses for understanding the business side of yoga.
Nowadays, Everything is on mobile, so you can do your certification by sitting at home. No need to worry about going to Institutions, as everything is online.
Do Read:
Advantages of becoming a Yoga Instructor in India
Now, Let's have a look at what are the benefits of becoming a yoga instructor.
Improves your Own Yoga Practice
As a student, while you are practicing yoga you might be doing what you like, and leave it what you don't like to do. But when you become a Yoga instructor, however, you will be challenged to improve your Practice. You will be inspired to take it to a deeper level than you ever could as a student.
You need to explore and attempt new poses, new methods of breathing, and new yoga philosophies will expand your personal practice. You can share that with your students, and also use it as a foundation for your own growth and development.
Practice yoga Anytime, Anywhere
One of the biggest benefits of becoming a Yoga Instructor is you can be your own Yoga teacher. And you can practice yoga whenever you want and wherever you are, No need to rush to the classes to be on time.
As a Yoga Instructor, you won't have to depend on anyone other than yourself to practice. Every time you go to your yoga mat, you'll be able to design a practice that gives you exactly what you need on that day and at that moment.
Growing Career Opportunity
Demand for a yoga instructor is increasing day by day. In Today's fast-paced life, many people are leading stressful lives. So, they aren't able to take care of their health.
Yoga is not only useful for staying fit and healthy you can also choose it as a good career option. Many institutions across the country are offering yoga-related courses. You can just complete a course and become a certified yoga Instructor. Being a yoga instructor you can be able to help many people to get relief from their stressful life.
In today's world yoga is in demand and yoga instructors are needed in all educational institutions, Hospitals, Gyms, Health Care Centers, Companies, and Housing Societies. Apart from this, many TV channels also hire instructors for their yoga shows, so, you can earn a good salary by being a Yoga instructor. However, You can also run your own youtube channel.
Flexibility in Job
After being a Yoga Instructor you can opt for full-time and Part-time jobs as a career option. Married women may also choose their career as a Yoga Instructor so that they can work part-time while their kids are in school.
If you would like to explore more courses you can check out our course details and know every information like eligibility criteria, fees, admission process, etc.
Top Skills for becoming a Yoga Instructor
Having a Good Educational qualification doesn't mean it is enough to become a yoga instructor. Along with the Qualifications and certifications you need to have some particular skills that can help you to become a good Yoga Instructor.
Patience
To become a Yoga Instructor, you need to be very patient. If you want to teach lessons to the students, you need to teach them with Patience. Because All the students will not understand in one shot.
Communication skills
Every teacher should have Good communication skills, (Not only a Yoga Teacher). When a teacher teaches students, they need to understand each and every aspect clearly. Communication skills are very important so that you can be able to demonstrate techniques and forms to the students in an understandable way.
Discipline
Discipline is the key to conducting successful yoga classes. As a Yoga Instructor, you need to make sure that there should be Discipline in the class.
Unnecessary Noises like smartphone notifications and others can lead to a Negative Environment in the class. That won't serve the purpose of learning Yoga.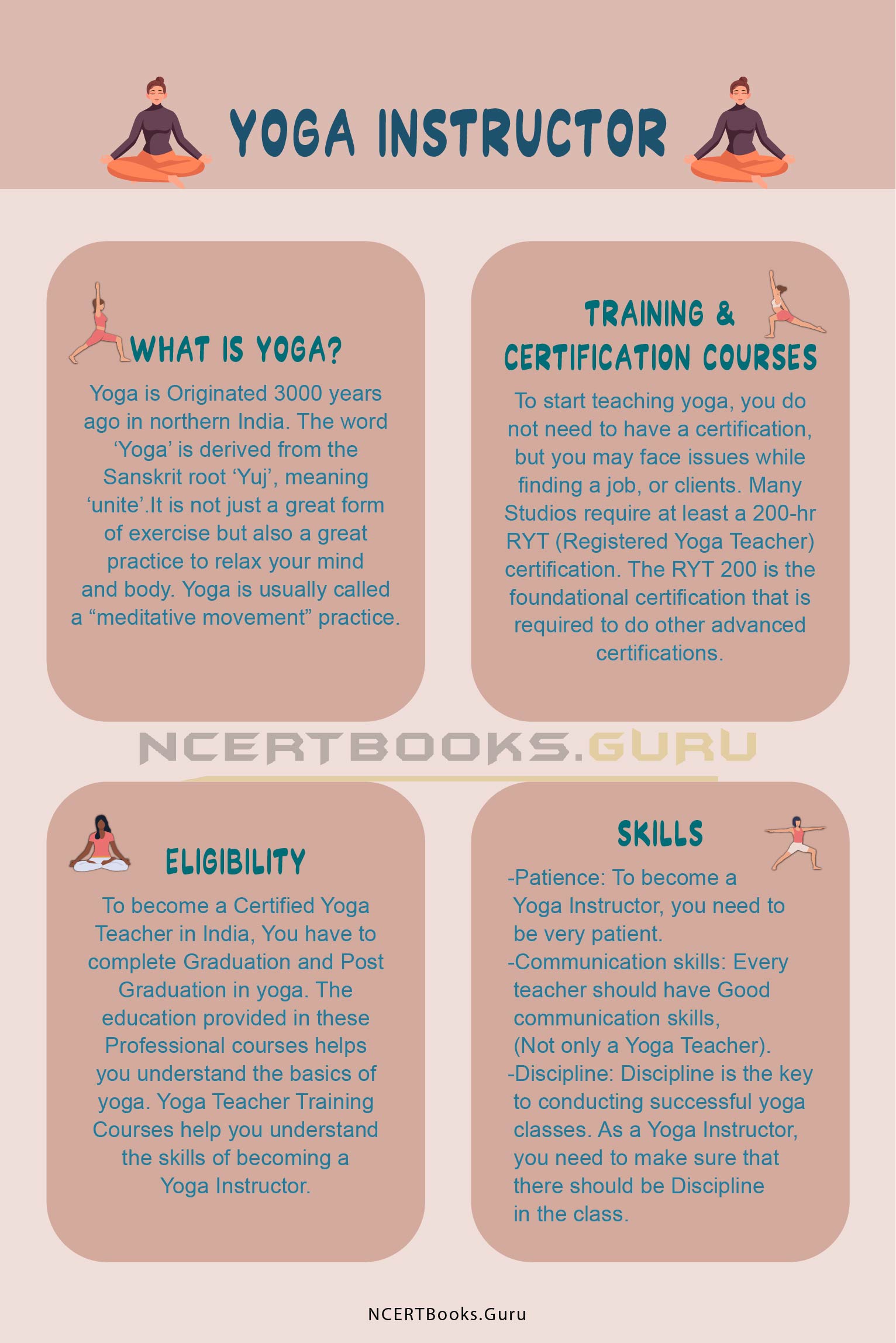 FAQs on Yoga Instructor in India
1. Can anyone be a Yoga Instructor?
Anyone who has a passion for yoga and loves to share his or her acquired knowledge with others can work as a yoga instructor.
2. How long does it take to become a Yoga Instructor?
It takes around 14 to 30 consecutive days to become a Yoga Instructor.
3. Is Yoga Instructor a good career?
Yes, Yoga Instructor is a good career and is very demanding in today's lifestyle and many are willing to make a career in this field.
Wrapping Up
Becoming a yoga teacher is both exciting and challenging. With the required skill set, you can achieve this dream. Keep working hard and you would certainly become a successful yoga instructor in no time. Hope we have covered all the aspects to become a good yoga instructor. If you find anything missing in the above article i.e. How to become a Yoga Instructor in India you can just comment below.