Personality Development Course Details: First of all, we have to understand the term personality. The word itself roots in the Latin word persona, which refers to a theoretical mask worn by a performer to play their role ( means to present their projects) or disguise their identity.
When we go through an interview in any field, personality is the first thing noticed while facing an interview. A good personality is essential to go ahead. Personality Development teaches us how to communicate, how to present as having to show kind skills. It also focuses the personal management, grooming, health, and nutrition along with soft skills. The evaluating factors of personality are extraversion, agreeableness, neuroticism, openness to experience, and conscientiousness.
Details About Personality Development Course
Best Personality Development course Online covers various dimensions and the importance of a person's compelling personality. It helps to improve and learn to understand personality traits. And also help in establishing a vital contribution to the world of business. This course gives awareness to students about the various dynamics of personality development. We can say personality Development is overall psychological development. So it is an important aspect that both, directly and indirectly, affect the growth of an economy. Based on the development of human needs psychological courses opens up a wide variety of opportunities for students to post its completion, who have garnered the skills and subject with expertise.
Personality Development also comes under a reputed course named as M.sc in Human Development course. Human development includes the personality of the person and also their skills, especially we consider soft skills. The program's fundamental zeal is to instil in aspirants the skills that would help them handle the working industry with excellent efficiency. It also includes topics such as human temperament, capacity to learn, forming family bonding, behaviour, language, and peer good relationships. But suppose you think about your growth of yourself. In that case, you need to do for a reliable way of self assess you have to go through all five key growth domains of good personality (education, spiritual, physical, emotional, social).
Students are required to possess specific skills to pursue this program. Aspirants who have the eagerness to get a deeper understanding of the subject must be built the patience to get things worked out and CONNECTED with time management skills are considered well-suited for this course. Hard or technical skills help in securing an essential position in one's life and career. But only soft skills can ensure a person retains it, climb further, reach a pinnacle, achieve excellence, and derive fulfilment and supreme joy. Soft skills comprise attractive and appealing personality traits as self-confidence, positive attitude, emotional intelligence, social grace, flexibility, friendliness, and practical communication skills.
Personality Development Course Details
In the personality Development Course, it is somewhere added directly or indirectly in many other courses. When we talk about the involvement of direct participation in this course, it is mainly an online training-based course, which contains 3 to 8 months of online training and taking a brief test and provides the certificate. The eligibility for Personality Development Course Online is anyone who passed the 12th examination can pursue this program. In the indirect involvement of these courses, it comprises many courses such as two year M.Sc in Human Development, Psychology, some Computer application courses, etc.
These courses also contain research, cognitive and emotional development, creative development, and psychopathology, to name a few areas. At the same time, graduate programs are usually more professionally oriented and contain research or clinical component. Students can expect to study:
Introductions to personality.
Influences on personality development.
Social development.
The acquisition of behaviors, beliefs, and attitudes.
The psychology of attachments, aggression, and altruism.
List of Colleges Under Personality Development Courses
Most engineering colleges offer a B. E./ B. Tech in computer engineering, those who offer M.sc Course in Human Development, also Graduate or Undergraduate Colleges of psychology, etc. List of some institutions are:-
Doeacc society
Aptech institute
Chaudhary Charan Singh UniversityUttar Pradesh
Dayalbagh Educational Institute New Delhi
JD Birla Institute Kolkata
University of Mumbai Mumbai.
Viharilal College for Home and Social Science West Bengal.
Maharaja Sayajirao University of Baroda Gujarat.
Mata Jijabai Government Girls P.G. CollegeUttar Pradesh.
Mahatma Jyoti Rao Phoole University Rajasthan.
Mysore University Karnataka.
Punjabi University Panjab.
Sardar Patel University Gujarat.
Sarojini Naidu Government Girls P.G. College MP.
Personality Development Course Syllabus PDF
For online certificate program of personality Development, it includes eight weeks comprises of the given below courses layout:-
Week 1: Define Personality, Determinants of Personality Development, Perception – Definition, Perceptual Process.
Week 2: Factors of Association – Relationship, Personality Traits, Developing Effective Habits, Emotional Intelligence.
Week 3: Motivation, Introspection, Self-Assessment, Self-Appraisal & Self-development, Sigmund Freud Id, Ego &SuperEgo.
Week 4: Self Esteem and Maslow, Self Esteem & Erik Erikson, Mind Mapping, Competency Mapping & 360 Degree Assessment, Types of Personalities – Introvert, Extrovert & Ambivert person, Effective Communication & Its key aspects.
Week 5: Assertiveness, Decision-making skills, Conflict: Process & Resolution, Leadership & Qualities of Successful Leader.
Week 6: Interpersonal Relationship, Personality – Spiritual journey beyond the management of change, Good manners & Etiquties, Effective Speech, Understanding Body language, projective positive body language.
Week 7: Attitude – Concept -Significance -Factors affecting attitudes – Positive attitude–Advantages –Negative attitude-Disadvantages -Ways to develop a positive attitude, Carl Jung 's contribution to personality development theory.
Week 8: Stress Management: Introduction, Causes, stress management techniques, Time management: Importance of time management, Techniques of time management, Time management styles.
Personality Development Course Subjects to Study
Here is the list of subjects studied in the personality development course:
Presentation Skills
Communication Skills
Interpersonal Skills
Work Place Etiquette
Meeting / Telephone / Group Etiquette
Body Language
Self Confidence
Positive Attitude
Conversation English
Pronunciations
Story narrations, Verb Patterns
Speech fluency
Self Motivation
Confidence Building
Role Plays
Reporting, Speaking habits
Powerful Presentation Techniques
Time management
Voice modulation
Stress Management
Building a positive attitude – creative thinking
Executive Corporate Attire / Formal Dressing
Also, Check
Personality Development Course Fees & Eligibility
Those candidates want to study in the online certificate program, and computer courses may only need to complete their 10+2. And for the candidates who want to possess M.sc in Human Development course or Psychological courses may have to complete their undergraduate course study. For the certificate course fee range between INR 2500 to INR 15000 and for Undergraduate, it ranges between INR12000 to INR 2 lakhs.
Job Profile of Personality Development Courses
This course fulfills the inner strength of candidates and his professional courses like in the IT sector, Finance, Banking, Marketing, Entertainment, etc. A right personality person recruited as a customer relationship Manager. There is a lot more jobs role in top Recruiting Companies staff recruitment agencies, Training centers, Community centers, Public and Private sectors. Those candidates opted for doing M.sc. They got Job Positions as HRD Executive, Human Resource Recruiter, Business Development Manager, Deputy Manager, etc.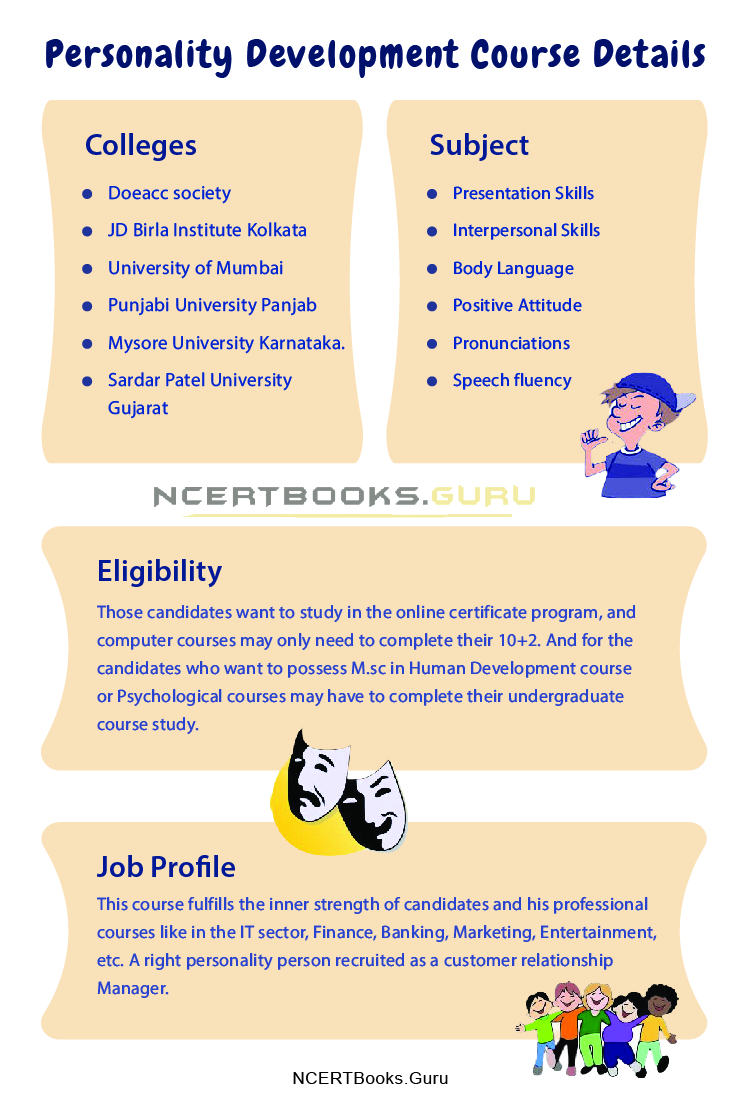 FAQ's on Personality Development Course Details
Question 1.
What is "personality"?
Answer:
The word "personality" originates from the Latin language persona, which refers to the theoretical mask worn by a performer for disguising their identity.
Answer:
Grooming refers to the people to keep themselves clean and make their faces, hair, and skin look beautiful.
Question 3.
What are comes under soft skills?
Answer:
Soft skills comprise appealing and pleasant personality characteristics such as self-confidence, positive attitude, emotional intelligence, social grace, flexibility, friendliness, and practical communication skills.
Question 4.
How can we improve our Personality?
Answer:
Here are few great ways to improve your personality:
To be a better listener.
Read more and expand your interests.
Be a good conversationalist.
Have an Opinion.
Meet New People.
Be yourself.
Have a positive outlook and attitude.
Be fun, and see the funny aspect of life.
Summary of Personality Development Course Details
People who are interested in understanding human behavior and explore the field can take the Job. As per personal development theory(PDT), personality development in a person is done a bit based on infant temperament. But, personality development often occurs in a baby before he has learned the language or essential communication skills. Finally, We hope that the information mentioned above regarding the Personality Development course has helped improve your understanding of the subject's depth.