How to Become a News Reporter in India: Do you want to work as a journalist? It's one of the most challenging and gratifying jobs you may have, and it can help you gain prestige and dignity. You will be proud of yourself if you discover that you have told the truth about an incident. A news reporter's actual job is to gather information and disseminate it to the general public. You must work for a news organization and supply information to it. News anchors will offer the public the most up-to-date information from the news station.
It will help if you remember that the life of a news reporter is full of challenges and thrills. This job necessitates taking life-threatening risks. This is because you must cope with and conquer a variety of events that could endanger your life. You should be willing to fight against all odds to make the people aware of the truth. Any newspaper or television station would be incomplete without a news reporter. The group's performance is improving. You must accept the challenge of defending society from all perils if you want to be a news reporter.
Refer to Course Details to know more about related courses and find details like Admission Process, Eligibility Criteria, etc.
Educational Eligibility of a News Reporter
You must achieve specific academic criteria to work as a news reporter. In this field, it is crucial. In the following paragraphs, the conditions will be explained.
You must get a high percentage of your 10+2 marks from a recognized board. If you come from an English-speaking family, it's alright. This will be advantageous to you.
You must have finished a bachelor's degree in journalism or mass communication. These degrees are required for employment in this sector. The program is three years long. After that, you can continue your education with a Master's degree or a post-graduate program.
You must be able to converse in English correctly. Reading a variety of English magazines and novels can help you enhance your English skills.
You must have a solid understanding of media and production. It will be advantageous to you.
It's also okay if you have strong verbal communication abilities. You'll need to communicate with people who may or may not speak the local language fluently. In such a situation, English may be the only language of communication.
Skills Required for News Reporter
Aside from that, this job needs the development of a wide range of additional skills. This can make you a winner and a high achiever. The full list can be found below.
You should seek to enhance and broaden your knowledge at all times. This will help you to be more successful in this area.
You must be intrigued to deal with the news. Instead, you must be excited to learn everything there is to know about each event.
Always aspire to be outspoken and opinionated. It is a requirement for working as a news reporter. If you attempted to speak to the general populace, it would be beneficial.
You must be a fantastic writer. This will make it easier for you to share your thoughts and opinions with a broader audience.
Make an effort to keep a positive attitude. As a result of your positive energy, others will be filled with new hope.
You must be a fantastic public speaker. It means that you should attempt to explain the news to the general public better.
You should be confident, patient, and enthusiastic about your work. It is the essential quality to have in your arsenal.
On the other hand, you'll need to be able to identify the difference between reality and fiction.
It would be advantageous if you have an investigative mind to become a news reporter. Adaptability is essential even in changing settings. Being a successful journalist necessitates it.
See Similar:
Steps To Becoming A News Reporter
A news reporter's job is crucial since they are the ones that supply the public with breaking news. You won't be able to work as a news reporter until you've completed the necessary education. The following lines will detail the steps to become a news reporter.
You must pass your 10+2 level with a high percentage of marks and enroll in a reputable college to pursue a bachelor's degree in journalism or mass communication.
You can also enroll in a post-graduation course if you choose. This could bring up new possibilities and possibilities.
After completing the courses, you must always insist on participating in an internship program. You will receive field experience by enrolling in this internship program. You can also boost your self-assurance when it comes to the issue.
During this time, you should strive to keep an eye on the recruitment process frequently. You must make every attempt to take the opportunity if it arises. Getting a scope could be advantageous.Your abilities and expertise  can assist you in achieving more.
You will have additional opportunities and exposure as you advance in your career. Aaj Tak, Times Now, and NDTV are among India's most popular news channels. These opportunities and possibilities should be taken carefully.
News Reporter Duties
As soon as you start working, you will be given responsibilities. You must make every effort to stay on top of your tasks. The whole list can be found below.
You will be in charge of keeping the public informed about all current events and news. You must maintain yourself up to date regularly to do this. You now have access to several platforms that can help you succeed in your mission.
Your main goal is to keep the general public informed on the country's political, social, and general changes.
You must always attempt to offer the audience the truth and facts. This should be your primary concern.
You will be in charge of conducting a detailed analysis of the news.
Daily, you must maintain track of national and international events. It's one of the most critical tasks you've ever been assigned.
You must collaborate with the news editor to improve the news presentation.
You'll need to collaborate with the graphic designer on the news.
You must manage the staff photographers for the report.
News Reporter Salaries
You should be aware that a news reporter's job or contribution is vital in the newspaper industry. You must make significant contributions to the company as a reporter. The bulk of newspapers and television stations pay their reporters generously. A news reporter's average monthly salary is estimated to be between INR 18,000 and INR 80,000, depending on experience and performance. Other facilities are also available to a reporter. It's a fantastic thing.
News Reporter Job Prospects
It has been shown that the work prospects for a news reporter are bright. You should put in the effort if you're serious about becoming a news reporter. This will catapult you to the pinnacle of success. Today's news reporting relies on a variety of electronic media. As a result, the job of a news reporter has become far more accessible and enjoyable. You can learn a great deal that will help you advance in your career. You can quickly progress to a high-level position if you start your career as a news reporter. All that is required is grit and a desire to succeed.
You can also go to the part where you can edit news. This will provide you with new opportunities. In India, several respected media businesses provide good job possibilities for reporters. You can work for these companies and contribute to the future of the world. These businesses offer good opportunities for their employees as well as a competitive wage package. You can also meet people who have already built a name for themselves and ascended to positions of importance in this industry. The work of a news reporter differs from that of other professions.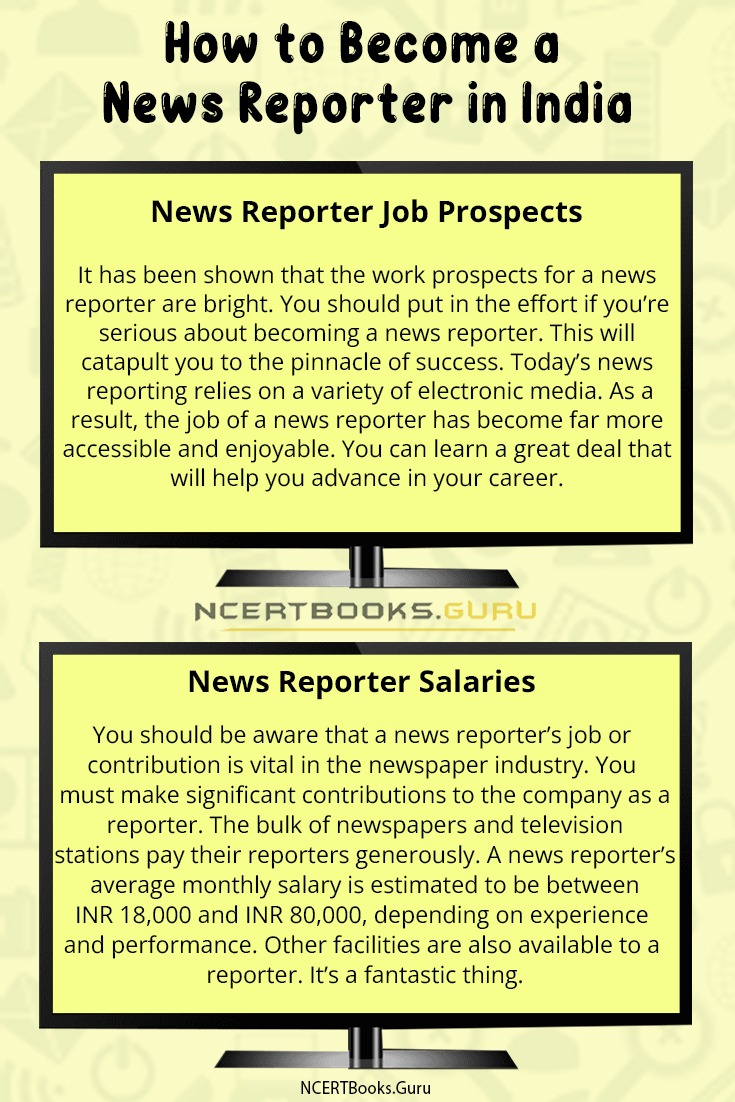 Institutes On Journalism
A degree or course from a renowned university is required to become a good and well-known news reporter. Various such places in India provide high-quality education and training to applicants. It would be beneficial if you made an effort to get into the better ones. Here's a rundown of a few of the best.
New Delhi's Indian Institute of Mass Communication
Pune-based Symbiosis Institute of Media and Management
Hyderabad University is located in Hyderabad, India.
Bangalore's Christ University
Mumbai's Xaviers Institute of Communication
Sophia SCM, Mumbai
Conclusion on How to Become a News Reporter in India?
If you are a determined and hardworking individual, your dream of working as a talented news reporter will come true. A news reporter's job is challenging, but the satisfaction from doing good work is priceless. It is a prestigious and honourable profession. As a news reporter, you have a social obligation to offer factual information to the public. You are the entire world's solitary source of information. You must have a strong personality and be a forceful man. Nobody should be able to beat you, and no one will be able to influence you. Instead, being honest and dedicated to your work might be advantageous.