Journalism as a Career: Being a journalist satisfies a desire to live a curious life, contribute towards the public good, disseminate information, and shape public perception of important people, places, things, and events.
With over 900+ allowed private news/television stations, India is one of the fastest-growing countries in the world of journalism and media, providing a lot of options and job prospects for journalism students. According to current trends, a job as a journalist in digital media, news apps, and digital newspapers will have more opportunities.
Every year, approximately 40-50 percent of students in India pick journalism as a career. Aspirants who want to be journalists usually study journalism, communication, or English. A bachelor's degree is held by 69 percent of journalists, while a master's degree is held by 10%. This article will tell you everything about how to become a journalist in India, salary, career growth, and much more. Read on to find more.
How to Become a Journalist in India?
Students interested in becoming journalists can complete their 10+2 in any subject, including Science, Commerce, and Arts. The only requirement for pursuing journalism is English as one of the major subjects in class 10+2.
Eligibility Criteria to become a Journalist in India
Candidates must have completed their 10+2 with a minimum of 50% marks in any subject.
Candidates from the SC/ST or other reserved categories receive a 5% grade reduction.
The 10+2 should be obtained from a recognized central/state educational board.
Some colleges/universities require English as a compulsory subject in 10+2.
Candidates for a master's degree must have a bachelor's degree in Journalism and Mass Communication with a minimum of 50% marks.
A candidate for a PG Diploma programme must have a graduation grade point average of at least 45 percent.
Some universities/colleges also require a valid score in the respective university's entrance examination.
Skills to become a Journalist in India
Apart from the above eligibility criteria, candidates will also require a few skills to become a Journalist. Below are the top skills to become a journalist in India,
Good command of the language
Alertness Ability to distinguish between fact and fiction Teamwork
Writing abilities that are short and to the point
An inquisitive and investigative mind
Confidence, patience, and zeal
Excellent communication abilities
Adaptability and tolerance for various changing situations
Sensitivity to different points of view and lifestyles
Career as a Journalism in India
One must choose the career path in journalism, to begin with. The journalism profession is becoming more digital, and the most in-demand occupations are in digital content, as well as print and broadcast-related digital material.
Below are some of the journalists who work primarily in the following area's,
| | |
| --- | --- |
| Area of Journalism | Percentage |
| Newspaper Publishing | 44% |
| Television Broadcast | 20% |
| Data Processing, Hosting, and Related Services | 8% |
| Radio Broadcasting | 5% |
Types of Journalists in India
Below are some of the Journalists who are classified into a variety of categories based on their professional responsibilities and areas of expertise,
Civic Journalist is the one who covers local issues. They focus on the difficulties that people face on a daily basis. A Civic Journalist's cover stories will always involve ongoing protests and events. Citizens are typically questioned and asked about current concerns, roadblocks, and political views on a variety of topics.
Agricultural Journalist is the one who covers agriculture. Their main duty can also be determined by the title. They mostly cover news about farm areas, farmers, crops, growing, and falling prices, and current agricultural practices used in farming.
Cultural Journalist is the one who covers culture. They're in charge of reporting on various events that are taking place in various locations. The majority of these events are religious, regional, or cultural in nature.
A solution Journalist is the one who provides solutions. They ensure that the news given to the newsroom is free of misleading or fake information and offer remedies to correct it. This also entails content creation.
Read More:
Steps to Become a Journalist in India
An interested applicant for a career as a journalist should follow the five major steps outlined below,
Step -1: Making a Decision
There are specific abilities required to become a journalist; nevertheless, if you have a solid command of languages, decent writing skills, attentiveness, and an investigative mind, you can choose to be a journalist from the time you are in school and work to improve these traits day by day.
Step – 2: What subjects should I study?
It is critical to select the appropriate subject combination to help you in pursuing a career as a journalist. Subjects such as English, Social Sciences, and Humanities, among others, may help you develop your talents and thinking abilities in preparation for a future in journalism.
Step – 3: Which Entrance Exam Should I Take?
Almost every reputable university or college has its own entrance examinations, however, others are held at a national level and are mostly administered by central universities and accepted by connected schools or universities. As a result, take the entrance exam offered by your preferred college or one that is acceptable by other colleges.
The following are some of the most common entrance examinations for UG and PG programmes.
For UG graduates: DUET, IPU CET, JMIEEE, SET, and MU OET
For PG graduate: IIMC, XIC OET, ACJ Entrance Exam, IPU CET, JMIEEE, AUCET, MU-OET, AMUEE, MASCOM
Step – 4: Choose a Good University
Choose an institution with a reasonable tuition structure and a solid placement record in previous years. Also, look at the qualifications of the college's faculty members, as well as the facilities and chances available to a student studying there.
Step – 5: After Qualifying the Entrance Exam 
Following the completion of the Entrance Exam, It is critical to remain serious about your career and education while pursuing graduation because, in the end, your grades will matter. Try to expand your knowledge and skills as much as possible during your graduation, which will undoubtedly help you in the future.
Know about various course details pertaining to different streams all under one roof and join the course of your dream.
Top Recruiters for Journalist Jobs in India
Below are some of the top recruiters for the journalist jobs,
Hindustan Times
Network 18
The Hindu
Outlook
India Today Group
Zee Network
Malayala Manoram
The Pioneer
India TV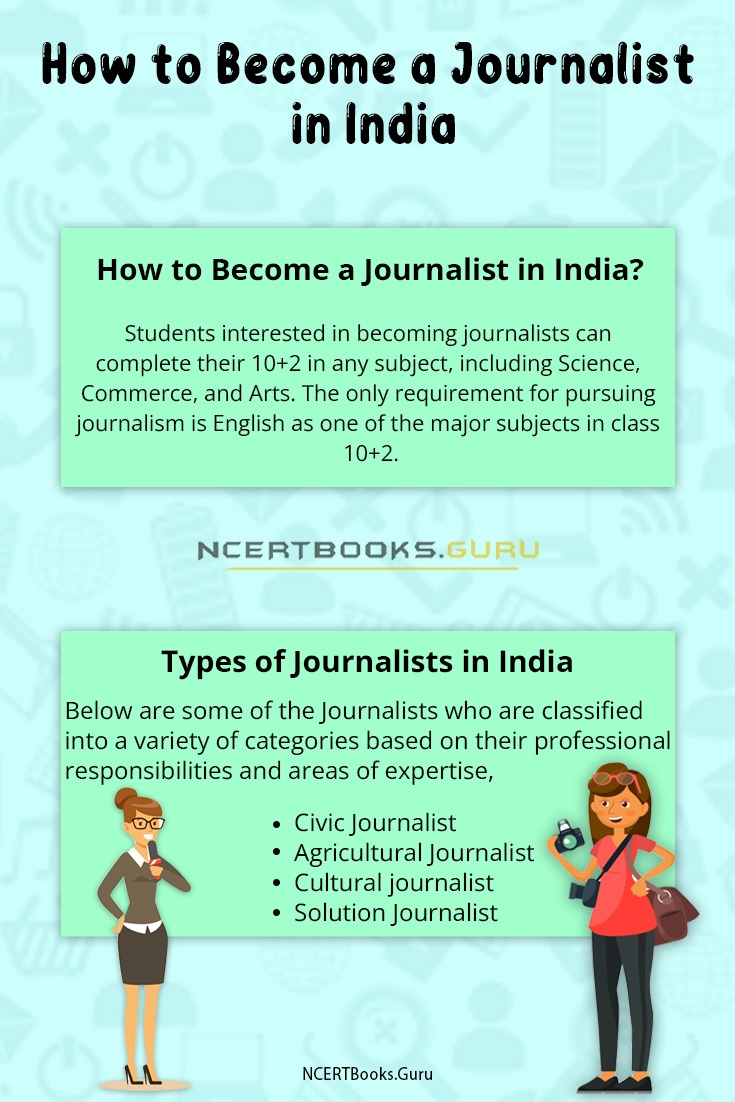 Journalist Salary in India
A Journalist's salary is determined by his experience and expertise in the field. A typical salary package starts at INR 2,50,000 per year and can go up to INR 40,00,000 per year. The table below depicts the typical salary package of a Journalist.
Type of Organization

Average Annual Salary

Government

INR 1,50,000 to INR 4,00,000

Private

INR 2,00,000 to INR 10,00,000

Specialization in Journalism

Broadcast Journalist

INR 6,00,000 to INR 8,00,000

Photo Journalist

INR 4,00,000 to INR 6,00,000

Political Journalist

INR 3,00,000 to INR 4,00,000
The average salary for the freshers would be around 2,00,000 to INR 3,50,000, and the average salary for experienced salary would be around INR 6,00,000 to INR 10,00,000.
FAQs on How to Become a Journalist in India?
1. How much does a journalist earn in India?
The average salary of a Journalist in India ranges between 2 to 6 Lakhs per annum.
2. What is the qualification for a journalist?
Educational Qualification: for a bachelor's degree in journalism, generally the minimum eligibility is set at a 10+2 certificate and for Postgraduate degree courses, a graduate degree in journalism is required.
3. What are three qualifications to be a journalist?
A minimum of a bachelor's degree in a related field is often a requirement to work as a journalist. Some hiring managers may prefer a degree in journalism, whereas others will hire individuals with a similar degree like English, political science, or creative writing.
4. Is it easy to become a Journalist?
 The answer to this question totally depends upon one's perspective and ability to deal with extreme lengths to report on sensitive and controversial issues in the public interest.