How To Become a News Anchor in India: News anchoring is a glamorous profession in the media industry. Looking at many anchors today in the news world who have their own segment in the news channels inspires the young generation to take up news anchoring as a profession. In this article, we will learn how to become a news anchor in India for those aspiring to take up news anchoring as a career.
Refer to Course Details to know more about related courses and find details like Admission Process, Eligibility Criteria, etc.
What is News Anchoring?
News anchoring is a profession in which a news anchor reports local, national, or international news and events to the public on radio or television and even on the internet. Some have special segments or topics such as weather, sports, politics, entertainment, and technology, while others cover multiple events. News anchors either broadcast live from the studio or visit the site of events to gather and share information on events on camera.
News anchors divide their time between the studio and traveling to different locations for reporting on stories or interviewing people. Depending on their anchoring time slots, they may work days, nights, and weekends. They might have to work irregular hours depending on the story they have to cover and the deadline to meet.
Their schedules might change accordingly during breaking news. The anchor might travel to the assignment alone or with a camera operator. They work on stories independently or collaborate with a group of news staff. News anchoring environment is a fast-paced environment.
Courses Available To Pursue News Anchoring
The courses available to pursue news anchoring are
Diploma course in Development Journalism
Diploma in Journalism and Mass Communication
Diploma in Media Studies
BA (Bachelor of Arts) Mass Communication and Journalism
MA (Master of Arts) Mass Communication and Journalism
Bachelor of Mass Media
Post Graduate Diploma in Business Journalism & Corporate Communication
PhD in Mass communication
Eligibility Criteria to News Anchor
Mass Communication & Journalism courses are open to all streams after 12th grade.
Students must have at least one language in class 12th.
The eligibility criteria for most colleges are a minimum of 50% aggregate marks in Class 12th. Few colleges may ask for a cut-off in English.
Most colleges conduct an entrance examination that tests the students on English, General Knowledge (GK), Reading, and Comprehension.
See More:
What Do You Study In Mass Communication/Journalism?
Print Media
Reporting & Editing
News & Contemporary issues
National & International Issues
Media Management
Public Relations
Advertising
Visual Communication
Film Theory and Practice
Behavioural Science
Few Prominent Colleges for Studying Mass Communication
Delhi School of Journalism
Lady Shri Ram College, Delhi University
IP College for Women, Delhi University
St Xavier's College, Mumbai
Jai Hind College, Mumbai University
Indian Institute of Mass Communication, Delhi
A.J.K. Mass Communication Research Centre, Jamia Millia Islamia
Xavier's Institute of Communication
Asian College of Journalism, Chennai
Sri Aurobindo Institute of mass communication, Pondicherry
Indian Institute of Journalism and New Media, Bengaluru
Symbiosis Institute of Media and Communication, Pune
Sri Sri Centre for Media Studies, Bengaluru
Indian Academy of Mass Communication, Chennai
Times School of Media, Bennett University, Noida
Skill Set Required for News Anchoring
Communication skills – News anchors need to have good communication skills. Their skills are not just confined to verbal but are required to have written verbal and non-verbal skills.
Comfort with Camera– News anchors must be ready to face the camera with confidence and must be comfortable working in front of it.
Critical & Creative Thinking– News anchors must have a necessary and creative thought process. They have to report news immediately while keeping the audience engaged with the news.
Interviewing skills- One of the skills needed for news anchoring is interviewing abilities which is very important as news anchors have to ensure the comfort level to bring in while interviewing the interviewee.
Presence of Mind- News anchors have to do multiple shows of different types like debate, interviewing a celebrity or superfast news. Although they get a script at the teleprompter, things don't go according to the prompt and script. News anchors have to handle the situation with a strong presence of mind.
Appealing Personality– Personality is also an essential part, along with other skills. Having an attractive personality goes a long way for news anchors.
Essential Tips to Become a Successful News Anchor
Generally, all mass communication skills provide the curriculum to cultivate the desired skills to become a news anchor. Once the coursework is completed, here are the steps to follow to land your first job and become a successful news anchor.
Apply at the local news channel and other media houses for an internship and join as an intern. Even if you complete the best programs in mass communication, working as an intern helps you see how things go practically.
Try making your news and videos on social media. Start practicing your pitch in front of the camera and study your favorite news anchors on how they present the news.
Upon completing your internship tenure, record a tape and apply for a job as a news anchor. This will help you in achieving your first show.
Why Choose News Anchoring?
News channels in India are growing at a rapid pace, both at the local and national levels. This makes the demand for news anchors shoot up in the market. A career in news anchoring allows you to practice journalism at its best by delivering news to the audience. Prominent news anchors are in demand as viewers tune into getting their news and reviews on hot topics concerning the country. News anchors deliver the news and act as influencers to the audience, and are followed by many.
Job Profile for a News Anchor
The job profile of a news anchor includes writing, editing, and proofreading as an integral function.
It includes analyzing, interpreting, and broadcasting news received from various sources.
It also involves researching local, state, national, and international current events.
Top Job Profiles as a News Anchor
TV Anchor- TV anchors coordinate news broadcasts and use their communication skills to deliver the news to the audience concisely. They are expected to do research prior to going on air to give an informed opinion on current events.
Senior Journalist- A senior journalist is responsible for researching and reporting, creating, and commissioning the content.
Junior Journalist– Junior journalists or junior reporters write up and present stories allocated to them by the news desk.
Roles and Responsibilities of a news anchor
Meeting the news director, reporters, and other news anchors for a briefing on the news
Working in collaboration with the news director to select the stories to broadcast based on audience preference.
Organizing the news to present the exciting pieces first
Revision and preparation of scripts to deliver them on air
Ensuring addition of the late-breaking news to newscasts
Engaging in commentary
Interviewing guests and other members involved in stories
Moderating debates on air
Introducing news correspondents reporting news on scene and asking them relevant questions
Complying with the moral code of the journalism
Keeping well-informed of news and developments by attending events, studying papers, etc.
Working in collaboration with writers, editors, videographers, and photographers to produce a story
Establishing a social media presence and engaging with the audience on social media.
Staying connected with industry professionals.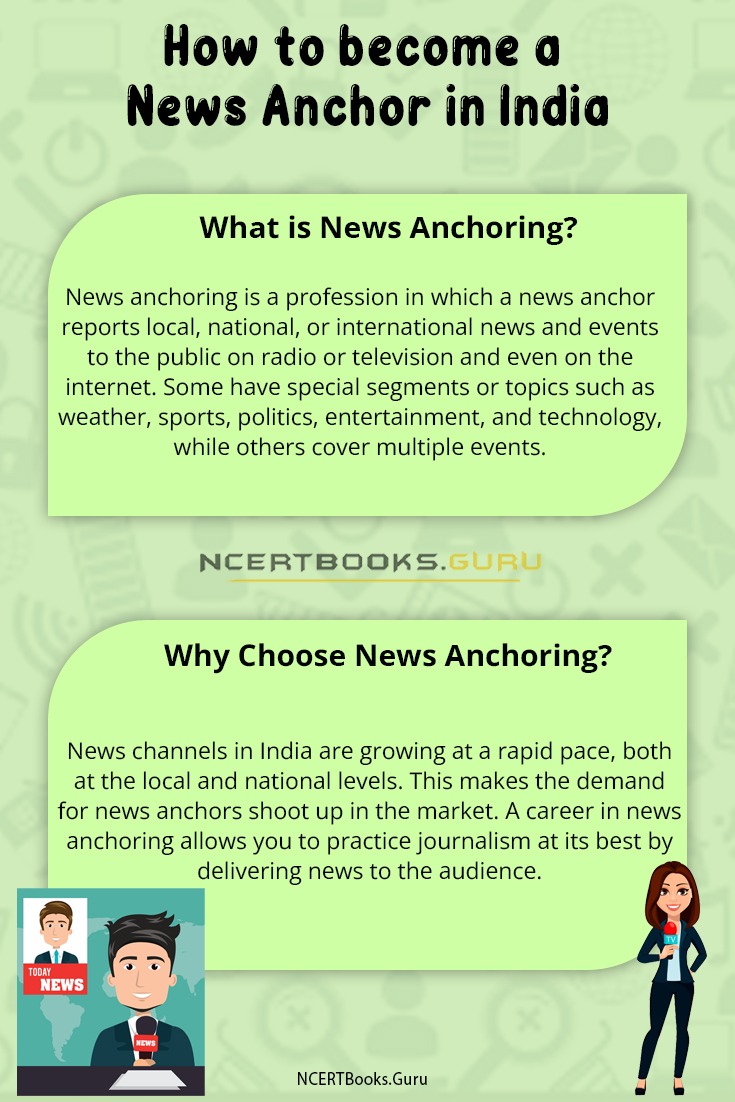 Salary Packages for News Anchor
Starting salary in this field varies between Rs 12000 to 25000 per month. After getting experience of 5 years, the salary ranges from 50000 to 100000 per month. With the increase in news channels in India, the remuneration has also increased as qualified and smart news anchors are well sought after in the industry.
Conclusion on How to Become a News Anchor in India?
Becoming a news anchor is a career well sought and keeps you updated always. The profession is of great responsibility as a large pool of audience relies on your news and communication being delivered. Aptitudes such as the use of language, creativity, and verbal ability are imperative in this profession.
The most basic skill required to be a news anchor is good communication and writing ability. They must have a flair for language in which they want to pursue their news anchoring career. Those pursuing the field of mass communication and journalism must have the ability to network and create media contacts and acquire the latest insights. They should have the ability to work under pressure and in rough conditions.
While working as news anchors, they must perform their duties as good citizens by delivering exclusive news, particularly on topics and issues that are sensitive to the citizens. Many news anchors today are not just newsreaders but also influencers. In the era of social media, where the news gets spread in seconds, it becomes the responsibility of the news anchor to provide the right news to the audience on the social media platform as they have a large number of followers with them.
News anchoring today is a glamorous position, and along with glamour comes responsibility and hard work in delivering the news to the audience.