Diploma in Culinary Arts: With the Culinary Arts diploma, students are exposed to a specialized field of food manufacturing via strategic methods, basic operational techniques, and hands-on mentoring in core competencies. Culinary arts courses teach students how to arrange, cook, and present food and meals professionally and appealingly. It also instills technical knowledge and skills that enable students to excel in the hotel management industry as well.
Culinary art is just normal cooking but the thing that makes it different from normal cooking is that it uses different techniques and methods for cooking.  A Culinary Arts curriculum educates the students on how to effectively we can cook and present the food that it will look more attractive and delicious.  If you are planning to join this course and want to know all the details regarding this course then this is the perfect guide for you.
About Diploma in Culinary Arts and Course Duration
The duration of the Diploma in Culinary Art is 1 year, however, the duration of the course may vary depending on the type of course and institution. A diploma in culinary art provides students with an in-depth knowledge of culinary arts, dessert arts, and hospitality, as well as the fundamental culinary and related skills needed to operate in the world's best commercial kitchens, fast food joints, and hotel chains.
Programs of this sort not only focus on the practical skills needed for a career in culinary arts but also on the technical and managerial capabilities needed for supervision. Check out the below modules and get more info on culinary art diploma courses.
Different Areas of Specialization in Diploma Culinary Arts Courses | Types of Culinary Arts Courses in Diploma
There are different areas of Specialization apart from the Diploma in Culinary Art, you can choose among these Diploma courses that attract you the most. Some of the alternative diploma courses are as follows:
Diploma in Food And Beverage Service
Diploma in Culinary Arts of Italian Cuisine
Food Production Course in Diploma
Diploma in Bakery and Confectionery
Diploma Culinary Arts Courses Skillset
Skills are the assets that remain with us forever, they help us to do our work more easily and with a high level of expertise. Some of the basic skill sets that are required to be a professional Culinary Artist are mentioned below:
Understanding
Time Management
Communication
Organizational Skills
Diploma in Culinary Arts Eligibility
Every colleges and institution have its own eligibility criteria to admit the students in the upcoming program or courses hence, to enroll in the Diploma in Culinary Arts some requirements need to be fulfilled such as:
Applicants must pass their class 12th from a recognized college or institution.
To be considered for admission, an applicant needs to achieve at least 45% of the total marks, and English should be a mandatory subject.
If you want to do a basic Certification course then you must clear your class 10th or 12th standard from a recognized institution or college.
Admission Procedure for Diploma in Culinary Arts in India
The admission procedure varies in different colleges and institutions, some intuitions follow the first come first serve process while others give admission based on merit list and cut-off marks.  To complete the admission procedure you can refer to the steps given below:
Candidates can apply to their desired college through an online or offline medium, with the required details and documents.
Some institutions consider the marks obtained in the 12th standard for admission.
Institutions may call the students for counseling once they are short-listed.
Top 10 Diploma in Culinary Arts Schools/Colleges in India Along With Their Fees
Several colleges provide diploma courses in Culinary Arts, but choosing among many is a tedious task. Therefore, to make your work easy and help you with the selection of the best college we have listed some of the best government colleges for culinary arts courses in India as well as private culinary colleges along with their total fees.
Name of College
Private /Government
Total Fees
IHM Chandigarh – Dr. Ambedkar Institute of Hotel Management Catering & Nutrition

Location: Chandigarh

Government
INR 49.86 K

IHM Delhi – Institute of Hotel Management, Catering & Nutrition

Location: Library Avenue, Pusa, Delhi

Government
INR 72.6 K – 81.6 K
SNDT Women's University, Churchgate

Churchgate,

Location: Mumbai

Government
INR 35 K

IHM Jaipur – Institute of Hotel Management, Catering Technology & Applied Nutrition

Location: Jaipur

Government
INR 34.65 K
Directorate of Distance Education, Guru Jambheshwar University of Science and Technology

Location: Hisar

Government
INR10 K
Maharishi Markandeshwar University, Mullana

Location: Ambala

Private
INR 43.5 K
Guru Nanak Institute of Hotel Management [GNIHM]

Location: Sodepur, Kolkata

Private
INR 1.3 L
School of Hospitality and Tourism Studies, D.Y. Patil University

Location: Navi Mumbai

Private
INR 75 K
Munnar Catering College

Location: Munnar

Private
INR 45 K
UEI Global, Lucknow

Location: Lucknow

Private
INR 1.48 L
Diploma in Culinary Arts Subjects
The Culinary Arts curriculum schedule is extremely extensive. It gives learners all of the education and competencies they need to pursue a career in Culinary Art. The program covers many practical courses that provide them with hands-on expertise. Below we have listed some of the subjects covered in this course.
Preparation, cooking & service – Meat, poultry dishes, stocks, soups, sauces, pulses & vegetable dishes
Preparation, cooking & service – Pasta, rice, farinaceous, cold preparation dishes, egg dishes & savories
Menu Planning
Budgeting, costing & control
Kitchen maintenance & design
Cold food preparations, basic pastry technique
Safety at work in food preparation
Food preparation methods
Food safety at work
Cost control operations
Storage & care of materials
Nutrition at work
Cooking methods: boiling, poaching, steaming, stewing, braising, deep-frying, baking, roasting, grilling
Scope for a Diploma Holder in Culinary Arts in India
A diploma in Culinary Arts is by far the most sought-after curriculum in today's world when the restaurant and hospitality businesses have exploded due to the growth of the tourist industry. Students for the Culinary Arts program are not only passionate about cooking food, but also about the demonstration of food and beverages.
The career opportunities and scope of the Culinary Arts program are enormous. Students who choose this course are qualified for highly paid jobs in the hotel and hospitality industries. A candidate who completes a Diploma in Culinary Arts can work in a variety of positions that are related to the hospitality business such as Restaurant Manager, Food Stylist, Chef, etc.
Must Check:
Job Opportunities for Diploma in Culinary Arts in India
Culinary arts courses cover cooking techniques and how to introduce different foods in a food establishment. Once the Diploma in Culinary Art is completed; there are numerous job opportunities in different areas of hotel management and hospitality.
Hotel chains, resorts, cruise ships, skills training, and culinary establishments all have the requirement of a skilled and expert culinary artist. Some of the job profiles that are offered to a Diploma Holder in the various field are as follows:
Marketing manager
Chef
Food stylist
Food Executive
Supply chain Manager for restaurants
Food Bloggers
Food Inspectors
Commercial Food manufacturer
Hygiene Supervisor for Culinary Arts
Food critic
Costing and Account Manager in the Culinary Arts
Chief Catering Manager
Catering Manager
Bartender
Executive Chef in Cruise ships
Sous Chef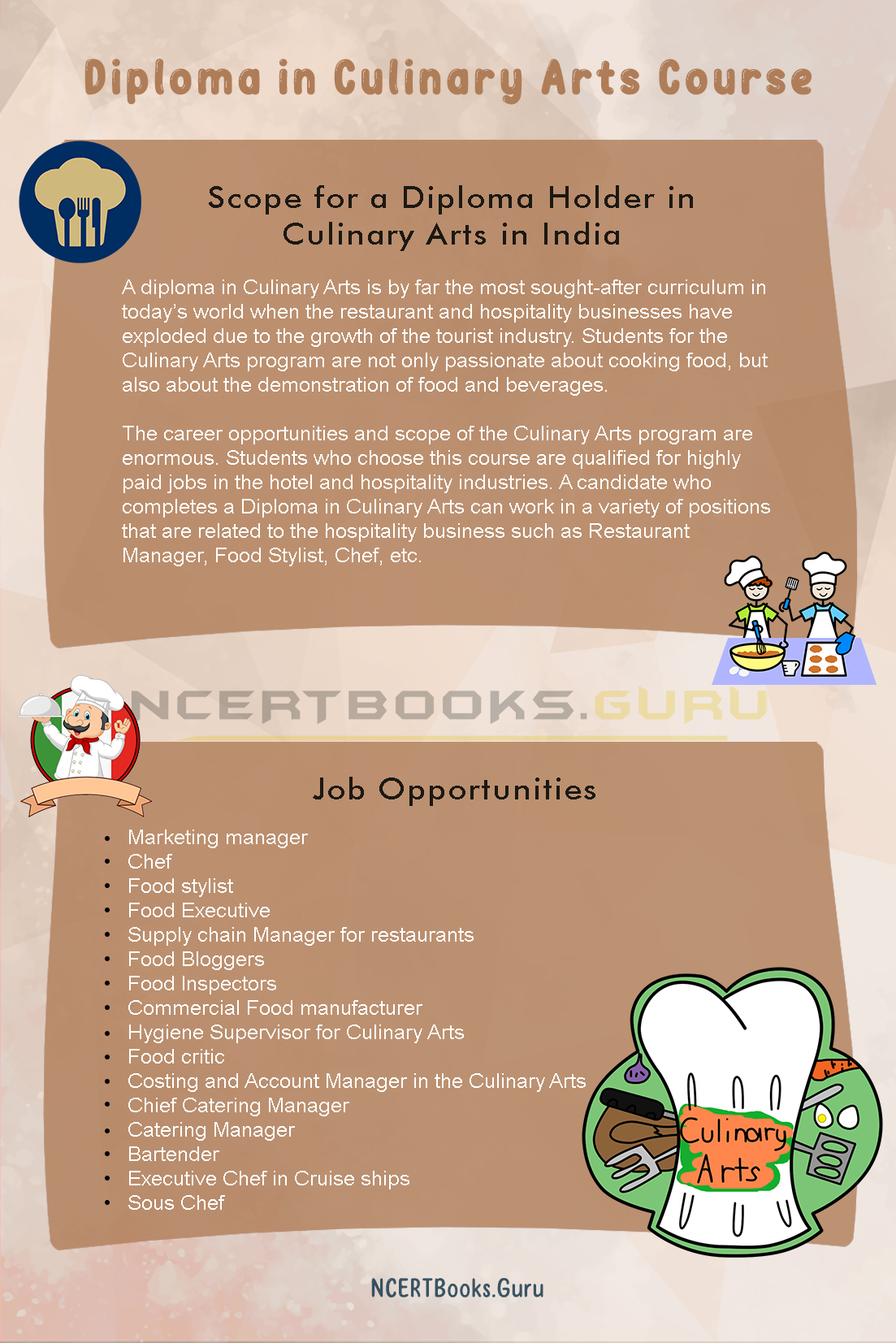 Diploma Culinary Arts Courses Salary in India
After earning a Diploma in Culinary Art you can expect an average salary of around INR 4 – INR 6 Lakhs in India. But the figures for your salary are also determined by your skills and the expertise you possess in this field. If you are skilled full and talented you can earn handsomely in the Food Industry as it is one of the most flourishing businesses that most people are interested in.
Also to get the basic idea of the average salary earned by a Diploma Holder in Culinary Art we have listed some designations along with their salary.
| | |
| --- | --- |
|                     Job Type |                    Average Salary |
| Restaurant manager | INR 4 Lakhs annually |
| Catering Officer | INR 3.5 annually |
| Food Stylist | INR 2.6 Lakhs annually |
| Chef | INR 2 Lakhs annually |
FAQs Related to Diploma Courses in Culinary Arts Field
1. Are culinary arts jobs in India in demand?
Ans. Yes. In India, numerous hotel chains are looking for culinary arts experts. The hotel industry in India is also evolving as the country becomes more developed, requiring more and more highly qualified culinary professionals.
2. What are the highest-paying jobs in the culinary arts Certification?
Ans. A culinary arts course can lead to a wide range of job opportunities. Some of the  positions you can avail of after the Certification course are as follows:
First-line supervisors
Bartender
Servers
Food Service Manager, etc
3. What are the various culinary arts diplomas?
Answer: Students can choose from a wide range of culinary arts diplomas based on their preferences. If you want a more comprehensive approach, you can pursue a Diploma in Culinary Arts, which will teach you the fundamentals of the culinary arts in general. Diploma in Culinary Arts of Italian Cuisine, Diploma in Food Production, etc are some of the specializations that you can opt for.
4. Do I have the opportunity to work in the kitchen and prepare my dishes during the course?
Answer: Culinary arts are indeed a very hands-on program. Students are usually provided chances to try their hand at cooking and cooking food. In the kitchen, students are also permitted to test and be creative to learn how to prepare fresh and unique recipes so that they will have a practical experience of cooking food.
Conclusion
Everyone loves food, especially when the food is tasty and appealing. There are many start-ups and hotels chains that serve delicious and vibrant dishes to their customers.
All this is possible because of the skill and talent of expert chefs and cooks. If you have the talent and skill to be an expert Culinary artist and want to start your career in Food Industry then you should opt for the Diploma in Culinary Arts course as it will provide you with all the skills and training that is required to master the Culinary Art.
Make use of the detailed information provided in this article, and take a step toward your dream of a Master's in Culinary Art. For more career updates and other course details, visit our website @ ncertbooksguru.com