Diploma in AC Mechanic Course: Air Conditioning Systems are required everywhere in the world. Are you looking to build your career as an AC Mechanic? Then you are at the right place. Here, we are providing a detailed description like Diploma AC Mechanic Course qualification, duration, eligibility, fees, top colleges, syllabus, career, and more.
Diploma in Ac Mechanic Course Details
The Diploma in Ac Mechanic Course will help you to build your career in both India and Abroad. The engineers who know the concepts of Air conditioners are in great demand. While studying the course you will be provided the hands-on training in electrical appliances.
Throughout the course, you will be taught various aspects of Air Conditioner and refrigeration systems, applications, and operating principles. After the completion of this course, you have an opportunity to work full-time or part-time in an AC Mechanic place. Thus, with the proper knowledge of the Ac mechanism, you will also be able to get a sound salary.
Overview of Diploma Course in AC Mechanic Course
You can find the overview of the Diploma in Ac Mechanic Course and the critical information which is necessary for the tabulated form below.
Course Name
Diploma in Air Conditioning Mechanics Course
Course Fees
Rs 5000 to Rs 50,000
Duration
6 months to 2 years
Job Roles

Technician
Installer
Cooling and Refrigeration Mechanic
Retail Manager
Professionals at Manufacturing Plant
Maintenance Engineer

Level
Diploma
Minimum Qualification
Class 10th
Diploma in Ac Mechanic Course Duration
The duration of Diploma courses in AC Mechanics varies. As there are some colleges which offer the degree for 6 months. But there are some colleges which provide degrees in 3 years. Thus the duration of the ac mechanic diploma courses includes around 2 to 3 months of training.
There are a few online courses too which are available for free of cost and can be easily completed in 8 to 10 weeks.
Skills Required for Diploma in Ac Mechanic Course
Ac Mechanics job is an on-field job. For this job, you need to be required with a few skills which are important to provide good facilities while performing the job. You need to be perfect in the following defined skills.
Problem-solving skills
Communication skills
Written and verbal skills
Good practical and hand skills
Willingness to work in confined places
Teamwork
Presentation skills
Ability to take initiatives
Ability to make accurate measurements
Careful and methodical work approach
Diploma Ac Mechanic Course Qualification
If you are interested in pursuing the diploma course in Ac Mechanic then you need to clear class a 10th. Also, it is important to secure a minimum grade of 50% marks. But some colleges have their eligibility criteria which you can read here.
You must be in between 16 to 40 years of age.
You should have good communication, practical, and technical skills.
Some colleges may also admit students through their entrance tests.
While some colleges look for your good grades and admit you based on the merit list.
You can also get lateral entry to 2 nd year if you have passed a higher secondary examination or hold an equivalent degree to it.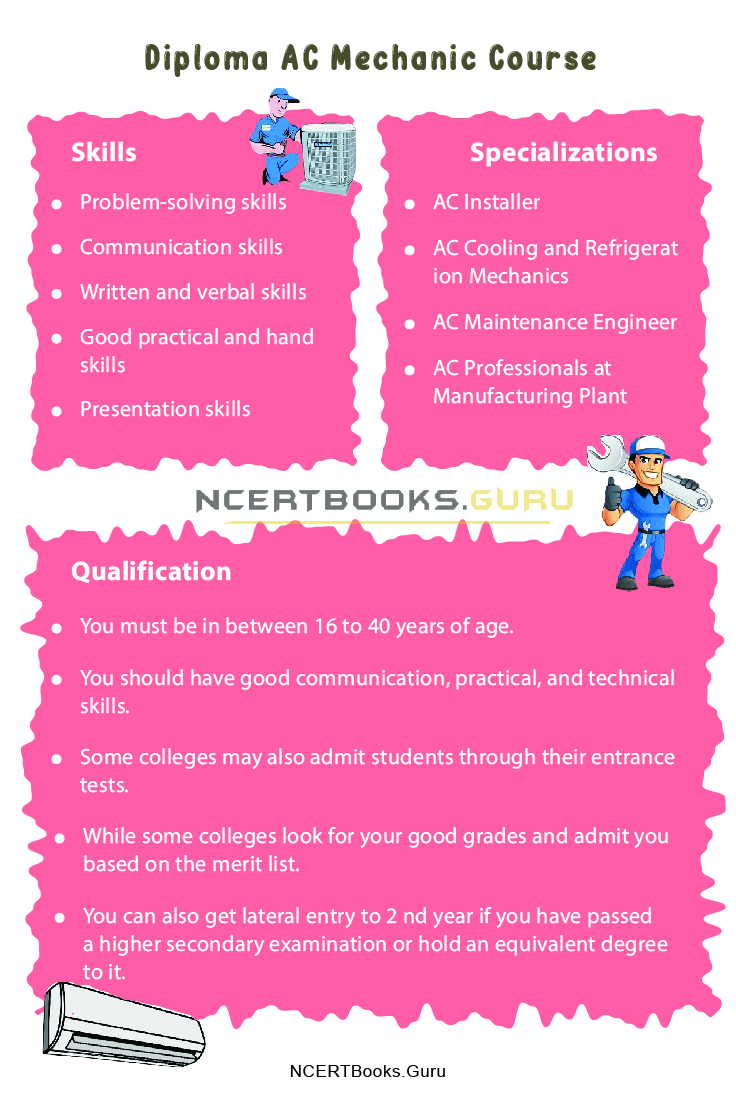 Do Check: Diploma in Mechanical Engineering Course
Diploma in ITI Ac Mechanic Course Fees
The students can pursue degrees in 2 fields such as Diploma in Skills and Diploma in Vocational. On average you can complete the diploma course is Rs 5,000 to Rs 50,000. Some colleges may also training fees for the students. The training fees can be Rs 10,000 to Rs 25,000. But these training fees may vary according to the colleges.
Some colleges may charge you so high to provide training but some may provide your training during the course and the fees are the same which is offered by the colleges in the beginning.
ITI Diploma AC Mechanic Course Specialization
If you are willing to pursue the specialization degree in the Ac Mechanic course the ITI offers you various opportunities to work. You can choose any of the following specialized courses:
AC Installer
AC Cooling and Refrigeration Mechanics
Air Conditionier (AC) Technician
AC Maintenance Engineer
AC Professionals at Manufacturing Plant
AC Retail Manager
What are the Subjects in Air Conditioner Mechanical Diploma Courses?
The curriculum may vary according to the college. But the subjects will remain the same throughout the colleges. Some of the important topics which you will see in the syllabus of Ac Mechanical Courses are
Introduction: Refrigeration and Air Conditioning and Safety
Fitting & Welding
Electricals & Electronics
Primary & secondary refrigerants
Thermal insulation
Lubrication
Gas Charging, Testing & Faults Diagnosis
Commercial RAC plants & Car air-conditioners 02
Industrial Visit
Project Works
Observation, Analysis of Carnot cycle
Non-Conventional AC system.
Electronic Controls, Transistors
Commercial Compressor & Capacity Control
Cooling Tower
Water Softening Plants, Chillers
AC controls
Erection of plants, Ducts, HVAC, and VAV system
Psychrometry, Heat load estimation,
Commissioning & preventive maintenance of different plants
Top Colleges for Diploma in Ac Mechanic Course Near Faridabad Haryana
The top colleges you can find in Faridabad that will help you to pursue the Diploma in Ac Mechanic Course. The Diploma in AC Mechanics is top-rated in these colleges and offers you the best course curriculum. Students can find the list of best colleges near Faridabad here.
AC Repairing Course – Nexcuit Training Institute
Institute of Skill Development by Freon
Aravali College of Engineering And Management
Diploma college of Faridabad
Manav Rachna College of Engineering
YMCA (J.C. Bose University of Science and Technology)
Aggarwal College Ballabgarh
Other Colleges for Diploma in Ac Mechanics Course
Not only in Faridabad but there are several top colleges available all over India that offers a Diploma degree in Ac Mechanics. The colleges list you can find here below.
St Thomas Institute For Science and Technology, Kerala
Hi-Tech Institute of Technology, Maharashtra
Tadipatri Engineering College, Andhra Pradesh
Saroj Institute of Technology and Management, Lucknow
Asansol Institute of Technology and Management, WB
Malwa Institute of Technology and Management, MP
KC Polytechnic College, Punjab
Career Scope After Diploma in AC Mechanic Course
The students who indulge in the Ac Technician courses have immense knowledge about all the domains of Air conditionier. During the course they are also provided with the proper training to avoid any discrepancies, Thus they have the opportunity to work as an
Installer
Maintenance Engineer
Retail manager
Technician
Cooling Mechanics
Professional Manufacturing plant
Thus After the completion of this course, you can also complete your further education as a bachelor. You have ample opportunities to work in both the private and government sectors.
Also Refer: Mechanical Engineering Courses
Careers in Diploma in AC Mechanic Course FAQs
1. How can I become Ac Mechanic?
By just following the few simple steps you can become an Ac mechanic. You are required to hold at least a diploma certificate, indulge in proper training, grab your necessary certificate and licenses after training, and boom you are a professional Ac Mechanic and you can start working.
2. Who are the top Recruiters for the Ac Technicians? 
AC Technicians have various opportunities to work on their terms and conditions. They can also work with Indian Railways. But the few companies which hire Ac Technicians are
Comfort Care Services
Pioneer Global
Speedway LLC
Vinsol Heat Pumps
Belimo
Seaboard Oil Gas and Offshore Management
3. What is the salary offered to the diploma AC Mechanic? 
AC Mechanics are in huge demand everywhere be it in homes, companies, restaurants, colleges, and others. Thus, their salary varies according to their job profile. You can find the job profile-wise salary:
System Troubleshooting- Rs 2.54 LPA
System Repair- Rs 3.48 LPA
Maintenance- Rs 2.94 LPA
Technical Services- Rs 3.42 LPA
4. What are the job roles performed by the AC Mechanics? 
AC Mechanics are entitled to perform various jobs related to the mechanisms of AC. But their main work is to perform repairs for the heating, air-conditioning,  ventilation, and refrigeration systems in the hotel and other areas facilities. The mechanics are trained to install the Ac and all the related aspects of its working.
5. Can I pursue an engineering bachelor's degree after the completion of the Diploma in AC mechanics Course?
Yes, you can easily pursue any degree related to the mechanical field if you are eligible for that specialization. Even though there are various opportunities you can get a lateral entry in various bachelor's degrees in the 2nd year of the course. You can pursue B.E or B.Tech courses.
Summing Up
With the boom in the IT sector if you are planning to build up your career in the same domains then it is a great choice for you. The job for the Ac Mechniacs will show a 4% growth in the upcoming years. The career scope is quite high as an Ac Technician. The chances of promotions while working are also quite good.
If you have a lot many questions arising in your mind then don't worry! We are always ready to help you out in the best possible way. You can ask for all your doubts regarding course details in the comment section below and our expert team of Ncertbooks.guru will clear all your queries ASAP!