BMMC Course Details: Career opportunities are evolving in every domain today. New fields of education, expertise, and job options are becoming popular. The rising interest is seen in the media industry among students.
The media industry plays an inherent role in every aspect of life. More so, in recent times due to different circumstances and events. Presently, students taking up media courses can turn to professionals who uphold society.
Contrary to earlier beliefs of pursuing a career in Science, the trends are changing. Statistics show that a rapidly increasing number of students now enroll in multimedia communication courses.
BMMC Course FullForm – "Bachelor of Multimedia Communication"
Let us now understand more about the BMMC course details, scope, and prospects! Knowing these details will help you make a better choice about a career in media.
About BMMC Course Details
To set up a career in multimedia communication, there are many course options. At the initial level, certificate or diploma courses are available. But for more professional outcomes, a Bachelor's degree is the best option. Postgraduate courses can also be pursued for further experience.
The most widely pursued course in the media industry is BMMC (Bachelor of Multimedia Communication).
We will now explore more about this course!
BMMC (Bachelor of Multimedia Communication) & BMMC Syllabus
This course provides a Bachelor's degree in Arts. It essentially deals with various aspects of multimedia. The BMMC subjects covered are as follows:
Graphic designing
Audio and video processing
Animation in multi-dimensions
Advertising
Scriptwriting
Direction
Designing
Photography
Detailed coursework, theoretical, and practical studies will be provided. On completion, students will acquire substantial knowledge to build a successful future. This is a necessity to create professionals who thrive in the media industry. With various job roles, responsibilities, and openings, the placement options are also increasing.
Eligibility Criteria for BMMC Course
Considering the individual aspects, a creative bent of mind, technicalities, and critical thinking abilities are essential.
The educational qualifications are more specific. The requirements may vary depending upon the institution. But some prior eligibility criteria are binding for the BMMC courses. Students must have passed standard 12th from a recognized board.
Admission to most institutes depends on merit and the 10+2 percentage. Some universities also conduct an entrance test for admission. The necessary subject combinations mostly include subjects of the Humanities and Commerce streams. Other stream students are also eligible to apply but there may be a reduction in percentage.
BMMC Course Fee Structure
With several placement opportunities, multimedia communication degrees come with a variety of cost requirements. The BMMC course fees are different for different institutes. The state in which the University is located also determines the fee structure.
For government colleges, the average fees range from INR 6,000 to INR 1,00,000. for private institutes, the fees are around INR 6,000 to INR 2,00,000 per annum. Other courses may come with varying course structure, fees, and placement opportunities. Have a look at the top web designing courses that offers job offers.
BMMC Course Structure
The Bachelor's degree program is divided into 3 years. There are a total of 6 semesters throughout the course.
There are different core courses for a Bachelor in Multimedia Communication degree. The courses are divided into English, Drawing, Computers, Visual and Conversational art, Film studies, Autobiography, Graphic Design, etc. The final year includes details of editing, journalism, media ethics, and animation.
Internships and practical experience are vital to degree completion. The focus in this course is more on the practical application of knowledge attained. This is because jobs in the media industry are largely based on work experience and application.
Get to Know More about other types of Course Details Streamwise, and Category wise
BMMC Course Job Opportunities | BMMC Scope
On successful completion of the course requirements, an individual is awarded a BMMC degree.
Be it in the field of entertainment, e-commerce, movies, or companies — job opportunities are everywhere. Placements are provided by companies working with digital education, television, IT sector, studios, and so on. Professionals can also choose to set up their own start-up organizations.
The job roles for a Multimedia communication graduate are also plenty. Some of the more popular ones include – animation designer, software designer, computer designer, gaming and graphic designer, multimedia scriptwriter, digital specialist, and so on.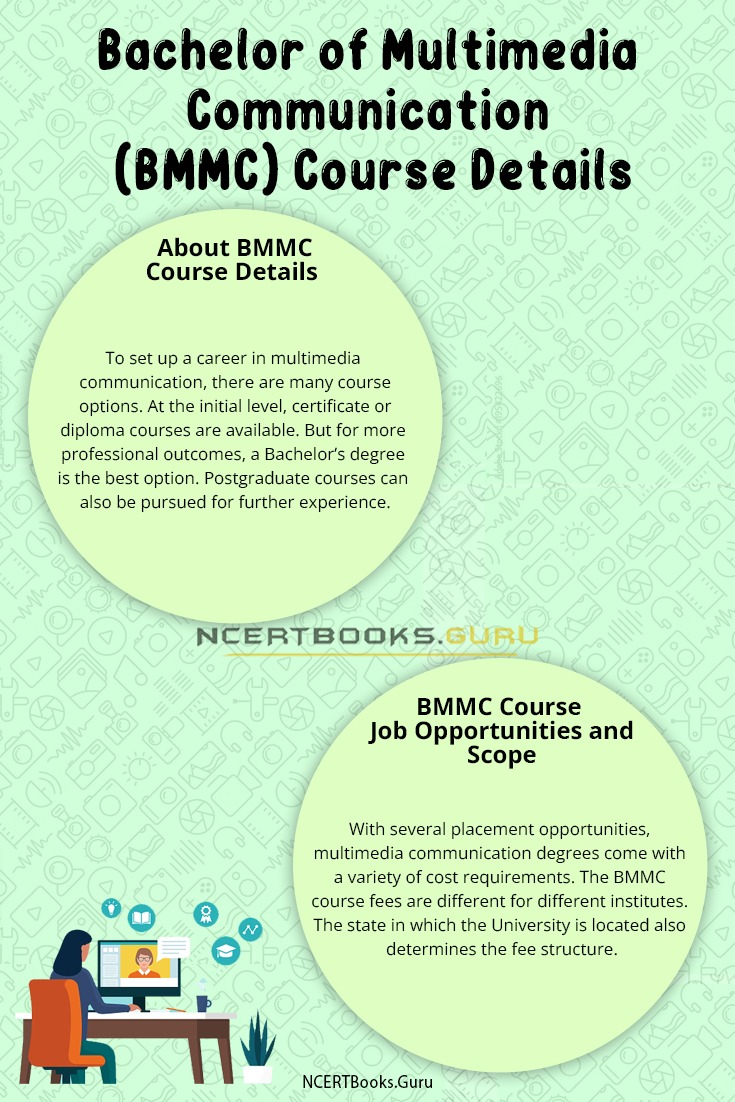 Salary and Job Profiles Offered to BMMC Students
The basic BMMC salary varies depending on the company and work profile. But average estimates can be made regarding the salary.
Web designers – Usually deal with website design, up-gradation, and analysis. They are also responsible for designing user-friendly and attractive websites. The average annual pay is INR  4,00,000.
Scriptwriters – Their task involves writing for any and every platform. From shows, series to commercial scripts and apps. They integrate writing as well as technical skills. The annual BMMC salary is around INR 3,50,000.
Digital specialists – They manage images in both printed and digital modes. These specialists also work with old photograph restoration and archives. The appropriate salary is INR 6,60,000 yearly.
Graphic designers – The essential tasks of creative posters, flyers, covers, display graphics for companies, and so on come under their job role. They get an average annual salary of INR 3,60,000.
Producers – They have the highest annual salaries of around INR 25,00,000. They handle and manage all aspects of any big production in the industry. The job requires extreme dedication,  work hours, flexibility, and adopting multiple roles.
Read More:
FAQ's on BMMC Course Details
Question 1.
Are there prerequisite skills for multimedia communication degrees?
Answer:
Apart from the compulsory education qualifications, there aren't any other requirements. But an upper hand in technical knowledge, computers, writing, or graphics will help.
Question 2.
How is photography beneficial in this field?
Answer:
Many cores and elective courses of this degree are linked to photography and videography. People who are passionate about photography can get a professional opportunity with this course.
Question 3.
Will this degree help to pursue journalism?
Answer:
This degree is the basic requirement for a career in journalism. While many other qualifications, experiences, and degrees are needed. The BMMC degree builds the foundation for this purpose.
Answer:
BMMC full form is Bachelor of Multimedia Communication.