Applied Science Courses. The growth ladder of one's professional career calls for acquiring leadership and management skills at the workplace so as to meet the expectation of highly skilled employees who can be shifted to the above roles. This is why careers in Applied Science are popular these days.
If you are someone who wants to build a career in science and is looking for a rather new career opportunity, then this article on Best Courses in Applied Science is for you. In this article, we have covered Applied Science Courses, their eligibility criteria, top colleges for applied Science courses, course fees, career options, and salary. This article will provide you with a guide to the Applied Science Courses. So let's begin.
What is Applied Science?
Applied science is a branch of science that is combined with the art of management. Unlike pure science, applied science is more on a practical level. In applied science, the focus is on the use of scientific theories and concepts to establish operational and functional applications.
Apart from the study of basic theories and concepts of science, applied science involves studies of various concepts of social science such as management, innovation, vitality framework, etc.
List of Applied Science Courses in India
In general, the applied science courses are offered at two levels i.e. undergraduate applied science courses and postgraduate applied science courses. At the UG level, the course is B.Sc in applied Science and at the PG level, the course is an M.Sc in applied Science.
Here the details of B.Sc and M.Sc in Applied Science are covered. Have a look.
B.Sc Applied Science Courses Duration, Eligibility, and Fees
The full-time B.Sc in Applied Science is of 2 years duration. In most universities, it is divided into semesters and therefore 6 semesters in total.
As far as Eligibility criteria is concerned The students must pass 10+2 with English and Mathematics as compulsory subjects from a recognized board. The student should get a minimum of 50% of marks in the 10+2 examination. It is also mandatory for the candidate to clear the cut-offs for the colleges conducting entrance examinations.
The average B.Sc in Applied Science fee lies between ₹20k to ₹5 lacs. The fee varies from college to college and also some relaxation in fees is given to certain categories of students as per the policy of the college
The working areas in B.Sc applied science are as follows:
Animal and Plant Biosecurity
Mathematics
Computer Science
Plant Physiology
Engineering Physics
Plants
Electronics
Nanotechnology
Conservation Management
Material Sciences
Do Check:
M.Sc in Applied Science Courses Details
The duration of a full-time M.Sc in Applied Science is 2 years. Whereas the eligibility criteria require the candidate to have completed B.Sc from any recognized university with a minimum of 50% Marks.
Apart from this, it is also mandatory that the candidate must have Physics, Botany, Electronics, Zoology, Biochemistry, Chemistry, Microbiology, and Biotechnology as compulsory subjects at the graduation level.
The Average fee for M.Sc in Applied Science ranges from ₹5k to ₹5 lacs. But the fee tends to vary from college to college. For example, the fee for M.Sc in applied Science from Fergusson College, Pune is ₹12,000 and that from Miranda House is ₹15,000.
The working areas in M.Sc in Applied Science include:
M.Sc in Applied Physics
M.Sc. Biophysics
M.Sc. Biology
M.Sc. Earth Science
M.Sc. Tech. in Information Systems
M.Sc. Tech. in Applied Geology
M.Sc. Tech. in Environmental Science & Technology
Integrated M.Sc. in Applied Geology
Integrated M.Sc. in Biotechnology
Integrated M.Sc. in Cell and Molecular Biology
10 Best Applied Sciences Types
The list of 10 top types of applied sciences is here for your reference:
Computer science
Aerospace engineering
Molecular biology
Agricultural engineering
Mathematics
Architectural engineering
Statistics
Biomedical engineering
Civil engineering
Mechanical engineering
Entrance Exam for Applied Science Courses in India
The national level entrance exams for the admission in UG and PG courses in Applied Science are given below:
IIT-JAM (Joint Admission Test)
NIPER JEE (Joint Entrance Exam)
PGIMER Chandigarh
DU PG Admission test
DUET
Applied Science Courses in Canada
In Canada, Applied science courses are considered equivalent to engineering courses. Chanda offers a variety of Applied Science courses that you can choose from.
The list of Applied Science courses in Canada is given below:
Bachelor of Applied Science Engineering: Environmental Management
Bachelor of Applied Science: AgriBusiness
Applied Science BASc
Bachelor of Applied Science: Industrial System Engineering
Bachelor of Applied Science: Ecosystem Management.
Bachelor of Applied Science: Material Engineering
Other Online & Short Term Applied Science Courses List
The other online certificate and short term courses available in Applied Science are:
Level 2 Diploma in Applied Science
Level 3 Extended Diploma in Applied Science
Science: Pure and Applied; Health Science
BTEC National Extended Diploma in Applied Science
Principles of Static Equipment Programme-Applied Physics
Applied Physics for data science and Machine learning
Astrophysics: Exploring exoplanets
Earth Economics
Top Applied Science Colleges in India
The top colleges for applied science courses available in India are:
The University of Delhi – DU, Delhi
Barkatullah University – BU, Bhopal
Indian Institute of Engineering Science and Technology, Howrah
Nizam College, Hyderabad
BITS Mesra, Ranchi
Loyola College, Chennai
Christ University, Bangalore
Madras Christian College, Chennai
The Oxford College of Science, Bangalore
Ramjas College, Delhi
Fergusson College, Pune
Hans Raj College, New Delhi
Miranda House College
Recruiters for Applied Science Courses
The list of recruiters for Applied Science courses are as follows:
Bharat Petroleum,
Fortes Holdings,
IIIT,
Institute of Nuclear Medicine and Allied Sciences,
Indian Institute of Patent Physics Research Laboratory,
Nuclear Science Centre New Delhi,
Bhabha Atomic Research Centre (BARC)
List of Applied Science Jobs
The various job profiles available after completing Applied Science courses are:
Laboratory Technician,
Research Specialist,
Geographer,
Astrologist,
Electronic Engineer,
Science Adviser,
Biology Researcher,
Plant Biochemist,
Teacher & Lecturer
Scientific writer
Professor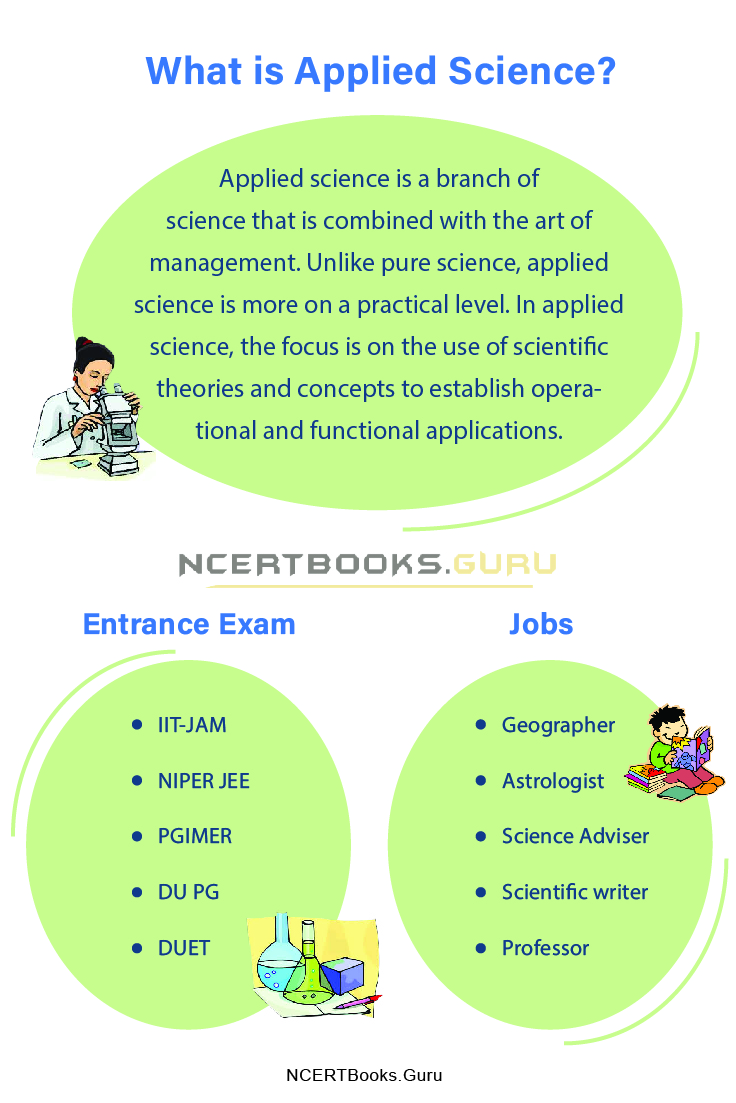 Applied Science Salary in India
The average salary after applied science courses varies between ₹2.5lacs- ₹5 lacs. But the salary varies according to the role. The average salary of a professor lies between ₹4.5 lacs to 6.5 lacs per annum and that of a Geographer lies between 4 lakh per annum to 12 lacs per annum.
Must See: M.Sc Computer Science Course Details
FAQs on Applied Science Courses in Polytechnic
1. What is an applied science course?
In a nutshell, Applied science is the subject that applies the knowledge of scientific concepts to real-world scenarios. The working area of Applied Science ranges from biology to engineering. Applied science is generally used to solve dynamic real-life problems by applying static scientific theories and principles.
2. What is the B.Sc Applied Science syllabus?
In B.Sc Applied Science, you study a wide variety of subjects covering the 6 semesters of the programme. Some of the subjects include in BSc applied science are as follows:
human physiology.
microbiology.
genetics and genetic engineering.
astronomy and medical physics
3. Is Applied Science a good career option?
A degree in applied science is considered a high professional in many countries. In India, this is a relatively new discipline that is rather not so popular. But overall, it is a good career option with ample opportunity to grow.
4. Which online platforms provide online courses in Applied Science?
The list of top 5 online platforms providing Applied science courses are:
ADL online courses
classcentral.com
acs.edu.au
appliedscience.unl.edu
distancelearningportal.com
Final Words
The article given above is all about Applied Science courses. It makes you aware of what Applied science courses are available to you along with the other important things you should consider before choosing the course. We hope this article was helpful to you. If you have any doubts still left, comment below. For more course details articles like this, stay tuned to our site @ncertbooks.guru.