Simply put how do you like to be called a rocket scientist? Doesn't it sound fancy and has a nice ring to it. Well, aerospace engineering is nothing but being a rocket scientist and in this particular article on aerospace engineering courses we are going to give you an idea of how to become an aerospace engineer or in fancy words "a rocket scientist". In this particular article on aerospace engineering courses, one can find answers to most of your questions such as what is aerospace engineering, eligibility criteria, admission process, colleges to study aerospace engineering, and subjects taught in aerospace engineering.
For other Course Details checkout our website.
What is Aerospace Engineering?
Aerospace engineering is considered one of the best engineering courses that one can pursue given the stable career that it offers students after graduation, the vast amount of knowledge that one can gain not just during the course but throughout the career as an aerospace engineer, and the kind of work-life balance it provides to the working professionals in the field of aerospace engineering.
There is a common misconception among engineering aspirants that mechanical engineering is almost similar to aerospace engineering. But if one digs deep into the nuances of the two courses and has done an in-depth analysis of both the courses, one can say with surety that mechanical engineering is very different from aerospace engineering both in terms of the syllabus, pedagogy, job prospects, and career stability that it offers to students.
Who Can do a Course in Aerospace Engineering?
An aerospace engineering course should be done by people with the following aptitude and skillsets;
Students who are genuinely interested in airplanes, warcraft, and anything that flys should surely give it a shot in the space of Aerospace engineering
Students who have a natural knack for mathematics and physics will have an easy life while pursuing any of the aerospace engineering courses that we have mentioned below.
Students should be extremely dedicated and curious because this is one such field where the information keeps getting updated and one has to be at the tip of their toe with the latest industry trends
One should be a team player as well as have the capacity to lead the team as a team leader
Critical thinking faculties with a bend of mind that is more nuanced and is directed toward analytical thinking is extremely necessary to become an aerospace engineer because the chances to go wrong in the design of your aircraft can become fatal and the scope for such negligence is extremely null in this space.
Now that you have a rudimentary idea of the kind of skill sets that you should have to pursue in aerospace engineering courses, let us now understand the different aerospace engineering courses that are available in India that a student can pursue at various stages of his or her academy career.
Which are the Best Aerospace Engineering Courses?
The different aerospace engineering courses that we have mentioned in this particular article on aerospace engineering courses can be divided into three categories which are
Diploma courses in aerospace engineering
Undergraduate courses in aerospace engineering and
Postgraduate courses in aerospace Engineering
Below we have mentioned different diploma courses for aerospace engineering that a student can opt for:
Diploma in Civil aviation
Diploma in aerospace engineering
Advanced diploma in aviation management
Diploma in aero skills
Graduate certified in applied aerospace manufacturing
Below we have mentioned different undergraduate courses in aerospace engineering that a student can do
B.Tech in aerospace engineering
B.Ein aerospace engineering
Bachelor of engineering honors aeronautical
Bachelor of engineering in aerospace engineering
Bachelor of Science in engineering in aerospace engineering
Bachelor of Science honors in aviation engineering
Below we have mentioned different postgraduate courses in aerospace engineering that a student can pursue
MSc in aerospace engineering
M.Tech in aerospace technology
Advanced postgraduate diploma in aerospace engineering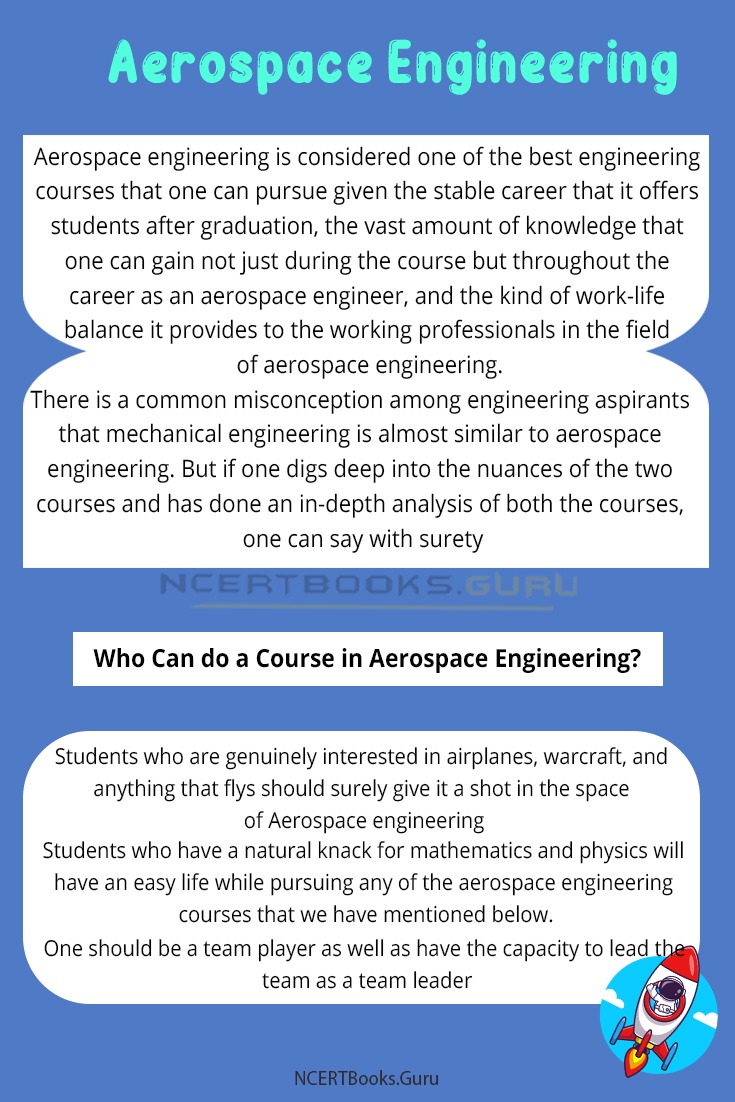 Aerospace Engineering Courses Eligibility Criteria
The eligibility criteria to pursue an aerospace engineering course will vary depending on the type of the course but in general, we have given below pointers that will sum up the eligibility criteria for different aerospace engineering courses
A student should have a passing certificate of 10th standard and 12th standard from any of the recognized education boards in India.
The minimum aggregate that a student should have scored in his or her 10th and 12th standard is 35%.
The student should have passed his 10 + 2 examinations with main subjects as physics, chemistry, and mathematics.
If one wishes to pursue aerospace engineering courses in countries like the United States of America, Australia, or the United Kingdom, one has to give entrance examinations such as GRE, IELTS, TOEFL, etc.
Also if one wishes to pursue aerospace engineering courses through BTech or MTech and in institutes such as the Indian Institute of Technology or the National Institute of Technology, then one has to score good marks in entrance examinations such as joint entrance examinations (JEE), IIT JEE advance, graduate aptitude technical exam or GATE.
Aerospace Engineering Colleges in India
Below we have mentioned some of the top universities and colleges in India that offer aerospace engineering courses at various levels for students:
Indian Institute of Technology Bombay
Manipal Institute of Technology Manipal
Alliance College of Engineering Bengaluru
Indian Institute of Technology Madras
Indian Institute of Technology Kharagpur
Rashtriya Vidyalaya college of engineering Karnataka
Lovely Professional University Punjab
Indian Institute of Engineering, Science and Technology West Bengal
School of Engineering University of Petroleum and Energy Studies Uttarakhand
Amrita School of Engineering Tamilnadu
Madras Institute of Technology Chennai
Dayanand Sagar Institute of Technology and Science, Diana Sagar University Karnataka
Defense Institute of Advance Technology, Pune
Malla Reddy College of Engineering, Hyderabad
MIT School of Engineering, Maharashtra
Institute of aeronautical Engineering Telangana
National Institute of Technology, Warangal, Andhra Pradesh
Top Universities to Pursue Aerospace Engineering Courses
Below we have mentioned some of the top institutes in the world to pursue aerospace engineering courses:
Massachusetts Institute of Technology
Harvard University
Stanford University
University of Waterloo
University of Pennsylvania
Florida Institute of Technology
University of Singapore
London University
Peking University
University of Central Missouri
The above list of colleges has been prepared based on the following criteria that we rank different colleges for aerospace engineering courses:
Infrastructure
Faculty
Academic resources
Placement records
Alumni relations and network
Brand and age of the college
Course structure and pedagogy
Aerospace Engineering Courses Fees
The fee structure to pursue an aerospace engineering course through B.Tech will cost anywhere between INR six to eight lakhs for the entire course in any of the private universities in India or government-aided universities such as the Indian state of Technologies or The National Institute of Technology. The amount provided here is tentative and is solely an education fee but other curricular, extracurricular, and co-curricular expenses including hostel, food, books, club activities, and mess may cost extra and it may come to anywhere between INR 10 to 12 lacs for the entire course.
However, the fee structure for a master's program will be much lesser because of the shorter duration of the course and the entire course could be done within Rs. 5 lakh.
Aerospace Engineering Course Structure
A diploma in aerospace engineering is for 2 years and the course is divided basically into four semesters. Certain Universities also offer the course for 3 years and the entire course structure will be divided into 6 semesters. However, the diploma course will entail compulsory internships, final year projects, industrial visits, and practical laboratories as a part of their curriculum and evaluation methodology.
When it comes to Bachelors of Technology or Bachelors of Engineering in aerospace engineering, the course is for 4 years which is divided into 8 semesters where two semesters of subjects are thought in each year. A bachelor's in Technology or a bachelor of Engineering entails internship programs, industrial visits, semester work, project work, and final year project work along with various other case study-based teaching techniques with industrial hands-on experience and practical laboratories. In comparison with a diploma in aerospace engineering, a Bachelor of Engineering in aerospace engineering is a much more detailed course and students will be able to understand in-depth knowledge and theories related to aerospace engineering.
A postgraduate diploma in aerospace engineering or master's in aerospace engineering will usually be a course with a duration of 2 years and it is a much more subject-specific course where the students will have to take optional subjects and study and improve their mental horizon in that particular subject, unlike a diploma or Bachelors of Engineering where the subjects are common and the whole objective of the course is to gain a general perspective and understanding of aerospace engineering.
Related Articles: How to Become an Astronaut In India
Aerospace Engineering Subjects
Below we have provided some of the common subjects thought to students in aerospace engineering courses across the spectrum irrespective of whether is a diploma, bachelor's, or masters
Propulsion and combustion
Solid mechanics of materials
Electronics Technology and its principles
Radar Technology
Fluid dynamics
Fluid mechanics
Vibration and elasticity
Communication
Statistics and dynamism
Space flight technology
Noise control
Space navigation and guidance
Geo synchronous satellite communication
Aerospace Technology and its principles
Manufacturing and design of satellites
manufacturing and design of weapon systems
Usage of satellites and weapon systems
Design thinking
Engineering graphics
Basics of engineering
Basics of mechanical engineering
Basics of electrical engineering
Basics of computer skills
Aircraft materials
Aircraft electrical system
Aircraft instrument system
Engineering physics
Engineering mathematics
Basic thermodynamics
Elements of aeronautics
Basic strength of materials
Propulsion, gas dynamics
Wind tunnel studies
Turbine technology
Avionics
Heat transfer
Aircraft design
Vibration technology
The above mentioned are theoretical subjects and below we have also provided some of the practical subjects that students will be thought during aerospace engineering
Aerodynamics lab
Rocket studies lab
Vibration lab
Experimental stress analysis lab
Heat engine lab
Dynamic engines lab
Internal design lab
Propulsion lab
Structures lab
Strength of materials lab L
Fluid mechanics lab
Mechanics of materials laboratory
Engineering and electrical workshop
Computer drawing laboratory
Piston engine laboratory
Computer skills laboratory
Fluid mechanics and pneumatics laboratory
Industrial visits
Aircraft structure and servicing laboratory
Also Refer:
Jobs after Pursuing Aerospace Engineering
Below are the top recruiting companies that could hire aerospace engineers with a diploma, bachelor's, or master's backgrounds:
Boeing
Lockheed Martin
Airbus
Virgin Airlines
IndiGo airlines
NASA
ISRO
Rolls Royce
Safran
Honeywell
Rockwell Collins
General Dynamics
Bombardier
United Aircraft
Mitsubishi Electric
Dassault Aviation
Kawasaki Heavy Industries
The following are the different job titles that you might get after graduating from a course in aerospace engineering:
Aerospace Engineering
Design and development manager
Project manager
Maintenance engineer
Materials manager
Supply chain manager
Quality assurance manager
Quality control manager
Production head
Production planning and inventory control manager
Mechanical Engineer
Product designer
Technical Sales and marketing manager
Control and instrumentation engineer
1. Which is the most preferred course in Aerospace engineering?
The most preferred course by Indian students to study Aerospace Engineering is Bachelor's in engineering or Bachelor's in Technology in aerospace engineering. Although, a diploma in aerospace engineering is taking up much of the popularity these days due to its short course duration packed with a high return on investment.
2. Which is the top college to pursue a course in aerospace engineering?
Indian Institute of Technology, Bombay is considered a top institute in India to pursue aerospace engineering courses.
3. How much will it cost to complete a bachelor's degree in Aerospace engineering?
It will cost you anywhere between INR 7 lakhs to INR 10 lakhs to pursue a bachelor's in technology in aerospace engineering in any of the top engineering colleges in India such as the IITs and the NITs
4. What is the average salary of an aerospace engineering graduate?
The average salary is difficult to predict since it depends on various factors such as the knowledge level of the candidate, competency, previous industry experience, and the brand of the college that he or she is passing out from. But, an aerospace engineering graduate should get a job that pays him or her a minimum of INR 50000 per month.
5. Is Aerospace Industry growing?
The short answer to this question is yes and the long answer is definitely yes. Logistics and movement of people have become a necessity and no more a luxury as the world is growing shorter and shorter by the day. This added to increasing awareness by governments of different countries for acquiring more weapons for their security purposes has always benefitted the Aerospace Industry.
Conclusion
We believe the information regarding Aerospace Engineering Courses must have comprehensively covered all the doubts that an aspirant may have about this course. Even at the end of the article if an aspirant feels that he has to know any more information about the course, one can always leave a comment at the end of the article and will revert to you with the right information as soon as possible. To avail of the latest updates check out NCERTBooks.Guru