10 Lines on Neem Tree: Neem tree is a large evergreen tree that has bright green leaves and flowers. The neem tree is native to India and Southeast Asia. People value the rich medicinal values of the plant. The timber from the tree is also very useful. Many people can make it into Ayurvedic products and cosmetic products. Its scientific name is Azadirachta indica.
The neem extract is very beneficial for rashes, athlete's foot, etc., due to its antifungal properties. Since the tree cannot withstand freezing temperatures, it present in the tropics, around the equator. People have cultivated the tree worldwide due to its medicinal properties.
Enhance your vocabulary and writing skills with 10 Lines Essays available. Spark up the creativity in you and access various Topics on 10 Lines all in one place.
Set 1 – 10 Lines on Neem Tree for kids
Set 1 is helpful for students of Classes 1, 2, 3, 4 and 5.
Neem tree is a common tree found in India.
Neem tree is also called 'Nim' tree in India.
The neem tree is popular for its medicinal values.
The tree has yellow colored fruits with a single seed.
The tree can become very tall, very fast.
It grows best in warm temperatures.
We use neem leaves to make toothpaste and mouthwashes.
Neem leaves are boiled, and we can use the water to cure rashes.
Neem tree is connected to the Indian culture.
Since the plant is so helpful, it is commonly found in many households.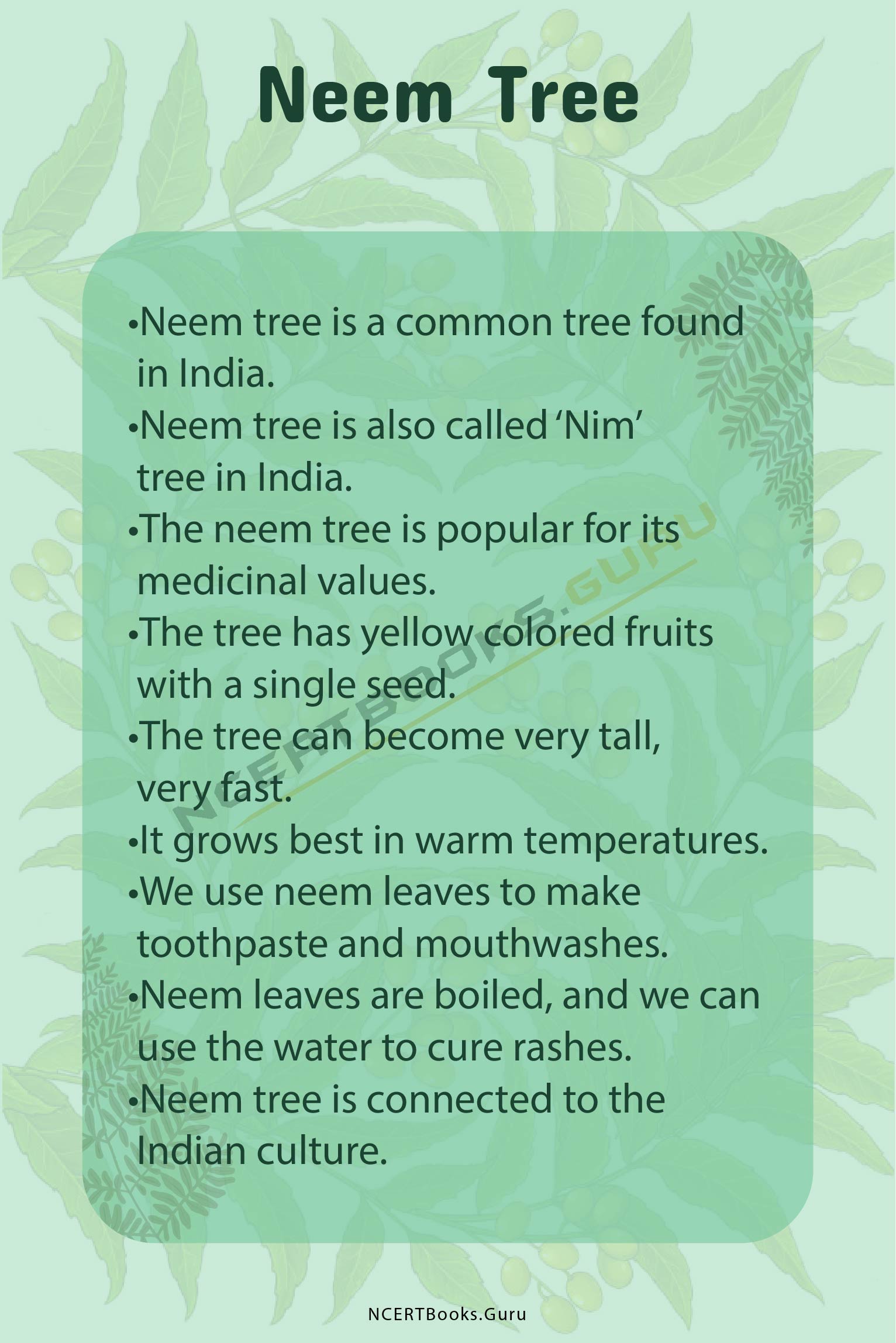 Set 2 – 10 Lines on Neem Tree for School Children
Set 2 is helpful for students of Classes 6, 7 and 8.
Neem tree or 'Nim' plant is an evergreen tree found commonly in India and other southeastern Asia regions.
The tree can tolerate a wide range of temperatures except for freezing temperatures.
These tall trees have a wide range of medicinal and ayurvedic uses.
The neem extract from the leaves and timbers are present in many cosmetic products such as shampoo, soap, makeup, etc.
Its extract has antifungal properties, and India's people have been using it for thousands of years.
The tree can be produced with seeds or can be planted with cuttings.
Neem can get rid of common problems like dandruff.
The neem oil can drive away insects.
Neem has antibacterial and antifungal properties.
Its scientific name is Azaditachta indica.
Set 3 – 10 Lines on Neem Tree for Higher Class Students
Set 3 is helpful for students of Classes 9, 10, 11, 12 and Competitive Exams.
Neem tree is a fast-growing evergreen tree native to southeastern Asia, including India.
Due to its wide range of medicinal properties, people cultivate it worldwide.
The tree grows flowers from January to April.
The fruit is developed during the monsoon season, from May to August.
It is a versatile tree that can sustain at a wide range of temperatures, excluding freezing temperatures.
People use neem extract in shampoos to cure dandruff, soap for its antifungal property, and cure acne.
The oil from neem is very potent and can be used in toothpaste to strengthen teeth.
Farmers practicing organic farming use neem products as natural herbicides, fungicides, and insecticides.
The Indian mythology contains thousands of scripts about the neem tree.
The tree has been called the elixir in Indian mythology. Hence it is highly beneficial.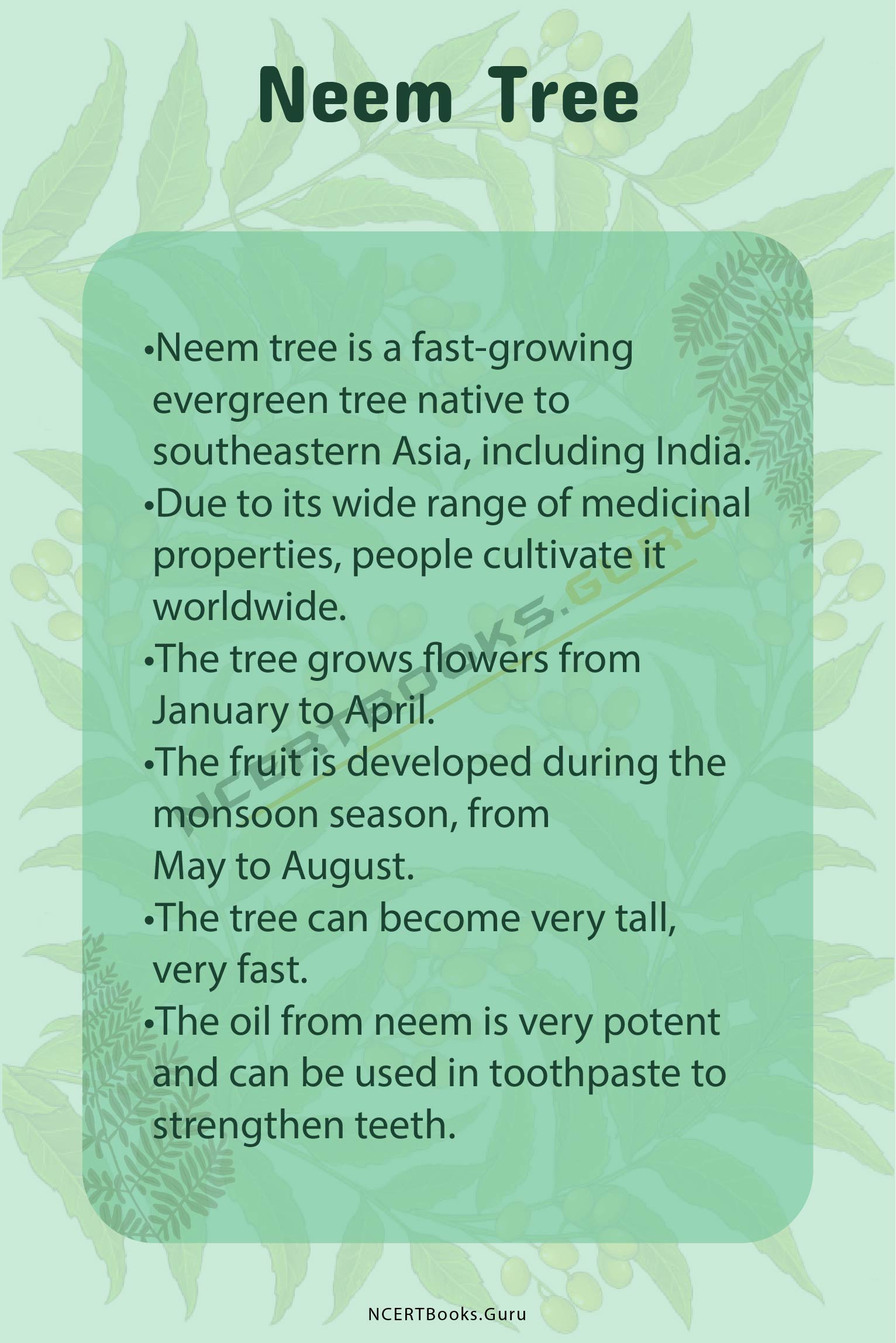 Frequently Asked Questions on Neem Tree
Question 1.
What are the characteristic points of a neem tree?
Answer:
Neem is a fast-growing, tropical, evergreen tree that can grow as tall as 50 meters. It grows throughout the year but grows well in well-drained, fertilized soil. The leaves are small and pointy. If the environment gets very dry, the leaves fall off, leaving the branches bare.
Question 2.
What are the uses of neem?
Answer:
Indians have been using neem leaves and branches for many purposes. Many people still use the green stems as a toothbrush, dry neem leaves, if placed inside confined spaces as insect repellents. People incorporate neem leaves in many cuisines for their rich nutrients.
Question 3.
What are the cultural uses of the neem tree?
Answer:
Neem trees are a part of multiple Hindu festivals and tribal festivals in various parts of India. People often pray to the neem tree in these festivals for health and wellbeing. They also eat raw leaves, and many believe that if one consumes neem leaves daily, it helps avoid a wide range of ailments.
Question 4.
What are the medicinal uses of neem tree?
Answer:
Many medicines incorporate neem extract due to its antifungal and antibacterial properties. Antifungal ointments have neem extract. Many ayurvedic and organic medicines contain neem oil. The bitter taste gets rid of stomach worms. Some facewash contains the neem extract since it helps to remove acne. We also see many neem flavored toothpaste tubes since they make our teeth healthy and fight against build-ups and cavities.