10 Lines on My Family: It is essential for each human being to have a family because we are social animals. Humans need a framework of values and a healthy support system to survive in this world. Without a family, we are lost and deprived of one of the most original forms of love in our lives.
Family refers to a group of people who are related to each other and have a different relationship with each other. An ideal family includes grandparents, parents, uncles and aunts, cousins and siblings. A family is an intimate group of people who respect, love, trust and hold affection for each other. In a fast-paced environment today, we should consider ourselves lucky to have a healthy and supportive family. Family teaches us lessons of love, compassion, trust, forgiveness and understanding. We should never forget the lessons we learn from our family.
Enhance your vocabulary and writing skills with 10 Lines Essays available. Spark up the creativity in you and access various Topics on 10 Lines all in one place.
Set 1 – 10 lines on My Family for kids
The 10 Lines set on My Family will help students of classes 1, 2, 3, 4 and 5. Every time they need help, they can refer to this set of 10 lines on My family.
The oldest member is my grandfather, and the youngest member is my younger sister.
In my family, I have grandparents, parents, uncles and aunts, cousins and my siblings.
My parents work hard every day to provide us with all our necessary needs. They work hard to fulfil all our wishes.
My mother is a homemaker because she stays at home and takes care of everyone in my house, like my grandparents.
Grandparents always pamper us with things like gifts, sweets and other of our favourite things. They tell us fascinating stories about their childhood, which we remember all our lives.
The best people you like to play with as kids are your siblings and cousins. No one makes for better teammates and playmates.
Everyone in a family treats each other with love, understanding and affection.
Respecting and loving all our family members should be an essential part of a person. You should appreciate and love each of your family members.
When every family member works hard, all the complicated and challenging things start getting easy because of all the family members' tremendous effort.
I love my family, and I want to make my family proud in everything I do.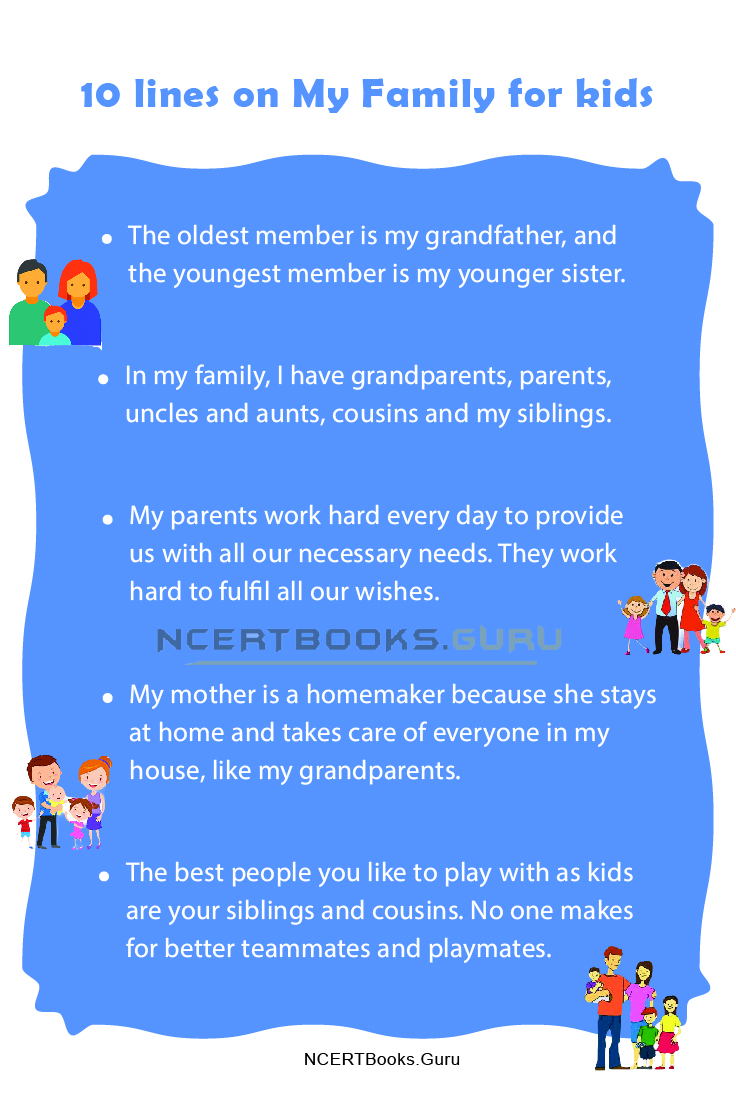 Set 2 – 10 Lines on My Family for School Children
The ten lines in this set help student students for class 6, 7, 8 and 9. They can refer to these ten lines on my family when they need help.
When we need help, the people that we fully trust to help us is our family. Every time you need assistance, the first people that you will turn to is family.
Every day my family unites to eat lunch and dinner together. Families that eat together stay together.
It's not only parents, siblings, uncles and aunts for a part of a family. Another vital member of your family is your pets.  They make an essential part of your family.
A happy home is one of the most comfortable and loving places where you would want to spend all your time.
Spending time and catching up with my maternal relatives is my favourite part of my vacations. I see them once a year during the holidays, and I love spending my summer vacation with them.
Every challenging situation seems to have a solution every time you are with your family. They provide you with all the support possible during every hard time, and nothing scares them away.
While spending time with my family every day, I learn so many lessons. Some of the lessons I learnt while working with my family are unity, love, acceptance, forgiveness, compassion, and understanding.
You should regularly pray to God for the well-being of your family members. They might forget to pray, but you should always keep your family in your prayers.
One of the best ways to bond together as a family is to go places together. It would be best if you went for picnics and vacations with your family members.
If there's an argument in the family regarding an issue, it should be solved calmly and with compassion.
Set 3- 10 Lines on My Family for Higher Class Students
The following set of 10 lines on My Family is for senior school will be helpful and useful for students in classes 10, 11 and 12.
Our family is someone we can depend on through all our difficult times because they know us and understand us.
In an ideal happy family, everyone nurtures and provides children with love and maintains discipline, morals and etiquette through teachings.
Having an understanding and supportive family helps children fulfil and accomplish all their dreams and goals.
Memories that we make as children are significant because they massively affect our psychological and mental health.
Family is the backbone and spine throughout ourl lives, and they provide us with unconditional love, support and strength. We can achieve everything in life with the help of our family.
An ideal family contributes immensely to society because they provide an example of positive, happy and peaceful qualities.
A few qualities that all a healthy family has are unison, happiness, positivity, equality, love, friendship and trust.
Every family has its issues and problems, which means that all families have their flaws which they should overcome by talking and accepting each other.
Festivals and special occasions aren't complete with family and their own special and unique way of celebration.
Forgiveness is a quality that all family members should have, and when someone in the family makes a mistake, they should be forgiving and help the person rectify the error.
Frequently Asked Questions on My Family
Question 1.
What are the different types of families?
Answer:
There are mainly two types of families- nuclear and joint. Nuclear families are families which consist of our parents and our siblings. There are a few people in a nuclear family. The second type of family is a joint family. It consists of our grandparents, uncles and aunts, parents, cousins and siblings.
Question 2.
What are some of the lessons we learn in a family?
Answer:
Family teaches us some of the most important life lessons which we shouldn't forget throughout our lives. It teaches love, trust, compassion, affection and forgiveness. Each member of the family teaches us all these lessons every day we live with them.
Question 3.
What is one of the essential qualities a family should have?
Answer:
One of the essential qualities a family should have forgiveness. All the family members must have an understanding and affection to forgive each other. When we ignore a family member, you are understanding them and helping them. When there are unresolved matters within a family, there are lots of conflicts.
Question 4.
How does the family provide you with a healthy support system?
Answer: 
Your family will always have your back. They will support you through all your decisions, and you can always depend on them. They will be your backbone through all your choices in life.