10 Lines on Mango Tree: Millions of folks across the World love tasty, delicious mangoes. The fruits of the Mango Trees are full of minerals and vitamins and are favourite of many people.
The scientific name of Mango is Mangiferaindica, and it is often considered as the King of all the other fruits. In the ancient era, the fruit also received the title of most of India's citizens' favourite most fruit. Mango Tree is also mentioned over the ancient Sanskrit scriptures and literature. Chinese pilgrims also talked about the benefits of its fruit in the seventh century AD, during their trip to India.
Mangoes also got honoured as the real patronage during the Mughal period in the nation, and it is also claimed that Lakh Bagh contains a total of one lakh mango trees. These trees were planted in Bihar by the popular Mughal Emperor, Akbar. In that same period, several trees were also planted across Lahore's Shalimar garden and Pinjore's Mughal Gardens, near Chandigarh.
Mangoes are also the most enjoyed fruits across the tropical and subtropical regions in the summer season. As testified by the higher authorities, Mango first originated in Indo Burma region and was first cultivated around four thousand years ago. The fruit is also the country's national fruit and has achieved a royal status due to its beauty and utility. This article contains the set of best ten lines on the Mango tree for the students of different class groups.
Enhance your vocabulary and writing skills with 10 Lines Essays available. Spark up the creativity in you and access various Topics on 10 Lines all in one place.
Set 1 – 10 Lines on Mango Tree for kids
This set of ten lines on Mango Tree is perfect for the kids of classes 1st to 5th:
Mango is a tropical and subtropical tree, and its fruit is also the national fruit of India, Pakistan, and the Philippines.
In India, Mangoes are mostly harvested across the months of April and May.
Mango Trees have a thicker bark.
Mango Trees have an average life of 40 years, and for that period they bear some very delicious fruits.
Mango Trees have dark green coloured leaves.
The fruit of Mango Tree, i.e., Mango, is often considered as the King of all the fruits,
Various parts of Mango Tree serve medicinal purposes.
The leaves of Mango Tree are effective in curing low blood pressure, diabetes, and kidney stones.
Branches of mango trees serve as the home for many birds.
Mangoes coming from Mango Tree help reduce the higher cholesterol levels.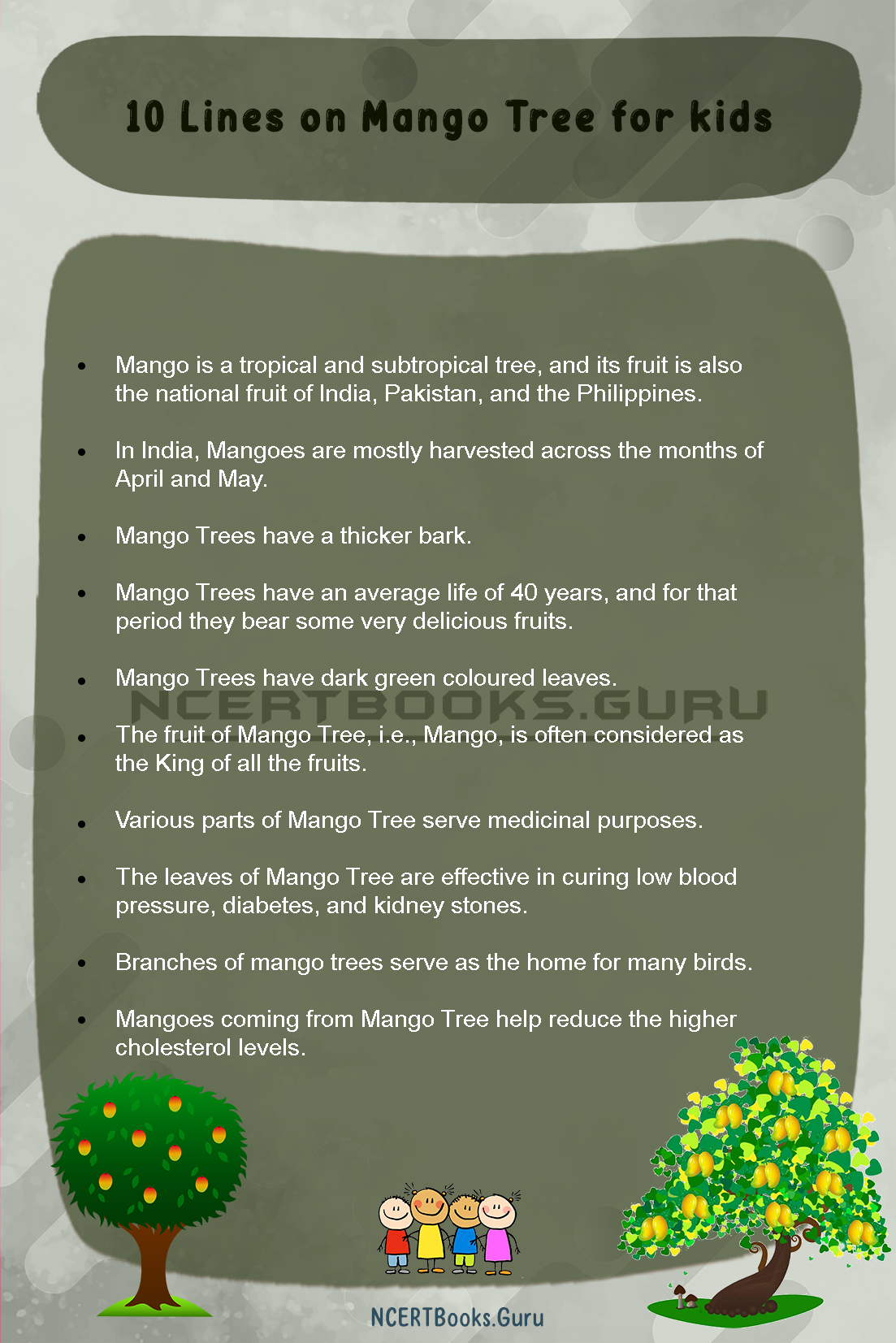 Set 2 – 10 Lines on Mango Tree for School Children
This set of top ten lines is perfect for the children of classes 6th to 8th:
There are many types of Mango trees available globally. Approximately there are 100 of them based on various colours, sizes, and types.
Juice of the fruit from Mango Tree is very delicious and preferred by many people.
People across India and Pakistan are practising the cultivation of Mango Trees for decades.
Mango is a fruit rich in Vitamins C and A.
Growing a mango tree and getting the delicious fruits from it is very easy.
Fruits of Mango tree are green when they are newborn, and they turn into yellow and sweeter ones as they are ripe.
The popular kinds of Mango trees are Fazli, Lengua, and Gopalvog.
The best variety of Mango, also known as the King of Mango, is a fruit from Alphonso Mango Tree.
People grow Mango trees in their orchards for commercial purposes.
Fruits of mango Trees are helpful for the preparation of different types of sweets and preservatives.
Set 3 – 10 Lines on Mango Tree for Higher Class Students
This is the set of ten best lines on Mango tree for the students of classes 9th to 12th:
The mango tree is a tropical tree, and many people in the summer season highly prefer the fruits.
The fruits of Mango Tree are delightful and delicious and thus loved by many people. This is a significant reason why the fruit is the national fruit of Pakistan, India, and the Philippines.
Fruits of Mango tree are very delicious and are also known as the King of all the fruits.
Mango Trees are widely found mainly in the regions of Asia.
Mango Tree is a seasonal one, and thus it only bears the fruits in the summer season.
Fruit of Mango Tree has several nutritious values and is rich in vitamins and minerals. This is very good for health.
Leaves, barks, and fruits of Mango Tree are useful in several medicinal purposes.
Unripe fruits of Mango Tree are beneficial across India for making tasty pickles and powder.
Ripe fruits of Mango Tree are widely useful for making juices and soft drinks, which are highly preferable add-ons for snacks and breakfasts.
Mango Trees are being cultivated across India for many decades, and are widely popular since the Mughal period.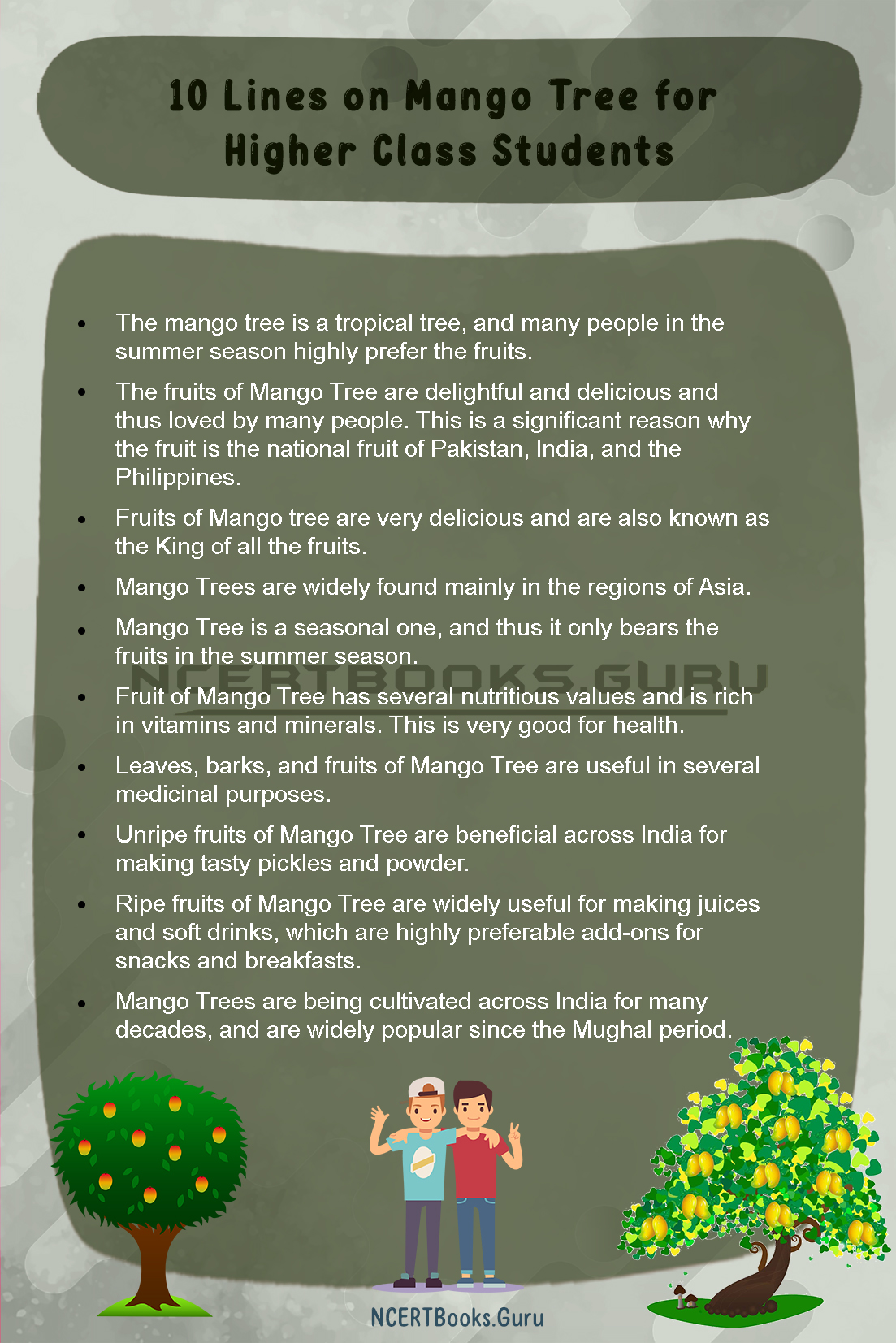 Frequently Asked Questions on Mango Tree
Question 1. 
What are the unique traits to be mentioned while describing a Mango Tree?
Answer: 
Mango Tree has the following traits that make it different from the other ones:
A Mango Tree is mostly erect, has a thick and broad trunk, with heavy branching.
The Tree also has a round canopy.
The leaves of Mango Tree are dark green in colours and are shiny too.
Leaves of Mango Trees are mostly elliptical and contain longer petioles with a leather-like texture.
Mango Tree produces a denser flower cluster with creamy pink petals.
Question 2.
Why is Mango the national fruit of India?
Answer: 
Mango is the national fruit of India, because of the following reasons:
It is a juicy fruit that is sweet and delicious.
Unripe mangoes help in the preparation of tasty pickles and powder.
The mango tree is cultivated widely across India.
The fruit is rich in Vitamins A, D, and C.
Question 3. 
Which Mango is considered the King of all the variants of mangoes?
Answer:
Alphonso is the King of mangoes. This variety is mostly exported, and around 60% of its overall exports go to Middle East regions. This variety of Mango is cultivated mainly in Maharashtra's Ratnagiri area and around some Karnataka and Gujarat parts.
Question 4. 
Mention the ten best benefits of Mango and Mango Tree.
Answer:
Here is a list of some surprising benefits of different parts of a mango tree, including the fruits, leaves, bark, etc.
It helps in regulating diabetes.
It lowers the blood pressure.
It allows for fighting restlessness.
It helps in treating kidney and gall bladder's stones.
It is useful in curing respiratory problems.
It helps in treating dysentery.
It is a fantastic remedy for earaches.
It heals burns.
It helps stop hiccups.
Mangoes are suitable for the guts.