10 Lines on Dustbin: A dustbin is a container which holds refuse until it can be removed or otherwise disposed of. The term "dustbin" is generally used in British English; other terms for the same type of container include trash can, rubbish bin, garbage can, or litter bin.
Many people are familiar with dustbins in some form or another since the need to control refuse is familiar to most communities worldwide. There are various models of dustbins which are differently designed for specific purposes.
Dustbins in households are small so that they can fit in multiple places. Simultaneously, curbside bins are more extensive, letting people transfer garbage from indoor dustbins into larger outdoor dustbins for periodic cleanliness. Besides basic dustbins for home use, it is also possible to see extensive versions and dumpsters for industrial use.
Enhance your vocabulary and writing skills with 10 Lines Essays available. Spark up the creativity in you and access various Topics on 10 Lines all in one place.
Set 1 – 10 Lines on Dustbin for kids
Set 1 is helpful for students of Classes 1, 2, 3, 4 and 5.
The Dustbin is a beneficial thing for every home.
use a dustbin for garbage or waste.
use a dustbin to collect different types of wrappers.
There are three types of dustbin.
use a dustbin to show the place where unnecessary things are kept.
red ones include tin cans, paper waste, food, drinks, cardboard, etc.
We all use dustbins at home.
Dustbins keep your house clean.
One should use the dustbin to dispose of the wrappers of wrapped items.
Dustbins are very important for staying a healthy life.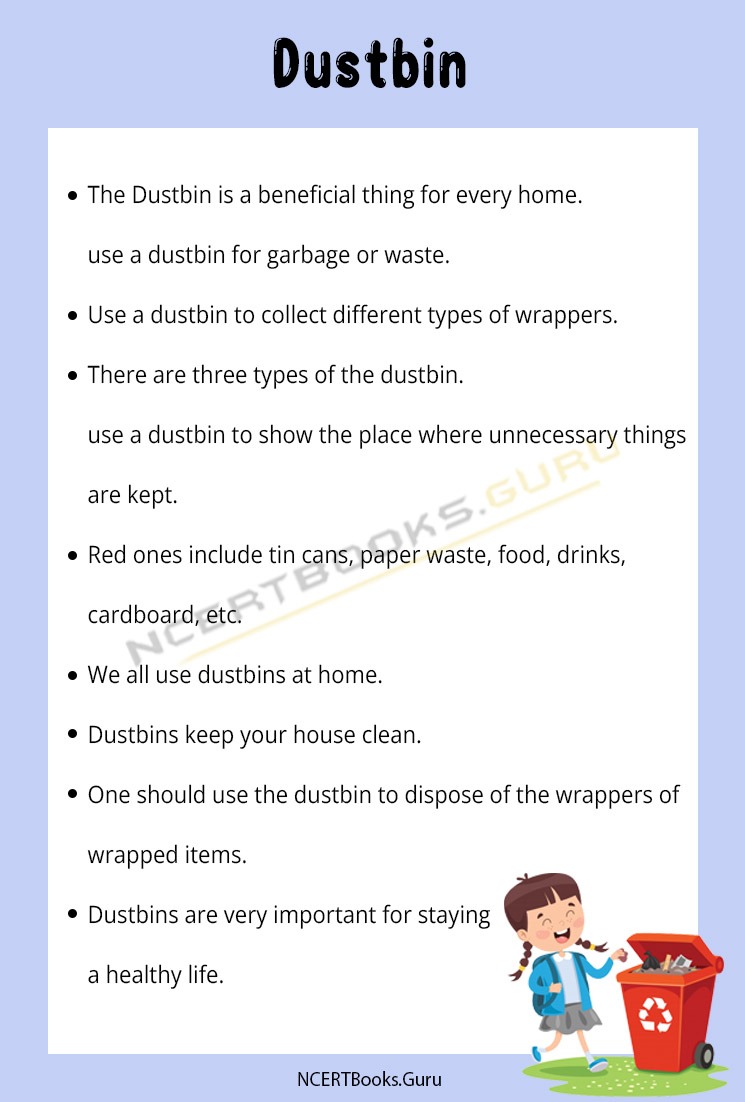 Set 2 – 10 Lines on Dustbin for School Children
Set 2 is helpful for students of Classes 6, 7 and 8.
A dustbin is an essential tool for Public Health Sanitation and Safety. The government has already done its bit by installing dustbins everywhere.
It is essential to have many Dustbins alongside Roads and at Public Places and parks.
In the absence of convenient Dustbins, the waste is littered on Roads and Public Places.
Availability of dustbins everywhere provides people with a convenient option to dispose-off their waste and rubbish.
Dustbins are also useful in Offices because Office work produces a lot of Paper waste and Waste from Office Stationery.
Many Waste is produced from food items while peeling, cutting, chopping and cooking. Then it is discarded in the Kitchen Dustbin.
The Toilet Dustbin is also required and used by the public a lot.
This is because cleaning, bathing and toilet activities produce a lot of unwanted and trash that needs to be dumped inside the Toilet Dustbin. For example, baby diapers etc.
dustbin's primary purpose is to keep dirty and decaying Waste materials separate from the rest of the clean surroundings.
We shouldn't throw garbage on the roads and litter public places, and if we see waste anywhere near us, we should throw it into places specially made for keeping garbage that is the public dustbins.
Set 3 – 10 Lines on Dustbin for Higher Class Students
Set 3 is helpful for students of Classes 9, 10, 11, 12 and Competitive Exams.
A dustbin is just a waste container that is used for temporarily storing trash, and is made out of metal or plastic or anything hard to store waste materials.
They store in different kinds of renewable and non-renewable materials and help keep the environment clean. They also help in maintaining a smell-free environment.
The dustbin's essential purpose is that it helps to keep dirty and decaying waste separate from the rest of the clean surroundings.
If you do not put the right waste into the right bin, it may destroy the whole recyclable material.
Having a dustbin around the house is an excellent way of enriching the house's looks. This is because dustbins provide people with the right place of throwing litter away. If dustbins were not available, then people would be littering everywhere.
Garbage bins should always be covered to prevent invasion by pests and insects and reduce odour.
As the 19th century drew to a close" new waste problems" and then new bins emerged.
Whilst the emergence of the dustbin as a mobile container for the temporary storage of waste can be traced to the 1800s, it took until the 1960s for the standardised dustbin to become a reality.
In many cities and towns, a public garbage collection service regularly collects household waste from outside buildings every day.
Segregated waste materials are dumped in the respective dustbins of Green, Blue, and Yellow colour according to the nature of the waste that we waste owing.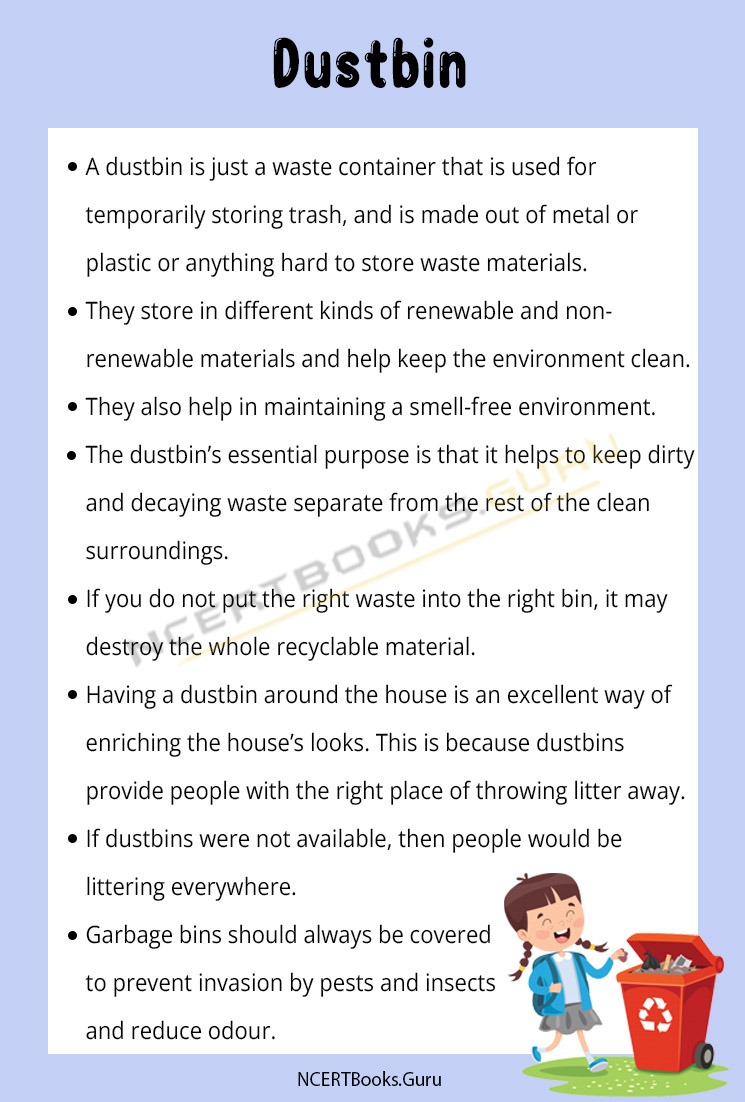 Frequently Asked Questions on Dustbin
Question 1.
How vital are dustbins?
Answer:
The dustbin is one of the most useful objects globally, and it has been used for a long time now. But it gets used the least because people don't put up efforts towards their city or country's cleanliness. In India itself, the government has placed two dustbins for wet and dry waste at every Waster of a city, but people will continue throwing garbage on the roads.
Question 2.
How can Dustbins be used?
Answer:
The dustbins that we place at every corner either outside or inside should get placed to locations where maximum people can gather, but it should be kept at a place where people don't smell the garbage, the foul smell of the waste thrown in the dustbin.