Warning Letter: A warning letter to an employee is a formal HR procedure to report misconduct, a disciplinary issue, or poor performance and address it with the employee. With this warning letter, you can set expectations for future behavior which may be a precursor to the termination. Basically, Warning Letter Writing is a formal communication mechanism that lets HR managers take authority of the situation and take certain actions that obey the Company Policy.
There are several causes why an employee gets a warning letter, and a few of them are explained in this article. Refer to the Warning Letter Template, Samples, and Guidelines on How to write a warning Letter for several unacceptable situations so that you can be familiar with the details that are drafted in this particular warning letter and various areas and purposes why an employee is holding a warning letter.
Also, Get Formal and Informal Letter Writing Topics and find various letter writing samples all under one roof.
How to Write a Warning Letter?
Here are the points you should include while writing the letter of warning for poor performance or misbehave or many other unacceptable issues. Check out the lines below and draft the perfect warning letter to an employee:
Talk to the employee privately.
Address the warning note when the incident happens.
reinforce what the consequences are in the draft.
Asking for the employee's signature.
Keep it objective and factual.
Proofread the letter.
Acknowledge asking legal help.
Note: Warning letters usually have a negative connotation, but this may be needed to assure that the employee changes eventually.
Warning Letter Template
Below image is the regularly utilized template for writing warning letters.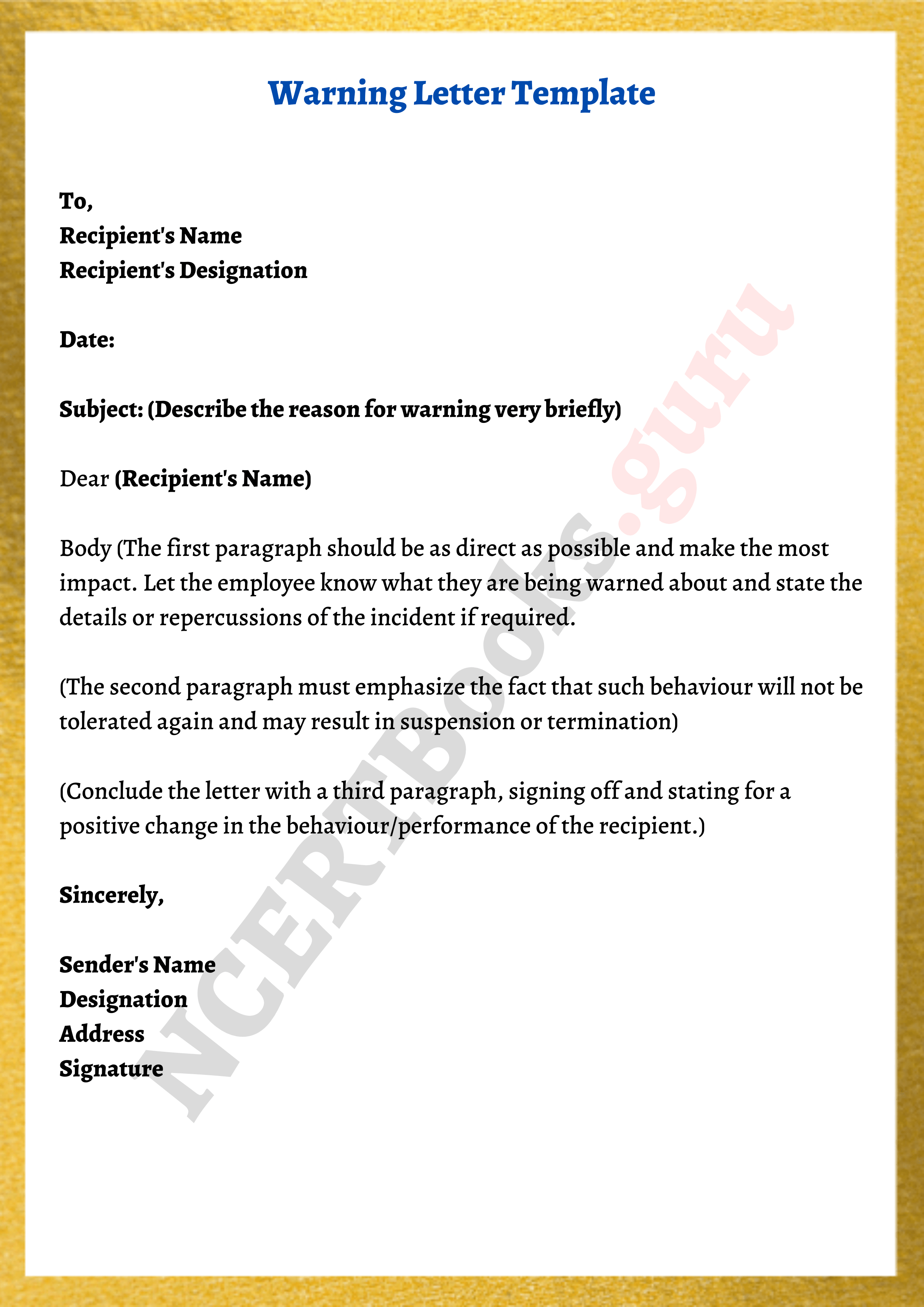 Samples for Warning Letter Writing | Various Warning Letter Writing Examples
The following are some warning letter samples for different situations:
Performance Related Warning Letter Sample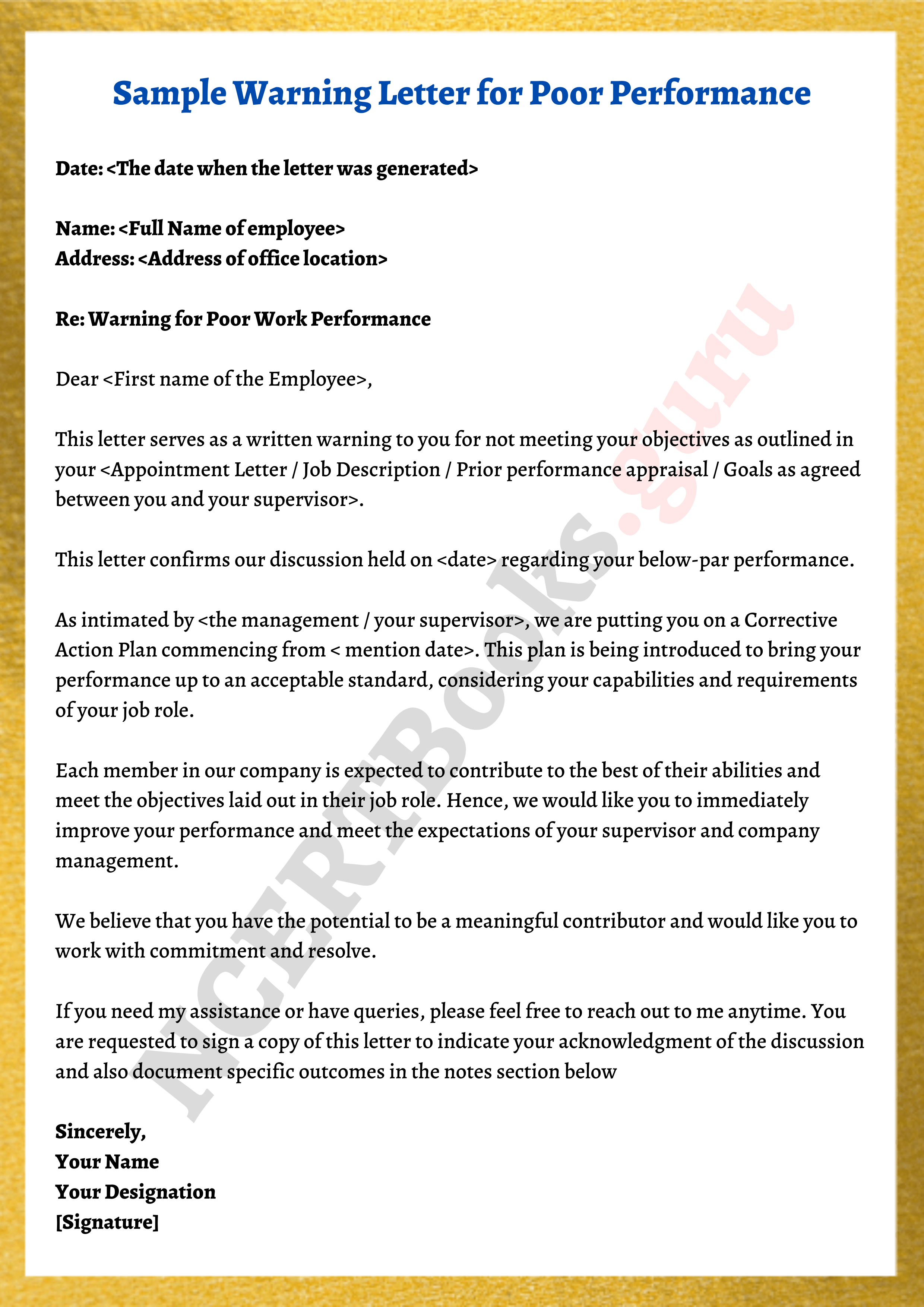 Sample Warning Letter for Discipline Issue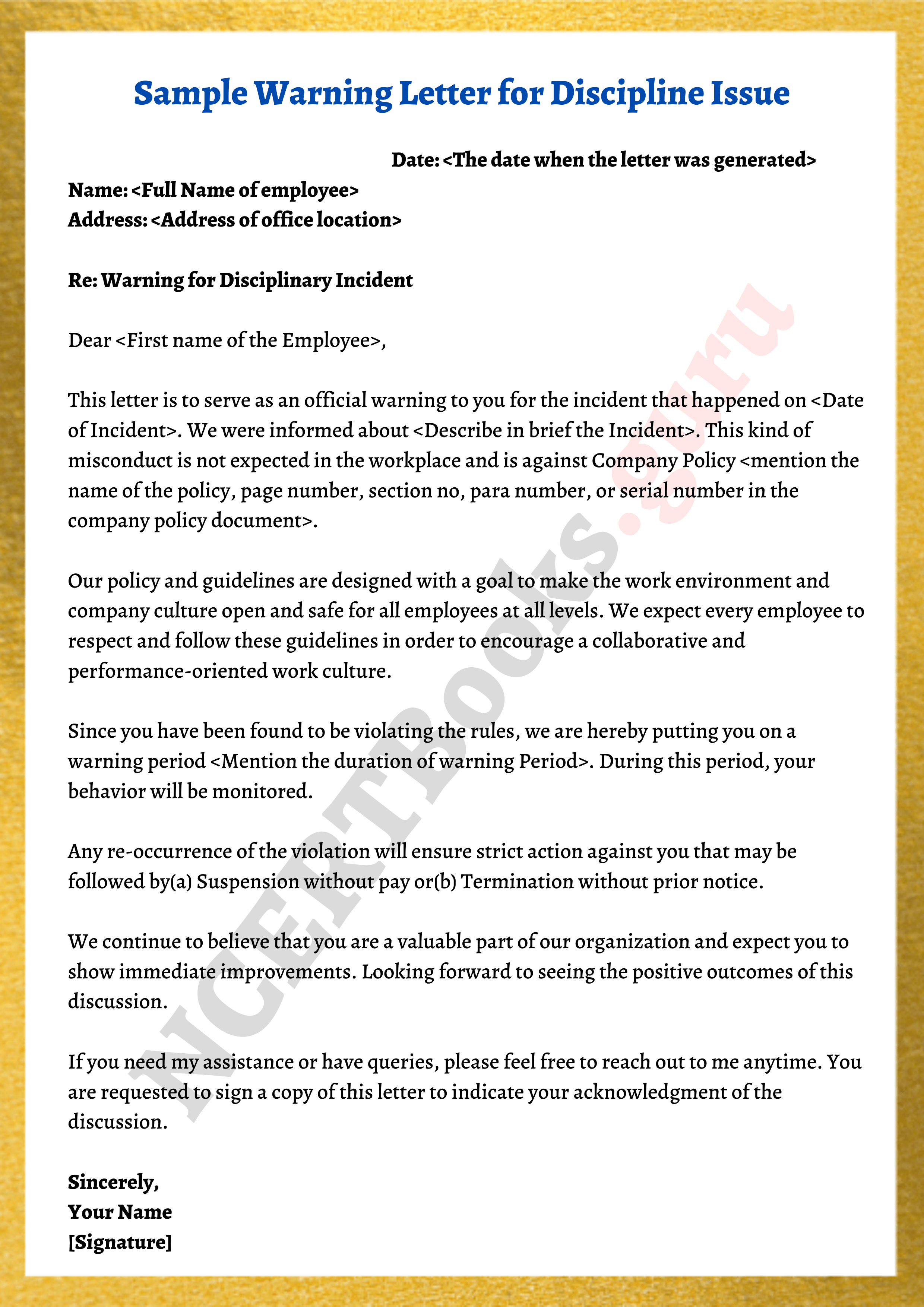 Warning Letter for Unacceptable Workplace Behaviour Sample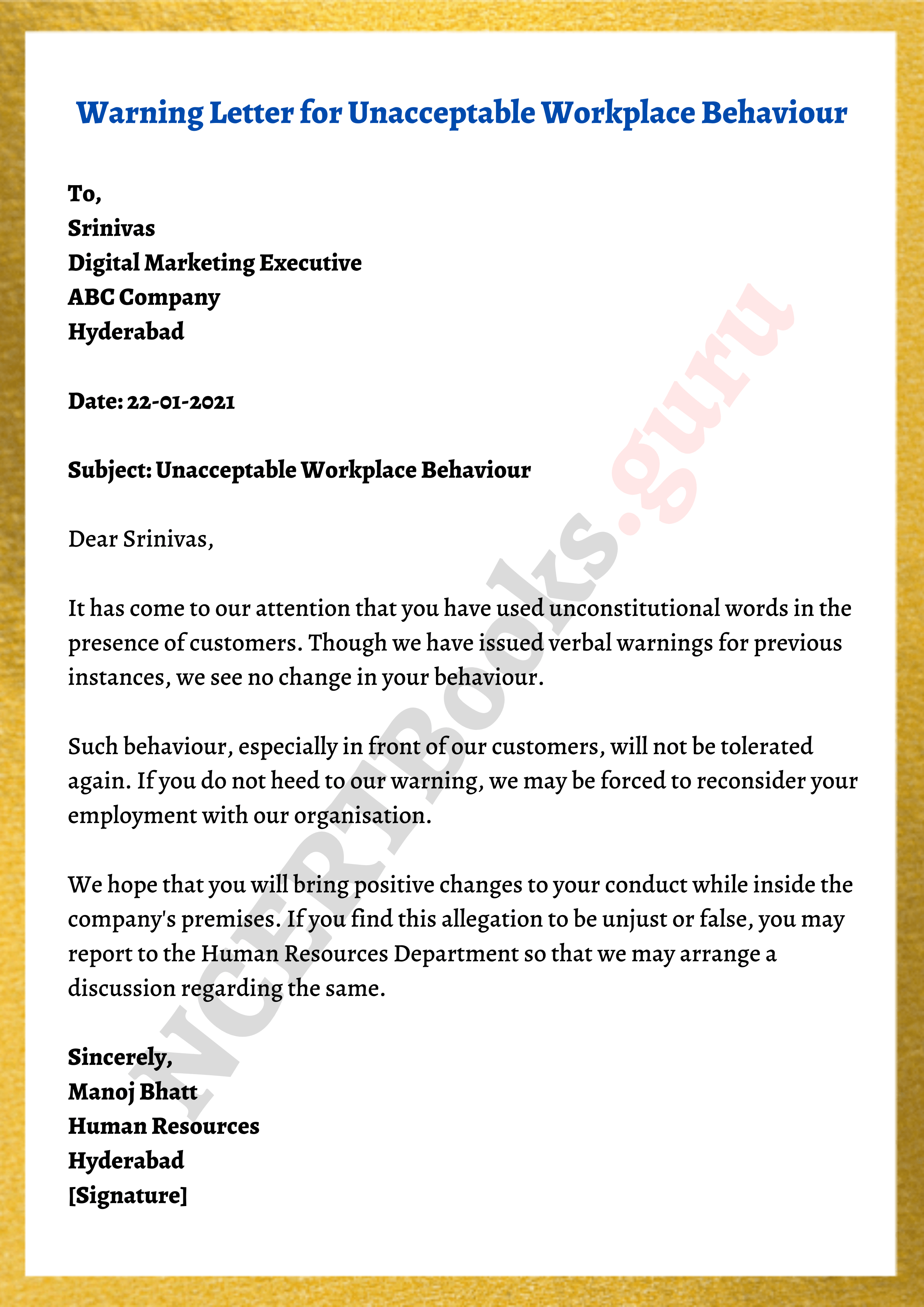 Tips for Employee Warning Letter Writing
These are a few beneficial writing tips for the employee Warning letter. After following these tips, you can draft an effective letter to an employee for misbehavior or poor performance:
Start with the exact point and explain the conduct or actions of the employee that aren't unacceptable based on company rules. Furthermore, if the employee keeps on replicating the behavior regardless of several verbal warnings.
Tell the employee that the letter is a warning for said transgressions.
Express that if this trend remains, the company will resort to sterner actions which may involve suspension or termination.
Summarize the letter by requesting the employee to change his conduct and witness good behavior from hence on.
FAQs on Writing A Warning Letter
1. Where do I find Warning Letter Samples & Examples?
You can find Warning Letter Samples & Examples on this page for free of charge.
2. When to use an employee warning letter?
The following are the most common reasons which may justify the issuance of a warning letter:
A breach of alcohol and drug policy
Failure to fulfill obligations at work
Theft
Missing work without prior notice
A breach of the company's confidentiality policy
Frequently tardy
A breach of safety and health policy
Misrepresenting one's qualifications
Threatening or physically harming co-workers
3. Whom Should We Address while writing a Warning Letter?
You need to address the considered person who took the responsibility for solving the poor performance, or misconduct, or any other disciplinary issue when writing the warning letter.