Vipassana Meditation Course: Vipassana is one of India's most ancient techniques of meditation— it means to see things as they originally are. This technique of meditation was rediscovered by Gautam Buddha about 2500 years ago. He taught this technique of meditation as a universal remedy for universal ills which later on came to be called an art of living.
Vipassana is a way of transforming oneself through self-observation. The word can be translated as an 'insight' to one's own mind and body. Vipassana meditation course is helpful for building concentration and purifying one's mind. It is a system of meditation to train one's mind to be more aware and mindful of his or her life experiences.
Get to Know More about other types of Course Details in Stream wise, and Category wise.
About Vipassana Meditation Course Details
Vipassana is a thorough and soft technique of meditation. It is a gentle art and an observation-based, self-exploratory journey to create a mindful connection between the mind and the body, achieved through disciplined attention to one's physical sensations and actions.
Vipassana Meditation Course Structure
The participants are expected to wake up at 4 a.m. and continue the day till 9 p.m. Throughout the day you are expected to meditate for eight to ten hours with regular breaks and rest periods. The students are supposed to consume timely and nutritious meals and indulge in physically interacting with nature like taking walks, swimming, gardening, etc. All these activities are meant to energize both your mind and body and invigorate your senses.
All this helps with achieving more synchronization and mindfulness during mediation sessions.
The meditation course is taught in multiple languages and you can choose to attend the classes in whichever language you prefer. The course is usually a ten-day-long venture that you can start whenever you feel like but you must complete a minimum of 10 days of the course to achieve some skill in Vipassana meditation.
Also, Check
Subjects, Concepts in Vipassana Meditation Course
The students are taught the "noble silence" under the Vipassana meditation course which means silence of body, speech and mind. The course teaches helps you learn about the following concepts:
Happiness
Balance
Awareness
Fulfillment
Peace
Clarity
Focus
The vipassana meditation course is a way of life and incorporates many teachings by Buddha. People from different religions can benefit from the course.
Eligibility Criteria for Vipassana Meditation Course
Someone who is physically weak or ill might not be able to follow the schedule or benefit from the course, thus they are not considered eligible for the course.
Vipassana Meditation Course Fee Structure
The vipassana meditation course is a gift given to each of its students. The teachers, room or board receive no material benefit from it. Thus, the course is based on a donation basis as per your means and no cost is charged whatsoever.
Vipassana Meditation Course Admission Procedure
The candidates have to go through a Q&A round through which the decision on considering them eligible is taken. The applicants are also required to get official approval from the doctor to get approved.
Vipassana Meditation Course Duration
The duration of the course is 10 days minimum. The course has been shorted through time, whereas it was for 7 weeks in the early 20th century. It was then shortened to a month, two weeks and now ten days which is the minimum time period required to benefit from the practice.
Vipassana Meditation Course Completion Procedure
Anybody leaving the course in between before the course of 10 days will not be able to benefit from the course. The tenth day is the most important as it helps the students go back to daily life and practice the art of living a fulfilled and happy life.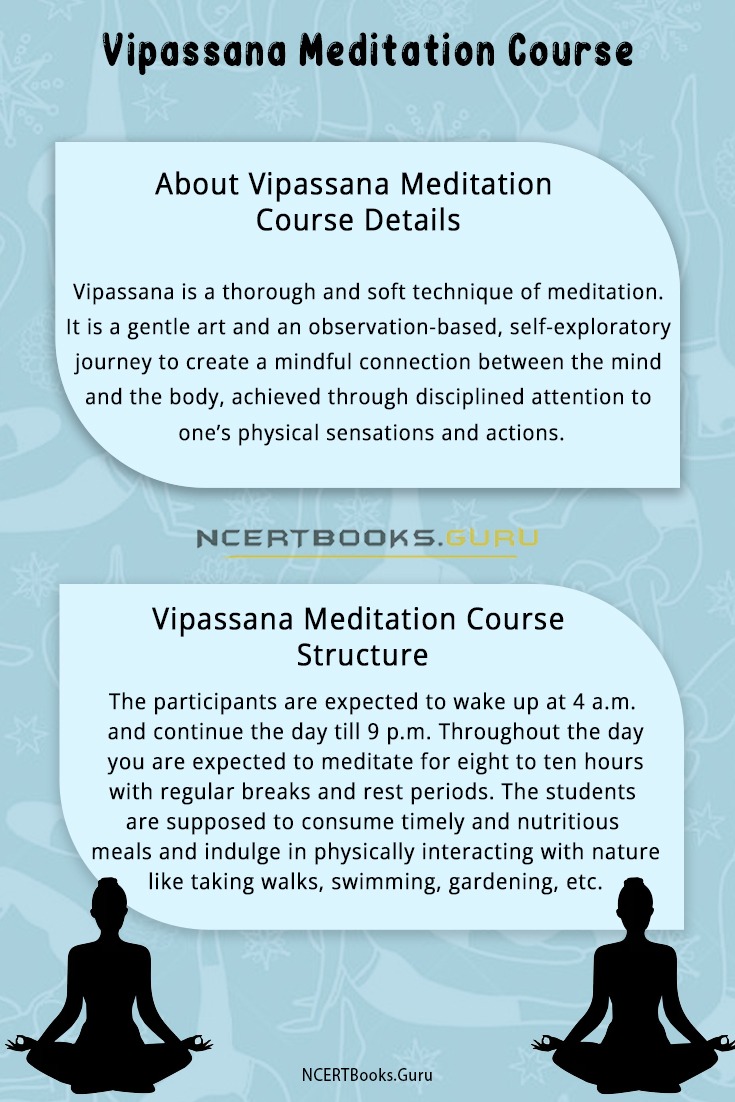 FAQ's on Vipassana Meditation Course
Question 1.
Is the vipassana meditation technique beginner friendly?
Answer:
Yes, the meditation course is carried out in a way to make sure that even beginners get the hang of it.
Question 2.
Do I need a medical certification before enrolling in a vipassana meditation course?
Answer:
You don't exactly need a medical certification but it is suggested that you inform the meditation center about any health on dictions that you might have.
Question 3.
How long is the course?
Answer:
The meditation course lasts a minimum of ten days but you can attend the classes beyond that if you wish to.
Question 4.
Can pregnant women and people with physical disabilities also attend the meditation course?
Answer:
Yes, anyone can attend the mediation classes, people are assisted with their needs if it is required.