VFX Course Details: If you feel interested in the technical, advertising, or animation field, then there could be no other better option than choosing a VFX course. You need to consider this course and an animation program to express your creativity. This creativity is all digitalized to make animations, graphics, and other visualized tools. Thus the rising demand for a VFX professional has raised the job opportunities in India. You have excellent scope to brighten your career in the technology as well as the entertainment industry.
Get to Know More about other types of Course Details in Stream wise, and Category wise.
In a single movie, more than 600 designers and animators work together to turn the movie into a reality program. These animators come from different VFX studios. Indian industry has been growing at a reasonable rate these days. Thus it leads the VFX industry to offer employment opportunities to the people. But how will you study this and make yourself proficient in the animation field? Don't worry; below are the complete details listed for VFX Course along with its duration, eligibility, total fees, Syllabus and concepts, job opportunities, and the salary offered.
A Brief on VFX Course
VFX Course is a certification course for those who are interested in animation work, visual effects, and other graphical designs. There is a rising demand for a VFX professional these days to create high-quality graphics, television shows, and movies. Also, the course study is essential in case you want to go in the technical field for creating graphics for a website.
VFX Course Details
| | |
| --- | --- |
| Course | VFX Course |
| VFX Full-Form | Visual Effects |
| Duration | 1-3 years depending upon the institute |
| Type of Course | Certification, Diploma, and Undergraduate Course |
| Eligibility | The aspirant must have cleared +2 standard |
| Fees Paid | INR 2-6 lakhs per annum |
| Salary Offered | 2.5 lakhs to 4 lakhs per annum |
| Admission Procedure | Merit-based or performance-based |
| Skill-set Required | Creative mind to create unique and attractive animations and graphics |
| Employment Opportunities | Graphic Designer, AV Editor, Compositor, Reviewer, Game Tester & Reviewer, and so on |
VFX Course Subjects, Concepts
The essential skill-set required to study the VFX Course in India includes the creative mind to capture each detail in the concepts. A candidate must have Visualisation, Patience, Team Player, Creativity and Imagination, Eye for Detail, Communication Skills, and much more.
In the VFX Course, the interested candidates will undergo advanced learning in various fields, including:
VFX and Animation Course
2D Classical & Digital Animation
Fundamentals of Art and Design
3D Animation & Visual Effects
Learning on the mixing of real film footage with the animated images
Modern world advancing in animations
If you are a successful graduate in the VFX course, then you can even go for further studies in Master's and Ph. D.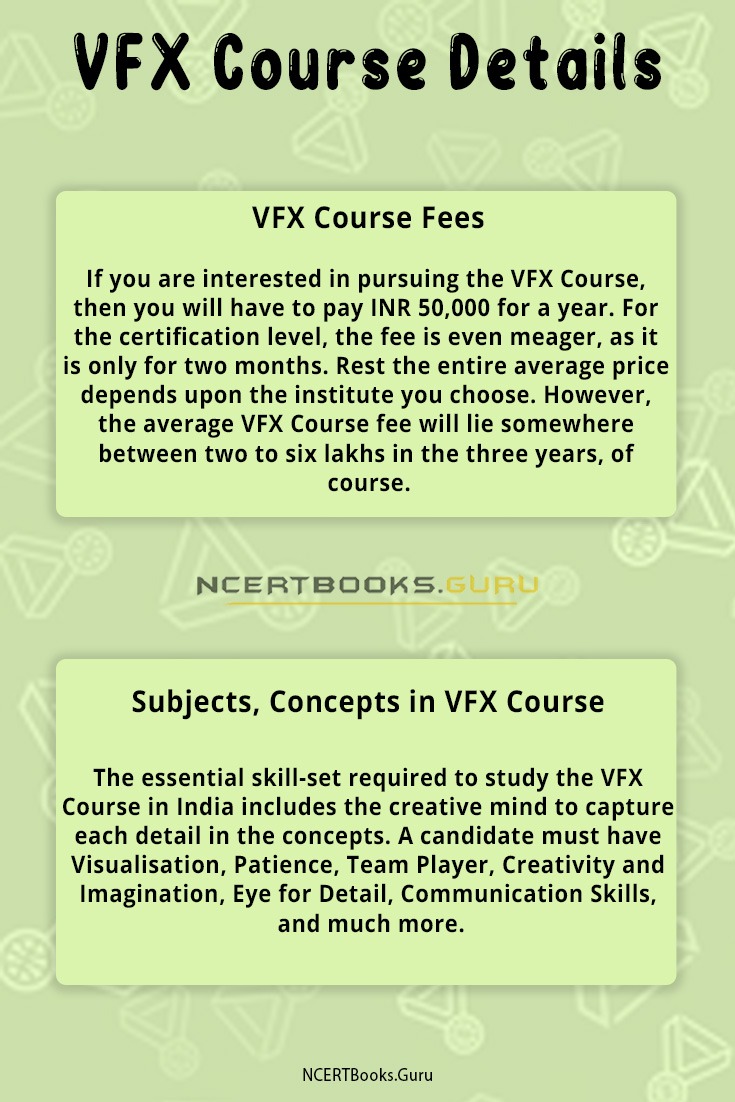 List of Colleges Offering VFX Course
The table below represents the top Institutes and colleges in India that offer the VFX Course study.
| | |
| --- | --- |
| Institute Name | Location |
| Picasso Animation College | New Delhi |
| Vellore Institute of Technology | Chennai |
| Vogue Institute of Fashion Technology | Bangalore |
| Birla Institute of Technology | Noida |
| Westford Institute of Technology | Mumbai |
| Arena Animation | Bangalore |
| Lovely Professional University | Chandigarh |
| Indian Institute of Digital Art | Kolkata |
| Accel Animation Academy | Delhi |
VFX Course Duration
Being an aspirant in the VFX course after 12 standard, you need to spend three years in the under graduation course. This course is offered in the topmost technological institutes in India.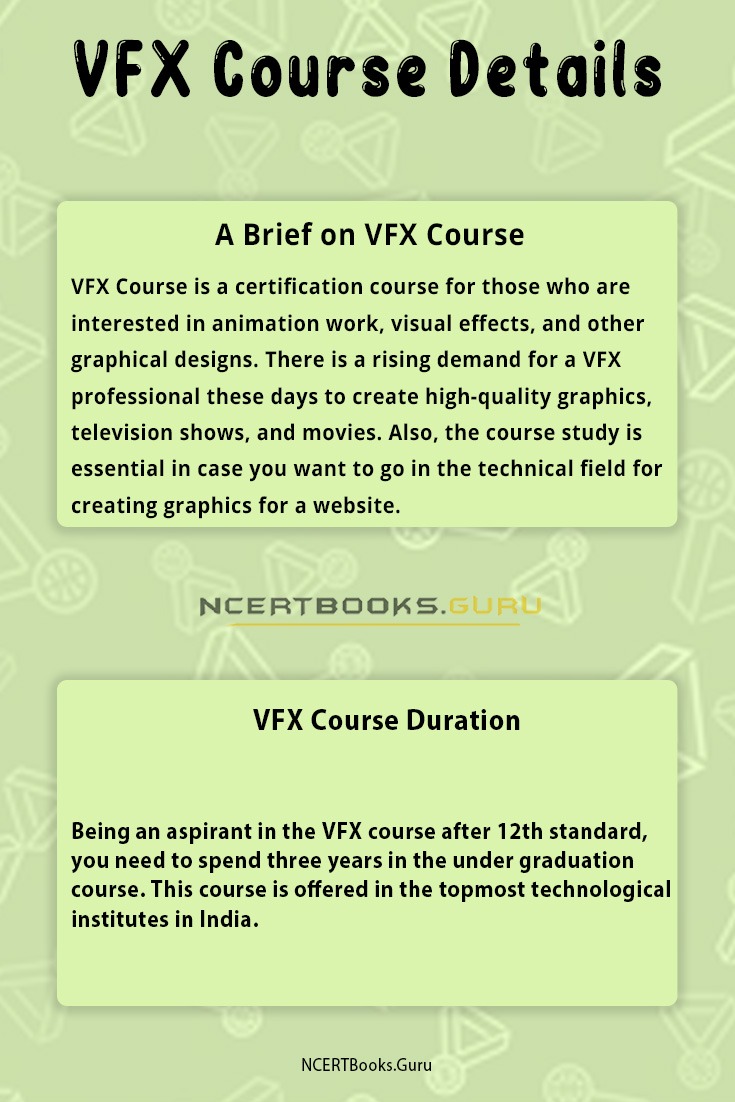 VFX Course Fees
If you are interested in pursuing the VFX Course, then you will have to pay INR 50,000 for a year. For the certification level, the fee is even meager, as it is only for two months. Rest the entire average price depends upon the institute you choose. However, the average VFX Course fee will lie somewhere between two to six lakhs in the three years, of course.
VFX Course Eligibility
If you want to apply for the VFX course, then you must fulfill the below listed basic requirements to take admission.
You must be qualified with the 12th standard in any subject. However, it must be from a recognized school and board.
You must have a minimum of aggregate marks of 60% in the 10+2 standard.
You can also apply on a provisional basis if you have been waiting for examinations of 10+2.
VFX Course Admission Procedure
If you want to take admission to the certification course in VFX, then it is hardly a two months program. You can take admission in the course after class 10 in the certification course. However, if you want to go for a diploma in VFX courses, then you can take admission after 12th standard in any subject. Take the admission by filling the fees for the institute you want. Some universities and colleges offer a degree course in VFX after you get admitted to it based on the merit list. You need to score at least 60% marks in the desired subjects.
Do Check
VFX Course Syllabus
The syllabus structure for the VFX course may vary from one college to another. But the most important topics covered under the VFX course are listed in the table below.
| | | |
| --- | --- | --- |
| Colour Sensing | Apple Final Cut Pro | Video Editing & Composting |
| Character Modelling and Rigging | Render Layer | Rotoscopy |
| Movie Merchandising | Portfolio Developments | Introduction to 2D Animation |
| 3D Design | Frame Size and Composition | Keying |
| Day to Night Conversion | Multi-Plate Compositing | Media Encoder |
| Cloth FX, pyrotechnics | The projection for Visual Effects | Digital Methodologies: Sound and Audio |
| Time Warping | Clean Plate & Wire Removal | Concepts of Set Extension & CG Integration |
| Maya and NUKE Integration | Advanced Particle Effects | 3D for NUKE |
Job Profile and other Employment Opportunities of VFX Professionals
VFX and Animation are very popular in India these days. There is a proper scope for the future with better employment opportunities and the availability of skilled animators. The primary skill set required is to work with VFM tools. Here are the total employment opportunities available for the candidates to explore after they have completed VFX course:
Employment Areas:
Film Industry
Gaming Companies
Photography Studios
TV Channels
Production Houses
News and Media
Advertising Industry
Different Job Profiles Available for VFX Professionals
Graphic Designer
Lecturer
Multimedia Programmer
Web Designer
3D Modeler
Video Editor
2D/3D Animator
VFX Course Salary
For the candidates who are proficient in the VFX course and want to join some job, the profile will earn 2 to 5 lakhs INR in the starting for one year. Salary earned with combined degree and certification is better than the course pursued alone. For those who have a good experience of more than 2-3 years will receive a salary of over ten lakhs. However, the salaries offered to the candidates with professional profiles will be more than a simple course.
FAQ's on VFX Course Details
Question 1.
How long will it take to learn VFX Course?
Answer:
It will hardly take three to five months to learn the VFX course completely. However, rest is all dependent upon your capability to learn and move ahead.
Question 2.
Can you learn VFX Course sitting at home?
Answer:
There are basically two different ways of learning the VFX Course, either visiting institute or by sitting at home through video lectures. Search for the basic and good tutorials to learn this course online sitting at home.
Question 3.
Can you do VFX Course After 10th?
Answer:
If you are planning to join VFX after 10th, then it is feasible in case you are doing it for the short term. However, the basic requirement is after the 12th standard. So better you join the under-graduation course as VFX Course.
Summary of Animation and VFX Course Details
Hopefully, you must have gained the required detailed information regarding the VFX course in India. We have completely mentioned the fees, duration, eligibility, salary, job prospects, and the admission procedure with the complete detail. We are there to help you in case you need help. Give a comment in the comment section in case any doubt arises.