UPSC 2021 Notification shall release on Feb 10 2021. All the necessary information that you need to know about the UPSC Civil Service Exam will be available in it. We even provided important information like UPSC Answer Booklet and a sample UPSC OMR Sheet PDF for your reference. UPSC is an Objective Type Examination where candidates have to choose the right choice in the OMR Sheet. There are certain rules you need to abide by while filling the IAS Exam OMR Sheet PDF.
Download Sample UPSC OMR Sheet PDF | UPSC Answer Booklet
If you are looking for help regarding the IAS OMR Sheet you can check out the below modules. You need to mark the correct answer by darkening the circle against the choice(a/b/c/d). Follow the instructions carefully given in the UPSC Civil Service OMR Sheet so that you don't lose marks during the evaluation. UPSC Answer Sheet Format is provided below which you can use to know the whereabouts.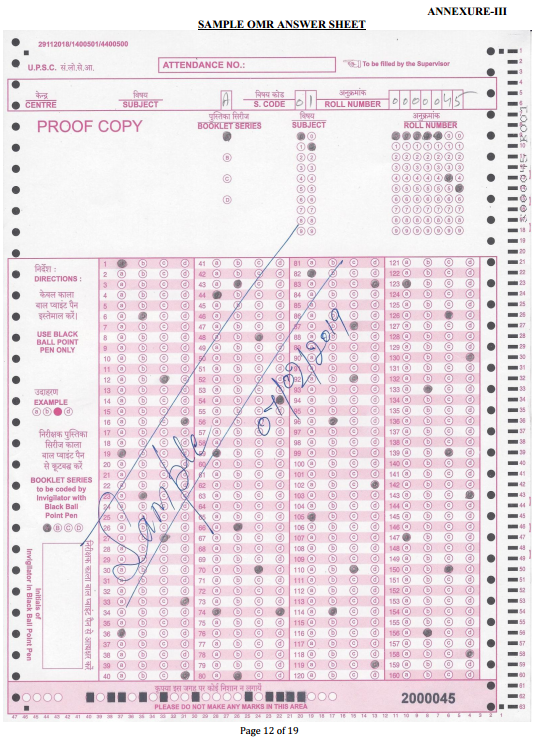 Do Read More Articles
How to fill UPSC Prelims OMR Sheet?
Candidates while marking in their OMR Sheet have to follow a certain set of instructions or rules. They are listed as under
Mark the Answers in the OMR Sheet with a Ball Point Pen and fill the details like subject, exam centre, and the test booklet series at the appropriate space provided on top.
Also, Mark your Booklet Series, Subject Code and Roll Number in the circles provided.
As the OMR is going to be evaluated by a Computer make sure to mark the answers correctly as you can't erase once marked.
Questions will be provided in the Test Booklet having four choices whereas you need to mark the right option in the Answer Sheet or OMR Sheet against the appropriate serial number.
You need to mark the correct choice(a/b/c/d) by completely darkening the circle using a black ballpoint pen.
Summary
Hope the information shared regarding the UPSC OMR Sheet PDF has helped you clear your queries to the possible extent. If you need any further assistance you can leave us your suggestions so that we can respond to you. Keep in touch with our site to avail latest updates on UPSC Books, Syllabus, Study Material in no time.