Tourism In India Essay: India, as a country, offers Diversity in its Unity not only in the matter of tribes, communities and religions and ways of life but this diversity also presents itself in its prospects regarding tourism. No country may have so much to offer in the form of historical sites, geographical diversities, climatic differences and nature's gifts as India has to offer.
Long and Short Essays on Tourism In India Kids and Students in English
Given below are two essays in English for students and children about the topic of 'Tourism In India' in both long and short form. The first essay is a long essay on the Tourism In India of 400-500 words. This long essay about Tourism In India is suitable for students of class 7, 8, 9 and 10, and also for competitive exam aspirants. The second essay is a short essay on Tourism In India of 150-200 words. These are suitable for students and children in class 6 and below.

Long Essay on Tourism In India 500 Words in English
Below we have given a long essay on Tourism In India of 500 words is helpful for classes 7, 8, 9 and 10 and Competitive Exam Aspirants. This long essay on the topic is suitable for students of class 7 to class 10, and also for competitive exam aspirants.
From the ice-skating and skiing in Gulmarg in Kashmir to the temperate climates of Central India, to the blistering heat of the South — from the palm tree covered the Western Ghats and the beaches of Goa to the luscious greenery of Kerala, Meghalaya, Arunachal-Pradesh and the beaches of Puri — geography has offered so much to give and enjoy the variety is so enchanting.
Then the religious shrives — Amarnath, Badrinath, Kedarnath, Gangotri, Yamunotri, Vaishno Devi, Haridwar, Rishikesh, Kashi, Mathura, Brindaban, Maha Kaleshwar in Ujjain; Tirupati, Rameshwaram, Kalibari and Kamaksha in Bengal and Assam, Dargah of Salim Chishti at Fatehpur Sikri and of Nizamuddin Aulia in Ajmer, the Golden Temple in Amritsar, Samath, Kushinagar, Gaya and Srivasti of Buddhist and newly build Lotus Temple of Bahais in Delhi — these are centres of all religions which call for a visit. The historical monuments — the Taj, Fatehpur Sikri, Sikandra at Agra the Red Fort, The Qutub Minar in Delhi, the Ranthambhor Fort, the Amer Fort, Chittor, and so many other monuments with which Rajasthan glorifies itself; go South and there is the Charminar and the Salarjung Museum in Hyderabad and the Deogiri Fort and the Daultabad Fort, the Frescos of Ajanta and the Temples of Ellora — how many views be counted. They are numerous, rather innumerable.
There are centres for handicrafts from Kashmir to Kanya Kumari and from Gujarat to Orissa and Bengal — choicest products which give a call to be seen and bought.
A tourist coming to India from a foreign land if he wants to see India in all its aspects must spend a year or two to get just a glimpse of what India's tourist attractions have to offer in all their variety.
India has a vast variety and great potential for tourist attraction. But, somehow, even when the country has to offer so much, it is regrettable that the tourism department still does not show up that income and that inflow of tourists as it should. For some countries, tourism is their main 'export'. The single city of Bangkok attracts more tourists each year than the whole of India.
Short Essay on Tourism In India 200 Words in English
Below we have given a short essay on Tourism In India is for Classes 1, 2, 3, 4, 5, and 6. This short essay on the topic is suitable for students of class 6 and below.
India has a Department of Tourism, there is the Institute of Tourism and Travel Management, the National Council for  Hotel Management and Catering Technology, and the India Tourism Development Corporation. But inspite of all this infrastructure to promote tourism, India gets only 0.4% of the global tourist traffic.
The reasons behind this are lack of interest of foreign tourists in India are indifferent travel facilities, pollution, ill-keeping of tourist spots, and not proper planning to guide tourists and give them the proper direction, occasional unrests and terrorism and crime also deter tourists.
Such a variety of culture, religion, ancient history, and such diversity in nature's gifts — India should have been the biggest centre of tourist attraction which could have boosted up the nation's economy.
But that is not happening and that is the most unfortunate part.
Students can find more English Essay Writing Topics, Ideas, Easy Tips to Write Essay Writing and many more.
10 Lines on Tourism in India
Tourism is one of the fastest-growing industries of the world.
It plays a vital role in the economic development of the country.
India has a wide array of places to see and things to do.
Enchanting backwaters, hill stations and landscapes all over the country attract tourists from all over.
There is so much of diversity that India offers — history, culture, religion, nature, climate, handicrafts no other country offers so much.
But the tourism industry is not flourishing as it should.
The main causes are indifferent travel facilities, pollution, ill-kept tourist centres, and no proper guidance and direction.
Instead of any rise in the tourist industry, it is a decline that has been recorded.
Occasional unrests, terrorism and crime also deter tourists.
It is really unfortunate that tourism, which could have been converted into a big income-earning industry stands neglected and is on a decline.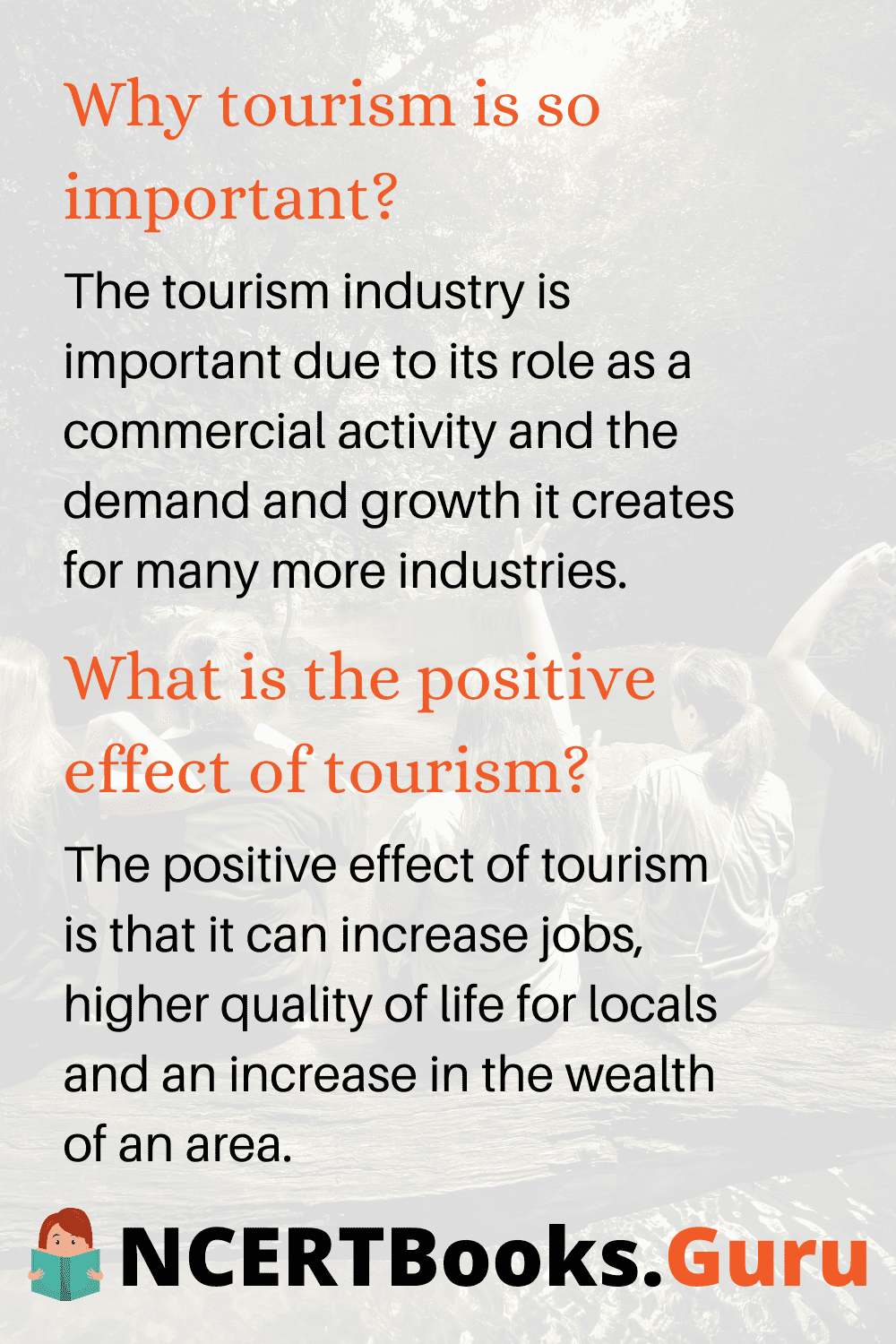 FAQs on Tourism in India Essay
1. What do we mean by Tourism?
Tourism means people travelling for fun and it includes activities like camping and sightseeing.
2. Why do People go to tourism?
One of the reasons why people travel as tourists is so that they can get exposed to new places, people and experiences.
3. Why tourism is so important?
The tourism industry is important due to its role as a commercial activity and the demand and growth it creates for many more industries.
4. What is the positive effect of tourism?
The positive effect of tourism is that it can increase jobs, higher quality of life for locals and an increase in the wealth of an area.