Sick Leave Application: A sick leave letter is a formal document where an employee or student can request to take a leave of absence from work because of Illness/Sick. It permits you to inform the dates and details of your absence in the application or letter writing so everyone like a Boss, HR Department, Teacher, or Principal understands why and for how long you'll be taking the leave.
If you are writing a sick leave letter as an employee, then the letter will also work as proof in your HR file for the future. A medical certificate from a certified doctor or medical practitioner may also be needed if you take a long period of time due to sickness. In some situations, a formal written letter is needed to submit like in colleges, or schools.
Are you looking for efficient ways to draft an application for sick leave? Then, referring to this article is the best option for you. So, check it out and note down the key points to be remembered and a few formats & samples to draft a perfect sick leave letter. Moreover, you can also access various Letter Writing Topics relating to both formal and informal categories and learn how to draft various letter writings from our site Ncertbooks.Guru.
Sick Leave Application Format for Office/School/College
Sending or Emailing a leave application is the formal and professional way for requesting a sick leave from work for one or a few days. For addressing a perfect sick leave application here we have given various sick leave letter formats for employee, student & parent.
Below format that helps an employee to apply for leave directly through the company portal. For employee's comfort to write the sick leave application for Illness and Sickness, we are providing the format of the application for sick leave.
Employee Related Sick Leave Letter Format
Subject: Application Sick Leave Application for office for required days
Dear Mr/Mrs (name of recipient),
I am writing this application to inform you that I am suffering from severe viral disease and therefore, I want sick leave from work. I got this infection last night and I will not be capable to come to the office for at least [number of days]. As advised by my doctor, I should take a rest and recover appropriately before continuing work. The report from the doctor is also attached for your reference.
Kindly grant me a leave for [number of days] days. I will be available on the phone in case of any emergency cases. Please reach me as per your comfort. For important matters, I have notified [Name of the colleague] to take care of them to assure that all deadlines are met.
I believe you will understand and grant me leave for the mentioned period. I am waiting for your approval.
Thanks for the consideration.
Yours Sincerely,
(Name).
Application for Sick Leave Format To Class Teacher
To,
The Class Teacher,
Name of the school,
Address.
Date: XX-XX-XXXX.
Subject: Application for Sick leave.
Sir/Mam,
Most respectfully, I beg to state that I am not in a condition to come to the school since I am suffering from a fever. I have been prescribed by our family doctor o take proper rest for at least [number of days] days. Hence, kindly grant me leave from (start date) to (end-date). I shall be really grateful to you.
Thanking you,
Yours obediently,
Your Name,
Class and section,
Roll No.
Sick Leave Letter Format To School Principal
Look at the format of the sick leave application to the principal from below. This will aid you to draft the sick leave letter for the requisite purpose on your own:
To,
The Principal,
(School Name),
(Address).
Subject: Sick Leave Application to School Principal.
Dear (Sir/madam),
With due regard, I want to notify you that my child (name of the student) is a student of class (class name), of your school. Due to some wellness issues, my boy/girl is hospitalized and is recommended to be in a doctor's monitoring for two days. My family members are taking care of him/her in hospital, right now and we are not in a state to send him/her to school.
Hence, I beg you to please understand our position and grant my child leave for (mention number of days) from (start date) to (end-date). I am inserting a medical document from the doctor for your reference. I ensure you that he/she will attend the school daily going forward.
Thanking you,
Yours sincerely,
(Name of the Parent),
(Signature).
Key Points for Writing Application for Sick Leave
Greeting or addressing to the concerned person
Subject line
Reason for leave
Number of leaves required
Details of your work compensation
Contact information
Name and Signature
Download Samples of Sick Leave Application for Various Scenarios
Also, on this page, we have even included some commonly used Sick Leave Letter Samples in images form that you can download for free of cost. Check out these samples of sick leave applications & write your own sick leave letter. By referring to these sick leave application samples you can get an idea of what and what not to include in the letter. They are as such
Sick Leave Letter by an Employee – Sample 1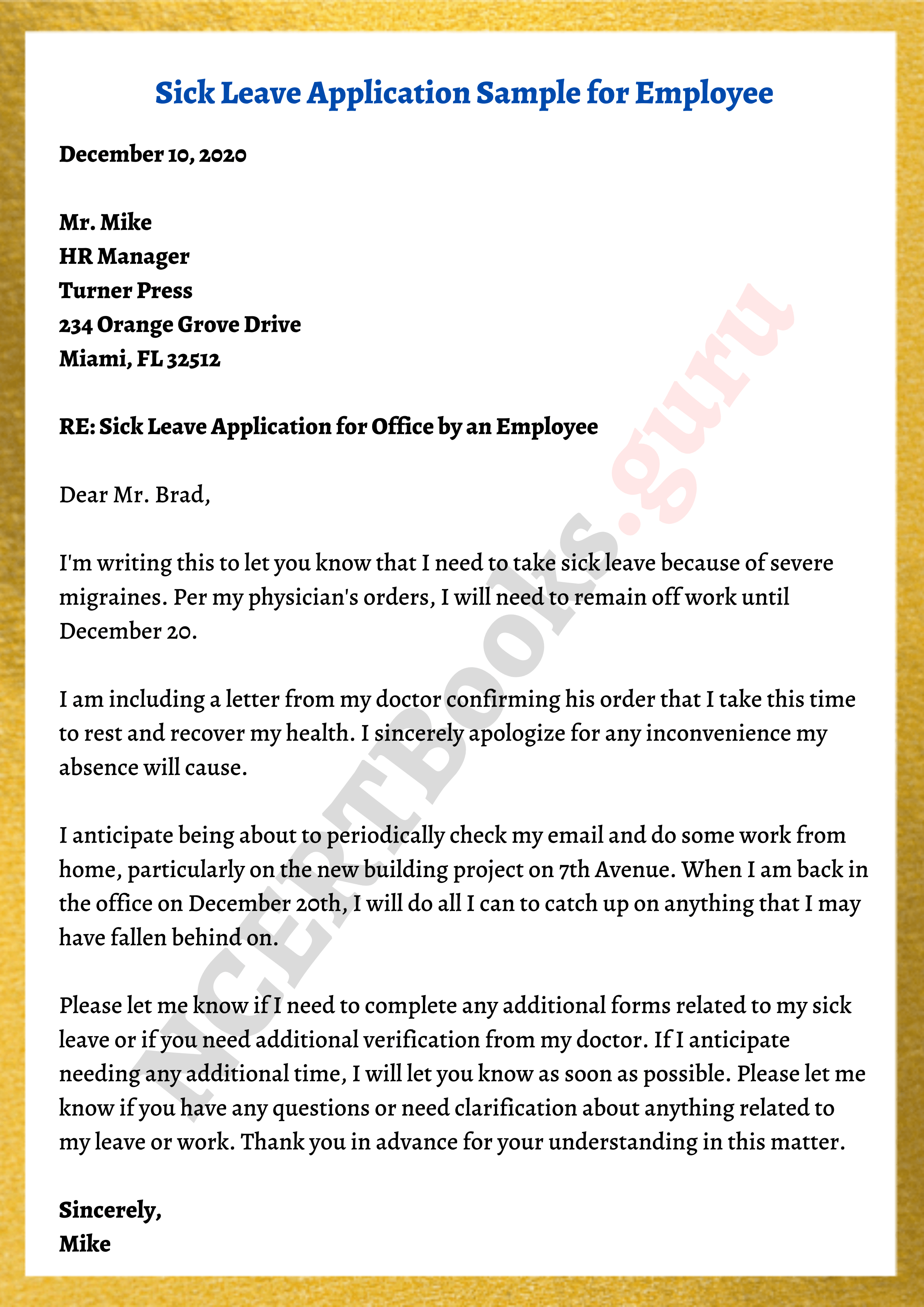 Sample 2 – Sick Leave Application for Teacher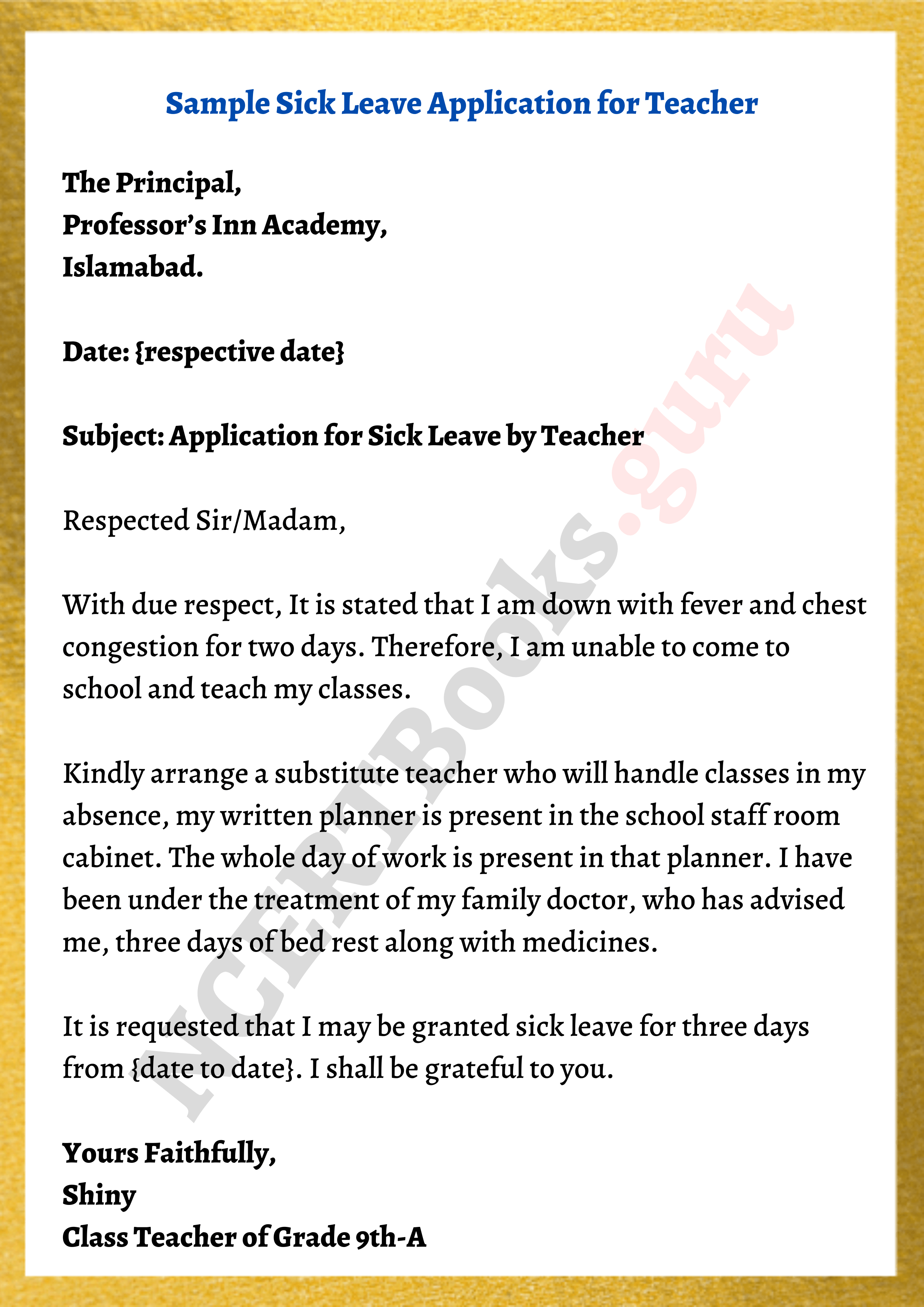 Sick Leave Letter To School Principal by Students – Sample 3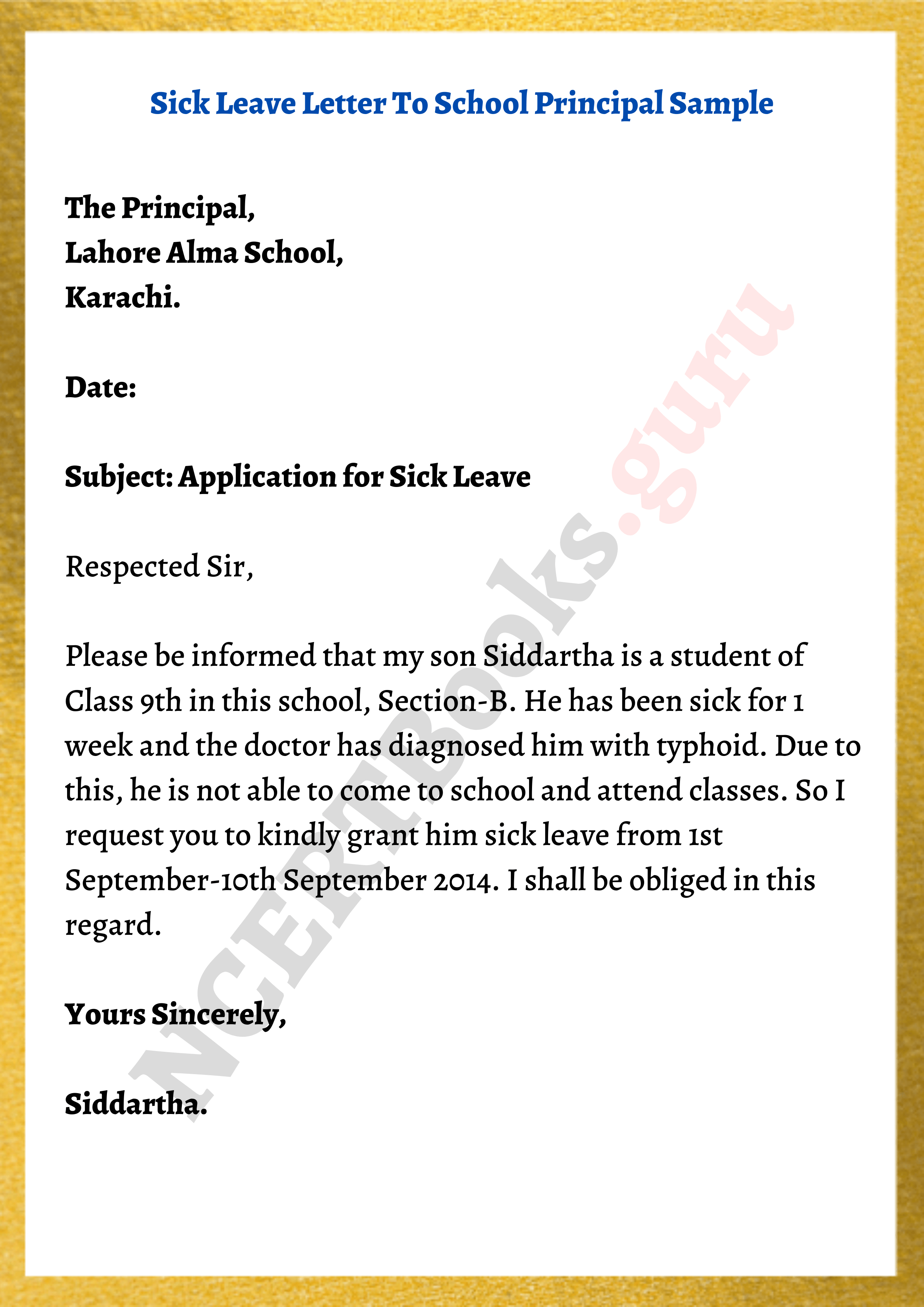 FAQs on Sick Leave Application Writing
1. How to write a sick leave letter for school/office/college?
The primary steps that included in writing a sick leave letter are as follows:
Right Format of the Letter
Date
Recipient's address
Greeting
The body
An expression of gratitude
A complimentary close
Signature
Any supporting documentation
2. What are the Types of Sick Leave Application School/College?
Here are a few sick leave application types. They are as such:
Medical Leave Application
Leave Application for Fever
Application To Principal for Sick Leave
3. What are Crucial Tips To Write Leave Application for Sick?
Some of the important tips that should be followed by the employee or students while drafting the application for sick leave are as mentioned below. Look at the points and remember all the time:
Draft the leave application in a polite manner that represents the request for leave and sounds real.
State the purpose specifically for which you are requesting to leave.
The base of the application must be maintained.
Sick Leave letter should be concise and to the point.
Cross-check with grammar mistakes or punctuation.
The application should mention the relationship between the child and the sender of the letter.