School Library Essay: Library is the heart and soul of an educational institution. Books are the treasure from which as much as is drawn the more the drawer gains and that treasure never gets exhausted. A well-equipped library equipped with best-selected books, magazines and newspapers should form an integral part of the schooling of children. Children need to be told, they need to be encouraged in the use of the library and teachers have constantly to keep a watch on what the child reads, what he learns and how much does he assimilate from these books.
Long and Short Essays on School Library for Kids and Students in English
Given below are two essays in English for students and children about the topic of 'School Library' in both long and short form. The first essay is a long essay on the School Library of 400-500 words. This long essay about School Library is suitable for students of class 7, 8, 9 and 10, and also for competitive exam aspirants. The second essay is a short essay on School Library of 150-200 words. These are suitable for students and children in class 6 and below.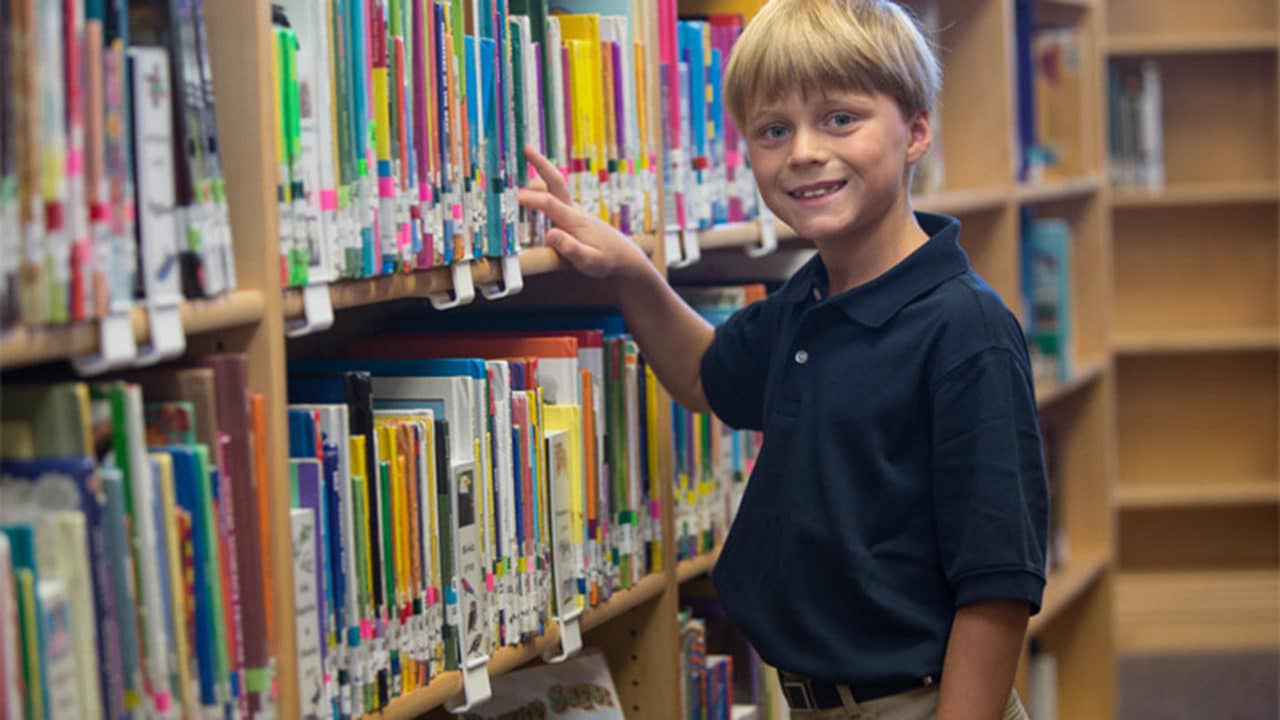 Long Essay on School Library 500 Words in English
Below we have given a long essay on School Library of 500 words is helpful for classes 7, 8, 9 and 10 and Competitive Exam Aspirants. This long essay on the topic is suitable for students of class 7 to class 10, and also for competitive exam aspirants.
A separate period for every class needs to be provided in the school time-table in which children should be required to go to the library, read books and magazines and take down notes of what they read. These notes, thereafter, need to be checked by teachers. This would give to the teachers an idea what the child most prefers to know about and how he reacts to what he reads.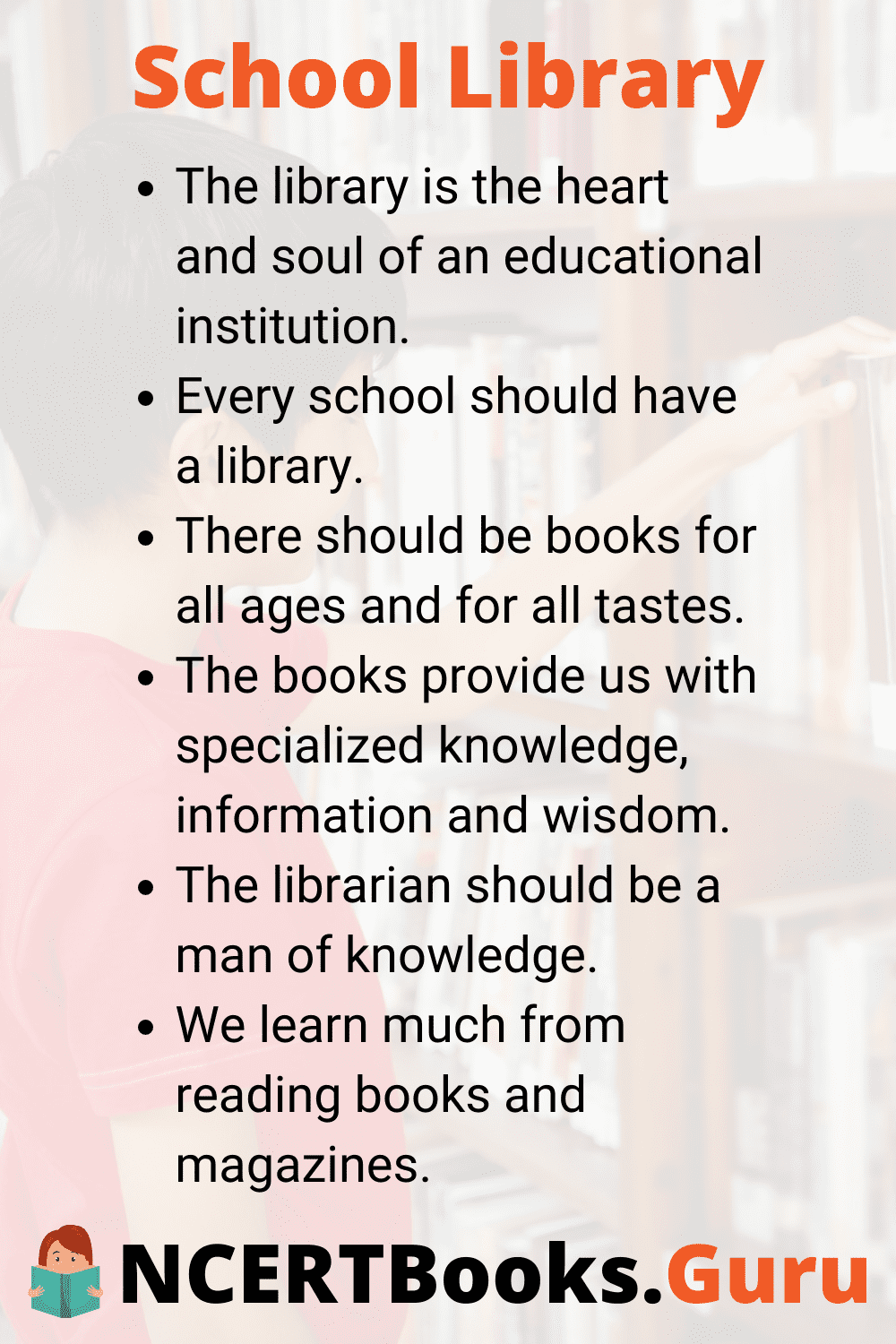 It would be an automatic psychological estimation of the child the way that his personality is moulding; what his interests are and what he plans to become. What he is learning; what he takes interest in, would get reflected in the choice of books or magazines and teachers would get to know the mould and manner of his thinking and working of his mind.
The school library, in order to fulfil its purposefulness, should have books for all ages and for all minds and the librarian, in charge of the library should himself or herself be knowledgable as to be able to recommend what books to be chosen on what subject.
Furthermore, the school library should have a nice, spacious seating arrangement in every way to draw students to it.
Short Essay on School Library 200 Words in English
Below we have given a short essay on School Library is for Classes 1, 2, 3, 4, 5, and 6. This short essay on the topic is suitable for students of class 6 and below.
Students, during assemblies, should be informed about the utility and usefulness of books and need to be told how books could be their best companions. Books could give them what no other companion can give other companions could quarrel with them; push them and hurt them sometimes; companions can change their attitudes and behaviour but whatever is contained in the books shall ever remain constant and the same for ages after ages. The word once printed in a book shall ever be the same for all times and keep on giving the same message generation after generation.
Milton, a great English poet had said 'A good book is the precious life-blood of a master spirit, treasured and embalmed in its pages for ages after ages'. Great thoughts, great ideals, great pieces of information deep and varied are provided through books and a library is the treasure house of such thoughts, ideals and information. A school would be failing in its purpose if it does not have in it a library well housed, well equipped, well-staffed and well-furnished.
Students can find more English Essay Writing Topics, Ideas, Easy Tips to Write Essay Writing and many more.
10 Lines on School Library
The library is the heart and soul of an educational institution.
Every school should have a library. The library is very much useful to increase our knowledge.
Children should be encouraged to use the library which should be properly furnished and properly equipped with good books.
There should be books for all ages and for all tastes.
The books provide us with specialized knowledge, information and wisdom.
The librarian should know all about the books and should be able to guide students in choosing good books.
Books are the best companions they never quarrel; they never change.
They are a treasure house of knowledge.
We learn much from reading books and magazines.
I find our school library a suitable place for studies.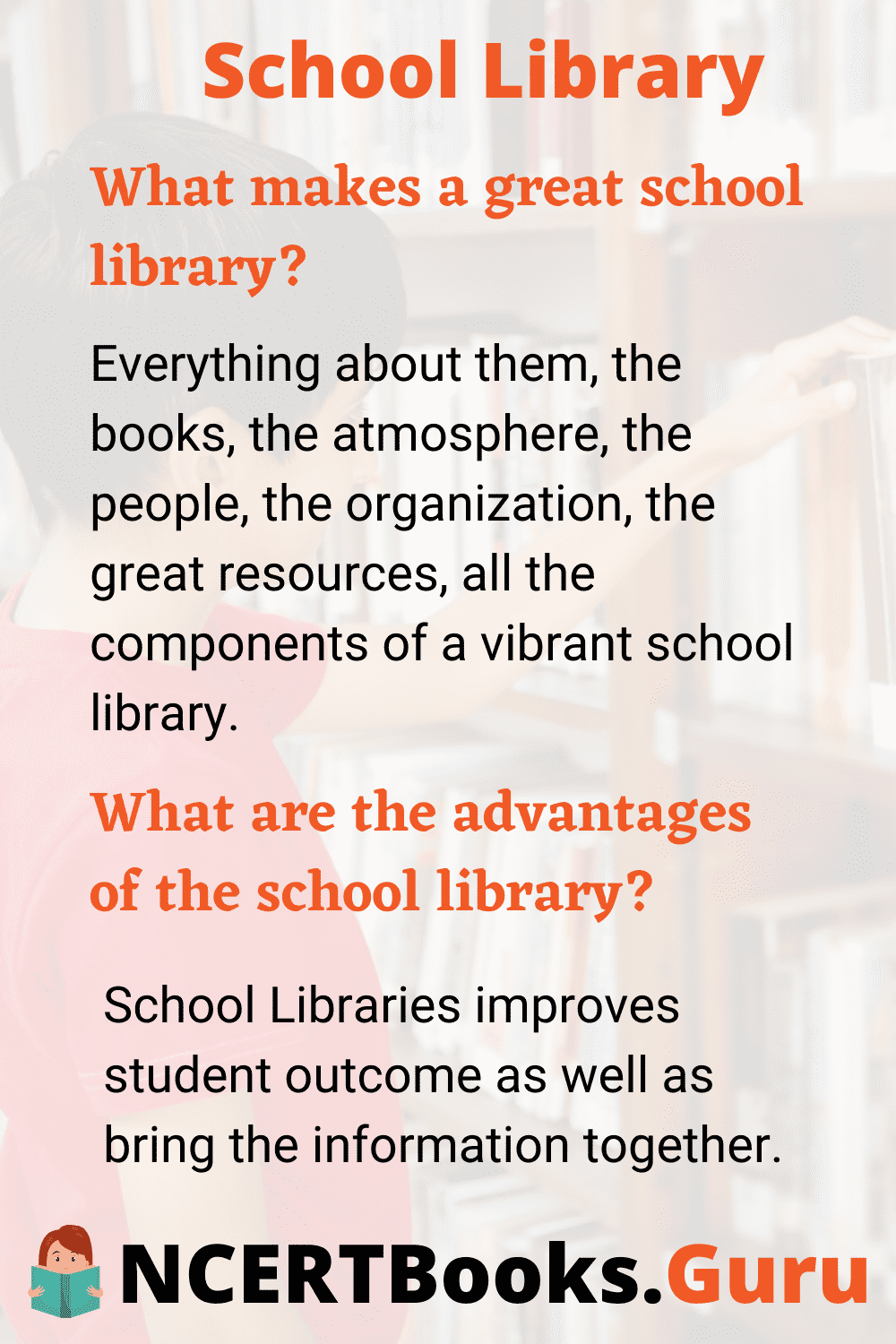 FAQs on School Library
1. What is the meaning of  School library?
A school library is a library within a school where students, staff, and often, parents of a public or private school have access to a variety of resources.
2. What is the purpose of a school library?
The purpose of your school library is to help every member of the school community — students, staff, families gain new knowledge, skills, and dispositions for learning and personal development that they will use throughout their lives.
3. What makes a great school library?
Everything about them, the books, the atmosphere, the people, the organization, the great resources, all the components of a vibrant school library.
4. What are the advantages of the school library?
School Libraries improves student outcome as well as bring the information together.
The School for Sympathy Summary