Are you interested in serving society? Then, Sanitary Inspector Diploma Course is also one of the important qualifications. The duties and responsibilities of a Sanitary Inspector are vast. Public health is a major priority for municipal governments around the country. In several ways, sanitary health inspectors play a critical role in the preservation of public health and the ecosystem.
With the developments in the public health sector, the demand for Sanitary Inspectors is growing. Health and Sanitary Inspectors are used by municipal entities in a state to handle a wide variety of public challenges, such as clean drinking water, food hygiene, and general sanitation facilities.
If you are excited to learn the information related to the Sanitary Inspector diploma course then this guide is the right one to search for as it provides detailed information about the diploma course in Sanitary Inspector right from course duration to career prospects.
Table of Contents
What is Sanitary Inspector Diploma Course?
The Sanitary Inspector Diploma Course is related to the community and environment, these are the people who collaborate with their team members to provide a safe and healthy environment to the people. It is not only a job it is a big responsibility that is dealt with care and patience.
Maintaining a clean and healthy environment is a bit difficult but a Sanitary Inspector does it very well. If you want to be a Sanitary Inspector and contribute to society you can enroll in the one-year Diploma course and the job prospects are also very high as there is less competition in this field.
Diploma in Sanitary Inspector Course Details
The Sanitary Inspector Diploma is a one-year curriculum. Any students who have completed their class 12th are eligible for this course. This course covers a wide range of topics related to healthcare and sanitation, including health, ecological factors, welfare services, etc.
Its primary objective is to offer specialized training complemented by a practical learning curriculum for trainees interested in working in the Health and Sanitation Departments of Local Authorities, City council Bodies, Food and Drug Department, Railway systems, Hotel chains, Airports, or other industries that offer comparable facilities.
Also Check:
Diploma Sanitary Inspector Course Eligibility
There are a few eligibility criteria that an applicant require to fulfill before applying for the course, the eligibility criteria for Sanitary Inspector are listed below:
An applicant should have completed 12th grade from a government-approved board.
An applicant should have completed 12th grade in science with a minimum of 55 percent.
The applicant's age should be between 18 and 35 years.
Note: There is no age relaxation offered to any applicant. All the applicants will have common educational requirements as well as a similar age limit.
Basic Skills Required for Sanitary Inspector Diploma Course
There is no such skill requirement, however, if you have these basic soft skills it will be an added advantage such as
Time management,
Communication,
Adaptability,
Problem-solving,
Teamwork, and
Technical English for clear communication.
Diploma in Sanitary Inspector Course Admission 2022
Enrolment in the Sanitary Inspector Diploma Course is normally determined by the grades received in the 10th or 12th grade. The minimum marks will be determined based on the scores and the number of individuals who submitted applications for admission, among other factors. However, the admissions procedure differs greatly depending on the college/institution.
Certain institutes have an entrance test for admission. The admission is granted based on the results of the entrance test. Consider examining the admissions requirements of the college you want to attend before applying.
Sanitary Inspector Diploma Course Fees
The cost of tuition varies from one institution to another. It is determined by criteria such as the kind of institution, the applicant's scholarship level, and the institution's location. Public institutions' fees range between 2 to 5 thousand INR per year on average. Whereas, Private institutions, fees range between 20 to 50 thousand INR every year on an average.
List of Diploma Sanitary Inspector Course Colleges with Location
Below are the name and locations of some colleges and institutions that provide Sanitary Inspector diploma courses.
| | |
| --- | --- |
| Name of College | Location |
| All India Institute of Public & Physical Health Sciences | Alipur, Delhi |
| Imperial Institute of Management, | Andheri West, Mumbai |
| Singhania University | Jhunjhunu, Rajasthan |
| Mandya Institute of Medical Sciences | Mandya, Karnataka |
| Belgaum Institute of Medical Sciences | Belgaum, Karnataka |
| Batra Nursing College, | Pune |
| Dr.Vasantrao Pawar Medical College Hospital & Research Center | Nashik |
Sanitary Inspector Course Diploma Syllabus
The syllabus of the diploma sanitary inspector course differs depending on the university and college. However, the general subjects are similar to the Sanitary Inspector Course. The one-year diploma Sanitary Inspector course consists of eight different papers, which are listed below:
– Biological science
– Public health administration
– Communicative English and computer fundamentals
– National health programs and communicable diseases
– Practical 1
– Practical 2
– Practical 3
– Practical 4
The one-year program is divided into two semesters. The syllabus for the two semesters are given below:
Semester I
Basic Human Sciences
Book Keeping
Chemical Agents used in Public Health
Communicative English
Computer Application
Disposal of Death
Drugs used in Preventive Medicine and
Elementary Entomology
Elementary Microbiology and Parasitology
Elementary Pharmacology
Elementary Physics, Chemistry, and Mathematics (as applied to Public Health)
Elements of Social Sciences, Behavioral Science
Epidemiology Definition and Mode of Transmission
Factories, Trades and Hygiene, and Offensive Trade
Family Planning
First Aid
Food Establishment Markers and Slaughterhouses
Food Sanitation and Food Chemistry
Health Education
Important Communicable Diseases and their Control
Industrial Health
Maternal and Child Health
Minor Elements and their Treatment
Non-Communicable Diseases
Nutrition
Personal Hygiene
Provision in Municipal act pertaining to Public Health
Public Health Administration, National and International Health Agencies
Public Health and Practice
Public Health Chemistry
Registration of Birth and Death Act
School Health
The Prevention of Food Adulteration
Vital Statistics
Semester II
Administration and Management
Air and Ventilation
Engineering Methods in relation to Disease Control
Environmental Pollution
Excrete Disposal
Housing (Sketching, Designing, Building Construction, etc.)
Inspection of Trade Premises
Practical and Demonstration will be done on the Basis of Theory
Project Work /Dissertation
Revision and Internal Examination
Sanitation of Fairs, Festivals and Camps.
Waste and its Disposal including the Disposal of Refuse and Household and Trade Refuse
Water Supply and Quality Control
To finish the diploma in the sanitary inspector course, three papers are required to be completed and cleared. The theory is worth 60 marks, practical is worth 20 marks, and internal assessments are worth 20 marks. A viva-voice will be conducted for 60 marks in addition to these three.
Do Read:
Career Options for Certified Sanitary Inspector Diploma Course
The career prospects are excellent, and there are lesser competitors in this profession than in other government examinations. As a Sanitary inspector, it becomes a lot easier for an applicant to advance as a Sanitary Health Officer. Upon completion of the course, one can apply in the following fields for various job posts:
The fields where you can apply for the job are:
Food Department
Public Health Department
Government bodies
Municipal corporations
Railway stations
Airports or similar Services in other companies
Diploma Course in Sanitary Inspector Salary
Sanitary Inspector salary along with vacancies or job roles that are offered by various industries are as follows:
1) Food Inspector expected salary ranges between 4 LPA to 6 LPA.
2) Health/Sanitation Inspector expected salary ranges between 3 LPA to 5 LPA.
3) Field Assistant expected salary ranges between 2.4 LPA to 3 LPA.
4) Multipurpose Health Worker expected salary ranges 2.4 LPA to 3 LPA
Note: The starting salary for a Sanitary Inspector in India is about 15K, and the average income is 2 Lakhs per year. And the Highest salary of a Sanitary Inspector can be up to 8.8 Lakhs per year.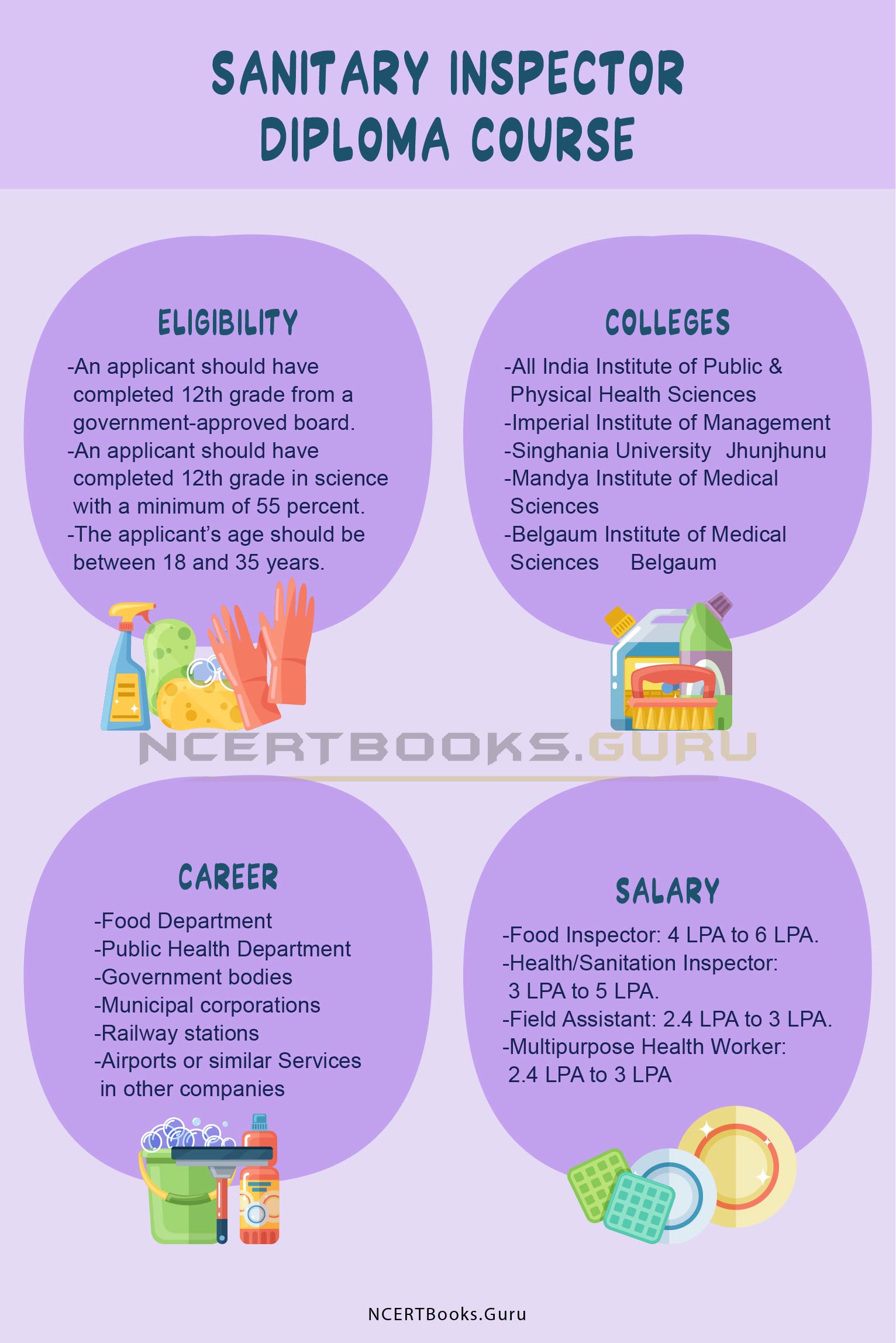 FAQs on List of Courses After Diploma in Sanitary Inspector
1. What are the Qualifications required for the course of Sanitary Inspector?
After completing class ten, an applicant is qualified to enroll in the course, however, most Sanitary Inspectors are degree holders in a specific field such as biology, physics, biochemistry, etc.
2. Is there a test to become a Sanitary Inspector?
There are some colleges or institutions that may have admissions tests, and most colleges admit students based on their performance in the previous qualifying test.
3. What is the expected salary for a Sanitary Inspector?
Income varies based on a variety of circumstances, but on average, a Sanitary Inspector's salary ranges from 0.8 Lakhs to 1.2 Lakhs, which is mostly based on the experience of an individual.
4. What is the Sanitary Inspector Diploma Course Duration?
The diploma course in sanitary inspector is for a one-year duration.
Final Words
We hope the shared details on Sanitary Inspector Diploma Course will shed some light on your career decisions. Do browse through our website @ncertbooks.guru for other course details, career-related articles, we've got you covered!