Thinking about quitting your current job and you need to draft a Resignation Letter. It's always good to formalize your departure from the current Employment. Learn What is a Resignation Letter and How to Write one in the following sections. A Resignation Letter in general is a document that notifies the employer that you are leaving your job. Refer to the Resignation Letter Format, Samples attached for reference.
Utilize Letter Writing Topics belonging to Formal and Informal Categories and get acquainted with various writing styles.
How to write a Resignation Letter?
While you are leaving your current company it is necessary to draft a letter professionally and gracefully. You need to include the following details in the Resignation Letter. They are in the following fashion
Your Intent to Resign: Give Proper Notice to the Employer by writing a formal letter. Be prepared to move on before submitting the letter.
Last Date of Employment: Include details on the Last Day of Employment along with the intent to leave. This would ease the transition for both the parties i.e. Employee and Employer.
An Offer to Assist the Transition: Usually, Resignation Letters help you in the transition be it recruiting or training in replacement. By doing so, Employee and Employer can leave the situation with a sense of respect.
Contact Information: Mention the Personal Details so that it's easy for the company to get in touch with you.
Resignation Letter Format | How to Build a Resignation Letter?
Since Resignation Letter is a formal document you need to use polite language. The Format you need to follow for the Resignation Letter is listed as follows
Letter Date: Include the date on the top left line above the address
Address: The address should follow a standard business letter template. Use the Company Name in the beginning, followed by the street address, city, and ZIP code.
Addressee: Addressee is nothing but the manager. Try to mention his name or if the situation calls out include the team or whole company.
Resignation Declaration: Make it clear that you are resigning from the company in the initial statements.
Date of Departure: A Clear Departure Date is necessary as it lets your manager convey the same to higher authorities.
Reasons for Leaving: Also, list the reasons for leaving and it is optional. Acceptable Reasons might include general health concerns, relocation, spending more time with family, career change, and much more.
Thank You Section: Remember to end the letter by acknowledging them regarding the opportunity they gave.
Signature: If you provide a hard copy of your Resignation Letter Sign above the Typed Name. In the case of an Online Resignation Letter typed one is self-sufficient.
Resignation Letter Template
Utilize the Resignation Letter Template existing to create one on your own. It is as such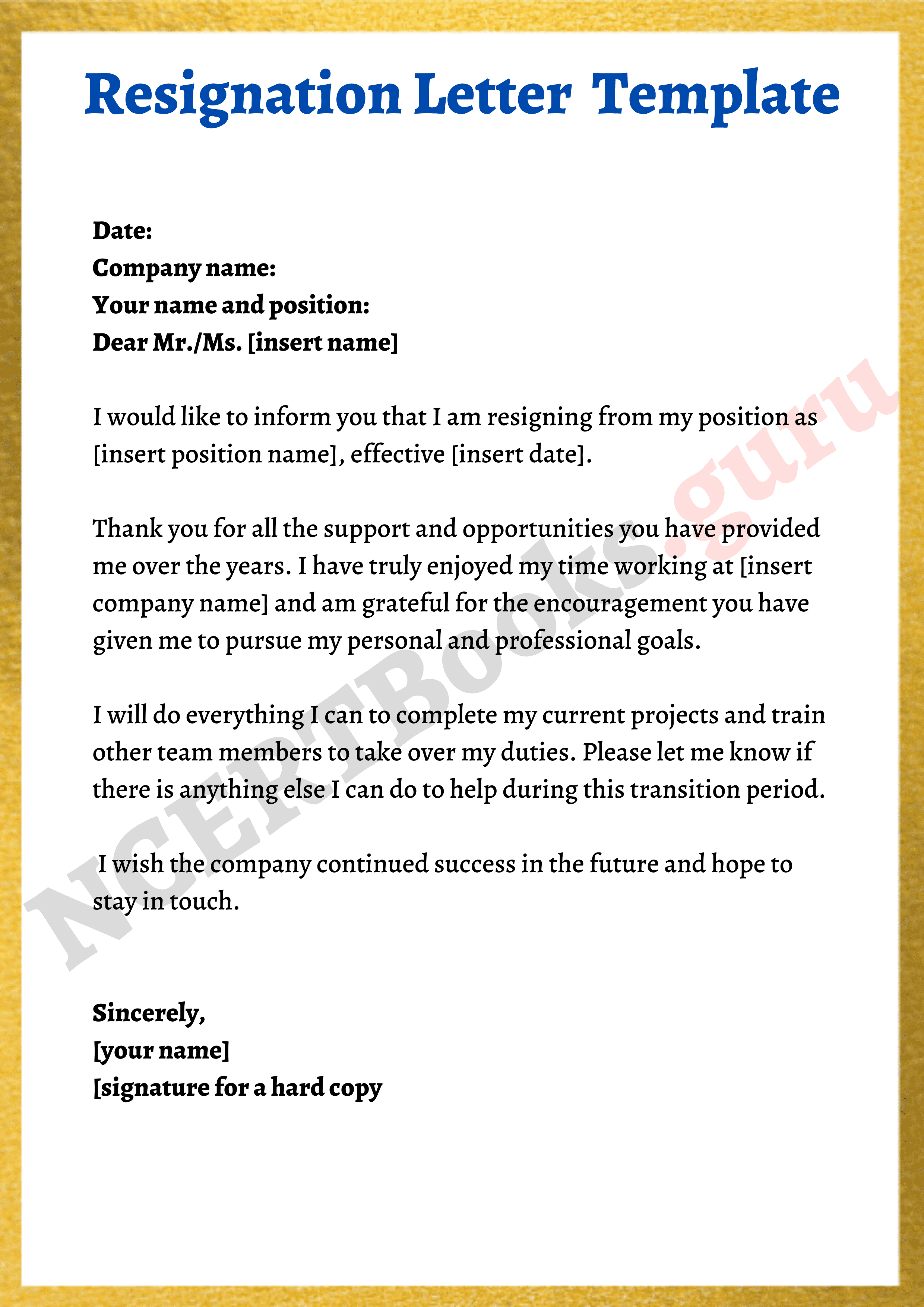 Samples of Resignation Letter
Refer to the Resignation Letter Samples attached below so that you can find them useful. Use these and start writing one on your own when needed.
Resignation Letter Sample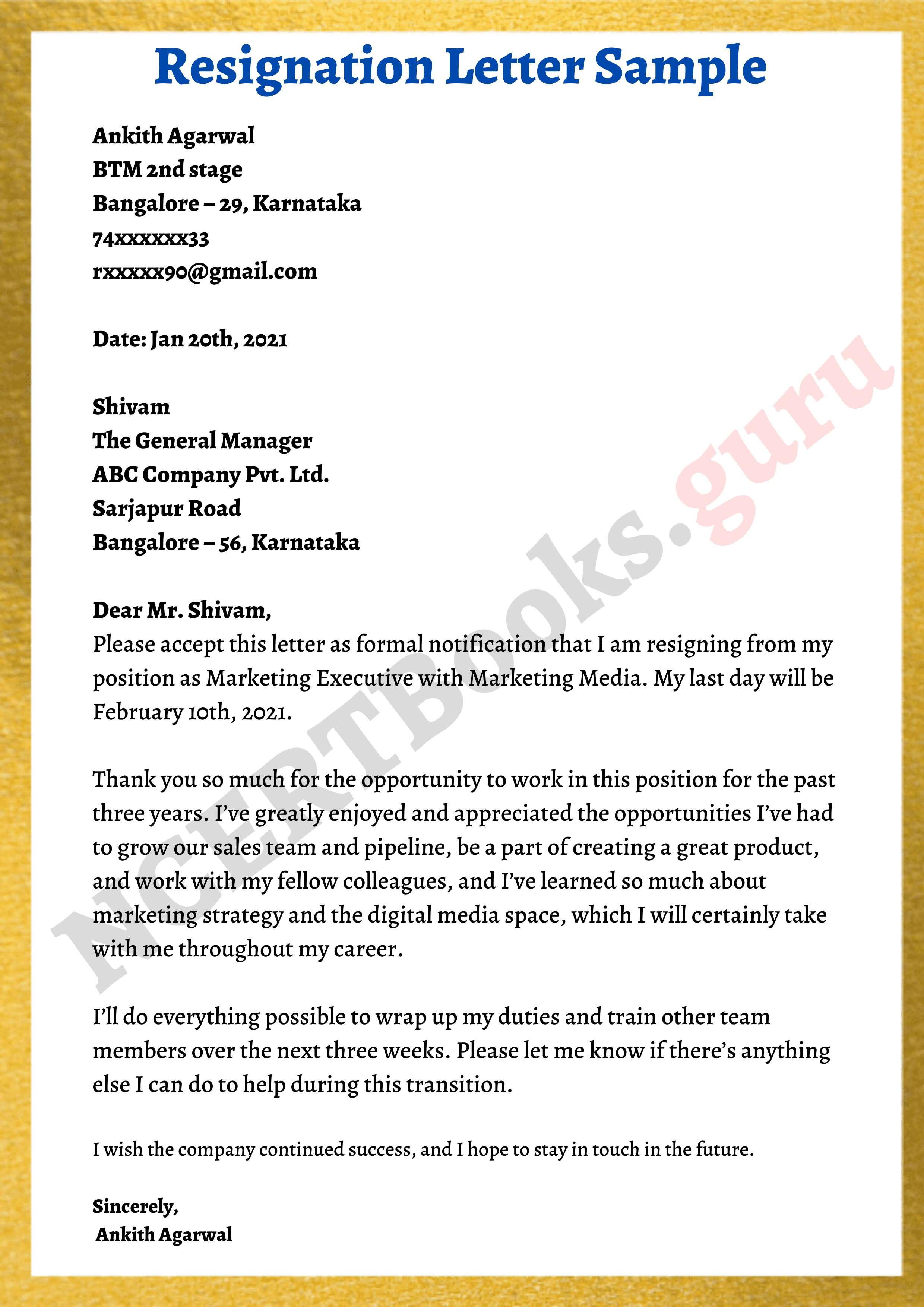 Resignation Letter Example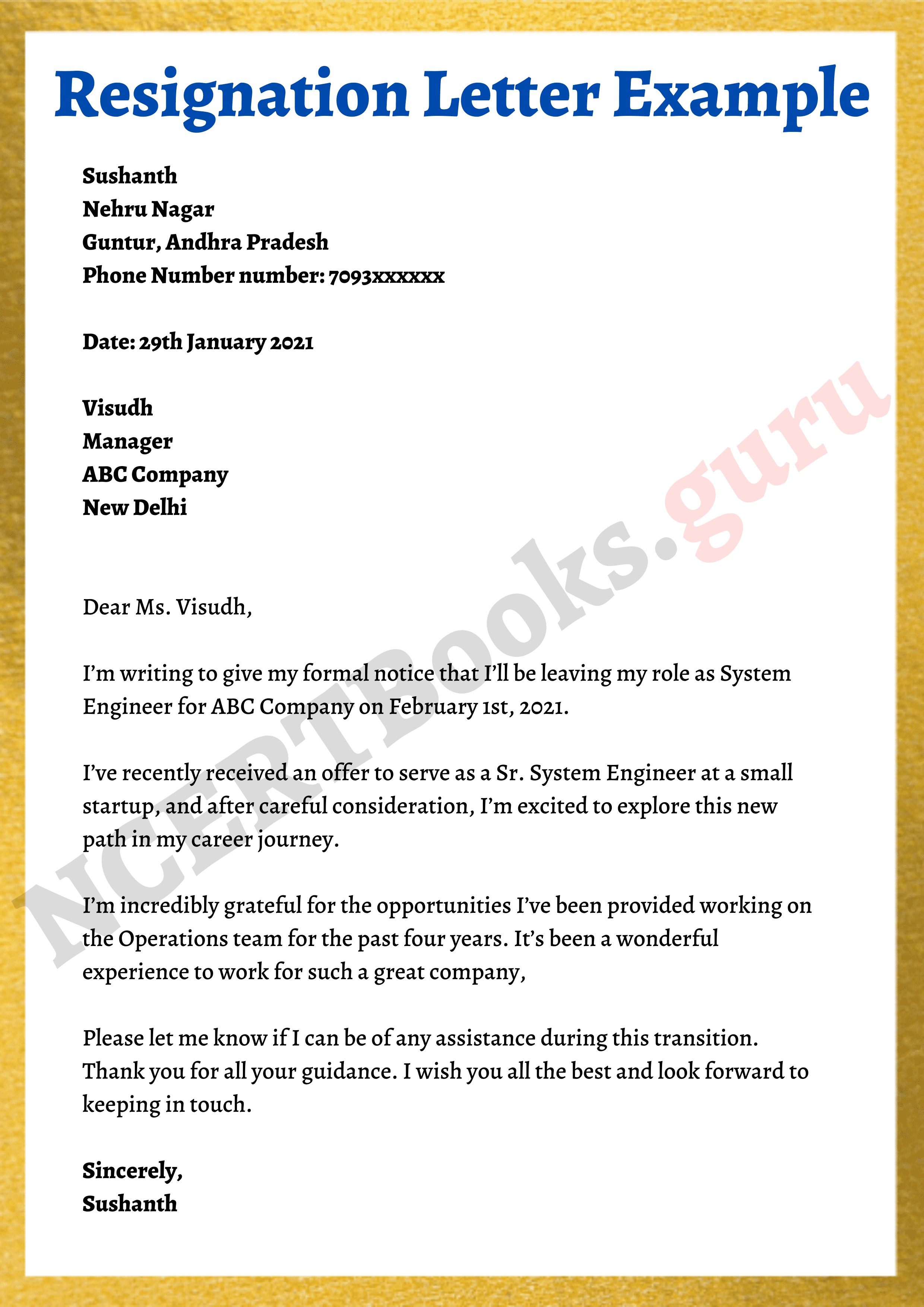 FAQs On Resignation Letter
1. What is a Resignation Letter?
A Resignation Letter is a formal document that notifies the employer that you are leaving the Organization.
2. Where do I get Resignation Letter Samples, Template for free?
You can find Resignation Letter Samples, Template for free of cost on our page.
3. What must be included in Resignation Letter?
While drafting a Resignation Letter below listed details are a must. They are along the lines
Letter Date
Address
Addressee
Resignation Declaration
Date of Departure
Reasons for Leaving
Thank You Section
Signature