At Some Point or the Other, you might need to write a Reference Letter for your friend or employee you have worked with earlier. On the other hand, when you write a Reference Letter you need to know how to draft a Reference Letter, its Format, etc. Good Reference or Recommendation Letter can yield your Contact Achieve Your Dreams. Learn Tips for writing Recommendation Letters, Types of Reference Letters, Samples for your reference.
Get Letter Writing Topics for both formal and informal topics all in one place to have an idea of what and what not to include in your letter writings.
Types of Reference Letters
There are different types of reference letters and you can refer to them by checking the below modules.
Academic References
Employment References
Personal References
Professional References
Structure of Reference Letter | Reference Letter Format
A Good Reference or Recommendation Letter should include the following details. They are as under
Salutation
Body
Closing
Signature
Reference Letter Template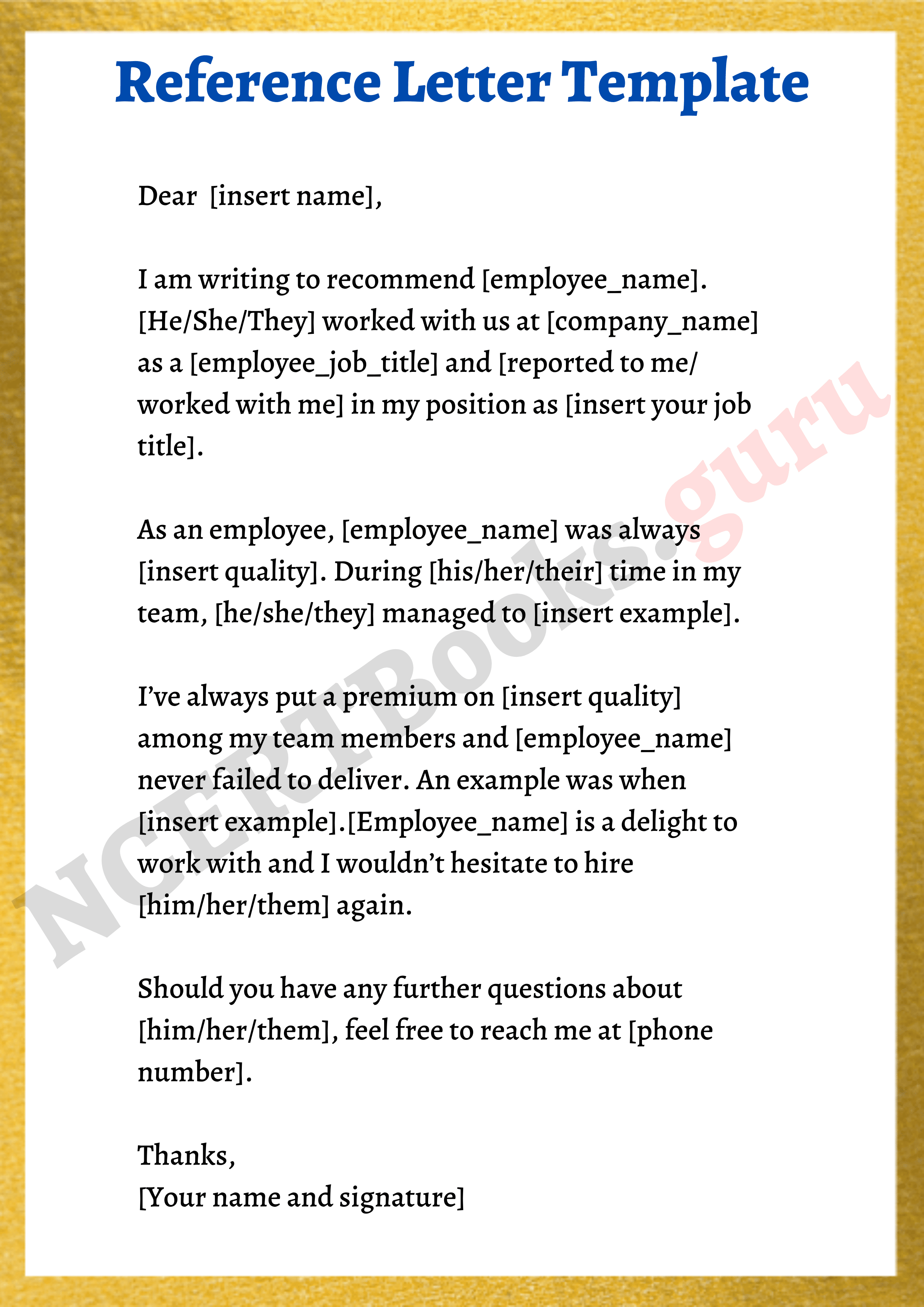 How to Write a Reference Letter?
Follow the general guidelines listed below before drafting a Reference Letter on your own. The general guidelines to keep in mind while writing a Reference Letter is as follows
Salutation: Begin the Letter with Mr./Ms. if you don't know the Employer's Last Name. In the case of the general letter, you can write To Whom So Ever it may Concern or simply start with the first para.
First Paragraph: In the first para of the Reference Letter include details like your connection with the referring person and how you know them and why you are qualified to write a letter on their behalf etc.
Second Paragraph: Middle Paragraphs of the Letter should include details of the contact information of the person you are writing. Be Specific about why the person is a qualified candidate. Try to describe the qualities and skills of the specific person.
Letter Closing: In the Closing Para try to include more information and your contact information so that you can answer any further questions if necessary.
Signature: End the Letter with Signature Handwritten followed by your typed name.
Reference Letter Samples
Avail the Reference Letter Samples available for different types and learn how to write one on your own. You can simply refer to the entire reference letter examples provided and have an idea of what to include and what not to include. Use these Sample Letters to quickly different kinds of Reference Letters as per your interest.
Reference Letter Example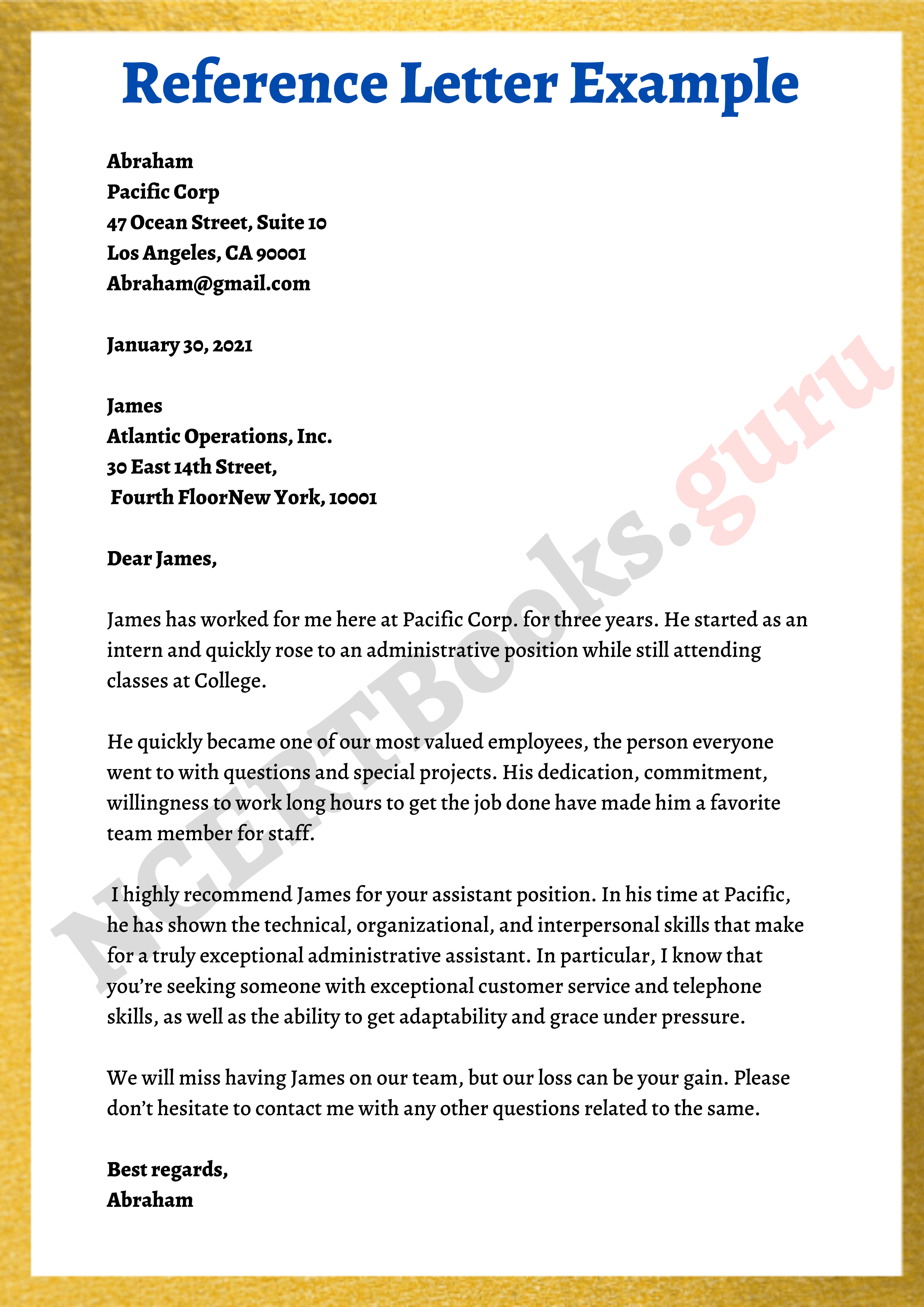 Reference Letter Sample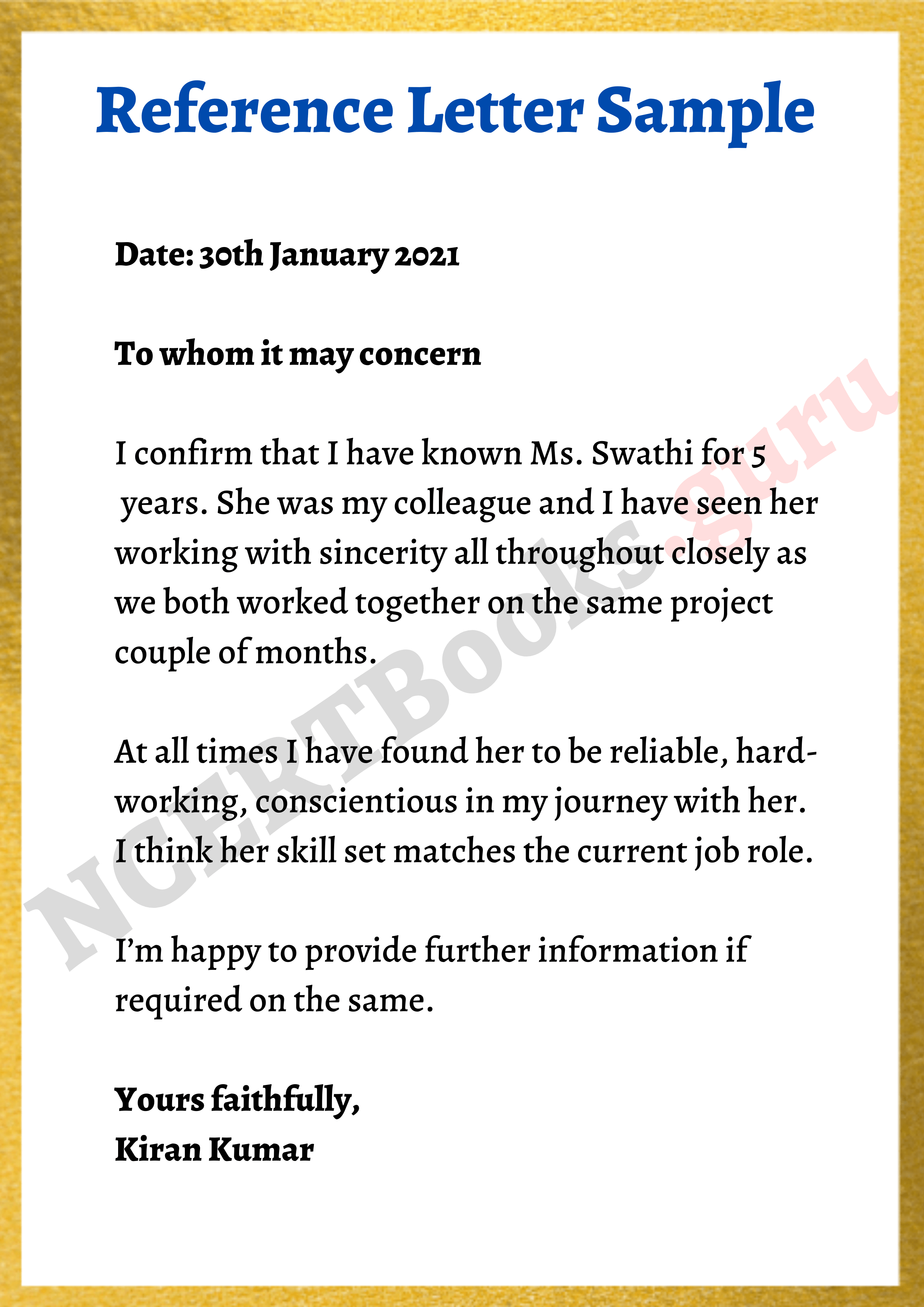 FAQs on Reference Letter
1. What is a Reference Letter?
Reference letters are usually positive endorsements of the skills and knowledge of an individual. These are generally written by a person who is familiar with an individual's work.
2. Where do I get Reference Letter Samples?
You can get Reference Letter Samples for free of cost on our page.
3. Is there any website where I can find Recommendation Letter Template?
NCERTBooks.guru is a trusted portal where you can find Recommendation Letter Template.