Quotations are Important to any Business and so is the format. You can come across Quotation Formats Online but then you have to make your own. Keeping this in mind, we have come up with Quotation Letter Format, Different Samples of Quotation Letters, Tips on How to Write a Quotation Letter in the coming sections.
Usually, Quotation Letters allow individuals, companies, and organizations to seek information regarding the Price of Goods and Services offered by certain businesses. In fact, they are Formal Business Style Letters and are meant to transmit important information to an organization or company. This act of sending Quotation Letters can cut down the amount of time and efforts buyers put in to know about the Price of Goods or Services by asking one by one.
Access Letter Writing Topics for both Formal and Informal Topics and know how to write various letters on your own.
Tips for writing Quotation Format Letter
There are numerous types of Quotation Format Letters depending on their purpose. If you are planning to write a Quotation Letter make sure to follow the simple and easy steps listed and create one on your own as per your requirement.
Write down it more of a formal letter and express your gratitude and appreciation towards them for their interest in your organization.
Make sure to include the Supplier Name, Address on the Left side, and also the date on which the Letter of Quotation is written. Next to that mention the Customer Name and Address.
Remember to include a Salutation at the starting and sign it at the end of the letter.
Make a note of Relevant Details such as Materials Price, Payment Mode, Terms and Conditions of Delivery if any, etc.
Explain to the Customer what's so unique about Goods and Services and why they should choose you.
Also, mention how your materials can add value to their business.
Remember to write it short and crystal clear.
Also, mention your contact details so that they can communicate with you further.
Use Professional Language and Write it in Business Format Style.
Quotation Letter Samples to Download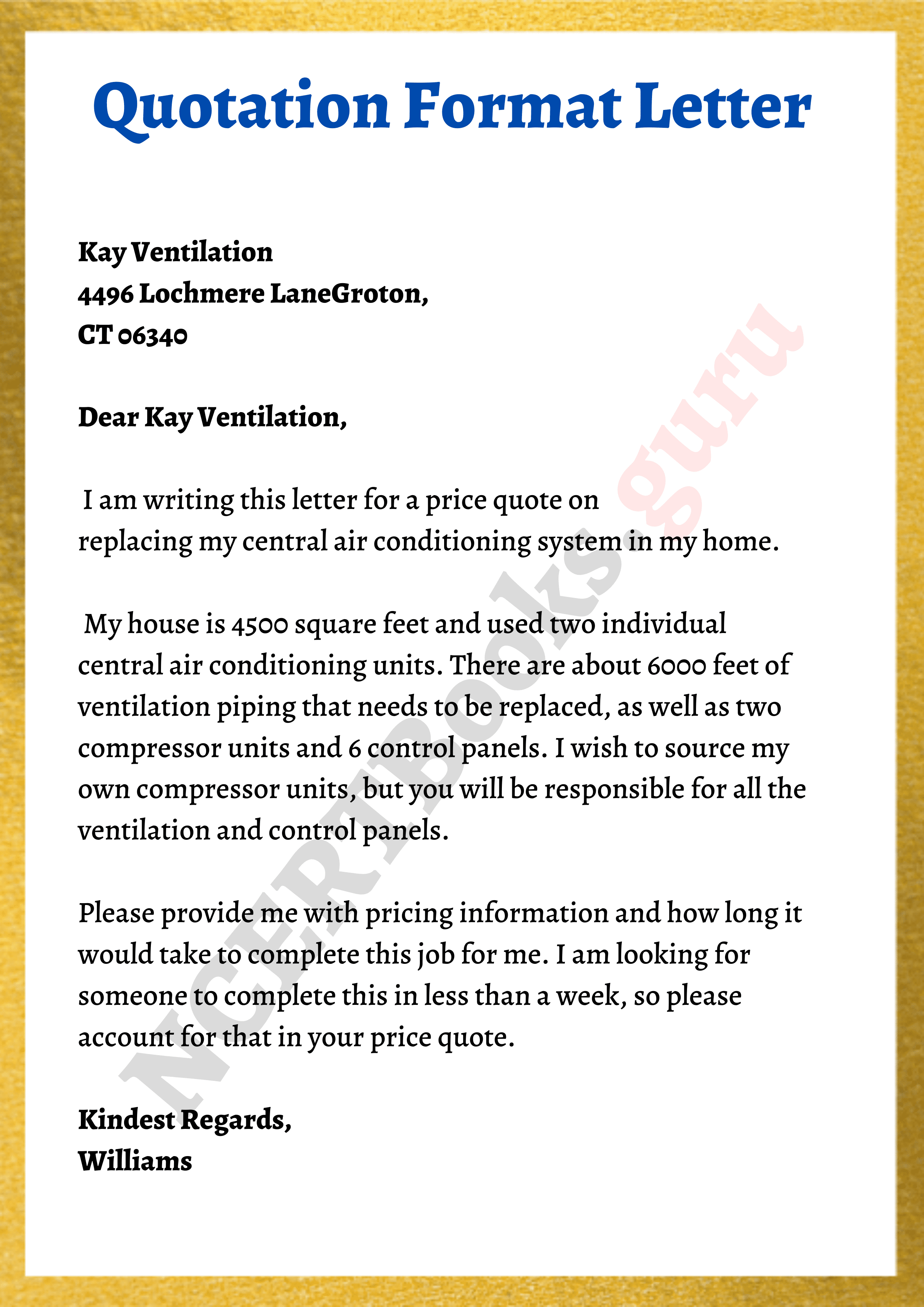 Quotation Format Letter Samples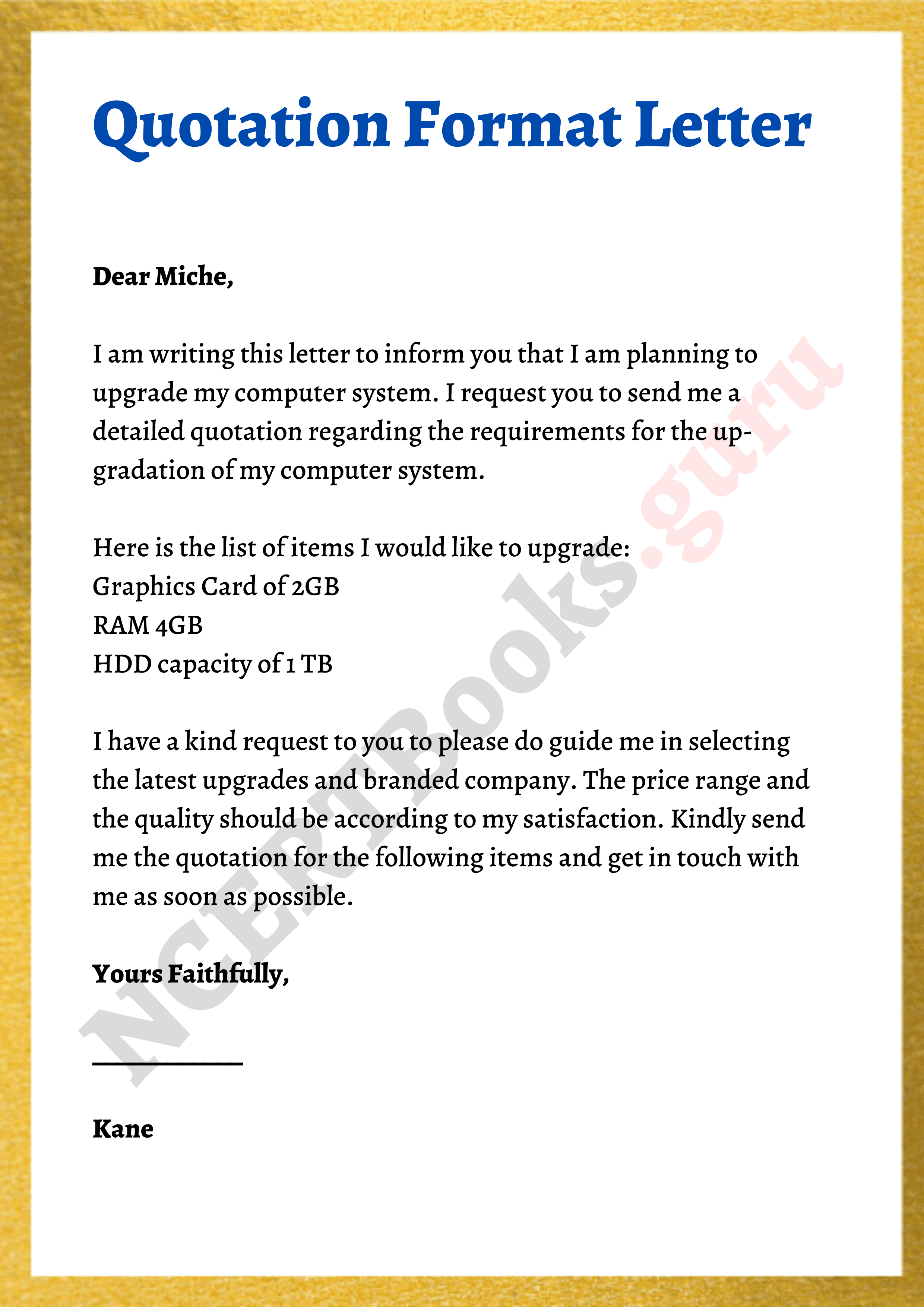 Quotation Acceptance Letter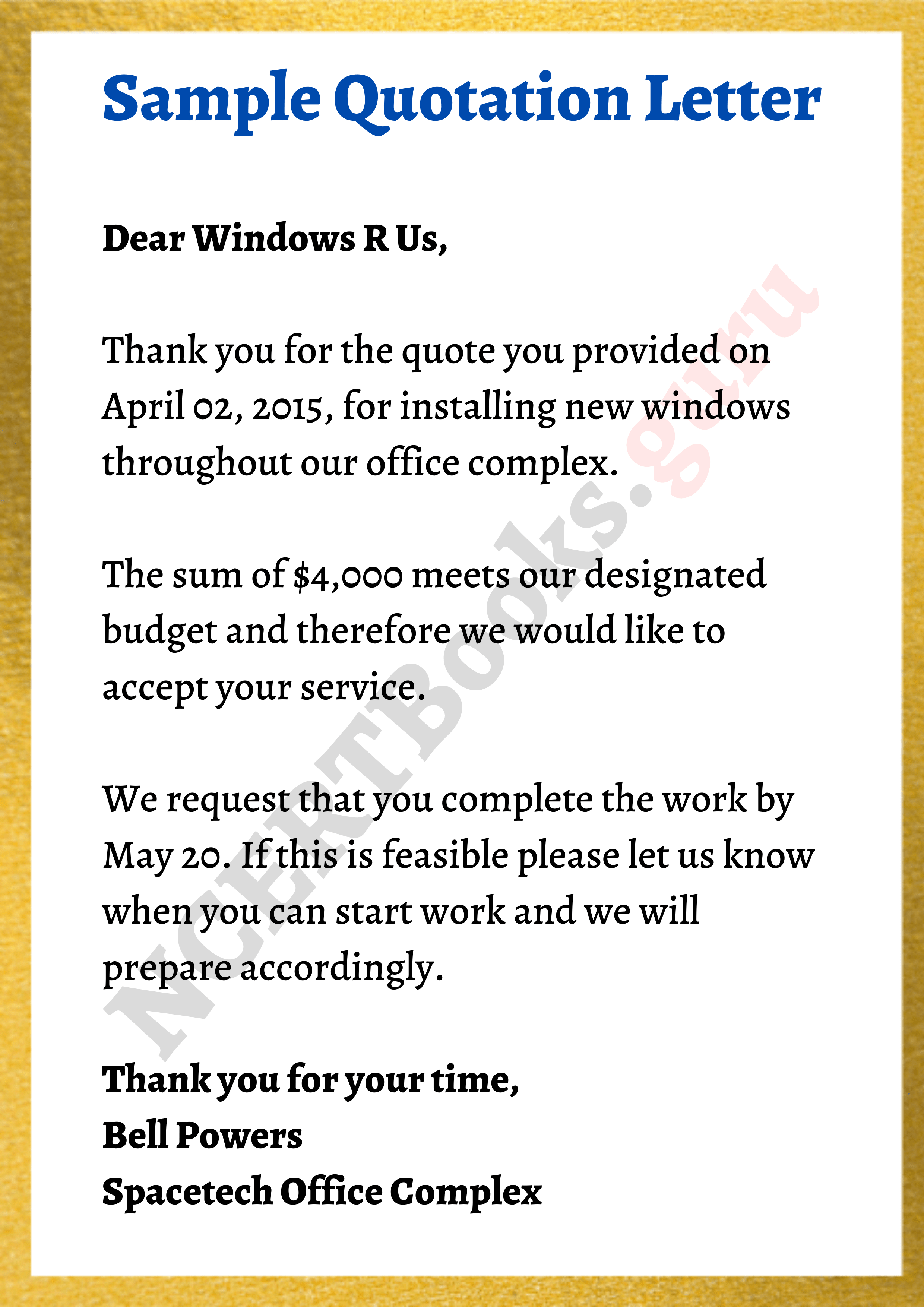 FAQs on Quotation Format Letter
1. What is a formal letter of quotation?
Quotation Format Letters are Formal Business Style Letters and are meant to transmit important information to an organization or company.
2. Where do I get Sample Quotation Letters for free?
You can get Sample Quotation Letters for free of cost on NCERTBooks.guru a trusted portal.
3. How do you end a Quotation Letter?
To End a Quotation Letter, use a closing statement and clarify the purpose of your letter and later sign at the end.