Online Law Courses In India: As you all know, online education has become quite popular these days. Earlier, it was popular abroad but now it has become popular in India. Many universities are offering various law courses in online mode.
In this article, we are sharing a list of online Law courses with colleges and institutions, fee structures, and the process of applying to law online courses. These courses are available from 6 months to 3 years duration. The process of admission may vary according to institutions. The fee structure of these courses also varies from institute to institute. For more course details, dive into this guide.
You can join law courses online in various disciplines like those mentioned below. Here is the list of online Law courses for diplomas, Pg diploma, and master's programs:
Constitutional Law
Corporate Law
Criminal Law
Cyber Law
Diploma in Maritime Law
Diploma in Merger and Acquisitions
Masters in Intellectual Property right
Diploma in Ethical Hacking
Human Rights
Food and Standard
Comparative Equality and Anti Discrimination Law
International Law
Bioethics
International Human Rights
Environment Law
Media Law and Ethics
Asylum and Refugee Law
Diploma in Aviation Law with Concentration in Drone Law and Policy
Diploma in Taxation Law
Masters in Air and Space Law
Diploma in Sports Law
Diploma in Anti Human trafficking
PG Diploma in Intellectual Property Rights.
Diploma in Technology Law and Intellectual Property
Diploma in Intellectual Property Law with Special Focus on Process and Applications
Indian Judiciary System: Legal Aid and Environment Protection
Diploma in Intellectual Property and Design Law
Diploma in Intellectual Property and Internet
United Nations and Global Conflicts
Diploma in Intellectual Property and Music Law
Diploma in Intellectual Property and Management
Masters in Media, Entertainment, and the Law
Diploma in Civil and Criminal Law
Diploma in Contract Drafting
Free online law certificate courses in India by Government
The list of online law courses with certificates in India by Government is here:
Certificate in Advanced Contract Drafting and Legal writing.
Certificate in Art Law
Certification in Consumer Protection
Medical Law Certification
Top Institutions Offering Best Online Law Degree in India & Abroad
There are many Universities and online Institutions which are offering online law courses in India. Some institutions are specially designed for online Law degree courses in which you can enroll yourself at an affordable price, and with quality content.
Some Law firms are offering one day to 2 years online Law certificates, diplomas, and Master's programs for the advancement of Legal Practice in India. These courses are working as a bridge between the academic and law professions. The list of online law institutions is mentioned below:
National Law University Delhi affiliated Swayam and e-pathshala. (Fee Courses)
Massive open online Courses NLU, New Delhi (e-pathshala)
University of Maryland University College's online affordable BS.in Legal Studies degree program.
Indian Law School.
Enhelion
Lawctopus Law School
FICCI online courses on IPR
Law Pundit global
IALM's online Law courses
Edx
Lawsikho
Asian laws.
Top Colleges in Abroad for Free Law Courses Online
There are many colleges that are offering online law courses abroad. We are sharing a list of a few top institutions that accept aboard online law courses applications:
Bellevue University's Online affordable BS in Legal Studies
Brandman University for BA in Legal studies
University of Maryland college's online affordable BS in Legal Studies
California University, Pennsylvania.
SUNY Canton's affordable BS in Legal Studies.
Also See: Law Courses in Canada for Indian Students
Eligibility for Online Certificate Courses for Law Students
You will be surprised to know that there is no prerequisite to pursuing an online law course. If you have an interest in law courses, you are good at decision-making and problem-solving skills. Then these courses are for you, and you can join any of these certificate or diploma courses.
If you are a law graduate or working in a law profile then these are the best course for you as they are online, affordable, less time-consuming, and can be pursued from anywhere. For a law student or a law worker, these online law courses will enhance your skills and job profile.
All you need is a computer or a laptop and your time. One more thing you will be happy to know is that there is no age limit for pursuing online law courses.
Online Law Courses in India – Fee Structure
The fee structure of online law courses is not much. You can easily afford these courses at a very cheap cost. The fee of these certification and diploma courses ranges from two thousand to 15000/- rupees.
Any of these certifications cost approx INR 2000/.- the swayam portal of the Ministry of HRD is free of cost you can choose an online Law course at the Swayam portal and pursue it free of cost. You have to pay the examination fee only at the time of examination.
| | |
| --- | --- |
| Course | Fee |
| Online Certification | approx 1799/- to 7000/-INR |
| Diploma Course | Approx 3000 to 11,000/- INR |
| Master Program | approx 3999 to 15000/- INR |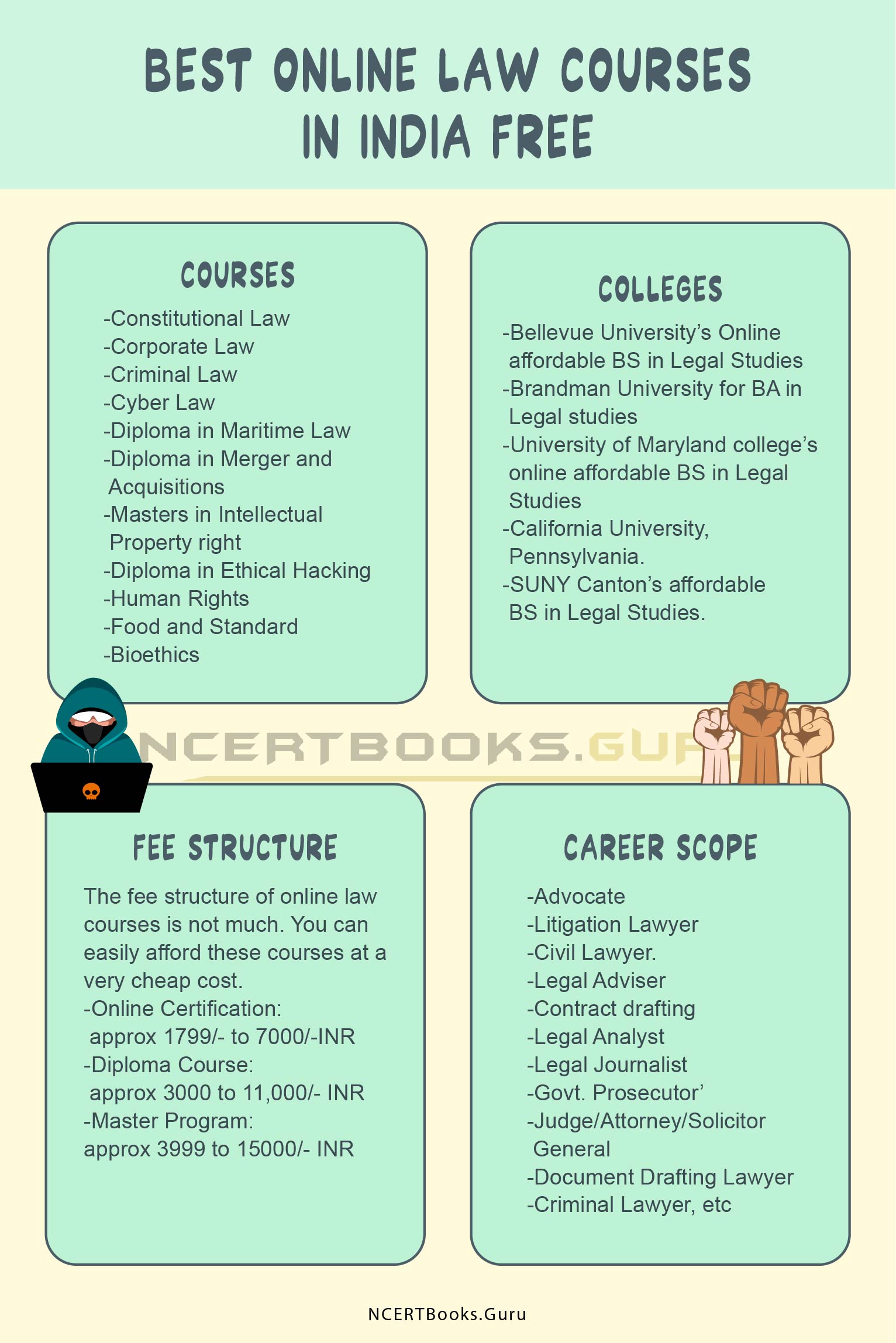 Career Scope & Job Profile After Online Law Study in India
Online law courses are best for those who want to join the Indian Judicial system. Those candidates, who for any reason have left their studies and wanted to make a career in law can join the online Law courses.
Candidate who has completed any of these courses and those who are already in the law field can enhance their skills through online Law courses. After completing the law course you can join a government or private Law firm as a lawyer, civil litigation lawyer, drafting lawyer, legal adviser, etc.
Advocate
Litigation Lawyer
Civil Lawyer.
Legal Adviser
Contract drafting
Legal Analyst
Legal Journalist
Govt. Prosecutor
Judge/Attorney/Solicitor General
Document Drafting Lawyer
Criminal Lawyer, etc.
Do Check: 
FAQs on Best Online Law Programs in India
1. What is the eligibility for online Law admission?
There are no specific eligibility criteria for admission in Online Law courses, you just have an interest in Law courses and a computer.
2. Can I pursue a 3-year LLB program through an online Program?
No, the Bar Council of India does not allow the 3-year LLB course through online or Distance Education Mode. But you can pursue diploma and certificate courses through online and distance education mode.
3. What is the Eligibility of Admission in IGNOU School of Law Courses?
For admission to IGNOU School of Law, you have to be 12th with graduation in any stream.
4. How much can I earn through online law courses?
If you are a law graduate and you are doing specialization through an online law course you can earn up to 4 to 5 lac per year. And if doing a Diploma or certificate course you can start with at least 4000/-, and earn up to 4 lac per year.
5. In Which Disciplines are online Law courses available?
You can pursue a diploma and certification in Media Law and Ethics, UN And Global Conflicts, Intellectual Property Rights, Human Rights, Constitutional and Criminal Law, Feminism, Patents Law, Environmental Law, Technology Law, etc.
Conclusion
In this article, you have read about available online law courses in India and Abroad along with the types of law courses list, their eligibility criteria, various disciplines, Fee structure, and a list of top best colleges for online law courses. We hope this whole information on law courses online is enough for your research. Keep reading for more such information on law courses or other course details.