Law Courses in Canada for Indian Students: Are you thinking of going to Canada to pursue higher education in law? Then you have opted for the right choice. This international country will help you to achieve ample knowledge in whichever field you prefer.
Canadian law degree colleges are recognized globally and offer multiple career opportunities. Indian Students who pursue law courses from those universities can work with the best-known law firms across the world. In today's article, you will get to know about the course details of Law Courses in Canada for Students who are moving from India.
Can Indian Students Pursue Law Education in Canada?
There are many possibilities for Indian students to study law courses as there are many universities out there. All you need to study after 12th is proficiency in the English language which could be a plus point to ease career opportunities. It's important to go through English proficiency test scores and also you will need a high school certificate which holds a percentage of between 60 to 70%.
Some law schools are members of LSAC which is the Law School Admission Council. They imply that you need to pass through LSAT which is the Law School Admissions Test Score for getting admitted into their programs.
Different law schools hold different eligibility requirements. However, those law courses that do not require LSAT have the following conditions:
The candidate should score a minimum of at least 6 bands on IELTS or 213 on TOEFL.
Secondly, they should score higher than 60% in their 12th standard.
List of Law courses in Canada for Indian students after 12th
Below are some of the law courses that can be taken by Indian students after they complete 12th grade. So check this list of law courses after 12th in Canada for Indian students:
Property laws
Certificate in legal administrative
Diploma in law check
Business organizations
Equitable remedies
Business organizations
Environmental law in practice
Criminal law and procedure
Community and criminal justice
Diploma in paralegal studies
BA Law and society
Cyberspace law
Canadian constitutional law
Intellectual property
Jurisprudence and critical perspectives
Law or LLB in Canada for Indian Students – Application Process
Law Schools in Canada follow the admission process and the following steps need to be taken care of by students of India while pursuing law in Canada.
Step 1:
SOP is one of the most crucial aspects of the entire application process for graduate schools. Apart from that, all necessary documentation along with academic results should be included.
Step 2:
Every university carries different requirements to get admitted. It's important to carry out some research rules on which university you want to dive into.
Step 3:
After going through the research procedure, complete and submit the application on time with all the information that is asked. It's important to double-check everything to avoid any kind of silly mistake.
Step 4:
An acceptance letter will be provided when you complete all requirements. Some universities will ask to pay an advance fee for a semester. An admission fee is even needed along with other paperwork procedures.
Step 5:
Once the acceptance letter is confirmed from the Canadian law school, apply for a visa. To go along with a student visa applicants must have all required documentation.
As soon as a student visa comes into process, students should be ready to immigrate to Canada for studies.
Eligibility for LLM in Canada for Indian Students
To enter into law institutions, students must have the following qualifications.
To enter into undergraduate courses, it's necessary to have a bachelor's degree in a comparable field. A percentage of 60 to 70 % score is mandatory for undergraduate courses.
If students want to pursue their post-graduate qualifications, then they should have a bachelor's degree from any acknowledged university globally. A score of 160 is a must on the LSAT exam.
IELTS and TOEFL scores are a confirmation of English competence which every student must hold.
Apart from all these criteria, students must also submit their CV and their statement of purpose.
Law Courses in Canada for Indian Students Fees
Canada's most opts are incomparable to other nations because the cost of education is cheaper than in other nations.
Depending upon university and course type, the cost of an LLB in Canada ranges from $14,000 to $28,000. (INR 84,347 -16,86,947).
The cost of LLM in Canada is between $10,000 and $20,000. (INR 6, 02,481 – 12,04,962).
Canadian institutions also provide a wide variety of scholarships for international and Indian students.
Undergraduate law courses in Canada
Canada is a hub of several top-ranked colleges and universities that offer various undergraduate courses. For higher education pursuance Canada has many law colleges which help to become experts in the law field.
Here are courses offered for undergraduate students along with their respective universities, their duration, and fee structure.
Course Offered
Duration
University
Tuition Fees Per Year
B.A Hons in Criminology and social legal studies
4
Toronto
RS.46.2 lakhs
Juris Doctor
4
Alberta
RS.35.9 lakhs
B. A in Law and Society
4
York
RS.19.3 lakhs
B. A in Law and Society
4
Memorial University of Newfoundland
RS.13.2 lakhs
Bachelor in Legal studies
4
Waterloo
RS.34.8 lakhs
BA (Honours in Criminology
4
Windsor
RS.13.8 lakhs
BA in Law, Justice,

and Society

4
Dalhousie
RS.12.6 lakhs
B.SOC.SC
4
Ottawa
22.87 lakhs
B.A Criminology
4
Simson Fraser
16.74 lakhs
B.An in Criminology and sociolegal studies
4
Toronto
Rs.34.66 lakhs
List of Diploma in Law Courses in Canada along with universities, eligibility, & Fees
The table below helps you understand and know what are the best diploma courses in Canada for Indian students available in law degree along with the law school names, fees, and eligibility.
Course Offered
University
Tuition Fees
Eligibility
Graduate Certificate Paralegal
Georgian
9.0 lakhs
IELTS: 6
Diploma in Paralegal
Seneca College of Arts
13.7 lakhs
IELTS: 6.0

TOEFL: 80

PTE: 58

Graduate Diploma in Immigration and Citizenship Law
Queens
8.4 lakhs
IELTS: 7

TOEFL: 101

Certificate in Law
Ottawa
24.6 lakhs
IELTS: 6.5
Diploma in Community
Canadore
8.7 lakhs
IELTS: 55
Graduate Certificate in Crime Analytics
Cambrian
8.7 lakhs
IELTS: 65
Diploma in Mining Law, Finance, and Sustainability
ST. Lawrence
9.0
IELTS: 6

TOEFL: 78

PTE: 55
List of Masters Law Courses In Canada for Indian Students after Graduation
Here are the top law master's programs in Canada has commonly taken by Indian students after their graduation. Want to know what are the top universities that offer those law courses with duration and fees? Check out the given table below carefully.
Top Universities
Program
Duration (In Yrs)
Tuition Fees (1st year 

in INR approx)

the university of Toronto
LLM in Business Law
1
RS. 25,36,185
University of Ottawa
LLM
1.4
RS.15,60,246
University of McGill
LLM
1
RS. 22,00,821
University of Alberta
LLM(thesis-based)
1
RS. 5,53,948
Dalhousie University
LLM (full time/ part time based)
1-2
RS. 5,13,824
Queens University
LLM in Political and Legal Thought
1
RS. 7,69,674
York University
LLM Canadian Common Law
1
RS. 13,65,707
University of British Columbia
LLM
1-2
RS.5,43,660
Career Options After Pursuing Law Degree In Canada for Indian Students
Law is one of the oldest and most reputed academic fields in the world. A Law degree is one among the highly qualified degree with which you can benefit from various aspects of your life. The Future of Law in India has undergone a massive transformation over some time.
After opting for Law as a Career, Lawyers are not only confined to 3 organs as Legislature, the Executive, and Judiciary. It has various options such as in Business actors wherein it becomes mandatory for companies to opt for legal assistance to overcome the emerging situations.
Apart from working as a lawyer, various fields could opt. Here are the Career Options for Indian students after law courses in Canada:
A student can work as a Consultant.
A chattered accounting officer
As a Civil service administrator
Data Analyst
Forensic Computer Analyst
Human Resource Officer
As a patient attorney
A stockbroker
Corporate Standard Officer
professional Standard Officer
Salary After Study Law In Canada for Indian Students
Here is the list of Jobs and the salaries which are offered to them.
| | |
| --- | --- |
| Jobs for Law Graduates in Canada | Average Annual session(INR) |
| Lawyer cum paralegal instructor | 55.34 lakhs |
| Associate Attorney | 90.42 lakhs |
| Intellectual Property Specialist | 72.34 lakhs |
| Solicitor | 70.49 lakhs |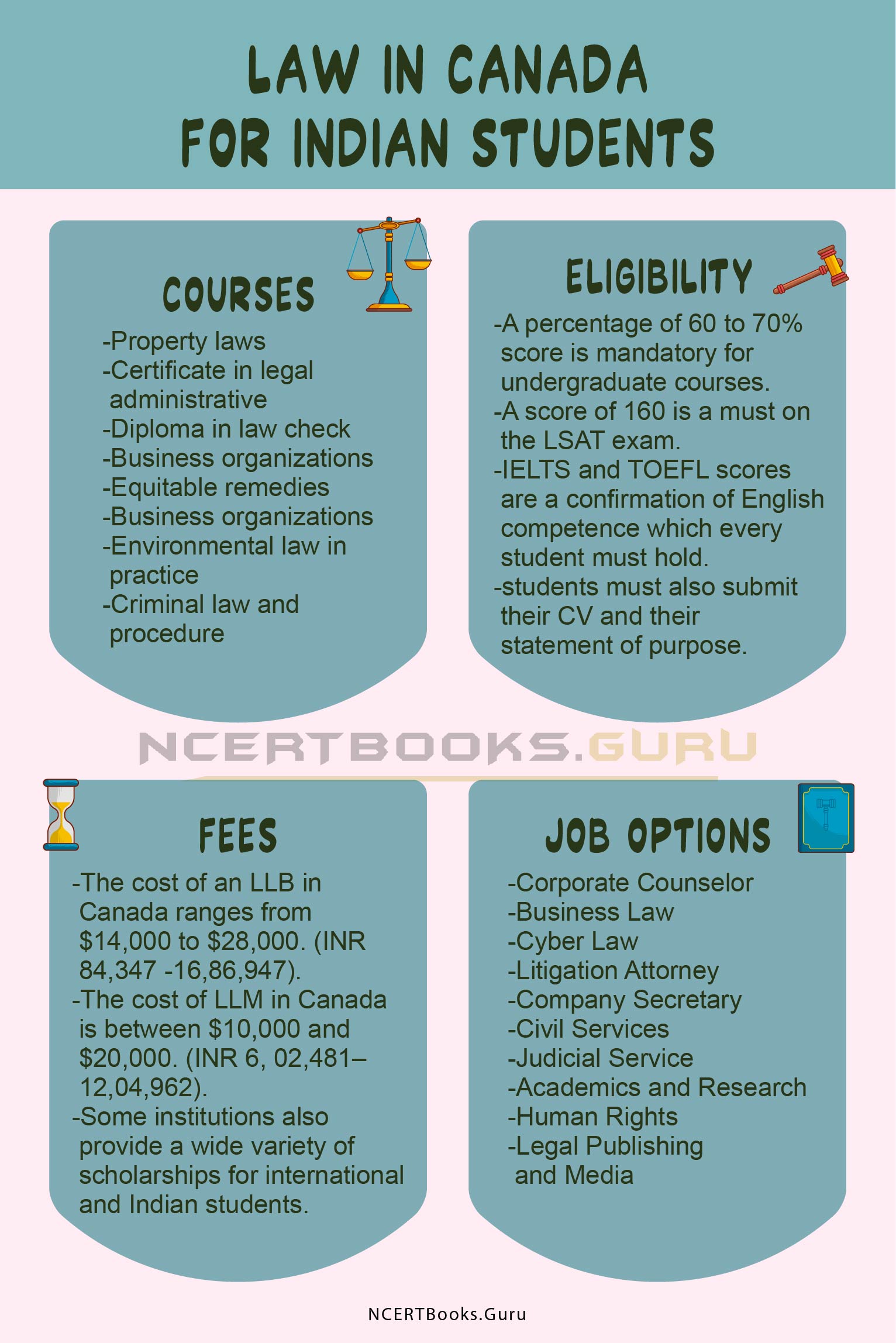 List of Job Options after Law in Canada
Picking the right job after your career is very important to stand out in your career. We often get confused by looking at various fields. To help you here are a few options that you can go with.
Corporate Counselor
Business Law
Cyber Law
Litigation Attorney
Company Secretary
Civil Services
Judicial Service
Academics and Research
Human Rights
Legal Publishing and Media
Do Check Related Articles:
FAQs on Law Degree Courses in Canada
1. Which law courses are best in Canada?
Few law courses in Canada are Ontario Graduate Certificate in Paralegal.
Masters of Law (LLM).
Masters of Law in Global Sustainability and Environmental law.
Law clerk advanced course and many more.
2. How can you become a lawyer in Canada with an Indian degree?
As such there are no large barriers to working with Indian Legal Professionals. In order to get professionally trained to work in foreign countries, it's important to pass the qualification exam in 6 subjects as well as Bar exams.
3. Is law a good career in Canada?
Talking about law careers in Canada, it's considered a top occupation that can be opted pursued a career. It works like the cherry on the cake if you are a bachelor in Pre-law.
4. Which field of law is in demand in Canada?
According to surveys conducted, the most common practice area is Corporate Law. After that litigation and data security works best.