Official Letter: An official letter can be known as a "formal letter," which means a document professionally drafted for other companies or business professionals. You can draft a formal letter in many cases regarding the organization like when applying for jobs, expressing interest in a job position issuing a complaint, or thanking someone.
Usually, Formal letters are the professional way to describe yourself while using simple and concise sentences to avoid taking up the reader's time. You must draft the official letter in a formal greeting and signature. You all need to follow a very structured and specific format while Official Letter Writing.
To help you all, we even furnished information such as How to Write An Official Letter, Guidelines for Official Letter Writing, etc. You can even have a glance at the Official Letter Format, Template, Samples, to draft one on your own.
Get Different Letter Writing Topics for both Formal and Informal Topics and be familiar with various styles of letter writing efficiently.
Guidelines on How to Write an Official Letter?
The essential principle for sending an official letter is to understand the content of the letter in a simple and brief sentence. By doing this, you can save valuable time, and also readers can get clarity of the content. Moreover, a particular format should be followed during the Official letter writing. So, we have curated some of the most important Official Letter Guidelines below thus help you in composing the perfect formal letter writing.
Set up fonts: Do write a letter using simple fonts like Times New Roman or Arial. Flashy or gaudy fonts must be evaded.
Creating heading: Start with the sender's name and address followed by the recipient's name and address.
Include Salutation: Usually used salutations hold Dear Mr/ Ms (Name). If the recipient is not a well-known person use Dear Sir/ Madam.
Use paragraphs: Be specific and unambiguous. Communicate the matter without using jargon or complex words.
Use a concluding paragraph to end the letter: Summarize the purpose of the letter and let the recipient know what course of action to take or respond to.
Add enclosures if needed: These incorporate supporting documents and such. Also, follow up a closing signature such as "Regards", "Yours Truly", "Sincerely" etc.
Proofread: Make sure to completely proofread the letter before sending or mailing it in.
Official Letter Format
Below is the format for writing an Official letter to any higher authorities. This is the most commonly used Official letter format:
Sender's Name
Sender's Designation
Organization Name
Organization AddressDateRecipient's Name
Recipient's Designation
Organization NameRecipient's Job TitleDear [Recipient's Name]Subject: Provide a reason for writing a letterBody of the letter

Closing Sign

Sender's Name

Sender's Signature

(Attachments, if any)
Template of Formal Letter
The following template will explain how to accurately write an official letter for any situation like appreciation, resignation, interview follow-up, business announcements, etc.
[Your name]
[Your street name and number]
[City, state zip code][Company name]
[Company street name and number]
[City, state zip code][Current date][Recipient Name]
[Recipient job title]Dear [recipient name],[The first sentence of your first paragraph is an introduction and explains your reasoning for writing to the recipient. You can use the next two to three sentences to further explain the topic of your letter. Try to refrain from giving details or examples until the second paragraph.][This second paragraph will describe your point further. You can use examples or other details to inform the reader of your opinion or important information. The second paragraph should remain around three to four sentences long, meaning your letter should be short, concise, and straightforward.]

[This last paragraph should conclude the letter. You can thank them for their time reading this and can suggest any necessary follow-up steps.]

[Closing sign off],
[Your name]
[Signature]

Enclosure: [the supporting document you've enclosed]
Samples for Official Letter | Formal Letter Writing Examples
In terms of professionalism, the most common type of official letters is resignation letter and appreciation letter. To write this resignation official letter in a professional way, we have given a sample official letter here below. Please, go with these example official letter samples and master in the Formal letter writing:
Official Letter Sample 1 – Letter of Resignation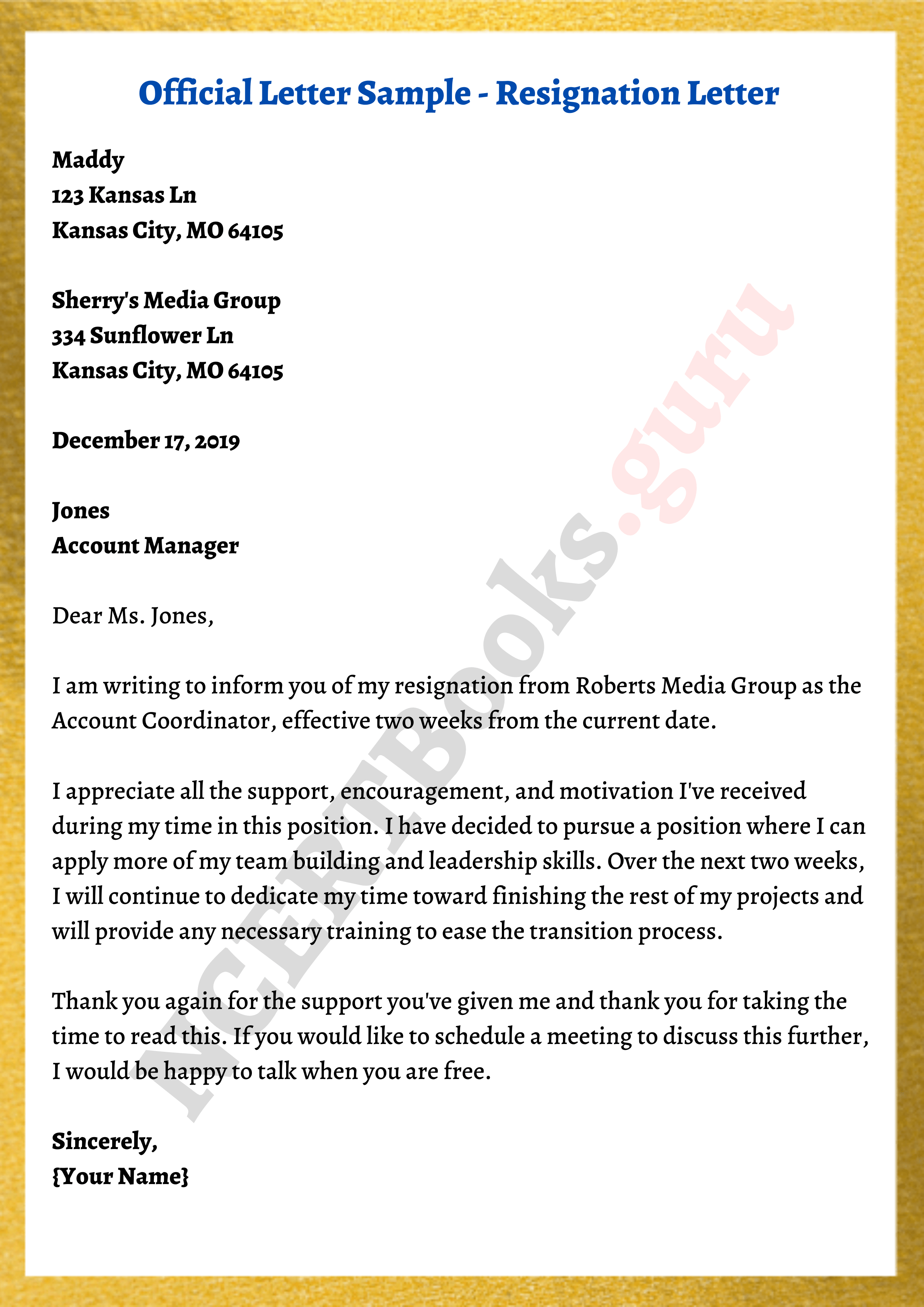 Sample 2 Official Letter of Appreciation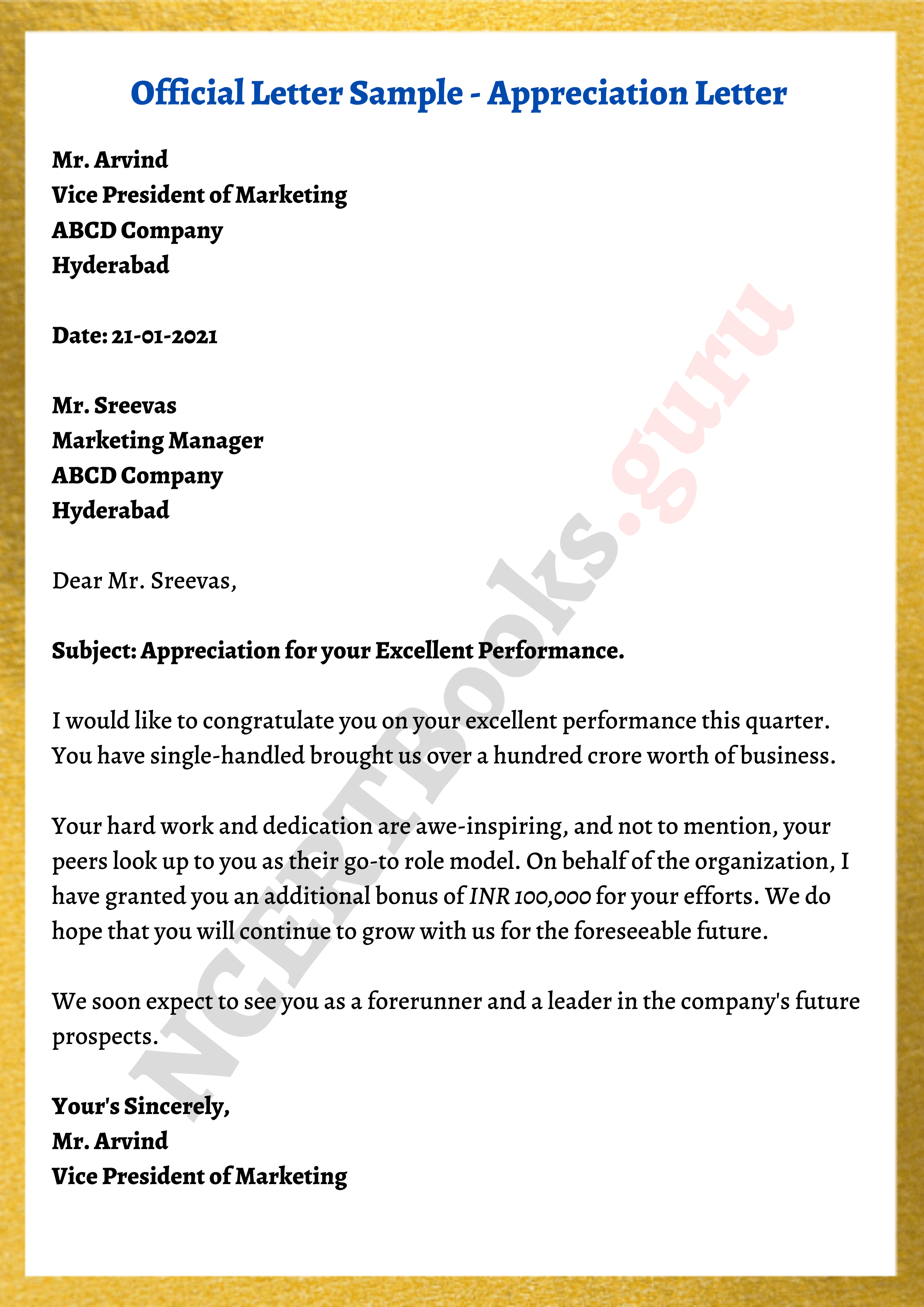 FAQs on Official Letter Writing
1. What to include in an official letter?
To prepare a proper official letter protocol, you must include the following elements:
A heading that records your address and the recipient's address
A formal salutation
One paragraph stating your reasons for writing the letter
Extra paragraph expanding further on the introduction paragraph
A final paragraph concluding the letter
Closing letter signature
Basic enclosures to support the document
2. What are the Types of Official Letters?
You will find various kinds of Official letters as many situations will be in a formal way. Also, each official letter serves a specific purpose. Below are the types of letters that are considered official letters:
Business Letter
Letter of interest
Letter of recommendation
Complaint letters
Cover letters
Resignation letters
Interview Follow-up letters
Inquiry letters
College application letters
Appreciation Letter
Warning Letter
3. What are the don'ts you should know while writing an Official letter?
The following are some of the don'ts, you should remember when writing an official letter:
The phrase "Miss" in your salutation
Incomplete sentences
Being too formal that your letter sounds unclear, impersonal, and difficult to understand
Contractions
Lengthy sentences or paragraphs
Colorful font or stationery