NEET  Chemistry is the scoring paper in the medical entrance examination. Here, you will discover the NEET Chemistry MCQ Questions for all Concepts as per the latest syllabus. Practice more on a regular basis with these NEET Chemistry objective questions on air pollution and improve your subject knowledge & problem-solving skills along with time management. NEET Chemistry Chemical Equilibrium Multiple Choice Questions make you feel confident in answering the question in the exam & increases your scores to high.
MCQs on Chemical Equilibrium
1. Find the pH of a solution when 0.01 M HCl and 0.1 M NaOH are mixed in equal volumes
(a) 12.65
(b) 1.04
(c) 7.0
(d) 2.0
Answer

Answer: (a)
---
2. Which of the following aqueous solution will be the best conductor of electricity?
(a) NH3
(b) CH3COOH
(c) HCl
(d) C6H12O6
Answer

Answer: (c)
---
3. In 0.10 M aqueous solution of pyridine (C5H5N), find the percentage of pyridine that forms pyridinium ion (C5H5N+H) (Kb for C5H5N = 1.7 x 10-9 )
(a) 1.6%
(b) 0.77%
(c) 0.0060%
(d) 0.013%
Answer

Answer: (d)

---
4. Find the equilibrium constant of the reaction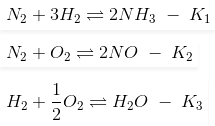 If the equilibrium constant for the following reactions are given
(a) K2K3/K1
(b) K1K33/K2
(c) K2K33/K1
(d) K23K3/K1
Answer

Answer: (c)
---
5. Highest pH will be recorded for which of the following solutions if they are equimolar
(a) AlCl3
(b) BaCl2
(c) BeCl2
(d) LiCl
Answer

Answer: (b)
---
6. The equilibrium constant is 278 for the reaction



at the same temperature, what will be the equilibrium constant for the following reaction?


(a) 6 x 10-2
(b) 1.8 x 10-3
(c) 1.3 x 10-5
(d) 3.6 x 10-5
Answer

Answer: (a)
---
7. What will be the pH of a buffer solution having an equal concentration of B– and HB (Kb = 10-10 for B–)
(a) 7
(b) 4
(c) 10
(d) 6
Answer

Answer: (b)
---
8. Find the increase in equilibrium concentration of Fe3+ ions if OH– ions concentration decreases to 1/4th in the following reaction


(a) 8 times
(b) 16 times
(c) 4 times
(d) 64 times
Answer

Answer: (d)
---
9. On increasing the concentration of reactants in a reversible reaction, then equilibrium constant will
(a) depend on the concentration
(b) increase
(c) unchanged
(d) decrease
Answer

Answer: (c)
---
10. Find the conjugate acid of NH2–
(a) NH3
(b) NH4OH
(c) NH4+
(d) NH2–
Answer

Answer: (a)
---