MS-CIT Course Details: Candidates interested in learning theory and practical knowledge about information technology in MS-CIT can check for course-related information. MKCL initiated an MS-CIT IT course program for students interested in learning IT concepts. More than seven million people have become IT literate in today's time through this comprehensive learning program. The course aims to make the complicated concepts of information technology easier to understand. You will get to know about the MS-CIT Course duration, fee structure, syllabus, admission procedure, jobs, and many more.
A Brief About MS-CIT Course Details
MS-CIT Course refers to an IT Literacy course initiated by Maharashtra Knowledge Corporation Ltd (MKCL) in 2001. In the 21st century, most of the data is created digitally, accumulated, presented, accessed, archived, and even managed digitally.  MS-CIT helps it to circulate it through IT Literacy, Alertness, Functionality, and Applicability among people. The candidates qualifying MS-CIT Course can strengthen confidence levels that enable them to get placed effectively in the 21st century. Various e-Learning sessions help students to understand the particulars of this field and master this subject.
MS-CIT Course Details
| | |
| --- | --- |
| Course | MS-CIT |
| MS-CIT Course Full-Form | Maharashtra State Certificate in Information Technology |
| Eligibility | No |
| Duration | 2-3 months |
| Fee paid | INR 4500 for MMRDA region and INR 4000 for non-MMRDA region |
| Course type | Information Technology (IT) Literacy course |
| Starting salary offered | INR 30,000 to INR 60,000 |
| Employment opportunities | IT analyst, teaching, banking, Maintenance Engineer, and so on |
Subjects, Concepts in MS-CIT Course
MS-CIT course concepts focus on:
Microsoft Windows 7 operating system
Use of the Internet for Daily Chores
MS-Word 2013
Introduction to Basic Hardware and Networking Concepts
Ms. Excel 2013
MS PowerPoint 2013
MS Outlook
Using Applications like Notepad, WordPad, Sticky Notes, Windows Games
ERA Theory
Institute's List Offering MS-CIT Course
Several computer centers and institutes are offering MS-CIT courses. The interested candidates can apply to any center to pursue the course.
MS-CIT Course Eligibility Criteria
Though not mandatory, the aspirants are expected to qualify the secondary level examination. However, the candidates must have a keen desire to learn IT concepts to become eligible for the MS-CIT course. Apart from it, there is no requirement, and any candidate interested in exploring the IT sector, opportunities, and seeking a career in this field can apply for MS-CIT.
MS-CIT Course Fee Structure
For MMRDA Region, that is, Mumbai Metropolitan Region Development Authority, the total fee for completing MS-CIT Course is INR 4500, which includes course fees, examination fees, and certification fees. If any aspirant wants to pay the fee in two installments, then in the first installment, they have to pay INR 2350, and in the second installment, they have to pay INR 2350. It means candidates paying the fee in two installments have to pay INR 4700.
For the rest of the MMRDA region, the candidates need to pay INR 4000 for a single installment. However, candidates preferring to pay fees in two installments have to pay INR 2100 per installment, meaning the total fee to be paid INR 4200.
Do Check:
MS-CIT Course Admission Procedure
There is no entrance to get an entry for the MS-CIT course. The candidates should go to the MS-CIT ALC (Authorized Learning Centre) to fill an application form. They are required to provide a Xerox copy of their sign and photograph for ID proof. Once they fill the form, the coordinator handling all MS-CIT procedures can check all the details filled and will get you informed.
MS-CIT Course Duration
The aspirants can expect the course duration for MS-CIT for about 2-3 months. Generally, the procedure follows:
| | |
| --- | --- |
| e-learning of classroom content (theory) | 50 hours (1 hour per day) |
| e-learning of lab content (practical) | 50 hours (1 hour per day) |
| Self-study, book reading, revision, and practicing | 44 hours |
MS-CIT Course Syllabus
| | |
| --- | --- |
| Computer Basics | Overview of computers, uses, understanding input, processes, and output |
| Operating System (Windows 7) | Overview of OS, general operations, applying themes, file and folder management, windows media player, and many more |
| 21st Century Life Skills | Candidates can acknowledge how to use Google PlayStore,  net banking, protection from cyberbullying, the importance of passwords, and so on |
| 21st Century Citizenship Skills | Candidates can acknowledge how to download Aadhar Card, verify, update, DigiLocker, Voter ID Card, register FIR online, check weather status, and so on |
| 21st Century Study Skills | Candidates can use Google, Wikipedia, YouTube, and many other platforms to search the study topics, improve vocabulary, and many more |
| 21st Century Job Skills | Candidates can acknowledge how to make a creative bookmark, draft a notice, design a webpage, build a professional profile, create a letterhead, design a BROCHURE, and so on |
| Word Processing | Basic operations, formatting documents, inserting headers and footers, applying page setup, creating and editing pdfs, and so on |
| Spreadsheet | Organizing and formatting worksheets, data analysis, creating Pivot tables, using advanced functions, data validation, and so on |
| MS Outlook | Creating a new email account in MS Outlook, scheduling meetings, including the signature in the outgoing message, and many more |
To study the MS-CIT Course Subjects, it is better to go through MS-CIT Course Books PDF.
MS-CIT Course Job Profiles
Once aspirants complete the MS-CIT course, they will become eligible to apply for numerous jobs in the IT sector. They can work in different roles as:
Data operator
Computer operator
GATE Coordinator and Telecallers
OCR Programmer
Software QA Tester
IT Consultant
Network Administrator
Interface Engineer
Moreover, candidates can also find good jobs in banking, teaching, banking, data analytics, and many more. To get a chance to work in this field, you can also pursue other Computer Courses.
Salary offered to MS-CIT Professional
With the increasing time, the IT sector is experiencing enormous growth. Hence, IT-related skills can be beneficial for the aspirants who expect an efficient job with the right pay scale. Generally, the starting salary offered to candidates qualified with MS-CIT is in-between INR 30,000 to INR 60,000. The salary paid to candidates often depends on the experience of working and skills they possess.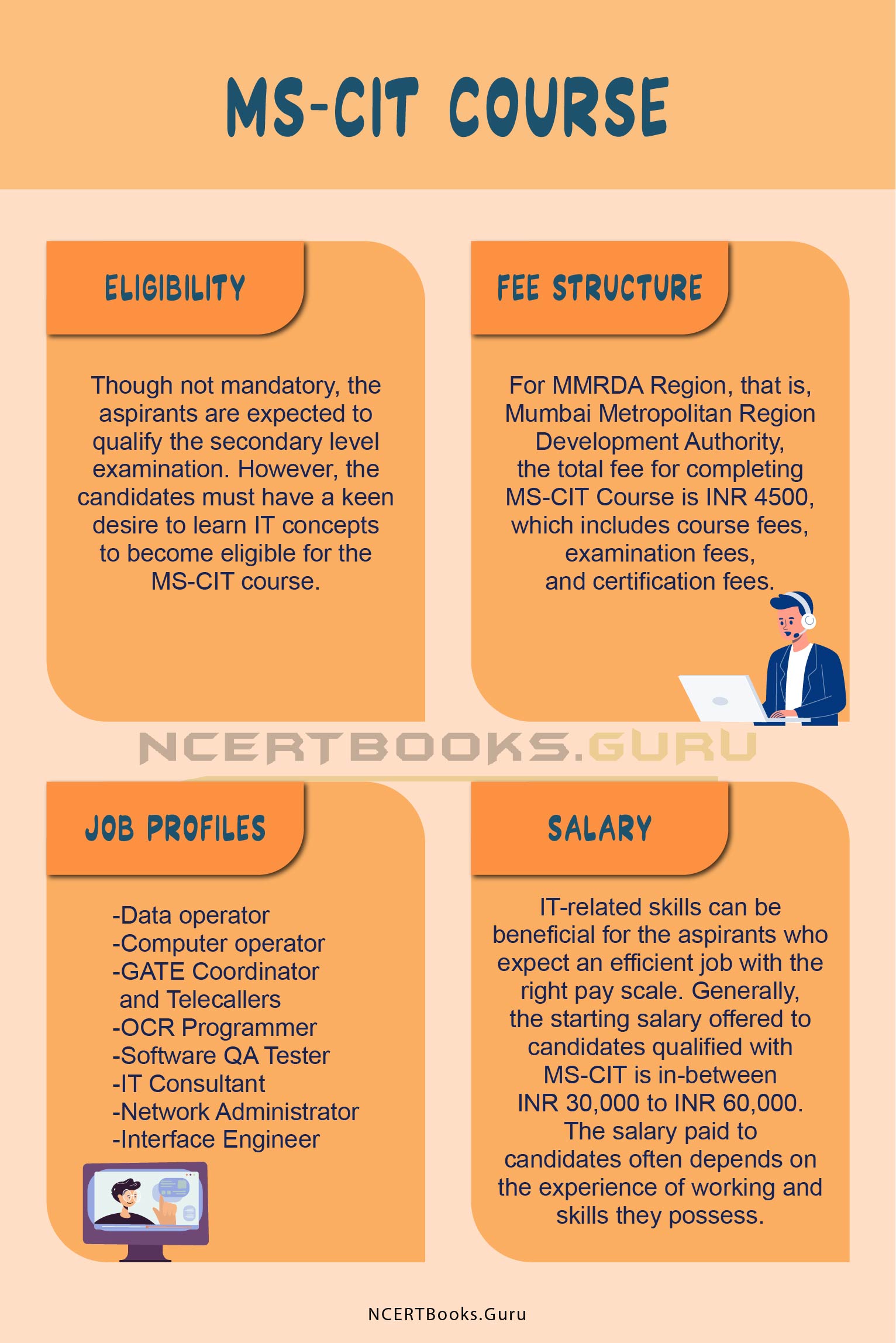 FAQs on MS-CIT Course
Question 1.
What is the objective of studying MS-CIT?
Answer:
MS-CIT is based on Information Technology concepts. It helps interested candidates learn the necessary IT concepts, store, archive, and manage information digitally.
Question 2.
How much time is required for the MS-CIT course?
Answer:
Generally, the course duration is 2 hours for MS-CIT. It includes a one-hour theory lecture and one-hour for the practical lecture.
Question 3.
How much does the MS-CIT Course cost?
Answer:
For the Maharashtra region, the MS-CIT course costs INR 4500, and for the rest, the cost is INR 4700.
Question 4.
What are the career opportunities after completing MS-CIT?
Answer:
Upon successful completion of the MS-CIT course, the candidates can make a career in IT Consultant, banking, financing, and other government jobs.
Summary of MS-CIT Course Details
We hope that the MS-CIT Course Details information shared is useful to you. Still, if any candidate has doubt, they can write it in the comment section. We will try our best to answer all your questions, delightfully and as soon as possible.