Mother Teresa Essay: Who does not love one's mother? In times of need or distress, we look up to our mother for that much-desired warmth and love. But who cares for the abandoned, distraught people, languishing in misery and disease? A God-sent 'mother' did.
Students can find more English Essay Writing Topics, Ideas, Easy Tips to Write Essay Writing and many more.
Long and Short Essays on Mother Teresa for Kids and Students in English
Given below are two essays in English for students and children about the topic of 'Mother Teresa' in both long and short form. The first essay is a long essay on the Mother Teresa of 400-500 words. This long essay about Mother Teresa is suitable for students of class 7, 8, 9 and 10, and also for competitive exam aspirants. The second essay is a short essay on Mother Teresa of 150-200 words. These are suitable for students and children in class 6 and below.
Long Essay on Mother Teresa 500 Words in English
Below we have given a long essay on Mother Teresa of 500 words is helpful for classes 7, 8, 9 and 10 and Competitive Exam Aspirants. This long essay on the topic is suitable for students of class 7 to class 10, and also for competitive exam aspirants.
Mother Teresa or the 'Saint of the Gutters' as we know her, was named Agnes Gonxha Bojaxhiu at birth. She was born in Skopje, Macedonia, on 27th August 1910. She was the daughter of humble Albanian parents – a grocer and his wife. As a public school student, she developed a special interest in overseas missions and by the age of 12, she felt strongly the call of God.
At the age of 18, she left her parental home in Skopje and joined the sisters of Loreto, an Irish community who runs nuns missions in India. After a few months' training in Dublin she was sent to India, where on 24th May 1931, she took her initial vows as a nun. Here, she took the name 'Sister Teresa'. However, in 1946, her life changed forever.
After falling ill with suspected tuberculosis, she was sent to the town of Darjeeling the 'poorest of the poor', she had said. The misery, suffering and poverty that she saw around haunted her day and night. Finally, she realised that her real calling was with the forsaken and with the downtrodden.
"The other day I dreamed that the gates of heaven… and St. Peter said, 'Go back to Earth, there are not slums up here".
In 1948, she received permission from her superiors to leave the convent school and devote herself to working among the poor in the slums of Calcutta. She adopted a white cotton sari with blue border, in place of her Loreto habit. She spent a few months in Holy Family Hospital, Patna to receive a basic medical training.
She initially opened a school in Motijhil in Kolkata, and thereafter tended to the needs of the destitute and the starving. In the beginning of 1949, she was joined by a group of young women and it paved the way for the creation of a community to help the 'poorest of the poor'. Through the years Mother Teresa's name grew, as did the magnitude of her deeds. On 7th October 1950, Mother Teresa received permission to start her own order.
'The Missionaries of Charity' whose primary task was to love and care for those persons whom nobody was prepared to look after. In 1952, she established a home for the homeless people — uncared for and unacceptable at other institutions were washed, fed and allowed to die with dignity.
"A beautiful death, is for people who lived like animals to die like angels — loved and wanted." – Mother Teresa
Soon the mother opened a home for leprosy patients called 'Shantinagar' and a children's home in 1955. When the walls of the Eastern Europe collapsed, she expanded her efforts to communist countries that had shunned her, embarking on dozens of projects.
Even today, the volunteers of the missionaries of charity provide effective help to the poorest of the poor in a number of countries in Asia, Africa and Latin America and they undertake relief works in the wake of natural catastrophes such as floods, epidemics, and famine and for refugees.
The order also has houses in North America, Europe and Australia, where they take care of the shut-ins, alcoholics, homeless and AIDS sufferers. By the 1990s, there were over one million co-workers in more than 40 countries.
In 1982, Mother Teresa persuaded Israelis and Palestinians, who were in the midst of a skirmish, to ceasefire long enough and rescue 37 mentally-handicapped patients from a besieged hospital in Beirut. In 1991, returning to her home country, she opened a home in Tirana, Albania.
She offered to resign her position as head of the order. A secret ballot was carried out and all the nuns, voted for the Mother to continue. Her own vote was the only vote against herself. Mother Teresa agreed to continue her work as head of the Missionaries of Charity.
On 13th March, 1997 she stepped down from the head of the Missionaries of Charity and died on 5th September 1997, just 9 days after her 87th birthday. At the time of her death, Mother Teresa's Missionaries of Charity had over 4000 sisters, an associated brotherhood of 300 members and over 100000 strong volunteers, operating 610 missions in 123 countries.
These include hospital and homes that provide facilities like soup kitchens, children and family counselling programmes, orphanages and schools for people suffering from HIV/AIDS, leprosy and tuberculosis.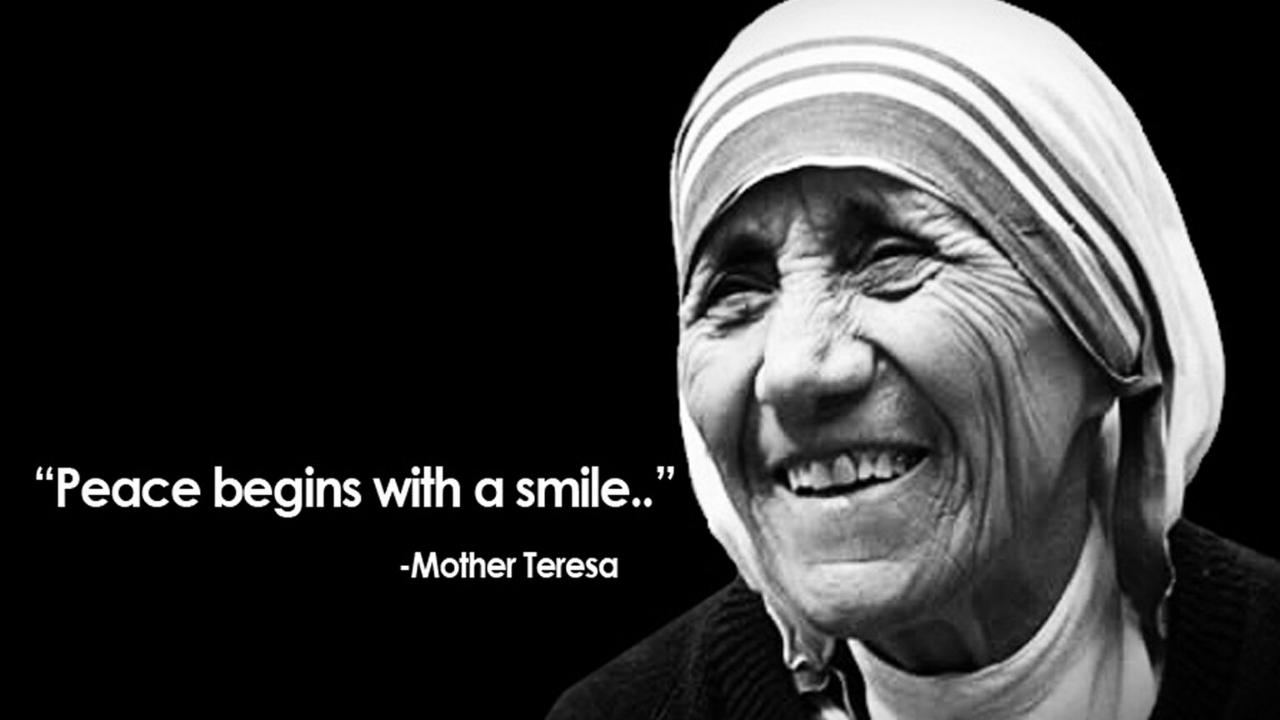 Short Essay on Mother Teresa 200 Words in English
Below we have given a short essay on Mother Teresa is for Classes 1, 2, 3, 4, 5 and 6. This short essay on the topic is suitable for students of class 6 and below.
Mother Teresa was granted a full state funeral by the Indian Government, an honour normally given to Presidents and Prime Ministers in gratitude for her services to the poor of all religions in India. Her death was widely considered a great tragedy within both secular and religious communities.
Mother Teresa's work has been recognised and acclaimed throughout the world and she received a number of awards and citations, including the Padma Shri (1962), Pope John XXIII Peace Prize (1971) and the Nehru Prize for promotion of International Peace and Understanding (1972). She also received the Nobel Peace Prize (1979) and the Templeton and Magsaysay Awards. She was awarded the Bharat Ratna, the Highest Civilian Award in 1980.
Navin Chawla, a civil servant, wrote her biography in 1992. In 1996, she was made the honorary citizen of America. She was the first and the only person to be featured on an Indian Postage stamp while still alive. Other awards bestowed upon her include Kennedy Prize (1971), the Albert Schweitzer International Prize (1975), the United States Presidential Medal of Freedom (1985) and the Congressional Gold Medal (1994).
On 28th August, 2010, to celebrate her centenary birthday, the government issued a special five-rupee coin, in her honour.
The level of her compassion and magnanimity is difficult even to imagine, let alone practise. The former UN Secretary General Javier de Cuellar, praised her with the words — "She is of the UN. She is peace in the world". Nawaz Sharif, the Prime Minister of Pakistan said that Teresa was "a rare and unique individual who lived long for higher purpose. Her life-long devotion to the care of the poor, the sick and the disadvantaged was one of the highest examples of service to humanity." She was beatified by Pope John Paul II in October 2003, hence she may be appropriately called Blessed Teresa.
Mother Teresa Essay Word Meanings for Simple Understanding
• Languish – to undergo neglect or experience prolonged inactivity, suffer hardship and distress
• Vow – a solemn promise, pledge, or personal commitment
• Haunted – inhabited or preoccupied with an emotion, memory, or idea, obsessed
• Forsaken – deserted, abandoned, forlorn
• Destitute – without means of subsistence, lacking food, clothing and shelter
• Magnitude – extent, size
• Catastrophe – a sudden and widespread disaster
• Epidemic – a temporary prevalence of disease
• Besieged – to surround with military forces to bring about its surrender, to crowd round
• Centenary – completing a period of 100 years
• Beatified – blessed by the Church to enter heaven