Madras University Courses: The University of Madras is one of the oldest state public universities in Chennai, Tamil Nadu. This university will take admissions for the academic year 2022-2023 based on the candidate's performance in CBCS Madras University Entrance Exam. It is established in the year 1857. Interested students have to fill the application forms before the last date.
The University of Madras conducts entrance tests to take admissions into UG/PG courses. Candidates have to attend TANCET and score best to get admission to MBA, MCA, and M.Tech programs. In this article, we are giving information regarding the admission process, important dates, UG, PG courses list, eligibility conditions, fees structure, and placements.
University of Madras Courses Overview
| | |
| --- | --- |
| Name of the University | University of Madras |
| Location | Chennai, Tamil Nadu |
| Admission Process | Entrance Exams |
| Telephone Numbers | 2539 9422, 2539 9746 |
| Courses | UG, PG Courses |
| Official Website | https://www.unom.ac.in/ |
Why Madras University?
Madras University is ranked 28th among the top universities in India by NIRF 2021. It is recognized by the UGC as a "potential for excellence" in the country. The university offers UG, PG, Diploma, Research, and Certificate programs. It has seven branches in Chetpet, Mariana, Chepauk, Guindy, Maduravoyal, and Taramani.
The University of Madras offers more than 230 courses in 87 departments. It also has 121 affiliated colleges, and 53 approved research centres. The departments are sciences, management, humanities, social sciences, and medicine. This university also provides distance education through IDE (Institute of Distance Education).
University of Madras Courses
Madras University provides the best knowledge with research. The university provides various courses in multiple disciplines. It offers courses in 87 departments. Here are the list of disciplines:
Philosophy
Polymer Science
Ramanujan Institute for Advanced Study in Mathematics
Center for Water Resource Management
Criminology
Politics and Public Administration-IDE
Centre for Advanced Study in Botany
Marina Library
Telugu
Center for Infrastructural Management Studies
Agro Economic Research Centre
Biochemistry
Theoretical Physics
National Centre for Nanosciences and Nanotechnology
Library & Information Science
Network Systems and Information Technology
Psychology-IDE
Zoology
Energy
Central Instrumentation and Service Laboratory
Centre for Endangered Languages
Microbiology
Rajiv Gandhi Chair in Contemporary Studies
Hindi
Centre for Environmental Sciences
Tamil Language
National Centre for Ultrafast Process
Vaishnavism
Counselling Psychology
Centre for Natural Hazards and Disaster Studies
Centre for Research on Dravidian Movement
Anatomy
Tamil-IDE
Commerce
Jainology
English
Geography
UGC – Centre for South and Southeast Asian Studies
Endocrinology
Social Work
Centre for Ocean and Coastal Studies
Women's Studies
Material Science
Taramani Library
Christian Studies
Tamil Literature
Biotechnology
Guindy Library
Medical Biochemistry
Commerce-IDE
Arabic, Persian and Urdu
Indian History
Adult and Continuing Education
Library
Centre for Cyber Forensics and Information Security
Saiva Siddhanta
Anna Centre for Public Affairs
Physical Chemistry
Management Studies
Politics and Public Administration
Inorganic Chemistry
Education
Physiology
Analytical Chemistry
Pharmacology and Environmental Toxicology
Management Studies-IDE
Computer Science
Dr. Ambedkar Centre for Economic Studies
Defence and Strategic Studies
Computer Science-IDE
Psychology
Genetics
Ancient History and Archaeology
Centre for Population Studies
Chepauk Library
Nuclear Physics
Center for Thirukkural Research
Anthropology
Journalism and Communication
JBAS Center for Islamic Studies
Bio-informatics
Statistics
Economics
Applied Geology
Sangapalagai for Tamil Development
Physical Education and Sports
Crystallography and Biophysics
Kannada
Pathology
Legal Studies
Organic Chemistry
Geology
Sanskrit
Sociology
French
Econometrics
Malayalam
Indian Music
Madras University Master Degree Courses & Eligibility Conditions
Every candidate who wish to apply for Madras University Courses of Master Degree must fulfil the eligibility criteria mentioned here.
Madras University Course Master Degree
University of Madras Eligibility
M.A. Ancient History and Archaeology
Passed any Bachelor's Degree Examination
M.A. Historical Studies
Bachelor's degree in any subject
M.A. Anthropology
M.A. Sociology
Undergraduate Degree
M.A. Women's Studies
Bachelor's degree in any subject
M.A. Lifelong Learning
M.A. Human Resource Management
M.Sc. Criminology and Criminal Justice Science
Any Bachelor's degree holder
M.Sc. Cyber Forensics & Information Security
Degree in Computer Science/ IT/ Computer Applications/ any relevant degree
B.Sc in Mathematics or B.E/B.Tech
M.Ed
B.Ed or B.T
M.S.W. Social Work
Any Bachelor's degree holder
M.A. Defence and Strategic Studies
B.A./B.Sc./B.Com
M.A. Political Science
B.A Political Science
M.A. Public Administration
B.A Public Administration
M.A. International Relations
B.A Political Science/History
M.A. Development Administration
Any Bachelor's degree holder
M.A. Public Policy
M.A. Economics
B.A. Economics/B.Com./ B.A. Corporate Secretaryship/ BBA / B.Sc. Mathematics / B.Sc. Statistics
Masters of Journalism- Online Media
Any Bachelor's degree holder
M.A. English
B.A. English or B.A. & B.Sc. with Part-II English
M.Com. International Business & Finance
B.Com
M.Lib.I.Sc. Library and Information Science
Bachelor's degree
MBA
M. Sc. Statistics
B.Sc. Statistics or B.Sc. Mathematics with Statistics as subject
M.Tech. Geoinformatics
M.A./M.Sc. Degree
M. Sc. Biomedical Genetics
In the field of Life Sciences
In Medicines/Dental Veterinary and agriculture.
Madras University Diploma Courses List & Eligibility
Students after finishing 12th class can apply for diploma courses in Madras University. Check the below sections to know the detailed eligibility criteria for all diploma courses.
Diploma Course Name
Course Eligibility
Diploma in Telugu
Must have passed certificate course
Diploma in Italian
12th class & certificate course in Italian
Diploma in Hindi
+2 with Hindi or +2 with certificate course in Hindi
Diploma in Cybercrime and information security
Graduation
Jaina Temple Management
+2 exam
Learning Disabilities (LD)
Graduation from any UG or PG discipline
Diploma in Saiva Siddhanta
Certificate course in Saiva Siddhanta or Bachelor's degree
Business Research Analytics
Degree
Internal Audit
University of Madras Courses, Eligibility – PG Diploma
Post graduate courses in Madras University eligibility conditions are along the lines:
| PG Diploma Course Name | Course Eligibility |
| --- | --- |
| Technical Writing | Graduate with good command on English |
| Ethics and Human Resource Management | Bachelor's degree |
| P.G. Diploma in Periya Puranam Studies | Diploma Course in Siva Sidhanta or Bachelor degree |
| Linguistics | Graduate |
| P.G. Diploma in Counselling and Psychotherapy | Bachelor's degree |
| Immunotechnology | Master's degree |
| Banking and Finance | Degree |
| P.G. Diploma in Archaeology | Master's degree |
| PG Diploma in Yoga Theory, Practice and Therapy | Graduate |
Certificate Madras University Courses and Eligibility
Avail the Madras University Certificate Courses and eligibility details from this page.
Certificate Course Name
Course Eligibility
Certificate in Italian (SS)
12th class
Certificate in French (SS)
Certificate in Arabic
Graduate
Certificate in Urdu
Certificate in Kannada
Certificate in Hindi
+2
Certificate in Hospitality Management
Certificate in Pre-Primary Education
Certificate in Buddhist Studies
Certificate in Juvenile Justice and
Juvenile Psychology
Bachelor's degree
Madras University Course Admission Process 2022
Interested and eligible aspirants have to apply online for MU courses. Below mentioned are the guidelines on how to apply for the University of Madras.
Visit the official website of the University of Madras i.e https://www.unom.ac.in/
Check the eligibility conditions for the course you are applying for.
You have to fill out the application form carefully.
Pay the application fee online using credit/debit cards/internet banking/UPI.
It is mandatory to provide a valid Email Id & mobile number.
Attend the entrance exam and score qualified marks in it.
Scan and upload required documents while filling out the applications.
Required Documents
Community Certificate
Mark sheet & Certificates of 10+2, Graduation, Post Graduation
Certificate of proof for the differently-abled /Sports/ NCC / Ex.Servicemen
Transfer Certificate and Conduct Certificate
More Related Articles
Affiliated Madras University Colleges
Here is the list of private MU affiliated colleges:
Anna Adarsh College for Women, Chennai
Asan Memorial College of Arts and Science, Chennai
A.M. Jain College (Men), Chennai
Annai Violet Arts and Science College, Chennai
A.A. Arts and Science College (Women), Chennai, Chennai
Alpha Arts and Science College, Chennai
Annai Theresa College of Arts and Science, Kanchipuram
Annai Veilankanni's College of Arts and Science, Chennai
Apollo Arts and Science College, Kanchipuram
Madras University Courses and Fees
The course fees structure for different MU courses i.e diploma, PG, UG, Master's, Certificate is provided here:
| MU Courses List | Madras University Fees |
| --- | --- |
| MA | INR 5,305 (1st Year Fees) |
| M.Com | INR 5,305 (1st Year Fees) |
| M.Sc | INR 7,425 (1st Year Fees) |
| MBA in Madras University | INR 25,380 (1st Year Fees) |
| MCA | INR 22,580 (1st Year Fees) |
| M.Tech | INR 27,055 (1st Year Fees) |
| M.Ed | INR 8,305 (1st Year Fees) |
| M.Phil | INR 5,060 (1st Year Fees) |
| Ph.D | INR 0,970 (1st Year Fees) |
Madras University Placements
Madras University has an excellent placement department. The university placement cell is responsible for calling recruiting companies and providing training to the students so that they get placed in the best companies. The department is also responsible for counselling students in the career aspect.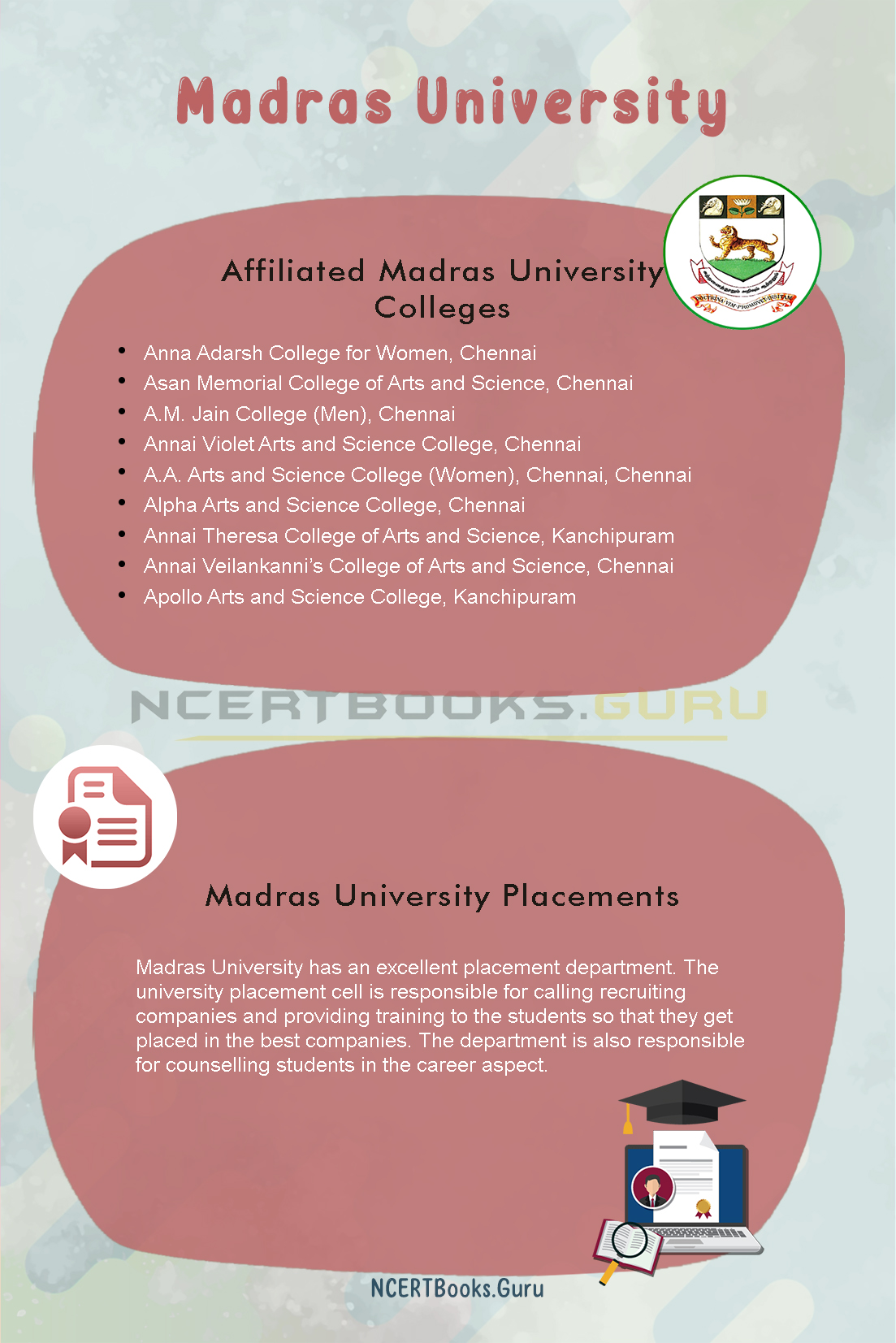 FAQ's on University of Madras Courses
1. How many courses are there in Madras University?
A total of 165 courses are available in the University of Madras.
2. What is the fees of the university of madras?
The Madras University Courses Fees range from Rs.6,500 to Rs.18,850 per year.
3. What are Madras University UG Courses?
The list of MU UG Courses are B.A, B.Sc, BMM, B.Com, and B.C.A in different disciplines.
4. Does Madras University have an entrance exam?
Admissions to Madras University PG Courses such as MBA, MSc, MA, and PhD are based on the entrance exam conducted by the university.
Conclusion
We are hoping that the information included here regarding Madras University Courses is helpful for the people who are willing to pursue UG/PG/Diploma/Certificate courses. Get to know about other University Courses details at our page.