Love Letter: One of the best feelings in this world is Love. We all can see Love in many things and we all can receive Love from our special ones. Expressing your Love towards some person can be difficult verbally but putting your feeling into words and writing a Love Letter can be the perfect way to express your feelings. So, today we have come up with some Love letter samples & examples.
Before you jump into the samples, just take a look at How to write a romantic love letter to your wife, or crush, or partner and convey your emotions and feelings properly & effectively. A Love Letter is a type of informal letter writing and it is one of the most romantic gestures you can show towards your partner.
Moreover, this generation is taking benefits of various forms of communication from voice and video calls to email and instant messengers; so, a love letter is even more special. Check out our provided Love Letter Template & Samples and use them as a reference to write on your own and impress your Love. From our site, you may also get Other Types of Letter Writing like Formal, Informal, and Various Styles of Letter Writing Samples.
How to Write a Love Letter?
A love letter can't be very formal. If you keep it less formal then it can be more special for the reader.
For Example,
Replace the formal salutations like "Dear XZY," with something more personal, like "My Darling XYZ", or even with a nickname such as "Dear Honey Cakes".
Next, the first paragraph of the letter needs to tell the reader why you are addressing that letter. It can be for a special occasion, an event, or to simply remind them that they are loved.
The second paragraph is actually the "Heart of the Letter". Reveal how much you love and care about your partner here; Fill the letter in an informal way with a touch of humor or even sentiments are acceptable. Also, try to express your feelings for your partner – tell them how they make you feel.
Closure the letter by stating that you look forward to achieving the reason for writing the letter (for example, meeting for Valentine's day event or a holiday). Tell them that you look forward to meeting or interacting with them soon.
End up with a personal message and proofread before sending it in.
General Tips for writing a creative Love Letter
Writing a Love letter can be pretty easy for loved ones but it can be more effective once you follow the below points while drafting a love letter to your special one. So, go ahead and read the tips for writing a creative love letter.
Set the mood.
Think before you write.
Consider how you want the recipient to feel.
Get the delivery right.
Template of LOVE Letter
Dear_________,
Last night I had a beautiful dream. I was lost in a fog. I was wandering around, searching for something, only I didn't know what it was exactly that I was searching for. Every face I saw was strange. Then at my darkest and loneliest moment, I saw your face. You smiled at me, extended your hand, and then we flew up together over the clouds and straight up towards the sun and the stars – twirling around and around – like two angels caught in a cosmic embrace. We were so happy.
Then I woke up and realized that this was no dream. I had been presented with the truth about you. Please take me up, my fiery angel, my beloved_________(insert name of lover). Wherever you go, please take me with you. Please stay by my side and make me complete. My eyes need to see what you see, my ears hear what you hear and my soul feels what you feel…
Please tell me how you feel…
May the angels tuck you in at night…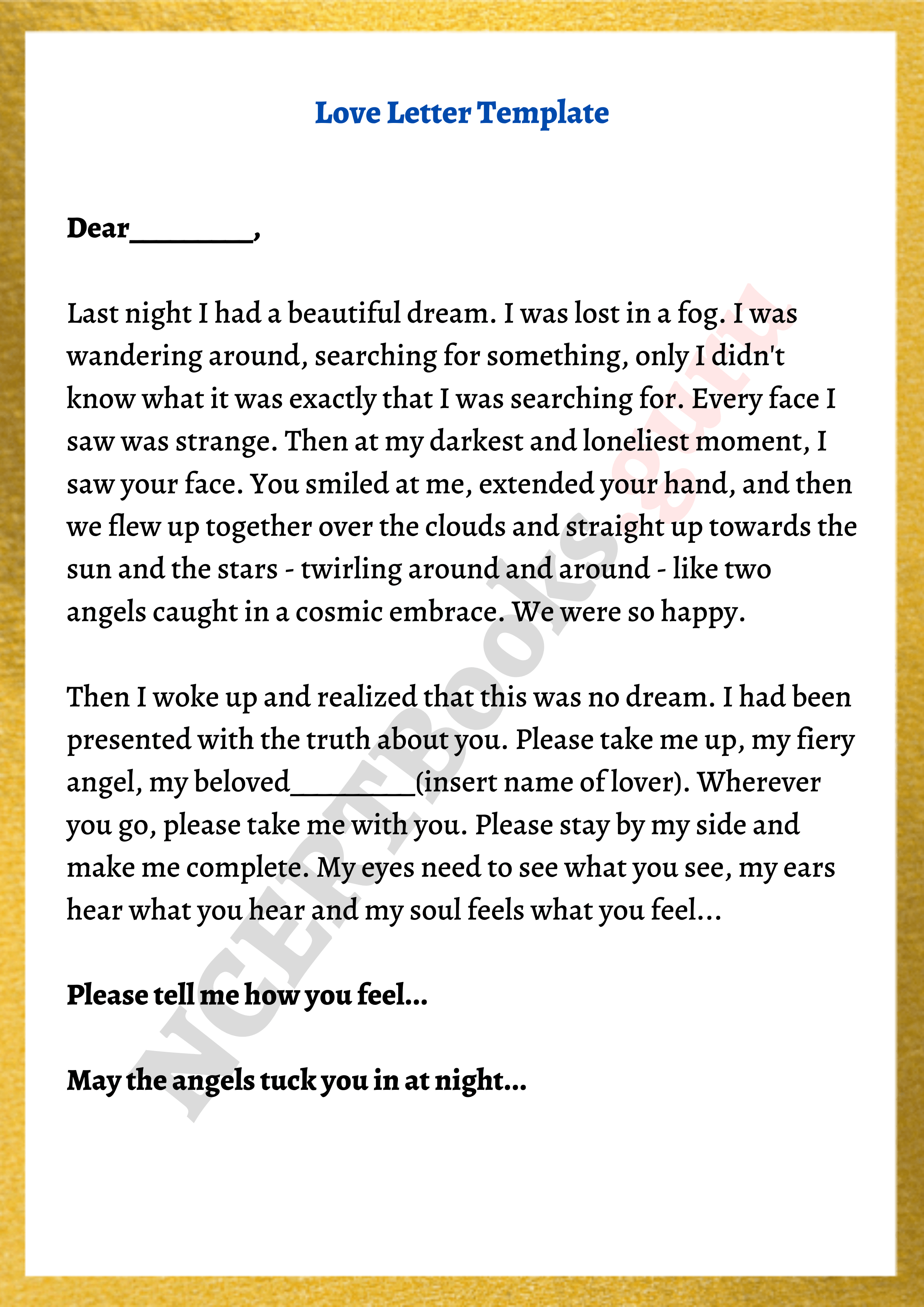 Love Letter to Wife – Sample 1
Dearest Darling Rosy,
Since the day we have got married, I feel myself like the luckiest person in this world. You are that sunshine of my life who has the powers to fade all the clouds of gloom and can bring together the beautiful rainbow. Here is a little gesture to let you know that I love you the most in my life and I cannot imagine my life without you.
Not just as my wife, I see you as my best friend, my mentor, and a caring mother. Moments that I have spent with you are no less than the moments of paradise and it's only with you that I see myself happy.
Darling, you make me smile while I am sad, feed me with delicious food when I am hungry, caress me when I am tired, and shower the affectionate love when I need it the most.
I miss you each and every second and I cannot think of being without you. I really love you and these feelings will never die! I am looking forward to the day when my project completes and I will be back to the love of my life.
Love,
Jhon
Sample 2 – Love Proposal Letter to Girlfriend
To,
Moni
[Address]
Date: 29th May 2020
Dearest Moni
Hi, how are you doing? Hope you are fine. I am writing this letter to tell you that ever since I have met you, my heart isn't my own. It belongs to you now. My life has brightened with your presence in it and I feel like being a good person every day I wake up. This is not magic my dear, this is a pure emotion of love that I feel for you. Yes, I am falling in love with you Monica and it is only you who is in my thoughts 24×7. Will you be mine forever and marry me
I know that I only know you from the last 6 months and this may not seem enough time to take such an important decision but when it is love, it is right! If you say yes, I promise I will keep you happy throughout life and be by your side forever. If you feel something for me and think that we can be a good couple, say YES!
Waiting for your reply desperately,
Naren.
Best Love Letter Example – Sample 3
Dearest Jessy,
This is Tom on the other side. There are certain things which I wished to tell you but was not able to do so and hence I opted for this mode of communication. We have been friends for a long time and my heart has started to have feelings for you. This letter speaks what my heart has always wanted to say.
I Love You.
I have been in love with every small aspect of yours; the way you tap your hair, your ocean depth eyes, and most prominently the way you understand me. I do not know whether you feel the same for me or not. And I shall never put any compulsion in this regard, even if my heart longs for you. I wish to convey that our friendship shall be as strong as ever, no matter what your decision is. Waiting for your reply with my breath intact,
Yours lovingly,
Tarun
FAQs on Love Letter Writing
1. How do I write a perfect love letter to my partner?
Be ready to get vulnerable.
Start out the letter with a personal greeting.
Say why you're writing the letter.
Tell them why you love them and/or being with them.
Use storytelling.
Close the letter warmly.
2. How to write a love letter to your crush?
Here are some general tips for writing a love letter to your crush:
Consider whether it's the right gesture.
Start with an attention grabber.
Compliment them.
Pay attention to the details.
Write a cheesy line.
Be clear about your intentions.
Talk about the future, if appropriate.
3. What basic things you should include in the love letter?
Basics of a Love Letter:
Greeting
The First Paragraph
The Heart of the Letter
Finishing Your Letter
Signed, Sealed, Delivered