Letter To Principal: Requesting Leave Letter to Principal, Application to Principal for Certificates, many more reasons have existed for students to draft a letter to the principal. So, to help the students as well as parents today in this article, we have curated some of the important things like how to write a letter to the principal, what to include in the letter, Application to Principal format, template, and samples. By referring to this useful information, you can surely draft a perfect letter to the principal for the various situations.
Usually, the Letter of Principal will be written in a formal way by using a professional tone. The Letter of Prinicipal must include the reason for the leave or approval letter, date, and period for which the letter is mentioned. Find more Letter Writing Topics for both formal and informal topics for free from our site and be aware of distinct writing styles.
How to Write a Letter to Principal? Writing Style & Guidelines
The following guide will easily make you understand how to write a formal letter to the principal, and aid you in your learnings:
1. Addresses: Begin with writing Addresses. Your address should start first despite the type of style you are practicing. Then the recipient's address should follow.
2. Date: Leave one line then draft the date that you're filling the letter. Formality should be maintained. Avoid writing 2/9/2024. The date should be written on the left-hand side.
3. Greetings or Salutation: If you are aware of whoever you are addressing by name, include a relevant tile before their name like Mr, Mrs, Miss, Ms, Dr, or Prof., e.g., Dear Dr. Jessy,
If you're unaware of the name, write Dear Sir or Madam. This is respectful.
4. Subject: This is the heading of what you are writing about and must write in capital letters. Eg. SUB: LETTER OF ADMISSION. Commence the subject from the far left side & skip a line after the Salutation then write subject.
5. Body: Here, you must explain what you are trying to put across. Write this in proper grammar and make it straight to the point. Start off by introducing yourself briefly and write your intentions of the letter. The second paragraph needs to be a humble plea to be granted your request.
Thank whoever you are addressing.
6. Sign Off: Skip a line and end your letter with Yours Faithfully, or Yours Sincerely, following with your signature then your name and class if you are a student.
Request Letter To Principal Format
Check out the available two formats of Letter to Principal & use them as a reference to create one on your own. Students and parents can copy & paste or download the Letter to Principal Format & Template to draft a perfect letter:
[DATE]

[PRINCIPAL]

[ORGANIZATION]

[ADDRESS]

Dear [NAME OF PRINCIPAL],

As per our recent conversation, please accept this letter as a formal request for your permission to hold a "mock crash" at [NAME OF SCHOOL] on [DATE OF MOCK CRASH]. The initiative will educate students about the positive role that seat belts play in trac crashes and about the consequences of drinking and driving.

Once your approval has been obtained, we will be arranging for a wrecked vehicle to be towed to the school on [DATE OF MOCK CRASH]. Please note that we will be taking care of all other details pertaining to the setup of the "mock crash" as well.

It is our understanding that you will ensure that this does not contravene any guidelines set by our school board. If you have any questions or wish to meet to discuss the "crash" in further detail, please contact me or our sponsor teacher, [NAME OF SPONSOR TEACHER].

Thank you for allowing us this opportunity to help get our very important traffic safety message across to our fellow
students.

Sincerely,
[NAME OF STUDENT COUNCIL REPRESENTATIVE]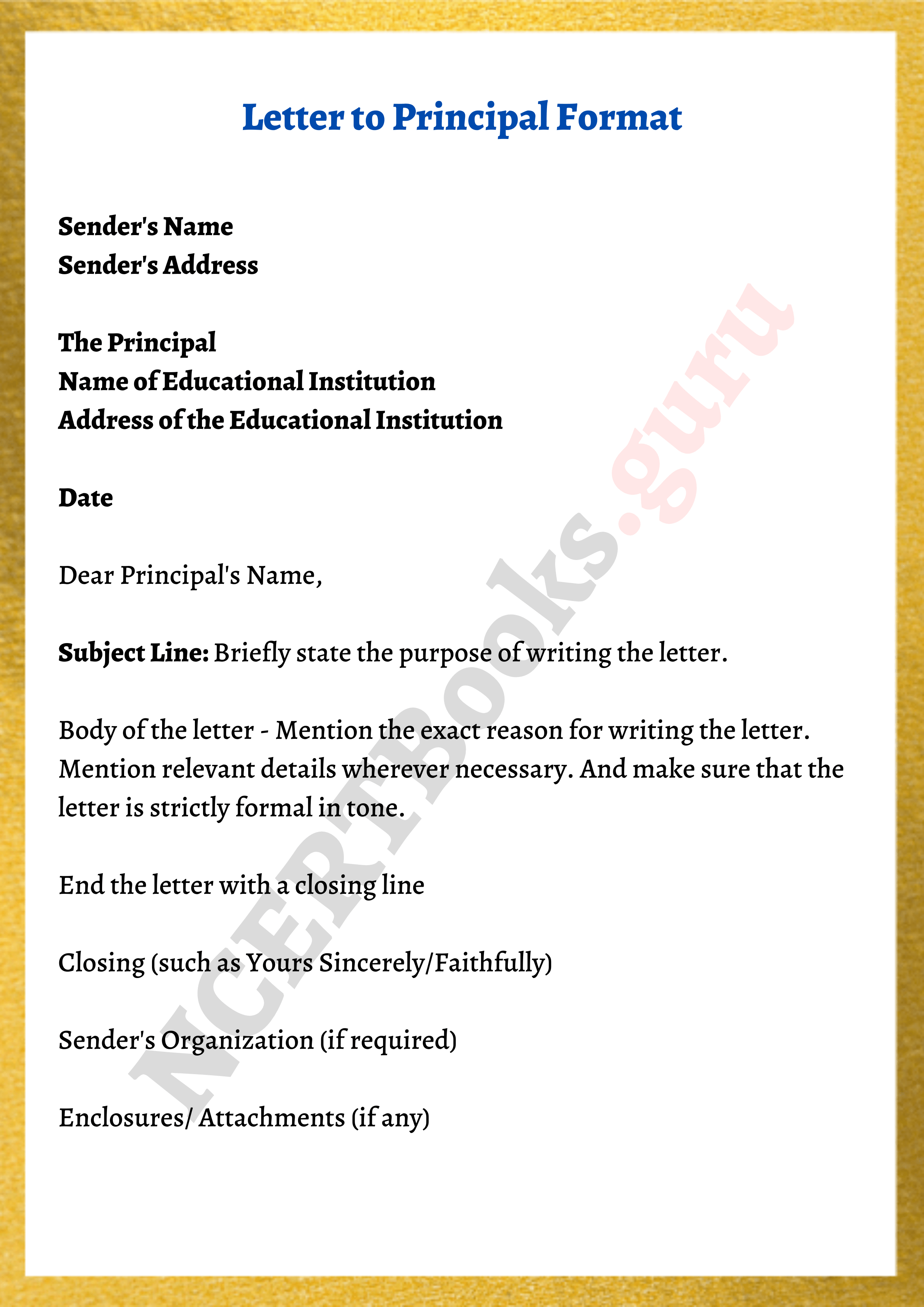 Template for Letter to Principal for Study Certificate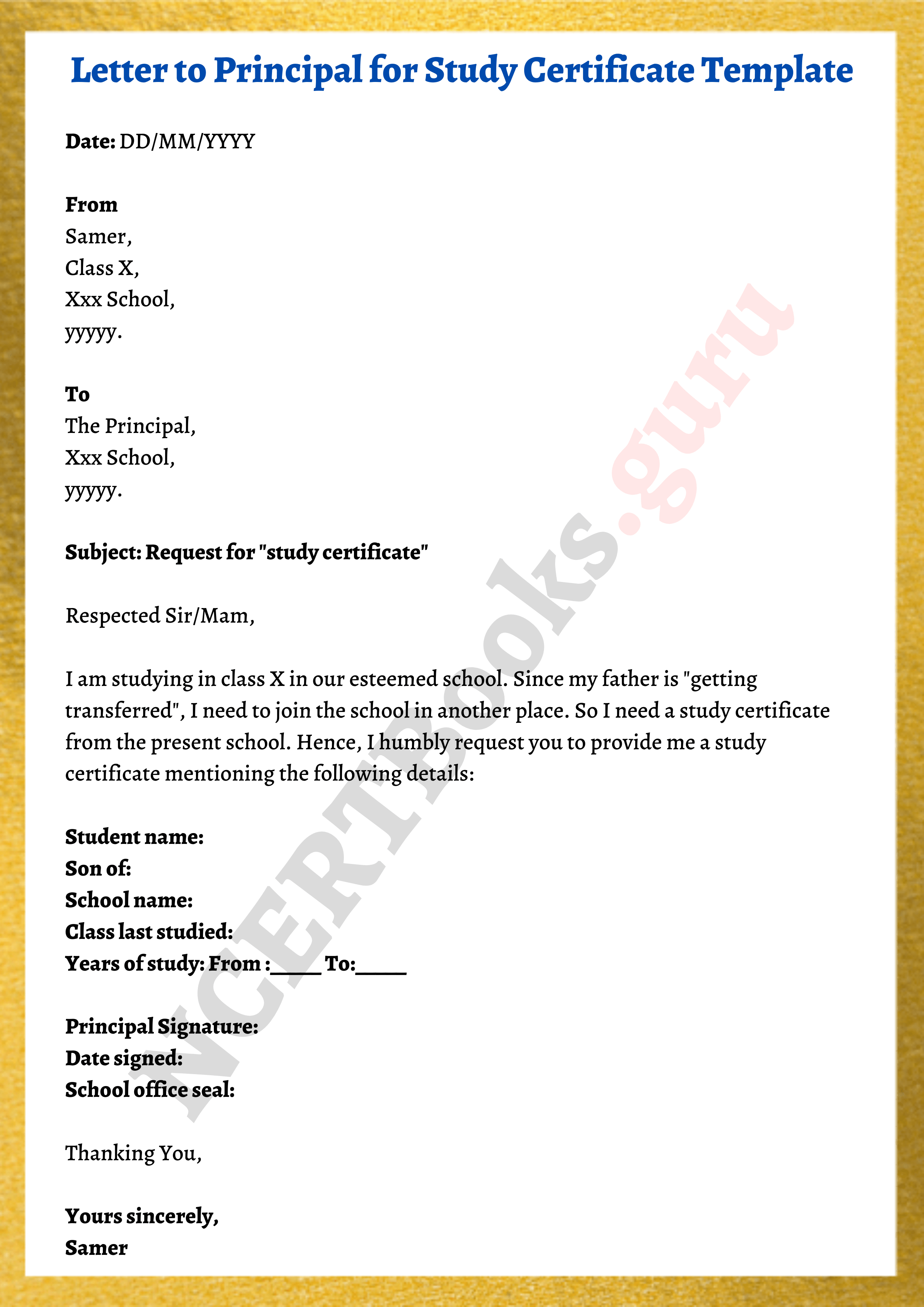 Letter To Principal Samples & Examples
At the time of writing a Letter to the Principal make sure to use the below-attached samples for reference so that you can get an idea of what to include in your Letter.
Sample Letter to Principal for Approval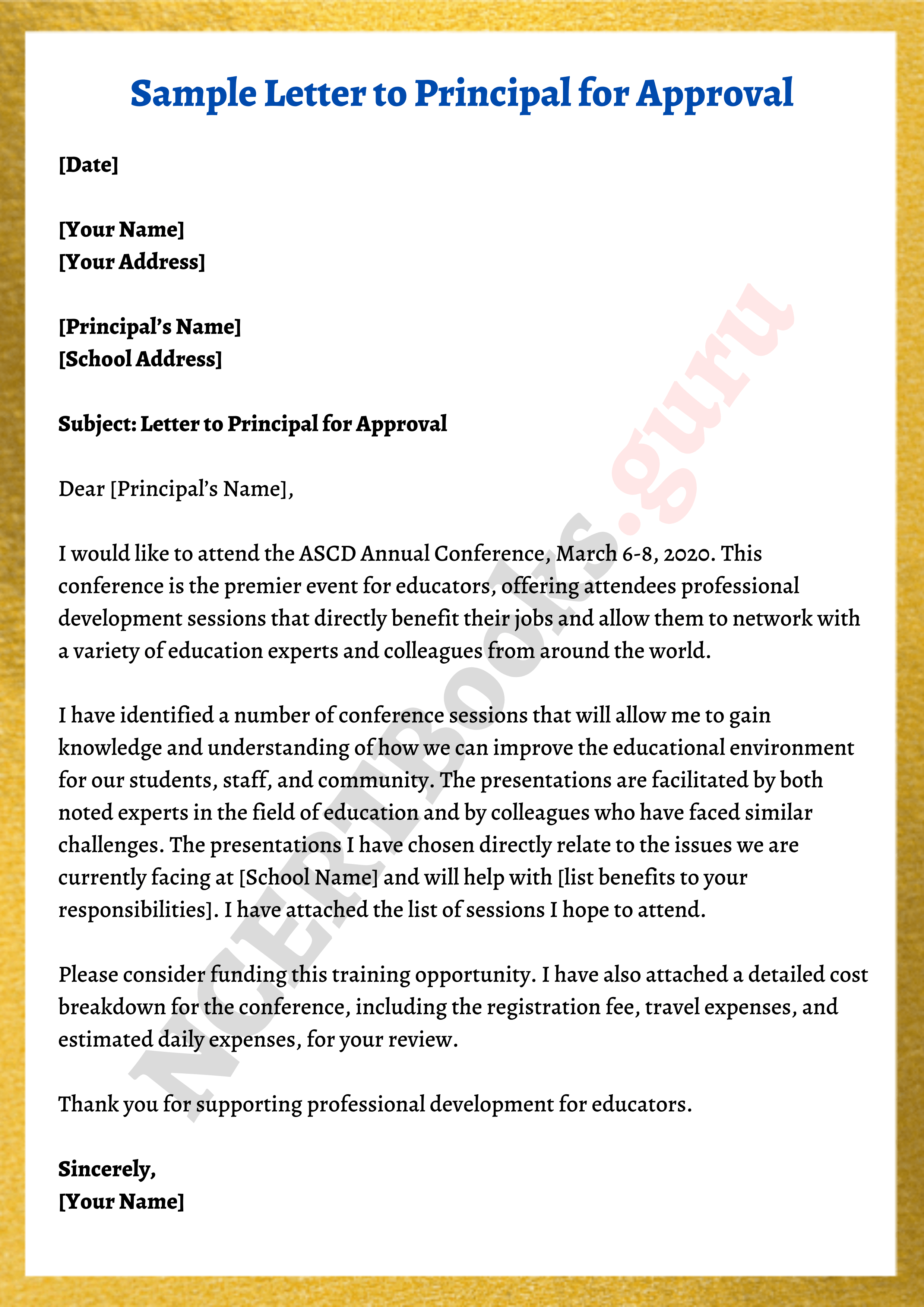 Requesting Leave Letter To Principal Sample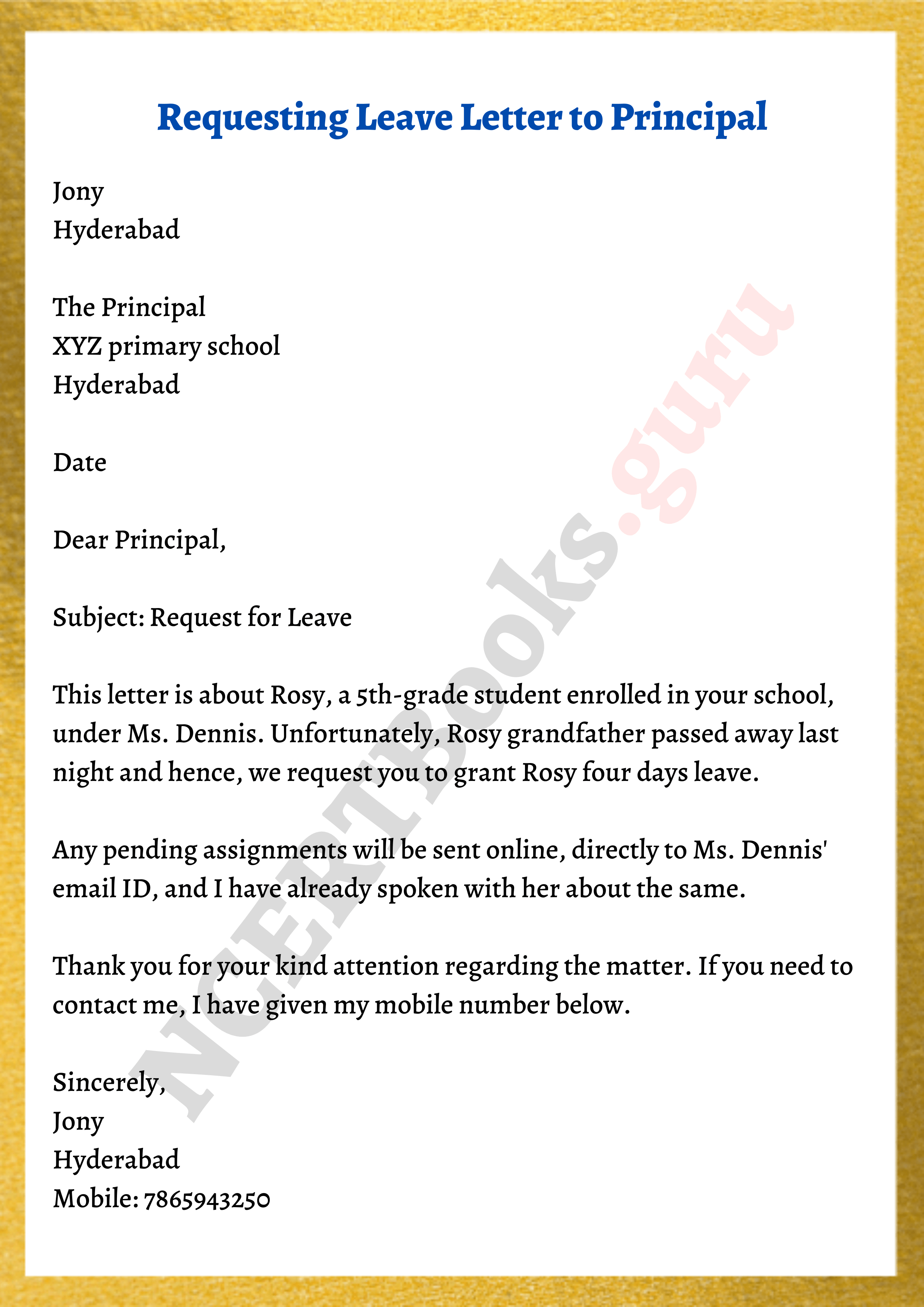 FAQs on Writing Letter to Principal
1. What are the Writing Tips to draft a Letter to the Principal?
Below are some of the important tips to be followed while drafting a letter to the principal:
Assure that the letter is strictly formal and professional in tone.
Specify the exact reason for addressing the letter.
Mention the number of days required (leave/ or event).
Give your personal contact information (Parents).
State any arrangements (if needed).
If writing the letter for the issue of any documents (like character certificates), provide supporting documents, such as fee receipts, or marks cards.
Assure that no slangs are utilized at any point in the letter.
Proofread the letter for grammar, spelling, or factual errors before sending or mailing it.
2. How do you start an email to a principal?
These are the basic & crucial steps to be followed while emailing a letter to the principal:
Always start with writing the perfect subject line. Never leave this field blank.
Use a proper greeting.
Introduce yourself.
Write a brief overview sentence.
Write the email body.
Thank your teacher/boss.
At last, Close the email.
Proof before pressing the Send button.
3. Which website provides a free Sample of Letter to the Principal?
NCERTBooks.guru is a reliable online website that provides Letter to the Editor Samples for free. You can download them from this page